With the river fishing badly for the last couple of matches, the plan for the pairs was to have a section on the canal and a section out at Dillington. My partner Justin was happy to go to the canal and I quite fancied Dillington as there are normally bites to be had out there. There was a wicked frost overnight and my fears were confirmed when I got to the pub and Rob said the canal was frozen over and we would all go out the pond. There was a decent turnout of 14 anglers including Andy Welch, Ned and Dave Gudgeon plus Ashley and Scotty who had actually gone up the Crown for the draw which just goes to show how long it is since they fished an Ilminster match! I had a good start to the day when Pete handed me an envelope containing £60 for finishing second in the V.E.S. league last week.
Pete announced the draw and I went up to draw for us, I pulled out peg 4 for me which is a really good peg although I would rather have been on pegs 17-21 and peg 1 for Justin which we had mixed feelings about as it can be a good chub peg but if they don't show you waste too much time and fall behind the anglers who get their heads down for the small fish. Heardy had dragged Malcolm Levy along to be his partner and somehow they ended up next to each other on pegs 5 and 6 despite being in different sections for the points! The pegs were a bit mixed up but to be fair to Rob, with the canal being frozen, it rather buggered things up as he had all the pegs and weighboards etc ready to fish the two venues. Scotty was on the other side of the bush, opposite Justin but had the added complication of a floating platform, which housed an irrigation pump, in front of him which is tethered to the bank but gets blown about by the wind and could potentially get blown in front of him! We all reckoned it was a great fish holding feature but his reply was unprintable!
My partner Justin in peg one
We all got out the pond and started setting up, I was quite surprised to see odd small fish topping and felt we'd catch today. I had Martin and Malcom on my left and Rob was the next angler to my right on peg 2. Martin had started moaning nice and early and between him and Malcolm it was like being pegged next to the Chuckle Brothers! I set up a 0.5 gram Drennan Roach float and a 0.75 gram bodied float, both had 0.08mm bottoms and size 20 B511's. I mixed up a little groundbait before plumbing up, I had a nice depth at 11.5 metres for the lighter rig and also plumbed up at 13 metres for the heavier rig in case I had to chase the fish out. I let Ash have the rest of my groundbait as him and Scotty had to split what they had because Scott was expecting to be on the canal where groundbait is banned (you'd think owning a tackle shop would mean they had a few bags knocking about wouldn't you?).
It was fairly cold but a little better than it's been the last few weeks, I still felt we might have to wait a while before we caught though. The whistle went and I cupped in a single ball of groundbait at 11.5 metres before going out with the lighter rig with a single pinkie on the hook. The float settled and went straight under!, not much elastic came out but a tiny roach got me off the mark and Martin, Malcolm and Ash on peg 8 all caught very quickly as well and it was looking like we could be in for a good day. I tried a single maggot next and another tiny roach was the result, I put a caster on and had another small roach, I felt you might need to sort out some quality to do well today so stuck with caster for a while but was missing too many bites and not wanting to fall to far behind the others was soon back on the maggot.
The first hour saw me finish with 18 fish and the anglers around me seemed to be catching at a similar rate with the possible exception of Ash who had netted a couple of fish as well. Both him and Scott were using their brand new shiny Daiwa Air poles today and Ash was fishing further out than me at 14.5 metres and making it look easy. The second hour arrived and I was still catching tiny roach but soon got bored and kept trying caster and had a couple of slightly better roach but was still missing too many bites. I tried hooking the caster like a maggot and had a few more but it was slow going and I only added nine more fish. I went back to maggot and hoped some better fish would show up among the tiny ones. I was on 30 fish when Ash asked how many I had, I told him and he replied he was on 70 already! I was a few ahead of Heardy and Malcolm at this stage and if I could finish second in my section behind Ash it would still be a decent result.
Rob went behind his peg for a pee and came up to see how I was getting on, he said he was on 27 fish but had a bonus 12oz rudd and a 8oz perch so I was probably behind him as well. He did say Justin was getting small fish regularly so at least my partner was catching. In amongst the small fish I was getting the odd better roach and was hoping I might still catch on caster later on. At the halfway point it was obvious Ash was going to win our section so I just kept putting small fish in the net hoping to stay ahead of Malcolm. I was still in front of Martin but as I wasn't in his section for points it didn't really matter although he was still moaning well and giving Malcolm a hard time for having something to eat!
I started to suffer some blank spells and both Martin and Malcolm were catching small fish quite quickly but couldn't seem to get any better fish. I would catch in bursts and was getting some tiny perch amongst the roach and I felt Malcolm was catching me up. I did manage a couple of slightly better perch of 6oz or so on maggot to keep me just ahead. Towards the end of the match Malcolm was really motoring and I was struggling, he was getting a lot of small roach and I thought he had overtaken me. Earlier I was well ahead of Martin but as the whistle blew to end the match we were both on 80 fish and Malcolm had well over a hundred. Martin reckoned me and Justin would still be second but I thought they would be! We would have to wait for the scales.
I packed up and went to watch Rob start the weigh in, even though Justin wasn't in our section, Rob had to weigh him in (confusing isn't it!), Justin had struggled for 2lb 2oz but had lost a chub and I just knew that would cost us. Rob had 3lb 8oz which included some quality roach and rudd and then I had 5lb 4oz before Martin had 4lb 1oz and Malcolm weighed 4lb 12oz. So I'd beaten Malcolm and Martin had beaten Justin but we'd have to wait to see how we all fared points wise. Ash won our section and was top on the day with 8lb 8oz and had christened his new pole with a win. Paul 'Ned' Overd had a nice net of quality rudd on the waggler weighing 6lb 6oz but he was in the other section from me.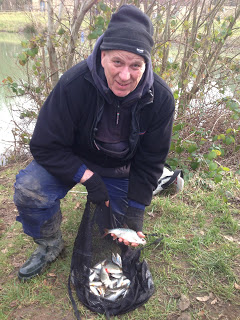 Rob had some quality in his 3lb 8oz catch
Back at the results and Scotty had come second in his section (behind Ned) with 5lb 12oz and he hadn't had a bite for the first two hours! So Ash and Scotty won the pairs with 3 points, Justin finished up fifth in his section giving us 7 points and I knew it wouldn't be enough. Ned's partner Tony Newman had struggled for 1lb 11oz giving them a 7 point total and they were out of it as well. Martin finished third in his section and so did Malcolm so they ended with 6 points and took second place in the pairs.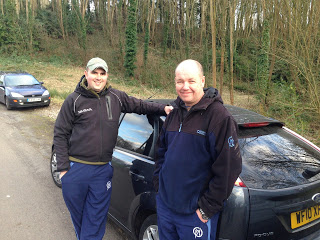 Pairs winners Ashley Tomkins and Scott Russell
Pairs
1 – Ashley Tomkins and Scott Russell – 3 pts
2 – Martin Heard and Malcolm Levy – 6 pts
Individual
1 – Ashley Tomkins (Tackleuk) – 8lb 8oz
2 – Paul Overd (Ilminster) – 6lb 6oz
3 – Scott Russell (Tackleuk) – 5lb 12oz
So another disappointing pairs result for me although at least we all caught fish today which I'm sure wouldn't have been the case on the river. The pond frustrates me as I know there are loads of quality fish in there and I wasted too much time trying to catch them today when I should have just fished maggot all day but catching blips does my head in!
Next week I'm going to fish Summerhayes so hopefully it will warm up a few degrees and the silvers will have a munch!