With the temperature on the mild side during the week I was really looking forward to a days skimmer fishing but then I contracted the lurgy and felt awful and on Friday I couldn't see me fishing this weekend. I felt a bit better waking up this morning and we hadn't had a frost so it was all systems go for skimmers. I had ordered some MW F1 Slim floats and they arrived on Friday so I made some rigs on Saturday and couldn't wait to use them in anger (well if they're good enough for Steve Ringer, they're good enough for me!).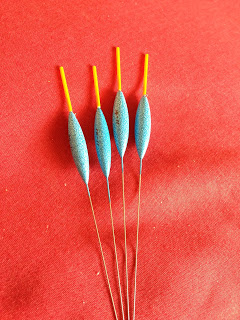 MW F1 Slims all ready to be set up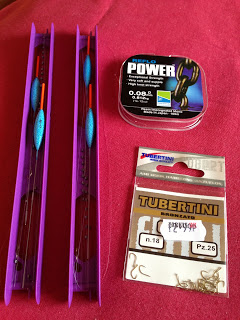 Ready for action!
I got to Summerhayes and it was noticeable that there was still a definite chill in the air and I hoped it wouldn't knock the silvers sport on the head too much. I paid my pools and had a coffee while catching up with some faces I hadn't seen for a while, Adie Bishop was there along with Roy Hughes and Mike Hosgood (from somewhere near Exeter), one notable absentee was Scotty who was due to fish but had got drafted in to fish the Viaduct at the last moment. On the plus side I wouldn't have to watch him bagging with that lovely Daiwa Air of his!
Draw time and I pulled out peg 9 which put me in a decent silvers area, after sorting my box out and getting comfy the first two rigs out of the box were a 10 x 11 MW F1 Slim and another heavier 14 x 11 version, the lighter rig had 0.08mm bottom to a size 18 808 and blue hydro while the other had a 0.10mm bottom and a size 16 in the same pattern with white hydro through the top two. The third rig was a Trabucco dibber for fishing the inside towards the empty pallet to my left, but as I never picked it up all day, I won't mention it again! The side tray was fairly simple today, 4mm Bait Tech expanders, soaked micros with a little groundbait added and a small tin of corn.
Mark Leahy walked up just before the start for a chat and we both commented it was getting colder by the minute! The whistle went and I cupped in a small amount of micros at 11.5 metres in front of me and a slightly fuller cup angled to my left at 10 metres to give me a second line. I also cupped in some corn and micros on the inside. I started with the heavier rig which was shotted right down and I had to use a dab of Preston's bristle grease to keep it from submerging. I didn't have to wait too long for the first bite which turned out to be a 2oz blade, next put in I had a dumpy crucian and had gotten off to a good start. Nobody around me had caught much yet and as I was getting regular bites I was quite enjoying it. More blades followed before I had a little tench of 4oz or so, I just needed the bigger skimmers to put in an appearance now.
I finished the first hour with 8 fish for a pound or so and the only other person I'd seen net fish was Martin Heard on peg 1. I fed my other two lines again and went back on my main line with a view to trying my other skimmer line shortly. Bites were slowing up on my main line and after another blade I fed it again before coming in on the other line but with the lighter rig. I had toss pots on both top twos and was feeding a tiny amount of micros every put in. I had to wait a while for my first bite on this line and it turned out to be another blade and I was hoping some better fish would show soon or I wouldn't be challenging for the silvers today. My next bite saw my prayers answered and I was soon netting my first decent skimmer and things got better when I had another crucian on the next put in.
I was getting odd bites on this line but after two and a half hours I was still on 12 fish and I stayed on this line too long really. I fed again and also put some more corn and micros on the inside and the reeds were knocking occasionally but I wanted to avoid those pesky carp if possible. I went back on the longer line but this time with the lighter rig and hooked a blade first chuck but lost it on the way in. We were now half way through the six hours and I probably only had a couple of pounds but this was still good compared to those around me with the exception of peg 12 (which has won the last few matches) who seemed to be getting odd carp. Then it started raining, it wasn't too heavy but it was very cold and this seemed to coincide with my bites tailing off.
It got to the stage where I was toying with trying the inside line when I had my first decent skimmer from my main line, then three or four followed in quick succession and I started to think I might still have half a chance. The rain was getting heavier and then it turned into sleet – great! My hands were freezing and it was difficult to even hook the expanders. I cupped in a little more feed before coming back to 10 metres and had another decent skimmer straight away. This set the pattern for the rest of the match and I would get a fish or two from the main line before resting it and getting odd fish from the 10 metre line. I was really cold and not too upset when Pete blew for the all out and it took me ages to pack up with my numb hands. I ended up with 25 fish (around 10 decent skimmers, 2 crucians, 1 little tench and the rest small skimmers).
Pete started the weigh in on peg 1 where Heardy had 12lb odd and the next two pegs didn't weigh, my silvers went 11lb 4oz and probably for the first time ever, I hadn't hooked a carp all day! Dave T on my left threw back before Jim Jenner on peg 12 had 26lb 7oz to take the overall lead. Bruce Hunt on peg 16 had 6lb 5oz of roach but I missed the rest of the weigh in as I took my gear back to the car. Back at the results and the first person I saw was Exeter Mike who said he'd had 15lb 10oz of silvers and I started to think I was going to miss out but then he was called out in second place overall (behind Jim) and I won the silvers and picked up £32. Heardy had shot off after packing up but actually finished fourth with 12lb 15oz which got me thinking I should have had the odd look over my inside line as a couple of carp would have probably got me second place. Overall though I'd felt I'd fished a good match, only losing one small blade all day and I'd made sure I'd fed all three lines regularly even though I never even tried the inside line!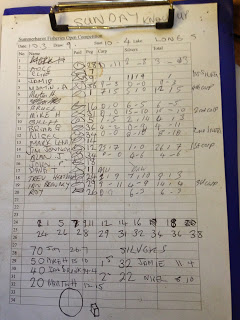 Today's weighboard
1 – Jim Jenner (Summerhayes) – 26lb 7oz
2 – Mike Hosgood (Near Exeter) – 15lb 10oz
3 – Ian Browney (Summerhayes) – 14lb 4oz
4 – Martin Heard (Tiverton) – 12lb 15oz
Silvers
1 – Jamie Rich (Against Men and Fish) – 11lb 4oz
2 – Nigel Wickham (Summerhayes) – 8lb 10oz
On the drive home, things took a turn for the worse when I turned on the radio and Chelsea were 2-0 down to Man U after only ten minutes but by the time I got home it was 2-2 and we were all over them but just couldn't score the winner and that might come back to haunt us when they come to Stamford Bridge for the replay.
With the end of the river season imminent it was interesting to hear Martin say that Malcolm and a mate had gone and fished the Hambridge stretch in the week and bagged up, Malcolm had over 20lb including a 3lb+ chub and two perch over a pound and his mate had 15lb of roach, food for thought for next year me thinks!
I'm back here next week where it's on Sellicks and the dreaded Lily so lets hope it warms up and be sure to come back to see how I get on.