Now the weather is starting to get marginally better, my thoughts are turning to what I would like to achieve in 2013 fishing wise. There's so much I want to do! Now most of my Sundays and days off are taken up with fishing matches as that's my number one love but I've listed my targets below and it would be great to tick a few off this year;
Me and Scotty have a trip to Gillhams in May and I can't wait, it would be lovely to up a few pb's and add some new species.
I'd love to win a match at Summerhayes but with me only fishing for silvers, this might be difficult. It is do-able but a good net of silvers and quite a few bonus carp would be needed.
I haven't forgotten 'Mission Impossible' and hopefully I'll be able to get out with Russell Hilton for another crack at those pike and once the river season starts again me and Justin can go back to the Wye for those barbel. Many of the other badges are easily done, it's just a case of actually weighing and taking a picture of the fish like roach, tench and crucians.
I can't wait for another trip to Seaton after those mullet, it's addictive stuff and there are some places I want to give a go like the River Exe and Lyme Regis.
Lastly, I've got it into my head I want to catch a flounder which would be another new species for me. At the moment I haven't a clue how I'm going to do this but ideally it would be using coarse gear.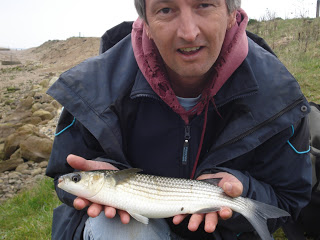 I can't wait to have another go for the mullet
Hopefully you'll follow me as I try and achieve these rather modest aims.