I did some more prep last night which is nearly unheard of for me and was looking forward to another nice days silvers fishing at Summerhayes. First thing was a tad chilly but it was looking brighter by the minute as I travelled to Bridgwater, on arriving, the car park was rammed as there was also a match on Longs today. I went to pick up my keepnets and met a chap fishing the other match who recognised me from the blog and said he really enjoyed reading it which got my day off to a nice start. I didn't catch his name but if you're reading this, I hope you had a good day and bagged up!
Pete announced the draw and I hung back hoping to avoid Lily even though it very often produces the winner in matches split over the two ponds. With only a couple of balls left, I delved in a pulled out Sellicks peg 5 which is a great carp peg and one of the most consistent pegs on the pond, Pete had recently extended the pallet but it still looked a long way across. I intended to feed a line across but would stick to my silvers plan. With the match split we all had plenty of room and I had Clive Cunningham on peg 7 and Trev Heathman on peg 3. Scotty had pulled out peg 8 on Lily and no doubt the Daiwa Air would get another good workout today.
First rig out was a 0.6 gram Malman pencil and with carp expected I decided to leave the 0.12mm hooklength on for the time being and went with white hydro. The next rig was a Trabucco dibber but at 14.5 metres I was still short of the far bank and the rig was miles too short. In fact the next few rigs were way too short as well and I was running out of time before the start. I ended up with a 0.4 gram Drennan Carp float and 0.12mm bottom to a size 20 808 but I wasn't confident with the rig and hoped I wouldn't have to use it. I plumbed up two skimmer lines at 10 metres in front of me and the same distance at an angle to my left and then it was time to start.
I fed one line with half a pot of micros and the other line with nearly a full cup before cupping micros and corn across to my far line. While I was still feeding, Clive got off the mark with a nice roach so hopefully we should be in for a good day. I slipped on a 4mm Bait Tech expander, put a pinch of micros in the toss pot and went out on the line in front of me. I didn't have to wait long for my first fish which was a small skimmer and this was followed by another and then a better one of a pound or so. I caught steadily and had 12 fish after the first hour (3 decent skimmers and the rest smaller ones). Clive had already started catching carp and I think I was helping him by not fishing across, I fed my other skimmer line on the hour mark and carried on catching blades with the odd better sample amongst them.
I was getting too many smaller skimmers so tried a grain of corn and after missing a couple of bites hooked carp number one which I safely netted but it wasn't helping my cause much. After two hours I was up to 21 fish (1 carp, 5 better skimmers and 15 blades), the smaller skimmers were probably 2oz apiece so I must have had about 4.5lb of silvers plus that carp and I was fairly happy with my catch rate. Hour three saw things slow up a bit and although I was still getting small fish I only added one more decent skimmer and then had a bit of a head fit. Clive was still catching odd carp quite well, as was Mark Leahy on peg 10 but the anglers on pegs 2 and 3 were struggling a bit. I decided to feed both my skimmer lines before having a look long, I slipped on a grain a corn and went across, the rig was all wrong really and although I was getting the odd knock, I had no proper bites. The wind wasn't particularly strong but it was enough to make holding the pole awkward (excuses, excuses!). One thing that was noticeable was that while I was fishing across Clive stopped catching!
After half an hour I hadn't added anymore fish and with Clive and Mark beating me and probably several people on Lily as well, I felt my best chance of a pick up today was with silvers. I could still get small skimmers off both lines but the bigger ones had done a disappearing act. In the back of my mind I had the nagging feeling that I should be scaling down to 0.08mm and with two hours left I finally made the change. To start with I just kept catching blades but then hooked what felt like a small carp but turned out to be a 1lb+ crucian – bonus! Then I started catching some better skimmers, all from the left hand line and even added a couple more small carp. I did lose one carp which I'm sure was foulhooked.
For periods of the match there was even an orange thing in the sky but I'm not overly sure what it was and it was turning into a very spring like day (about bloody time!). My bites slowed a bit towards the end and I ended with 55 fish which included three carp, one crucian and around ten decent skimmers. With Pete not fishing he was soon weighing in Jess Jordan on peg 2 who had 11lb 11oz, Trev on peg 3 chucked back and then it was my turn. My three carp went 5lb 7oz and my silvers 11lb 8oz to give me a 16lb 15oz total, I was hoping I'd done enough for a pick up but the grapevine suggested a couple of anglers on the other side had done okay on silvers. Clive weighed a brilliant 51lb 9oz and would be there or thereabouts with that. Mark had 24lb 2oz from peg 10 before the scales turned left to go and weigh the anglers on Lily.
I took my kit back to the car and caught up with the scales as they came down the far side, a quick look at the weighboard revealed Lily hadn't fished that well and Scotty was top there with 30lb 4oz, Adie Bishop had weighed 34lb 13oz from Sellicks 15 to go into second place and last weeks winner, Jim Jenner had just pipped me on silvers with 12lb 11oz. The next best silvers weight was Roy Hughes with 8lb 9oz so I was still hanging onto second place. Roger Russell came close to the framing weights when he had 6lb 5oz of skimmers and then plonked three carp on the scales for 15lb 11oz to give him a 22lb total and he needed one more fish. No more silvers weights and I hung onto second place and picked up £19 to keep my winnings ticking over.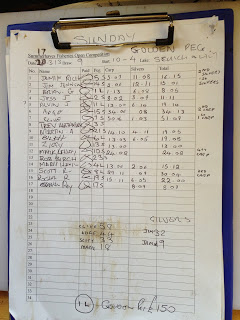 Todays weighboard
1 – Clive Cunningham (Summerhayes) – 51lb 9oz
2 – Adie Bishop (Summerhayes) – 34lb 13oz
3 – Scott Russell (Tackleuk) – 30lb 4oz
4 – Mark Leahy (Summerhayes) – 24lb 2oz
Silvers
1 – Jim Jenner (Summerhayes) – 12lb 11oz
2 – Jamie Rich (Against Men and Fish) – 11lb 8oz
So a very enjoyable day (made better by Chelsea beating West Ham 2-0 and moving back into third place!) and we'd enjoyed a glimpse of some better weather although apparently it's going to get colder again next week – great! Maybe I'd have challenged for a frame place if I'd fished across more but I'm not confident fishing long for carp and I definitely should have gone with the 0.08mm from the start and I should have switched to blue hydro as I bumped/lost three or four blades. so could do better and lessons learned for next week (hopefully!).
I'm back again next week so check back on Sunday to see how I get on, I was hoping we'd be on Longs but I think it's Sellicks again.
Also well done to Freddy Roberts who won the match at Whitepost today with 148lb of carp.