As always Chard fish a match on the Good Friday at Perry St Pond and with the spring league starting in two weeks time I hoped I could get some clues on how I was going to approach the league. After some water quality issues the club decided to ban pellet and meat which threw my usual game plan of fishing shallow with pellet out the window. Mind you with the weather being so cold I don't think it would've worked anyway until it warms up a fair bit. Some decent skimmers had also been stocked fairly recently and the league payouts this year would be different with the top four carp and silvers weights paid out. I've been keeping an eye on the results and like many waters it's been fishing hard and I didn't expect today to be any different.
On arriving at the draw it was great to see lots of faces I hadn't seen for a while including Weymouth Dave, Rocking Roy, Butch, Picky, Les, Bushy, The Hoff and Mike Collins to name a few. The Torquay Tart (Brendon Ions) was also there and up to his usual shit stirring ways, I can't slag him off to much though as he brought me some lovely floats made by Mike Smith to try out (but more of that later). My usual £1 side bets were struck with Janders and Picky and Brendon wanted in on the action as well. Les left out the three best corner pegs to try and make it fairer and as we all drew, nobody seemed to want pegs 2 or 3, of course I pulled out peg 3 and could be in for a grueller. The Hoff said he'd had it last match and caught just one skimmer and one carp which did nothing to ignite my enthusiasm.
The pond was pretty clear and the level looked to be down a bit as well, I had Mark Mockridge on peg 2 with the Hoff on my left with Les next to him. Opposite I had Exeter Mike on peg 17 with Dave Mockridge on 18. I decided to keep it pretty simple and mixed up some Bait Tech Special G groundbait before setting up a 0.75 gram Drennan G-tip 2 with 0.08mm bottom and size 18 Tubertini 808. I also set up a Trabucco dibber for fishing down the edge with a 0.10mm bottom and the same hook pattern. I was just about ready when Les blew for the all in, I cupped in a single ball of groundbait at 11 metres and another at 8 metres angled at 10 'o' clock to my left before cupping some corn and casters on the inside. I slipped on a single dead red maggot (which I had added some Marukyu Krill powder to before freezing) and added half a dozen to the toss pot before shipping out to my longer line.
I was expecting a wait before any indications but Exeter Mike caught a small skimmer quite quickly which raised my hopes a little, Les and the Tart from Torquay also both had decent skimmers and I was hoping it wouldn't be too long before I had a bite. Without an indication of any description after nearly an hour I was soon trying my 8 metre line with the same response and I honestly thought a blank was on the cards. I went back on the longer line but with two dead reds on the hook and prepared for a wait. Hoff just asked me what I was going to put in my blog tonight when the pimple that was float bristle sunk from view and a gentle lift saw a pleasing amount of blue hydro come out of the pole tip. I shipped back very carefully and was soon netting a decent skimmer of a pound or so, I had just slipped it in the keepnet when the Hoff struck into one of a similar size. Here we go I thought.
Bish up on peg 14 had been netting fish regularly and the grapevine was saying that the pegs at the top end were catching well. It was a totally different story at our end with Les, Hoff, Mike and me on one fish apiece and Blaker, Rocking, Dave M, Dave A, Mark M and Janders all still fishless. I tried the inside for the first time but never had a touch there and my next bite came on the longer line on the two hour mark, I think it was a small carp but the hook pulled out and that was to be the last of the action for me. Hoff did manage a couple of tiny roach, Dave A had three small fish late on, Mark M had one roach and his Dad had a small carp in the last half an hour.
It got cold near the end too and again I was relieved when the all out was called, I packed up and when I got back to my peg the scales were waiting, I pulled my net out and it was empty! I was searching for holes when everybody burst out laughing and they'd weighed my skimmer at 1lb 2oz while I was loading my car – gits. Hoff had 1lb 4oz and Les didn't weigh before the Torquay Tart had five skimmers for 3lb 4oz and I paid out my first squid of the day. Butch had a nice net of skimmers weighing 5lb 6oz before Oz had 4lb 2oz of silvers and 4lb 14oz of carp. Bushy was on peg 9 which was an end peg with 10 not in and had 9lb 14oz of silvers and 15lb 14oz of carp so would be framing one way or the other.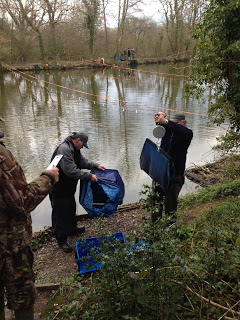 Butch weighing Bushy in while Les records the weights
Picky had a nice tench and skimmers for 7lb 8oz from peg 12 (another end peg) and I paid out pound number two, Mike Collins had three feeder caught carp from peg 13 for 12lb 8oz before Bish had 10lb 14oz of skimmers and 10lb 4oz of carp from peg 14. Only two more anglers weighed in from my end of the pond and they were Dave M whose single carp weighed 2lb 12oz and Dave A's three small fish weighed a level pound. Janders didn't weigh so at least I'd re-couped some of my losses. It was definitely a tale of two ends and my drawing hand had let me down badly today.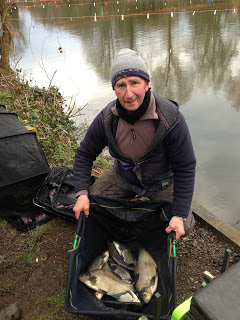 Bish had a nice net of skimmers for the top silvers weight
Most people who had caught well today had fished dead maggot over groundbait, chopped worm and caster or a combination of both so I was on the right track and I think if the weather warms up before the league starts we should see some decent catches.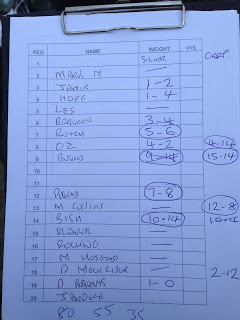 The weighboard, you can see how the top end (pegs 6-9 and 12-14) fished a lot better
Carp
1 – Steve Bush (Chard) – 15lb 14oz
2 – Mike Collins (Chard) – 12lb 8oz
3 – Steve Osborne (Chard) – 4lb 14oz
Silvers
1 – Steve Bishop (Chard) – 10lb 14oz
2 – Alan Gage (Chard) – 7lb 8oz
3 – Butch Baker (Chard Minnows) – 5lb 6oz
I mentioned earlier that Brendon had brought me some floats that former Milo angler, Mike Smith, makes. Obviously I haven't had chance to use them yet but early impressions are that they are really well made and finished nicely. The patterns I've been sent (see photo) all have nylon stems and plastic or cane bristles although Brendon tells me that Mike will pretty much cater for any requirements (carbon or wire stems, different bristle materials etc). The diamond bodied floats look spot on for fishing on the deck for carp while the slimmer bodied floats look a great silver fish pattern and the floats with a rugby ball style body are a good all round pattern. The only slight criticism I would make is that the stems and bristles on the slimmer floats look a little too long for the style of fishing I do at Summerhayes but I guess I can also cut them back a bit.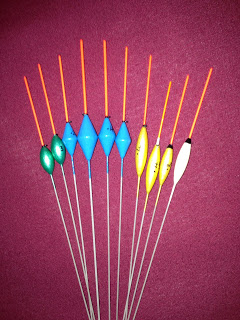 Mike Smith floats
They are priced at a very reasonable £1.70 a float which is a lot cheaper than many of the other well known hand made float makers out there. As soon as I get chance to make some rigs up I'll report back on how they perform, hopefully they'll go under a bit more often than the floats I'm currently using! If you would like to order some or make any enquiries give Mike a ring on 07805 777289 or you can leave me a message in the comments box and I'll make sure they get passed on.
So the second match of my quadrilogy didn't go too well, next up is the two day mini festival at Summerhayes and with no real improvement in the weather, I think two good draws will be crucial. Check back Sunday night to see how day one went.