I was really looking forward to this two day mini-festival, the draw time was a much more sociable 10:00 after the clocks had gone forward and on looking out the window the sun was out! There was still a chill to the air and a cold easterly wind but conditions were a lot better than they have been. I got to the draw and paid my pools for the two days before Clive extracted another fiver for the superpool and my wallet was a lot lighter than when I started. There were 22 anglers fishing the festival and Pete had split the match over Longs and Sellicks with an open draw on the first match then whichever pond you were on the first day, you would swap for day two.
I really fancied Longs but pulled out Sellicks 17 which is a really good silvers peg and I was happy with that. I managed to avoid having Glyn Wickham and Heardy in my section but it would still be tough as there was Pete on peg 2 and I knew he'd go for silvers, Scott's mate, Adam Palmer was on 5 but I hoped he'd fish for carp, Nigel Wickham was on 7 and Scotty on 10 and I thought they would both be going for silvers although Scott would have a go for carp as well. Clive Cunningham was on 13 with Martin Addicot on 14 and they'd probably fish for carp as would Paul Homewood on 15. Roy Hughes was on my left on 19 and he would fish for silvers and then there was Rob Birch on 21 and Jamie Parkhouse on 23.
I just wanted a decent result on the first day so I'd still be in contention on day two and felt 10lb would be a good weight today. I set up two Malman 0.6 gram pencils and both had 0.08mm bottoms and size 18 Tubertini 808's and plumbed up. I decided on two lines at 10 metres, one straight out with the other angled to my left with a third line at 8.5 metres, also to my left. For bait I had the normal micros for feed with Bait Tech 4mm expanders for the hook and I'd also brought some dead red maggots and some pinkies in case it was really hard.
The whistle went and I put in quarter of a cup of micros straight out, with half a cup on the other 10 metre line and the same plus some dead reds and pinkies on the shorter line. I went out with an expander on the hook and fed a pinch of micros through the toss pot, I had a bite quite quickly which I missed and then missed the next two as well! I connected with the next one and it felt like a good skimmer until it woke up and I eventually netted a foulhooked 2lb carp, not the ideal start! I fed some more micros on this line before switching to the other long line. The first hour was nearly up and I hadn't put a skimmer in the net yet! Mind you from the seven pegs I could see, nobody had caught apart from Jamie P in 23 who'd netted a carp.
After no bites I was just about to come off that line when the float went and this time the result was a skimmer, when the next two chucks resulted in two more, I started to feel a bit better. Then I've lost a foulhooked skimmer and shortly after a small blade came off on the way in and that line died. I re-fed it and the shorter line before going back to my main line. The float settled and kept going and this was a better pound skimmer and then the next one was the same stamp and after two hours I was on about 3.5lb of silvers and felt if I could keep going like this I would achieve my 10lb target. It seemed to be a case of pinching a couple of fish off each line before switching. I tried the shorter line a couple of times during the day but never had a bite over it.
We reached the half way mark and I'd only added a couple of little blades, which I netted to be sure and from the pegs I could see I was ahead on silvers, Paul on 15 and Martin on 14 were starting to catch carp now but I wasn't worried about them. Roy still hadn't caught a skimmer and Rob and Jamie P seemed to be struggling so I just stuck at it. Roger Russell turned up and said nobody was really catching silvers although Adam P on peg 5 was getting blades but kept trying over for the carp as well, he said Scott only had four skimmers and four small carp and while he was there I caught my sixth decent skimmer so felt I was still doing really well.
I was still getting indications on pellet from both 10 metre lines but missing a few which I think were small skimmers. Two more decent skimmers put me on about 5lb with two hours to go, then I've hooked carp number two which took me a while to get in on 0.08mm bottom and blue hydro, I eventually netted a carp about 4lb, shortly after I've hooked and landed it's twin so went back to the left hand line and had my ninth proper skimmer to put me on 5.5lb. Another look on my main line saw me catch another proper skimmer and a couple of blades before I've had another poxy carp. I was lifting a dropping the rig and a lot of my bites were coming just as the rig settled.
We were now well into the last hour and it looked to be close between Paul and Martin on the carp front but as for the silvers, all I knew was that I was ahead of those around me. Going into the last half an hour, Roy finally got his first skimmer and then Rob started catching carp and had three in quick succession. I managed one more decent skimmer in the last five minutes to put me on about 6.5lb but would it be enough? I packed up and walked round to watch the weigh in which started with Pete in peg 2, he had 2lb 12oz of carp and the same weight in silvers, then Adam P had a brilliant 9lb 15oz of silvers which was mainly small blades and 4lb 10oz of carp. Nigel Wickham had 4lb 13oz of carp and 4lb 12oz of skimmers so I thought I'd probably beaten him.
Scotty said he'd struggled and only had four carp and about 5lb of silvers so I was looking good for second on the lake for silvers, his carp went 14lb 11oz but then he pulled out his silvers and Pete called out 9lb 11oz and I knew I'd have to settle for third and realistically I was out of it for tomorrow unless I could win the lake and even then, other results would have to go my way. Martin Addicot had 27lb 7oz of carp and then Paul Homewood just pipped him with 30lb 12oz. Then it was my turn and my four carp went 13lb 2oz and when I pulled out my silvers I realised it might be closer than I thought. Pete called out 8lb 15oz and I was a pound short of winning the pond and 12oz off second. Both Adam and Scott had caught most of their fish on dead red maggot and I haven't even tried it! Another eight little skimmers would have done it and I'd messed up badly although to be fair, I thought they'd been struggling.
Roy's single skimmer weighed 1lb 13oz before Rob's late run of carp gave him 16lb 12oz and Jamie P had 15lb 6oz of carp from peg 23. I missed most of the weigh in on Longs but it had fished pretty well with Bruce Hunt leading on the carp front with an excellent 51lb 15oz from peg 7 and Martin Heard was fresh back from his Mexican holiday and back to winning ways with a stunning 30lb 5oz of silvers from peg 28, he even added over 11lb of carp for good measure. The full day one results are below (click on the photo for a better view) but I have listed the top threes for carp and silvers on both lakes.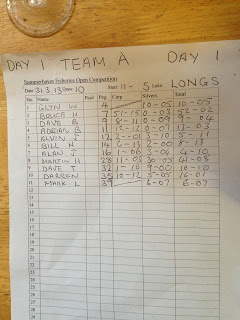 Long's weighboard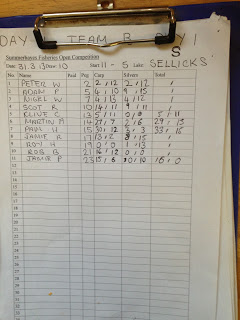 Sellick's weighboard
Longs
Carp
1 – Bruce Hunt (Summerhayes) – 51lb 15oz
2 – Adie Bishop (Summerhayes) – 12lb 12oz
3 – Martin Heard (Tiverton) – 11lb 3oz
Silvers
1 – Martin Heard (Tiverton) – 30lb 5oz
2 – Glyn Wickham (Summerhayes) – 10lb 5oz
3 – Dave T (Summerhayes) – 9lb
Sellicks
Carp
1 – Paul Homewood (Summerhayes) – 30lb 12oz
2 – Martin Addicot (Taunton) – 27lb 7oz
3 – Rob Birch (Glastonbury) – 16lb 12oz
Silvers
1 – Adam Palmer (Bridgwater) – 9lb 15oz
2 – Scott Russell (Tackleuk) – 9lb 11oz
3 – Jamie Rich (Against Men and Fish) – 8lb 15oz
So going into day two I have nine points and it's a big ask to try and make the top three overall and only a lake win will do and even then it might not be enough! Looking at the results from Longs today, there are a few pegs you really don't want and the outcome could be decided on who draws where. Come back tomorrow night to see how the festival finishes up.