Going into day two I was feeling quite nervous as I needed to do really well today to stand any chance of a top three finish (although I found out later that Pete was paying the top six overall for silvers and carp!). No sun today and it was overcast and that biting easterly wind was still doing it's best to chill you to the core. I got to Bridgy and the first thing I noticed was that the cold wind was blowing straight into peg 39 and up through the pegs by the track. Nobody wanted 39 and the more we talked about it, the more I was convinced I was going to draw it. The wind was blowing round Sellicks too and it wouldn't be much fun sat there for six hours today.
I collected my keepnets before grabbing a coffee and paying Clive another fiver for today's superpool. Soon everybody had arrived and Pete announced the draw for Sellicks with Heardy in 23 and Glyn in my peg from yesterday (17). Then it was time for the draw for Longs, I decided to hang back and wait until 39 had gone but five or six people drew and it still hadn't gone – gulp! Adam Palmer also had the same idea and was hanging back, I bit the bullet and went for it, I grabbed a ball and opened my fingers to reveal peg 12 – thank God! Adam was the unlucky angler to pull out 39 although I still fancied it for a few silvers as Mark Leahy had done okay off it yesterday despite fishing for carp for half the match.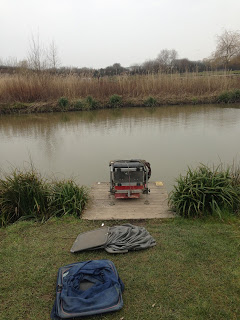 Peg 12 on Longs, my home for the next six hours
I had Scotty on peg 11 and Paul Homewood was on peg 14 to my left, the wind was a bit gusty but we were sheltered from the worst of it. Roy Hughes was on yesterdays winning peg (7) and would be fishing for carp today and Pete had peg 9 which can be good for silvers. I set up a 10 x 11 MW F1 Slim with a spread bulk and size 18 808 to 0.08mm hooklength and also a 14 x 10 version with 0.10mm hooklength and size 16 hook. For bait I had the usual micros, 4mm Bait Tech expanders plus pinkies and dead red maggots. I plumbed up three lines at 10 metres to my right, straight out and to my left and also plumbed up at 11.5 metres to give me another option if I stopped catching. The whistle went and I potted in quarter of a cup of micros to my right and straight out before adding a few dead maggots to some micros for the left hand line.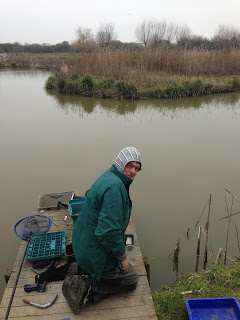 Roy Hughes getting ready to tackle peg 7
I started on the right hand line and intended to try and catch a couple of fish from it before resting it and moving to the next one and so on. After feeding his skimmer lines, Scotty was straight across after the carp. I had a bite first chuck and actually managed to hit it!, I shipped back gently and was soon netting a pound skimmer – great start. I had a slightly smaller one next put in before moving lines, Scott lost a foulhooked carp and when I had skimmer number three, he was soon going out over his skimmer line. I missed a couple of bites before moving to the left hand line but with no indications I was soon back over the right hand line. Scotty was soon catching skimmers too although I was managing to stay a couple ahead for the time being.
After the first hour I had seven skimmers for around 5lb with Scott a fish or two behind. Going into hour two I was still getting odd good skimmers from the right hand line and in front of me, the left hand line was a bit of a flop and I only managed a couple of blades and a small carp from there all day. Scott was slowly but surely catching me up but then I had a good skimmer that had to pushing 3lb and shortly after another of similar size. I then hooked what I thought was a carp but the jagging fight had me hoping it was a tench and it was! At a pound and a half, it was a welcome bonus although I don't think Scott thought so!
After two hours I probably had getting on for double figures and it was a right head to head with Scotty. Paul and Jamie P on 16 were getting odd carp but from what I could see Roy and Pete were struggling. Nigel Wickham had drawn 28 which was the top silvers weight yesterday but I couldn't see him and thought he must be getting a few too. Scott phoned Adam who reported he was struggling and only had a pound or so. Hour three was similar although bites were slowing down and not wanting to get caught out like yesterday I tried dead red maggot but never had a bite on it. Scott had now edged slightly ahead on numbers of fish but I hoped my bigger ones would cancel his advantage out. Adam came for a wander to warm up and he was still struggling and I didn't envy him having to sit there with the wind in his face, mind you he is a Royal Marine and they are made of stern stuff!
The fourth hour saw my swim die a death and Scotty started to pull away again and was four good skimmers ahead. He was fishing further across than me so I cupped in a small amount of micros at 11.5 metres to my right and in front, past my original lines. I had now stopped feeding the left hand line as I hadn't had a decent fish off it. My first bite from my new line was a carp and it felt like the match was going away from me. Then I had a foulhooked skimmer but they all help! only for Scotty to net another to remain four ahead. I had another skimmer to pull one back and then hooked another fish and again it felt very tench-like, surely not another? Yep and up popped another lovely tench about the same size as the first and Scott was now only two ahead.
With an hour left our bites pretty much dried up and out of desperation I tried double pinkie and lost a small blade before catching two little roach and a tiny skimmer to try and keep putting something in the net. I also had another carp on pinkie but when Scott had another skimmer to put him three ahead I had to go back on expander. I cupped in a few micros on the two longer lines before coming back onto my 10 metre line, I had carp number four and they weren't helping me at all. I then had a precious skimmer to edge closer to my next peg adversary. I've then hooked another carp which snapped the hooklength and with only five minutes left, I picked up the heavier rig and went back out. Carp number five was hooked and landed after the whistle but thankfully Scott hadn't added any more silvers and ended the match with a couple more than me.
I finished with 26 fish (17 good skimmers, 2 tench and seven small fish) plus five carp, Scotty was adamant I'd beaten him and reckoned on having 15lb and said I had 3lb more, I wasn't so sure. Pete and Roy had packed up early and were soon over weighing in Sellicks. We packed up and loaded the cars before catching the last couple of pegs to weigh on the other pond, it hadn't fished well at all and Bill 'the carpman' Hopping was the top weight with 26lb 13oz of carp. Mark Leahy was the top silvers with 11lb 3oz from peg 5, Heardy had done really well to catch lots of tiny fish for 3lb 10oz from peg 23 to put him second in silvers on the pond which would see him win it overall. Glyn Wickham only had 14oz from my peg yesterday but it put him third in silvers to finish with 19 points.
Then we got to Long's and Adam had done brilliantly to weigh 8lb 6oz on what must have been a very uncomfortable day, Martin Addicot had 12lb 6oz of carp which would see him challenge for top place. With Roy and Pete not weighing, it was Scott's turn next and he had 3lb 12oz of carp before he pulled out his silvers net and it was obvious he was way out with his estimate, Pete called out 20lb 6oz and he'd had a lovely net of skimmers. To do any good I needed to beat Scotty and wasn't sure I had, my carp weighed 10lb 7oz before I pulled my silvers out, it looked to be around 20lb and I was well chuffed when Pete called out 23lb 9oz and those bonus fish had made the difference. I'd had a cracking days fishing and it was a right next peg battle with Scotty.
Paul had 7lb 14oz of carp and Jamie P had 21lb 3oz and he would be close to the frame for carp with that. Nigel Wickham had 11lb 3oz of carp and 6lb 3oz of silvers from 28 but the wind hadn't done them any favours over on that side. Clive had 16lb 10oz of carp and Rob Birch had four carp for 10lb 5oz but two had escaped his keepnet when it folded down in the wind and they could prove to be costly. So I won the silvers (and was actually top overall weight on the day!) giving me 11 points today and 20 in total with Scott and Adam also both on the same score so it would come down to weight.
Back at the results and Pete's lovely wife had laid on brownies and cakes to go with the usual crisps and coffee, a very nice gesture. I've listed the top three on each pond and there are photos of the full results.
Longs
Silvers
1 – Jamie Rich (Against Men and Fish) – 23lb 9oz
2 – Scott Russell (Tackleuk) – 20lb 6oz
3 – Adam Palmer (Bridgwater) – 8lb 6oz
Carp
1 – Jamie Parkhouse (Summerhayes) – 21lb 3oz
2 – Clive Cunningham (Summerhayes) – 16lb 10oz
3 – Martin Addicot (Taunton) – 12lb 6oz
Sellicks
Silvers
1 – Mark Leahy (Street) – 11lb 3oz
2 – Martin Heard (Tiverton) – 3lb 10oz
3 – Glyn Wickham (Summerhayes) – 14oz
Carp
1 – Bill Hopping (Summerhayes) – 26lb 13oz
2 – Darren Roberts (Street) – 18lb 5oz
3 – Dave Ball (Summerhayes) – 14lb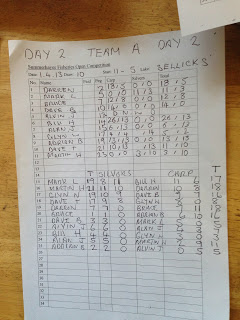 Sellicks results from day two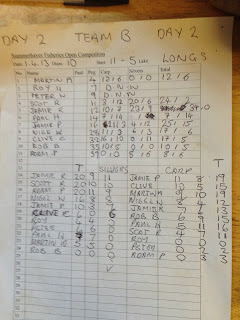 Long's results from the second day
Pete called out the winners and the silvers was a very close affair with just two points separating the top six and in several cases it came down to weight. I was called out in second place behind Martin and picked up £70 plus £20 from the superpool for today.
Overall silvers
1 – Martin Heard – 21 pts
2 – Jamie Rich – 20 pts (32lb 8oz)
3 – Scott Russell – 20 pts (30lb 1oz)
4 – Adam Palmer – 20 pts (18lb 5oz)
5 – Mark Leahy – 19 pts (17lb 10oz)
6 – Glyn Wickham – 19 pts (11lb 3oz)
The overall carp result was also close with weight deciding the top two.
Overall Carp
1 – Martin Addicot – 19 pts (39lb 13oz)
2 – Jamie Parkhouse – 19 pts (36lb 9oz)
3 – Bruce Hunt – 18 pts (64lb 7oz)
4 – Darren Roberts – 18 pts (29lb 1oz)
5 – Adie Bishop – 18 pts (26lb 9oz)
6 – Bill Hopping – 17 pts
Another cracking little festival and a massive thanks to Pete for organising it, there's another one next Bank Holiday but I'll have to miss it as there's a spring league match at Perry St. Well done to all the winners as it was hard going on Sellicks and the bitter weather made things difficult for some. For me I had a cracking two days, catching over 32lb of silvers and 23lb of carp, picking up £90 and being top weight today was the icing on the cake. Things got even better when I heard Chelsea beat Man United 1-0 in the FA Cup although we have Man City next and that will be a tough game.
Back to work tomorrow although it's a short week and then it's back here next Sunday so come back next week to see how me and Janders get on.
Update – Glyn Wickham just phoned and asked if I wanted to fish a match at Goodiford Mill on Saturday, big weights of roach to 40lb, I'll let you know how I get on!