I don't normally fish Saturdays apart from the odd trip after mullet, pike or barbel etc but when Glyn Wickham phoned me and asked if I wanted to fish the silvers lake at Goodiford Mill I was tempted. He then went on to say it's stuffed with big roach to 2lb+ and that you would need 40lb+ to win and that was all the incentive I needed to put my name down. Glyn said he'd sort some bait for me and I could meet him at the services and follow him to the lake. I have fished the match lake once and had a very enjoyable day catching over 23lb of skimmers, roach, crucians and tench but I always get a buzz when fishing somewhere new for the first time.
My alarm went off at the ungodly hour of 6:30 and we'd had a nasty frost overnight but then that's nothing unusual these days! I made good time and arrived at the services half an hour early but luckily the Wickhams were early too so I didn't have too long to wait. We got there and the lake was fairly small with only 14 pegs and Glyn said it used to be the trout lake. Whilst waiting for the others to arrive we sorted out my bait and for today I had a pint and half of casters and the same of maggots along with some groundbait I'd brought from home. As the rest began to turn up, the talk was of the middle pegs being better, basically the pegs are on opposite banks of the pond with none on the sides (if that makes sense!).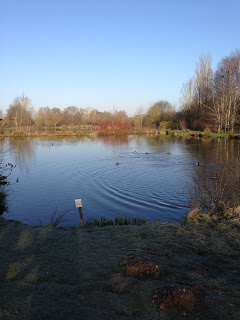 The silvers lake (you can see my peg in the far corner)
I drew peg 13 which put me on the end peg on the far side, apparently Glyn came second off it with 38lb one match and that would suit me fine. Bruce Hunt was on my left on a really good peg (nothing new there then!) with John Green next to him and Dave T on the other end. I set up two rigs, a 0.75 gram Drennan G-tip and a 0.5 gram Drennan Roach, both had 0.08mm bottoms and size 18 hooks. I mixed up a bag of groundbait and had a coffee while the sun started to emerge and the frost gradually disappeared. Odd good fish could be seen topping just past pole range and visions of 2lb roach and a new Mission Impossible badge started to flash before my eyes.
Glyn shouted the all in and everybody began cupping in feed on their various lines apart from Glyn who boshed in several big balls! I cupped in two balls at 11 metres with a further two at 8.5 metres where I hoped to catch later. I noticed Bruce was fishing longer than me as were most people on the far bank but I would see how it went for a while. I slipped on two red maggots and shipped out to my longer line and started feeding maggots and casters over both of my lines. Given the frost I thought it might take a while to get a bite and nobody did for a little while and then Glyn got off the mark with a decent fish and soon after added another. My float remained motionless but when both Nigel and Ray Wickham had fish on the opposite bank, surely it was only a matter of time before I caught.
Then Bruce started getting odd fish and John Green netted a couple of skimmers, I still hadn't had a bite despite trying my shorter line a lot earlier than I wanted to. After an hour I was still fishless as was Dave T on the other end. I did try 13 metres briefly just loose feeding casters over the top but not a sign. Bruce now had five or six fish including a nice crucian and Ray and Nigel were probably on around the same number. Paul Homewood had a couple of fish but Glyn's bites had dried up and I couldn't see 40lb winning it today, for me a bite was a priority! The one consolation was that it was now a lovely day and I had to take off my coat and fleece and compared to recent weeks it was boiling hot.
With two hours gone I once again pushed the pole out to 13 metres and was just about to feed when the float sunk from view and I was in! It felt like a really good fish but actually turned out to be a foulhooked 2lb skimmer but I was up and running. That fish proved to a false dawn and no more bites saw me try 11 metres and 8.5 metres but I just couldn't catch. John Green hadn't added to his two early fish and Dave T was still blanking. Bruce, Ray and Nigel were catching quite well now and were looking good to fill the top three places although there were two section prizes up for grabs as well.
With less than three hours to go I just couldn't buy a bite and out of desperation I added another section to fish 14.5 metres out but angled to my left so I was fishing more towards the middle of the lake and started feeding casters and maggots over the top, Eventually I had a bite which I missed but it seemed to be a one off, so again I rotated around my other three lines but still nothing. Bruce was still catching roach and skimmers and looking to be heading for yet another victory. Glyn was still struggling and even boshed in some more groundbait. Back at 14.5 metres I had another bite and hit this one only for it to come off on the way in and things weren't going to plan. With Dave T still blanking and John still stuck on two skimmers, I realised I wouldn't need to catch too many fish to win the section by default if Bruce won or framed.
I finally hooked and landed a nice roach of 8oz or so and was getting bites but they would just come out of the blue and I couldn't seem to string two bites together. I lost a fish which felt like a decent skimmer but did manage to add another eight roach before the all out. John packed up early and Dave T blanked so as long as Bruce framed I should pick up the section. Glyn also chucked back early and was lifting his box out of the water when one of his drawers slid out and deposited all his line, hooks and shot on the pond! Along with his groundbait bombardments he'd pretty much chucked everything in the lake today! The owner does the weigh in so as I was packing up, the weigh in had already started on the far bank.
Paul Homewood had 6lb 4oz before Nigel weighed 9lb 10oz and then Ray had 8lb 2oz, the scales reached me and my one skimmer and nine roach weighed 5lb 12oz and should be enough for the section with only Bruce left to weigh. He had a lovely net of quality roach and skimmers weighing 27lb 14oz and I could certainly see the potential of this nice little fishery but it does look like the pegs in the middle are the places to be. Still it had been a lovely day, the best so far this year weatherwise and I'd even burnt my face! I picked up £10 for the section and if I'd fished long towards the middle earlier I might have been a lot closer to Ray and Nigel's weights but worth remembering for next time.
1 – Bruce Hunt (Tiverton) – 27lb 14oz
2 – Nigel Wickham (Street) – 9lb 10oz
3 – Ray Wickham (Street) – 8lb 2oz
Sections
A – Paul Homewood – 6lb 4oz
B – Jamie Rich (Against Men and Fish) – 5lb 12oz
Well I'm back at Summerhayes tomorrow and I think it's on Longs, pegs 11 and 12 are still fishing well so one of those two would be nice please! Pop back tomorrow night to see if I manage to draw a decent silvers peg.