I was looking forward to getting back on Longs today and hopefully having a nice days skimmer fishing, the forecast wasn't as good as yesterday but still better than what we've been used to of late. I picked Janders up and on arriving at the fishery there were a fair few cars already there and it looked like Pete had a fair few booked in for today. I said hello to all the usual suspects like Scott, Exeter Mike, Adie, Bruce, Heardy and Bill 'The Redfin' Hopping and even Ashley Tomkins had turned up today. Also fishing today was Trevor Holmes who reads the blog and we've had the odd chat on Twitter and it was lovely to finally meet him in the flesh.
There were 19 anglers fishing today and pegs 11 and 12 were fancied by a lot of people as they'd done well last weekend and also in the mid-week match. I went in the bucket and pulled out peg 35 which is on the track side and an area I've not fished before. Trevor was on 31 and Janders a few pegs to his right. Adie and Scott were the lucky anglers to draw 11 and 12 and I was sure both would do the business off those pegs. I helped Janders to his peg with his gear (because that's the kind of guy I am!) and then he returned the favour (cheers John!). I had Dave T on my right but then had three empty pegs to my left which could only be a good thing with quite a few anglers on the pond today.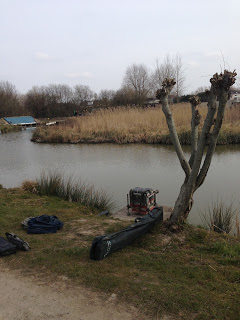 Peg 35 on Longs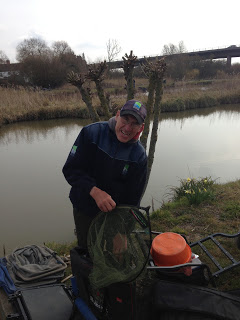 Dave T on the next peg
It was quite windy on our side and me and Dave seemed to be getting the worst of it from what I could see. I set up a 10 x 11 MW F1 Slim with 0.08mm bottom and size 18 808 and also a the same pattern but 14 x 11 with 0.10mm bottom and size 16 808 but never picked this rig up all day. I was also trying out my new Frenzee Soft Pots for the first time and I must say how impressed I am with them. For bait I had micros, Bait Tech 4mm expanders and some dead maggots. I plumbed up three lines at 10 metres, angled to my right, straight out and to my left, I also plumbed up at 11.5 metres but unless the wind dropped I couldn't see me fishing there.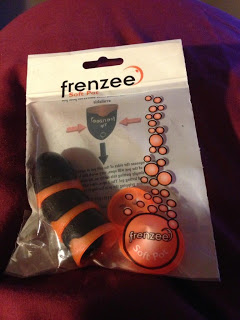 My new Frenzee pots
Pete blew for the start and I cupped in small amounts of micros on all three lines before starting on the right hand line and the plan was to take a couple of fish off this line before moving to the next and so on. I had a bite quite quickly and netted my first decent skimmer and then had one next chuck before moving to the next line. I had a small skimmer and a better one before moving to the left hand line. I was feeding a pinch of micros each time with my new toss pots and things were going really well. After an hour I'd had 12 fish which included 5 decent skimmers, a lovely 12oz golden tench, 2 carp and the rest small skimmers to give me about 3lb of silvers and as I thought around 15lb would probably win the silvers today, I was slightly ahead of my target.
The wind was being a real pain and had already blown my pole off the roller several times, knocking the roller over in the process. Dave was getting odd fish but was being plagued by bits and I guessed he must have been fishing the maggot. Hour two was slightly better and I added another 13 fish including another carp, a couple of tench and some more skimmers and I was up to 6lb of silvers and still doing well. I kept expecting bites to slow but rotating the lines I was catching really well and had hardly missed a bite and hadn't lost a fish yet.
The third hour was pretty good and I was still getting the odd skimmer but was starting to get quite a few small roach and blades as well although I did add my first crucian which was about 8oz. Adam Palmer turned up with his kids for a look and I could see them over with Scott before he came round to see how I was getting on. I had another crucian while he was there and he said Scotty was struggling and I was winning the match! At the halfway point I had about 7.5lb of silvers and five carp but felt sure my silvers would slow up at some point.
In the fourth hour I was still getting plenty of bites but they were mainly from small fish or carp and after last week I decided to feed two lines at 11.5 metres and if things didn't improve I'd go over them to see if the bigger silvers had backed off. I could see Scotty catching regularly now and I heard Adie was getting a few as well. I started to nick just one fish off each line before swapping and I was still getting the odd better skimmer and probably had 8.5lb of silvers with two hours to go. I was still getting carp as well and had nine or ten already.
The penultimate hour saw me spend quite a while playing carp and I only added three more skimmers and a few bits to give me 10lb with 60 minutes to go. I didn't think I'd reach my 15lb target but as several people were now packing up I felt I must still be doing okay. I decided to spent the last period of the match just fishing the line straight out and added a couple more carp and skimmers although I did lose one good skimmer on the way in (the only decent fish I lost all day!). I ended up with 68 fish (14 carp and the rest silvers) and thought I probably had 21lb of carp and 11-12lb of silvers but would it be enough?
Steve Jackson had stood behind me for the last 15 mins and he gave me some great tips while I was packing up and said he'd reckoned I had over 40lb! Scotty came round and congratulated me on winning, I asked what he weighed and he said 36lb odd and I was sure I'd be a couple of fish shy of that. I walked down to watch the last couple of pegs weigh and also checked out the weighboard, Janders had done really well and had weighed 11lb 8oz of silvers and was currently lying third overall, Heardy then had 22lb odd to go into third, Trevor didn't weigh but had caught some nice skimmers and I said I hoped he comes back when it warms up a bit. Redfin Hopping had 6lb 6oz and Dave had 8lb 8oz and it had been really hard for some.
I was the last peg to weigh and pulled out my carp net first, Pete called out 27lb and I needed 10lb of silvers to win and I hoped I had that, in fact my silvers weighed 19lb 13oz! to give me a 46lb 13oz total and despite being the top weight last Monday, this was my first proper win at Summerhayes and I was well chuffed. I picked up £70 and had enjoyed a cracking days fishing, Janders won the silvers but still had to pay me a pound. Scotty was second overall with Heardy third and Adie fourth and Ash was second in the silvers just 3oz behind Janders.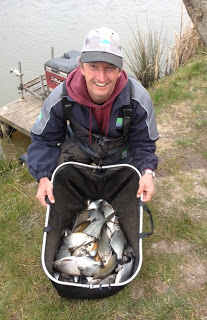 Me with my silvers net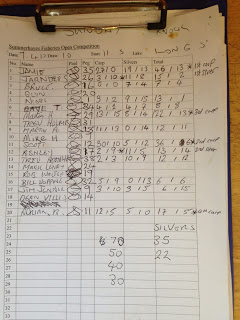 Today's weighboard
1 – Jamie Rich (Against Men and Fish) – 46lb 13oz
2 – Scott Russell (Tackleuk) – 36lb 6oz
3 – Martin Heard (Summerhayes) – 22lb 13oz
4 – Adie Bishop (Summerhayes) – 17lb 5oz
Silvers
1 – John Anderson (Donyatt Superstars) – 11lb 8oz
2 – Ashley Tomkins (Tackleuk) – 11lb 3oz
So another really good weekends fishing and Chelsea beat Sunderland to go back above Spurs in the league which finished the day off perfectly. Next weekend is the first round of the Spring League at Perry St so come back then to see if I can draw the top end or come back down to earth with a bump!