Today was part one of my fish fest (four matches in six days) and as I was loading the car, I was pleasantly surprised with the air temperature. Although chilly, it was nowhere as bad as it was on Sunday when it was so cold it was painful. The match today was to be a rover, where you get to pick your own peg, originally I was going to take a chance and go on Willow but Pete said it was on Longs only, so that plan was scuppered. For a mid-weeker there was a decent turnout of ten anglers including Roger and Scott Russell (who just wanted to waggle his Air about again!) and Tom Mangnall who always does well here.
Pete announced the draw and I pulled out number 10, meaning I had last choice (not a great start!), I decided on peg 9 as I did okay fishing for silvers last time I was on this lake. Adie Bishop picked peg 12 which has been very consistent and in form Clive Cunningham decided on peg 39 which is a peg I hate with a passion! I had Roger on peg 11 but to my right I had an entire empty bank to myself and was hoping the space would help in my quest for silvers. I set up the same rigs as last time, a 10 x11 MW F1 Slim with 0.08mm bottom and size 18 Tubertini 808 with blue hydro, a heavier 14 x 11 version with 0.10mm hooklength and size 16 hook in the same pattern and also a Trabucco dibber but as I never picked it up all day, I'll say no more about it.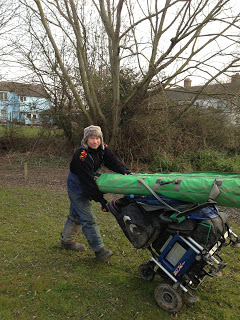 Adie on his way to peg 12 (and second place)
It was quite a nice day and even the sun kept trying to poke it's head out, I hadn't even put my gloves on yet and it felt almost tropical compared to Sunday. The whistle blew to start the match and I put in quarter of a cup of micros at 10 metres straight out in front and half a cup at the same distance but angled to my left. I also cupped in some corn and micros on the inside. It took a while to get a tentative indication which I missed and it was half an hour before I caught my first fish, a decent skimmer. Adie on 12 had a carp quite quickly as did Scotty on peg 16 before I added my second fish which was a good skimmer of around 1.5lb and I was fairly pleased to finish the first hour with about 2lb and if I could carry on like this I thought I would be there or thereabouts for the silvers.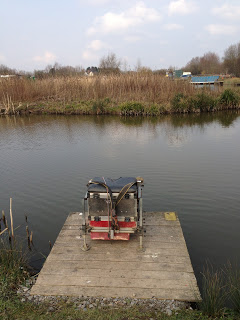 My home for the day – peg 9
The second hour was much the same and I added another three skimmers to put me on about 3.5lb, I did bump one good fish and was still being plagued by those tiny dips on the float. Roger was getting odd skimmers too and even added a nice little crucian. I was feeding a tiny pinch of micros on my main line and feeding the other two lines after each hour, on the hook I had a 4mm Bait Tech expander. Going into the third hour I tried my left hand skimmer line for the first time and had a decent skimmer first chuck. I then had a really good spell catching two fish off each of my 10 metre lines before switching to the other for two fish and so on. Most were good skimmers between 8oz and 1lb with the odd smaller skimmer and roach in between them.
I had reached about 7lb when towards the end of the third hour I hooked a fish that was pulling out a fair bit of blue hydro but it wasn't pulling hard enough to be a carp and as it wasn't going round in circles, I didn't think it was a crucian, when a 8-10oz perch popped up I didn't know who was more surprised! My first ever perch on a soft pellet! With 7.5lb in the bag and only half the match gone I started to feel a good weight was on the cards. I should have known better, I then struggled to get a bite and when I did get one, it would be a tiny roach and I even had a motherless minnow.
I was sure the skimmers were still there as I was still getting those tiny dips on the float, I could see Scotty was getting some good skimmers so they were still feeding. The temperature felt like it dropped a few degrees and it kept trying to snow and I was soon putting my gloves on. I was still a few fish ahead of Roger but he lost a 4lb bream at the net which didn't help his cause. I started a third line to my right at 10 metres but despite a few knocks I never had a fish from it. By the end of the fifth hour I had only added one more decent skimmer plus a few bits and bobs and was probably up to about 8.5 lb.
The last hour was painfully slow and I only added one more decent skimmer to finish with 22 fish (I didn't count the bits) for about 9lb. Roger had landed a couple more skimbobs but I thought I just had the edge on him. I could only see a few anglers around me and most of those had either fished for carp or a combination of carp and silvers so I had no clue to how I'd gotten on really. For the second match on Longs I hadn't hooked a carp all day. I took my kit back to the car and the scales were soon with Clive who had 27lb 10oz and he really is on fire at the moment. The scales worked their way round and the pegs by the track had fished poorly and Tom Mangnall was top there with 16lb odd and the best silvers weight was Dave T with a lowly 2lb 15oz.
We then got to the more sheltered pegs and Gary B had been fishless for over four hours on peg 19 and then caught seven skimmers to weigh 9lb 1oz and take the lead on the silvers front. Scotty then came close with 13lb of carp and 11lb 2oz of silvers to go into second place overall and take over the silvers lead. I thought I might be close to Gary's weight but I was sure I didn't have enough to trouble Scott's silvers and was hoping he'd frame. Adie then pushed Scott into third when he weighed just 11oz more. Roger had 6lb 6oz of silvers and was cussing the loss of that bream, then it was my turn and I was surprised when Pete called out 13lb 7oz and I'd won the silvers.
1 – Clive Cunningham (Summerhayes) – 27lb 10oz
2 – Adie Bishop (Summerhayes) – 24lb 13oz
3 – Scott Russell (Tackleuk) – 24lb 2oz
Silvers
1 – Jamie Rich (Against Men and Fish) – 13lb 7oz
2 – Gary B (Summerhayes) – 9lb 1oz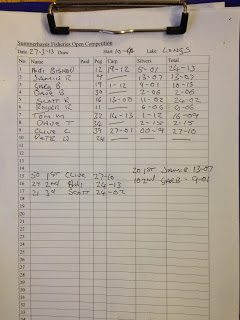 Today's weighboard
I picked up £20 to keep my winnings ticking over and had really enjoyed the first half of the match, I'm looking forward to the two day mini-festival but with the cold weather the draw will be crucial. I'd settle for todays weight on Longs and I think 10lb will be a good silvers weight on Sellicks, make sure you come back to see how I fare.
Before that I have the Good Friday match at Perry Street and it'll be nice to see all the faces I haven't seen since last years spring league. I've got no idea how I'm going to approach this match as meat and pellet is banned for this year and so far the corners have dominated so lets hope my drawing hand is on form!