I must admit I'm fed up with this weather now, I look forward all week to fishing on a Sunday but when it's as cold as this, it's not much fun and the fish don't really want to play ball either. Janders was coming along for the ride this week and was hoping for a few bites after blanking at Perry St last week. It didn't feel too cold as I loaded the car and we hadn't had a frost so hopefully we should get a few fish today. We got to Bridgwater and as always it felt a few degrees colder due to a biting wind, with 15 anglers fishing today Pete had split the match with 11 pegs on Sellicks and the remainder on the dreaded Lily. To be fair, Lily normally produces some of the framing weights but as it's mainly carp, it's not my favourite pond.
Pete announced the draw and I waited until I'd heard most of the pegs on Lily had gone before grabbing a ball, I opened my hand to reveal Sellicks peg 10 – phew! It can be a decent silvers peg and that would do me fine. Janders drew 14 on Sellicks which is also a decent peg. I took my kit to the peg and was pleased to see I had loads of room, three empty pegs to my right and two to my left. The wind was bitterly cold though and I started to lose the feeling in my hands as I started setting up. I decided to keep it fairly simple and set up a 0.6 gram Malman Pencil with 0.08mm bottom to a size 18 808 to fish at 10 metres across and and also at 8.5 metres angled to my left. I also set up a Trabucco dibber with 0.10mm bottom and size 18 808 to fish down the edge at 8.5 metres to my left.
For bait I just had 4mm Bait Tech expanders for the hook, micros which I'd dampened down last night and a small tin of corn. The all in was shouted and I fed a quarter of a pot of micros at 10 metres and half a cup at 8.5 metres before finishing my feeding with micros and corn down the edge. Despite the cold I still expected to catch quite quickly as last week there were loads of small skimmers showing. It took ten minutes to get my first bite at 10 metres which I promptly missed! and then a similar time later I missed my second bite! This was going to be rock hard, I hadn't seen anybody catch and we were nearly half an hour into the match.
I fed a pinch of micros on my longer line before having a look at 8.5 metres and after another ten minutes, I missed bite number three! After an hour and a half I was still fishless and still hadn't seen anybody catch and my hands were bloody freezing. I then had a decent bite on the shorter line and this was no skimmer, I played the carp with kid gloves and eventually the blue hydro did it's job and I netted a decent carp of 4lb or so and was finally off the mark. This put me ahead of the anglers I could see and was back fishing at 8.5 metres when Glyn Wickham walked up from peg 2, he hadn't caught and neither had Paul Homewood on peg 4 but peg 6 had a small skimmer, it was that hard.
John Pear on peg 13 was soon walking and from all accounts, Lily was rock hard as well and nobody had caught a carp there yet. My next bite came from the 10 metre swim and was also a carp but after a couple of minutes, the hook pulled and I think it may have been foulhooked. I was feeding tiny amounts of micros on the two skimmer lines and a little more on the inside line with the addition of some corn. I had a quick look on the inside but normally if there are some carp there you get indications straight away. Back at 10 metres and the wind was getting stronger and colder, I then had an 8oz skimmer and was fairly happy that I was at least getting odd bites. I then missed two bites in two chucks before the longer line died again.
Janders had a walk to warm up and said he'd had a skimmer but had lost a carp, it didn't sound like much was happening on the other side either. It really was a struggle and already several people were packing up including John Pear and the chap on peg 6. I kept swapping between all three of my lines but now couldn't buy a bite. I was back at 10 metres and lifting and dropping the rig regularly to see if I could attract the interest of anything when I had a good bite and netted my second carp which was slightly smaller than the first. Glyn was round seeing how Ray and Nigel were getting on and came back to report Adie Bishop was winning with five carp from peg 17 although several had been foulhooked and he'd lost a fair few too! Glyn said his Dad Ray had a couple pound of silvers but I was looking good for second place overall!
I was sure two carp wouldn't be enough for second though and felt certain somebody would find a few on Lily. But as the time ticked by three of the four anglers on Lily packed up, leaving Bill 'Redfin' Hopping as the last man standing on that pond, apparently he was catching quite a few small rudd. Glyn also packed up leaving just Paul Homewood and me on our bank. I had finished off my coffee and was wishing the time away. The wind was now making it hard to present properly at 10 metres so I came back a section and started a new line with virtually no feed but still couldn't get any more bites. Another quick look on the inside was also fruitless but I noticed Paul had netted a couple of good skimmers and was looking good for a silvers placing.
No more bites for me and I was very relieved when the all out was called, Pete was soon at Paul's peg with the scales and he finished with 3 skimmers for 3lb and I thought that wouldn't be far away today. My two carp went 7lb 7oz and my solitary 8oz skimbob gave me a 7lb 15oz total and people were still saying I'd be second and I wasn't counting my chickens yet. The scales went off to weigh Bill on Lily and he'd done brilliantly to finish with 2lb 11oz of tiny rudd and will be known as Bill 'The Rudd' Hopping from now on. I didn't watch the rest of the weigh in as I was taking my kit back to the car and just wanted to warm up a little bit.
I'd just finished loading the car when Janders turned up, his skimmer weighed 1lb 11oz and he had a 2lb 1oz carp to go with it to give him a 3lb 12oz total and as he handed over his pound I was glad he'd decided to have it on overall weight today. Nigel Wickham had 3lb 8oz of silvers and 3lb 3oz of carp to give him a 6lb 11oz total and I was still second behind Adie who's five carp weighed 13lb 6oz. Ray Wickham had 2lb 3oz of silvers and his net included a very unseasonal little tench! With not many people left to trouble the scales, we were soon back in the warm porta-cabin and Pete laid on hot roast potatoes and chicken nuggets which were very welcome along with a hot drink.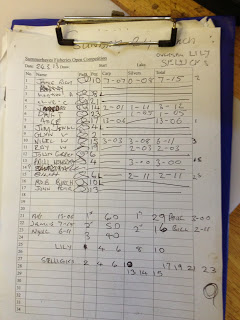 Only a few weighed in today
Time for the results and Adie had won and I was called out in second place and picked up £50 which made sitting in the cold a little more bearable. It really is no fun fishing in this weather and I'm back again on Wednesday and it doesn't look like there will be any let up in the weather.
1 – Adie Bishop (Summerhayes) – 13lb 6oz
2 – Jamie Rich (Against Men and Fish) – 7lb 15oz
3 – Nigel Wickham (Summerhayes) – 6lb 11oz
Silvers
1 – Paul Homewood (Summerhayes) – 3lb
2 – Bill 'The Rudd' Hopping (Summerhayes) – 2lb 11oz
I said in an earlier post that one of my aims is to win a Summerhayes match and I think when the fishing is hard, this might be possible fishing for silvers and I'd missed enough bites today to have been a lot closer to Adie but another 5lb+, I'm not sure.
Wednesday's match is a rover I think and I had planned to go on Longs for a days silvers fishing but the match on there today was only won with 4lb! I've also got a match at Perry St next Friday and then the two day festival at Summerhayes on the Sunday and Monday and if the weather stays like this, it's going to be a tough few days so make sure you come back to see if I manage to catch or freeze to death in the process!