It was back to the spring league this Sunday and as I was away for the last match and nobody could be found to fish for me, I'm slipping down the tables rapidly, it didn't help that I had peg 1 last match, so that's one of my corner pegs gone. Before I went on holiday I'd been on a bit of a bad run with no brown envelopes for three matches and I was hoping to stop the rot today. Les did the draw for the individual knockout and I was up against Chilly who is a man on fire at the moment, picking up in all five matches so far. Things got worse when the envelope for this weeks draw sequence was opened, Chilly was on peg 1 (with the wind blowing into it) and I was on peg 9 (a decent peg but I was up against it from the start).
Steve Chant was standing in for Bish today and it was lovely to see him for the first time in ages, he gets sexier every time I see him! It was a nice sunny day and plenty of fish could be seen up in the water, I decided on three rigs today, a Drennan 0.75 gram G-tip for 11.5 metres, a Drennan 0.6 gram Carp for fishing at 5 metres and a Trabucco dibber for the inside line by the fish refuge. I mixed up some groundbait, chopped up some worms and was ready for the off. Les blew for the all in and I cupped in two balls on my skimmer line at 11.5 metres before putting some chopped worm and casters in at 5 metres and finally dead reds, casters, corn and some loose groundbait on the inside line.
I was still feeding when Mike 'Feeder' Collins was into a carp straight away in peg 10, when I'd finally finished I shipped out to my longer line with a worm head on and the float settled and went away and a small carp was hooked. The blue hydro did it's job and I was off the mark, Exeter Mike was catching silvers in peg 12 and it was looking like it might fish well today. Next chuck I've had a lift bite and landed a decent skimmer of a pound or so, I then had a small perch and this was followed by another small carp and we'd only had 30 mins fishing!
Odd carp were being caught with Les on peg 13 and my nemesis Picky next door also getting in on the action. I was still getting indications on the longer line but I sensed it was slowing so after an hour, I fed another ball on that line and some more grub on the inside before trying my five metre line. Worm head was the bait again and I missed a bite before having an eel around the pound mark and was still ticking along nicely. Blaker in peg 11 and Mike in 10 were catching odd carp but nobody seemed to be running away with it. No more bites at five metres so I fed it again before briefly trying the inside, no indications told me to feed it and leave it alone for a while.
I went back out to 11.5 metres and was feeding some choppie through the toss pot each put in, I had another smaller skimmer and a carp but also lost a carp which snagged me and the hook pulled out. Les was catching regularly from his long line but only had one decent skimmer and was catching quite a few carp. Janders seemed quiet over on peg 13 so that pound was safe for now although the side bet between me and Picky was still touch and go as we had around the same number of fish.
I was finding I'd get a couple of quick fish off the long line before it went quiet so I cupped in another ball before trying my other two lines again but I only added a couple more small perch. Blaker was starting to catch carp with over half the match gone and Exeter Mike was starting to land some lumps as well. I was back out long and had another skimmer and added a couple more small carp but was pinning my hopes on the inside coming good in the last hour or so. Janders was now hooking quite a few carp but losing a few as well and Blaker seemed to be having the same problem and from the muttering I could hear, toys were starting to be thrown out the pram.
Les landed a nice seven pounder but somehow managed to miss the keepnet with it – whoops! By now we had entered the last period of the match and I was fishing the inside with two dead red maggots on the hook, the first two carp I've hooked both came off and with Picky starting to get odd carp I could feel a nugget slipping away. I've then landed the next two and Les struck into a fish and while he was playing it, blew the whistle for the all out. I knew my eight carp wouldn't do any good and as Picky had the same number, I was hoping my silvers might swing it for me. Janders had finished with 6 carp but had lost 8!
I packed up feeling quite disheartened and the highlight of the day had been a rather friendly robin landing on my bait tray and helping himself to my maggots (at least something liked them!). As I walked back to the car there were the usual tales of woe although it seemed Bushy had done well and so had Chanter in his first match for ages. I asked Chilly how he'd got on and he was admitting to 25lb but as he can't lie straight in bed I knew he'd beaten me today and after winning the knockout last year I had fallen at the first hurdle this time around.
We all gathered around peg 1 and awaited the start of the weigh in, Chilly had over 38lb proving once again he's a compulsive liar. Me and Picky were arguing over who'd beaten who and we were both admitting to around 20lb and would have to wait for the scales. Chanter had done a sterling job for Bish when he weighed over 28lb of carp. Dunner had done his usual consistent silvers job and weighed 6lb 12oz, Bushy had over 44lb of carp and 3lb 12oz of silvers from peg 4 before Kev Baker had 8lb 12oz of carp from peg 5. Oz had 18lb of carp from peg 6 and then Dave Lawrence (fishing for Rocking) had a brilliant 18lb 6oz of skimmers to go into the silvers lead. That's the best silvers weight so far this series.
Picky had 21lb 12oz of carp and 6oz of silvers and I knew it would be close, my silvers weighed 3lb 10oz and my carp 20lb 2oz and I'd just pipped him and levelled the side bets score at 3-3. Mike C had 24lb 2oz and then Blaker had 45lb to go into the carp lead. Exeter Mike had 26lb of carp but his 8lb 4oz of silvers put him second on that front. Les had 24lb of carp and 6lb 8oz of silvers and then Janders had 16lb odd of carp and I was another pound better off. Dino had struggled in peg 15 for 11lb something and Mark M had 18lb of carp but his 6lb 10oz of skimmers put him in the silvers frame. Hoff had struggled in peg 17 and Butch had 5lb 4oz of silvers to keep him up there in the league.
The last two pegs were Dave M who had 20lb 8oz of carp and then Mike T had 15 carp for a brilliant 56lb 10oz and a popular victory from peg 20. From being a no hoper peg, it's now framed in the last two matches and three out of the top four carp weights came from the corners today.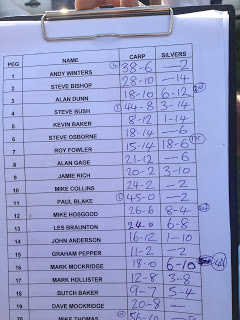 Today's weighboard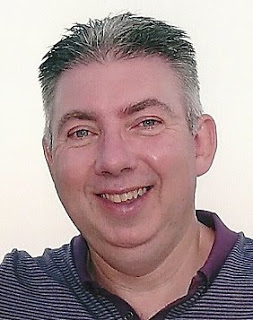 Mike T – today's winner
Carp
1 – Mike Thomas (Chard) – 56lb 10oz
2 – Paul Blake (Chard) – 45lb
3 – Steve Bush (Chard) – 44lb 8oz
4 – Andy Winters (Chard) – 38lb 6oz
Silvers
1 – Dave Lawrence (Chard) – 18lb 6oz
2 – Mike Hosgood (Near Exeter) – 8lb 4oz
3 – Alan Dunn (Chard) – 6lb 12oz
4 – Mark Mockridge (Chard) – 6lb 10oz
After six matches this is how the leagues look
Carp
1 – Andy Winters – 221lb 12oz
2 – Steve Bishop – 197lb 7oz
3 – Paul Blake – 184lb 4oz
4 – Steve Bush – 173lb 2oz
Silvers
1 – Les Braunton – 41lb 12oz
2 – Alan Dunn – 39lb 6oz
3 – Mike Hosgood – 35lb 15oz
4 – Butch Baker – 29lb 13oz
I seem to be on a right barren run at the moment, I'm at Summerhayes next week so come back then to see how I get on.
Next up – Summerhayes
What's new – Latest Gillhams newsletter on News page, Rogues Gallery updates
Check Out – My trip to Thailand below