I was really looking forward to getting back to Summerhayes although with over 30 anglers booked in the match was to be split over Sellicks and my favourite pond, Lily. Tony Rixon had brought the Bristol bagging contingent down for a day out and there was a good chance we'd all get mugged again! You can check out Tony's blog here Tony's blog to see how his day went, among the many 'stars' including Bobby Gullick was young Joe McMahon who also writes a great little blog which can be found here Joe's blog
Brendon was also there and had been winding me up saying he was going to whoop my arse after his coaching sessions with Gary Webber, the trouble was I really fancied a day on Sellicks but just knew I'd end up on Lily again. Pete announced the draw and I hung back hoping all the pegs on Lily would go early, Roy Hughes who also likes to fish for silvers ended up on Lily and so did Andy Winters who was fishing here for the first time and when Brendon pulled out Lily, how I laughed (I really should know better!). With only a few balls left in the bucket, I pulled out one and of course it was on poxy Lily although peg 10 is one of the better ones. With us both on the same lake, the side bet was on overall weight.
I had Paul Homewood on my left and then an empty peg to my right with Mark Leahy across from me on the next peg, he also had an empty peg to his right, surely the extra space could only help us? My peg has two lily beds in front of me at about 16 metres although I was hoping to catch at a much more manageable 11.5 metres. I also intended to feed meat at 5 metres and micros and meat towards the empty pallet on my right at about 8 metres.
I only set up two rigs (can you tell my heart wasn't really in it yet?), a 0.75 gram Drennan G-tip for 11.5 and 5 metres and a Trabucco dibber for the inside swim. Both had size 16 Kamasan B911's to 0.12mm hooklengths. The whistle went and I cupped in micros and some meat on the long line and the margin and then just some meat at 5 metres. Today I was using Bait Tech strawberry flavoured meat. I started on the longer line with an 6mm expander and missed two bites before switching to a 6mm cube of meat. I connected with the next bite but it didn't feel right and the fish came off and I came back with a scale on the hook – not a great start.
I then landed two small carp and was up and running and I hadn't seen anybody else catch a fish yet, the next carp was coming in nicely when it snagged me about 5 metres out and I was soon tying on a new hooklength. I then landed carp number three before I lost a 3lb foulhooker at the net, odd fish were now coming out but I was still doing okay. My bites slowed on the longer line and it was time to have a quick peek on the 5 metre line which I'd been regularly feeding with a few cubes of meat. I potted in some more feed on the long line and also fed the inside which I wanted to leave as long as possible.
I was getting bites at 5 metres but missing most of them although I did add a couple more carp and a skimmer. I also lost another carp in that poxy snag and was running out of hooklengths! I stuck with the shorter line but slowly but surely people were starting to catch and overtake me, Paul was getting a few on his shorter line, Aaron B in peg 6 and Joe in 3 and Mark were all getting small carp regularly. Thankfully it looked like Brendon was struggling.
With half the match gone and my catch rate stalled, it was time to look on the inside earlier than I'd hoped, I was getting indications but I was missing most of them and it was a pain having to rebait with meat every time so I had a quick look in my carryall for something a bit more robust but all I could come up with was some worms. I put on a worm head and first chuck the float went away and a 2lb carp was netted, cracked it I thought! My next two fish were a small rudd and a 4oz skimmer and it was obvious I hadn't cracked it. I felt like I was going through the motions a bit as I was behind several people on the pond and I was sure people would be getting a few over on Sellicks.
Back on meat I had a foulhooked fish so shallowed up a bit and started to catch quite well, but then I lost a fish and next chuck had one do me under the next peg pallet. While I was tying on yet another hooklength a whole family of swans (Mum, Dad and about seven cygnets) decided to go bums up over my carefully fed inside line. With them hissing and going I had no choice but to go back to 5 metres until they buggered off. I had two more small carp off this line before the swans decided to leave me in piece. Back in I went and carried on catching quite well and was up to 17 carp with 45 minutes left. I set my sights on 20 carp which would give me around 40lb and an outside chance of framing.
Any chance of a grandstand finish soon disappeared though as my bites dried up, both Aaron and Mark slowed up as well so I decided to spend the last quarter of an hour on the 5 metre line, I had a couple more bites but missed them both (skimmers perhaps?) and then time was called. I knew Joe, Aaron and Mark had beaten me so there would be no coin for me today but had I done enough to take another precious pound off Brendon? Apparently Sellicks hadn't fished that well and when the scales reached Lily, Kev M was leading the way with 42lb 10oz of Sellicks peg 4 and Steve Jackson was winning the silvers with 9lb 12oz from peg 7.
Joe McMahon went into the lead with 46lb and Aaron came close with 44lb 7oz although as Mark had over 30 carp we all thought he would have close to 50lb. He actually weighed 41lb 1oz and needed a couple more fish. My 17 carp plus a couple of silvers went 33lb 11oz and I would have been a lot closer with those lost fish. Brendon paid up the nugget (3-1 this year by my reckoning) as he couldn't catch carp and had fished for silvers for two and a half hours. He weighed 8lb 4oz of silvers which put him third with the other side of Sellicks to weigh. Andy Winters had 26lb 9oz which wasn't bad for his first visit.
I didn't see the rest of the weigh in but Bobby Gullick had 25 carp for 63lb 6oz from Sellicks 13 for yet another victory and when Tony Rixon weighed 47lb 4oz from 17 for second it was confirmed we'd been mugged again! Still it was nice to see Tony for the first time in many years and I had a good natter with him. Brendon hung onto third place in the silvers and claimed a moral victory over me and while writing this I have had many texts from him telling me how good he is!!!! Still it's food for thought as a decent weight of silvers was on the cards if he'd fished for them all day and Pete tells me he is going to net Perch Pit with all the skimmers and roach going into Sellicks and Lily which will make it interesting.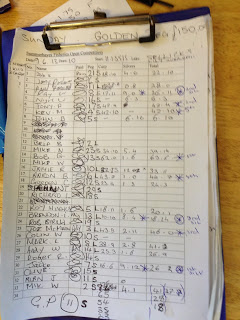 Today's board
1 – Bobby Gullick (Garbolino Blackmore Vale) – 63lb 6oz
2 – Tony Rixon (Avon Angling) – 47lb 4oz
3 – Joe McMahon (Bristol) – 46lb
4 – Aaron B (Bristol) – 44lb 7oz
5 – Kev M (Bristol) – 42lb 10oz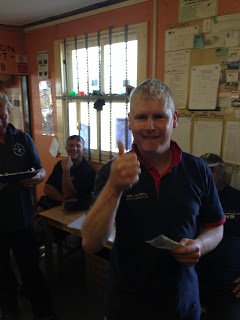 The Torquay Tart looking very pleased with himself
Silvers
1 – Steve Jackson (Summerhayes) – 9lb 12oz
2 – Ray Wickham (Summerhayes) – 9lb
3 – Brendon Ions (Torquay Tarts) – 8lb 4oz
Well my barren run continues and I can't see that changing at Perry St next week so make sure you come back then for my next tale of woe!
Next up – Spring League at Perry St
What's new – Latest Ilminster AA results on News pages
Check Out – My last match below