In yet another new feature for this blog (I'm good to you lot!) I intend to write regular features focusing on a particular fishery with loads of detail including contact info, description of lakes and facilities etc. The first fishery to be featured is the excellent Summerhayes in Bridgwater.
Summerhayes Fishery

Address
Summerhayes Fishery
Bridgwater
Somerset
TA6 6LW
Owner – Pete Wakeling
Tel – 07866 557896
Website – http://www.summerhayesfisheries.com/index.htm
Parking – There is ample car parking available
Fishability – There are several swims suitable for disabled anglers
Facilities – On site shop selling bait, a few items of tackle plus hot and cold drinks, snacks and bacon sandwiches. There are also toilets on site.
Lakes – Six lakes (Longs, Sellicks, Lily, Willow, Perch Pit and Black Swan)
Day Ticket – £7.00
Concessions – £5.50
2nd rod – £2.00
Keep net Hire – £1.00
Night Fishing (Max 6 persons) – £15.00
Day & Night – £20.00
Season Ticket – £85.00
Concessions – £75.00
Extra rod – £10.00
Match Fees – £6.00

Fishery Rules are as follows

Site keep nets only
Do not keep fish over 5lbs in keep nets
Only barbless hooks permitted
No rods to be left unattended
Maximum of two rods per person
No Peanut or tiger nuts
Children under 14 must be accompanied by an adult
Fishing from platforms only
Fish only to be kept in keep nets for a maximum of 6hrs
All anglers must have a valid rod licence
Fishing from 7am to dusk
All litter must be disposed off in bins supplied before leaving
No boilies to be thrown in as feed
Night fishing on request maximum 6 person per night no alcohol permitted
All visitors vehicles and possessions are permitted on the premises entirely at their own risk
I've been fishing at Summerhayes for a few years now after Scott Russell recommended it to me and I have to say I really enjoy this style of fishing. There are a variety of fish including carp, crucians, skimmers, golden tench, tench, roach, rudd, perch and chub. I mainly fish matches and the weights are excellent without being ridiculous and a 100lb+ weight is exceptional rather than the norm. In most fixtures 50-60lb will be a good overall weight with 20-30lb a good weight of silvers. A variety of baits and methods can work although the pole is predominately used. Pellets, paste, corn, meat, maggots, casters, bread and chopped worm can all do well here. Fish can be caught in the margins, down the middle or tight across to the far bank.
The only slight downside to fishing here is the noise from the nearby M5 motorway and railway line but when you're catching fish you soon forget about it!
I haven't fished all the lakes but I'll tell you a bit about the ones I have fished and I've added a link on the end of my best matches on each lake
Longs
My favourite lake, holds a good head of match sized carp (1-4lbs) and winning weights are normally around 50-60lb but the reason I like it so much is because of the large numbers of skimmers, tench and crucians. The silvers pool is normally won with 20lb plus but weights can head towards 40lb which is a great days fishing. The two best approaches for the skimmers tend to be chopped worm and caster or expanders over micros although meat and paste can have their day too. During the winter, minimal or no feed with punched bread on the hook is the method. There is a central island which is between 13 and 16 metres across.
http://www.againstmenandfish.com/2013/04/summerhayes-open-7th-april-2013.html/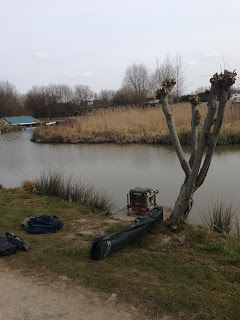 Longs Lake
Sellicks
In this lake the carp tend to be a bigger average size and larger winning weights are required, there isn't the head of silvers that Long's has but saying that I've had my biggest weight of 23lb 12oz of mainly skimmers from peg 23 on here. Weights of around 15lb will normally get you in the silvers frame. Similar baits and methods to Long's also work here. Has an island but in most pegs you'll need getting on for 16 metres to reach it.
http://www.againstmenandfish.com/2012/08/summerhayes-open-27th-august-2012.html/
http://www.againstmenandfish.com/2012/05/summerhayes-open-7th-may-2012.html/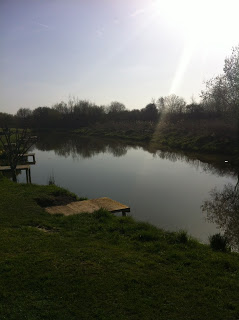 Sellicks
Lily
My least favourite lake on the complex mainly because there aren't many silvers with 8-10lb being a good weight. There are loads of carp between one and three pounds and winning match weights are often approaching 100lb, again most baits will work. No island in this lake. Pete has plans to move all the skimmers and roach from Perch Pit and split them between Sellicks and Lily which should improve the silvers fishing on both lakes.
http://www.againstmenandfish.com/2011/04/summerhayes-open-17th-april-2011.html/
Willow
This lake is rarely match fished and I've only fished it once in a knock up, there are loads of small carp and tench along with some nice rudd and odd skimmers. If you fish worm or maggot be prepared to encounter some big eels too. There are a couple of small islands within easy pole reach.
http://www.againstmenandfish.com/2012/05/summerhayes-open-9th-may-2012.html/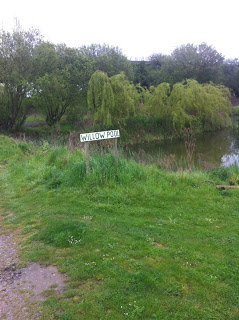 Willow
So there you go, my first Fishery Focus, I hope you liked it and I heartily recommend you go and give Summerhayes a go, you won't regret it.