It was back to the Spring League this week and in a bid to try and stop my dry run, I decided I would fish for silvers as 6-7lb is normally enough to get in the money and that had to be achievable didn't it? On arriving at the car park, the first person I saw getting ready to do battle was Dino and he looked ready for action!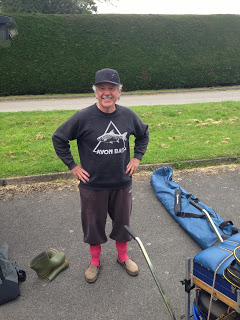 Nice socks Dino!
I got my bait from Les and paid my pools and then Janders arrived, fresh from his holiday in Cornwall and he'd bought me a present, what a nice bloke!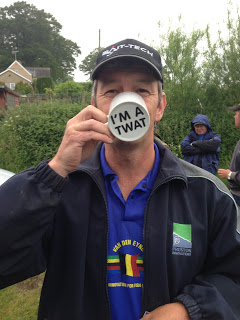 Thanks Janders!
It had started to drizzle already and it was looking like we'd already had our summer, Les did the draw for the knockout but as Chilly had disposed of me in the last match, it didn't affect me. Then he opened the envelope for this week's draw sequence which put me on peg 7 and I was happy with that as it had won the silvers last match. With Picky on holiday, the lovely Chanter was standing in for him and we agreed on a £1 sidebet.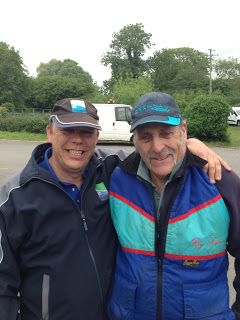 The lovely Chanter with Rocking Roy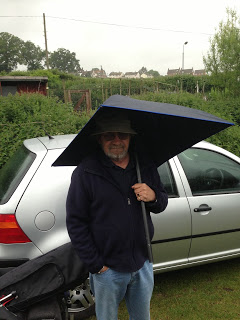 Janders keeping dry
I set up the usual 0.75 gram Drennan G-Tip float but scaled down to 0.10mm bottom and size 16 808 with blue hydro in the top kit. My other rig was a Trabucco dibber for fishing down the edge towards Chanter. I mixed up some groundbait but had only just finished chopping up my worms when Les blew for the all in. I cupped in two balls of groundbait at 11.5 metres, some chopped worm and caster at about 8 metres and then some corn, casters and dead maggots down the edge at about 10 metres.
Janders across from me in peg 12 latched into an early carp on his light rig which he did well to get in and Mark Mockridge had a couple of early skimmers in peg 14. Mike C on my right also had a carp on the feeder. I shipped out with a worm head on and fed some chopped worm and caster via a toss pot and after a few minutes had my first positive bite, the strike saw a pleasing amount of blue hydro come out and it felt like a decent skimmer before the hook popped out, not the best of starts.
I did manage a 6oz skimmer and a small carp after an hour but it was slow going, I wasn't too worried though as nobody seemed to be bagging. Mark M added a couple more skimmers and was an early front runner for the silvers. I could only reply with a tiny perch! After two hours I had only added another small carp and a brief look on my shorter line only yielded another perch. Les was getting a few fish in peg 11 and Exeter Mike had a tench and some silvers in peg 10. I put some more feed on both my open water lines before trying the inside for the first time. I had to wait ages for my first bite and then hooked a carp which came off!
I was now at a bit of a loss what to do next, Janders and Dino were struggling in pegs 12 and 13 and Chanter only had a couple of fish, Les was starting to catch carp regularly in the corner and was already looking good for a frame place. A few carp could be seen mooching around near the surface so I thought I'd have a go shallow. I baited up my margin rig with a worm head and started firing out casters at 11.5 metres, I had a couple of small carp quite quickly and then managed to mug a better one. The trouble was I only had a pint of casters and they wouldn't last me long, I had my sixth carp and was doing okay at our end and then I lost one when the hook pulled out – bugger!
Chanter was also getting the odd carp in the water and there wasn't much between us, Les was now motoring and on for a good weight although he did manage to snap his pole when two sections got stuck together. Janders and Dino were getting odd carp but Dino seemed to be losing a few as well. With my silvers plan gone out of the window ages ago, it was carp or bust, I ran out of casters and I tried loose feeding dead reds but it just wasn't the same. With two hours left it was time to try my inside line again. Three carp in three chucks had me thinking of a grandstand finish but then I lost one when the hook pulled out and then couldn't get a bite.
I was a few fish ahead of Chanter but in the last period of the match he had a couple more carp and we finished with nine apiece and would have to wait for the scales to see which way the pound was going. Les had done really well to finish with 12 or 13 carp and Mark M had also caught really well down the edge in the last hour or so. I packed up and as I headed back to the car with my gear I stopped and asked how everybody had done, quite a few people had struggled with 6 or 7 carp being a decent catch. Bushy had done brilliantly from peg 2 and had 13 carp which included some munters as well.
Dunner had 21lb of carp but only had 1lb of silvers which wouldn't do his silvers league much good before Bushy put 64lb 4oz of carp on the scales and the only person who would come close was Les. Kev 'Dangerous' Baker in peg 3 had 26lb 6oz of carp and I wasn't sure I had that, Oz had 13lb odd in peg 4 and Rocking had 12lb 8oz next door but had lost quite a few. Chanter had 31lb 10oz and I was sure I didn't have that, my silvers went an outstanding 10oz before my carp pulled the scales round to 28lb 2oz and I went into third place although I couldn't see it lasting.
Mike C had 13lb 8oz and then Blaker had a level 28lb and I was still hanging in there, Exeter Mike had 14lb of carp in peg 11 but he'd fished for silvers and his 5lb 8oz put him in the lead with half the pond weighed in. Les came close with 56lb 6oz of carp and 4lb 12oz of silvers to push me down into fourth, Janders had 22lb so at least I'd finished all square on the side bets. Dino had 19lb and then Mark M had 9lb of skimmers to go into the lead and he had over 25lb of carp as well. The Hoff had just shy of 19lb and then Butch 'Mr Silvers' Baker had 7lb 12oz of skimmers to go into second place.
The last few pegs had struggled with Dave M weighing 14lb 10oz, last weeks winner, Mike T only had 4lb 2oz of carp and 3lb 8oz of silvers, Chilly had 18lb odd of carp and 5lb 8oz of silvers to put him joint third and Bish had 17lb 8oz in peg 20. So I'd actually hung on to fourth in the carp and picked up £30 to end my barren run. Still can't get my head round the silvers though!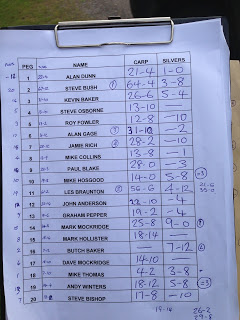 Today's weighboard
Carp
1 – Steve Bush (Chard) – 64lb 4oz
2 – Les Braunton (Chard) – 56lb 6oz
3 – Steve Chant (Chard) – 31lb 10oz
4 – Jamie Rich (Against Men and Fish) – 28lb 2oz
Silvers
1 – Mark Mockridge (Chard) – 9lb
2 – Butch Baker (Chard) – 7lb 12oz
3 – Mike Hosgood (Near Exeter) – 5lb 8oz
3 – Andy Winters (Chard) – 5lb 8oz
After seven matches this is how the leagues look
Carp
1 – Andy Winters – 240lb 8oz
2 – Steve Bush – 237lb 6oz
3 – Steve Bishop – 214lb 15oz
4 – Paul Blake – 212lb 2oz
Silvers
1 – Les Braunton – 46lb 8oz
2 – Mike Hosgood – 41lb 7oz
3 – Alan Dunn – 40lb 6oz
4 – Butch Baker – 37lb 9oz
Today was also the first round proper of the individual knockout (points scores in brackets)
Kev Baker (14) beat Alan Dunn (11)
Les Braunton (19) beat Dave Mockridge (6)
Mike Hosgood (10) beat Rocking Roy (3)
Steve Bush (20) beat Mike Collins (4)
Andy Winters (13) beat Steve Bishop (7)
Janders (12) beat Mike Thomas (1)
Steve Osborne (5) beat Butch Baker (2)
Mark Mockridge (18) beat Paul Blake (14)
Yesterday the juniors fished their first match of the Clark and Cridge sponsored league at Perry St and a good turnout saw some good weights recorded
1 – Bobby – 17lb 6oz
2 – Courtney – 16lb 60z
3 – Ethan – 7lb 10oz
4 – Matthew – 3lb 5oz
5 – Josh – 2lb 15oz
6 – James – 2lb 13oz
7 – Bradley – 1lb 4oz
8 – Clifford – 8oz
9 – Barnaby – DNW
10 – Charlie – DNW
Phew, that was a busy blog this week, next week it's round eight at Perry St, so come back to see how I get on.
Next up – Perry St Pond
What's new – Rogues Gallery update
Check Out – Summerhayes Fishery Focus (below)