This weeks Fishery Focus is on Chard AC water, Perry St Pond
Perry St Pond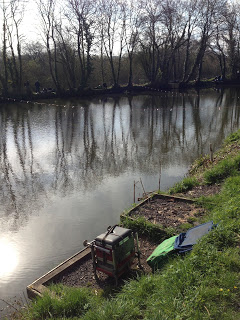 Perry St Pond
Perry St Pond is approximately 4 miles from Chard.
Directions – turn off the B3167 at the turning for the Swisstulle Ltd factory, turn left into the car park where there is ample parking and the pond is just a short walk away, over the footbridge.
Contact – Les Braunton
Tel – 07704 632077
Website – http://www.chardanddistrictanglingclub.co.uk/index.html
Club ticket prices (membership runs from 1st April to 31st March)
Seniors (16 and over) – £25
Juniors (10-15) – £10
Club tickets can be purchased from Barrons 2 Holyrood Street, Chard, Somerset. Tel: 01460 63593
Club Rules
The use of floating baits i.e. pellet, bread-crust, or mixers is prohibited on Sadborow and Perry Street Pond.
Anyone found defecating in or around any club water will receive a suspension from fishing club waters and probably a life ban.
Perry Street Pond, Chard Reservoir and Sadborow are open all year.
The River Isle is open from the 16th June until 14th March each year.
No more than 2 rods (1 rod at Sadborow) to be used at any one time.
No keepnets to be used except in Club Competitions where a minimum of two must be used.
Barbless hooks to be used on all Club controlled waters. Micro-barbed hooks smaller than size 14 are allowed at Chard Reservoir.
The taking away of any fish is prohibited.
No live baiting.
No litter to be left in swims.
Do not disturb or harm game, wildlife, plants or crops.
Do not remove, plant or transplant aquatic plants except during committee organised swim clearing.
No firearms.
No parking other than in designated areas.
No sweepstake matches other than committee organised events.
No rod, pole or whips over 5 meters long to be use on the river isle where power lines are within 30 meters of the river.
Do not block or obstruct access routes.
Leave the Perry St. Pond car park by the Exit and not the No Exit.
Purpose made Carp sacks are permitted (One fish per sack).
Use a suitable unhooking mat at all times.
No Juniors to night fish unless accompanied by an adult member (18) at all times.
No child under the age of 10 can be a club member but they may fish club waters provided they are accompanied by their parent who is a senior club member over the age of 18, on a one to one basis.
No bicycles or motor cycles to be taken beyond the bridge at Perry Street Pond.
No bait to be taken to the bank in tin cans on any club controlled water.
No bait boats or dinghy's. No fishing between swims.
A suitably sized landing net must be used.
Anyone breaking these rules may be expelled from the club.
A full set of club and match rules are detailed in the club handbook which is issued when you join or renew your membership.
All Anglers must be in possession of a valid EA fishing licence.
I've fished Perry St since I was a junior when it used to hold a good head of tench plus roach, rudd, bream, perch, eels and some specimen sized carp. Over the last few years the club has introduced several stockings of match sized carp and more recently some more skimmers. The carp average between 1-6lbs although there are plenty of fish around the 8-10lb mark, tench to 4lb and bream to 3lb regularly feature in catches along with roach, rudd, perch and some good sized eels.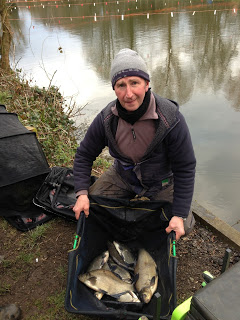 Steve Bishop with a nice net of skimmers
Most baits work here including maggots, casters, meat, paste, pellets, corn and worm, the skimmers respond well to maggot over groundbait or chopped worm and caster. In warmer weather the carp respond well to shallow tactics with pellets a top choice. Fish can be caught on the pole, feeder or waggler.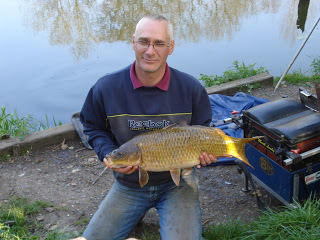 Mark Leahy with a nice Perry St carp
The corner pegs tend to be the hot pegs with peg 10 probably the best peg on the pond followed by 11, 1 and 20 in that order although they all have their better days. Every peg has features in the margins in the shape of lily pads, or floating fish refuges. The current match record was caught by Paul Blake and stands at 134lb 8oz from peg 10. The matches are normally won with around 40-80lb with double figures being a good silvers weight although Dave Lawrence did have over 18lb a few weeks back.
My best match weight is 80lb 6oz from peg 10 and the link to the post from that day is below,
http://www.againstmenandfish.com/2012/05/perry-st-pond-spring-league-5-27th-may.html/