With three matches left in this league I had pegs 11, 15 and 19 to go, 11 is a decent peg, 15 has been pretty poor and 19 has been dire to be honest. As we all gathered for the draw I felt really sorry for Bish who has an abscess and looks like he's sucking the worlds biggest gobstopper! Les did the draw for the knockout and then opened the envelope for this weeks draw and it put me on peg 15 and as Hoff had struggled on it last week, I wasn't holding out much hope. Picky was back from his hols and looking to give me another hiding. Bushy was in peg 10 and odds on to win his second match on the trot, Janders was in peg 20 so there was a good chance he would take a pound off me this week.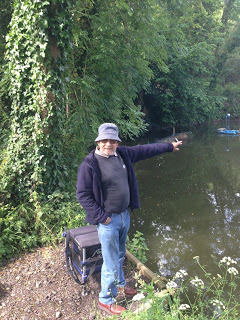 Janders in peg 20
As I got to my peg the wind was blowing across the pond towards me and there were quite a few carp coming up for stuff on the surface. I mixed some groundbait before setting up my usual two rigs, a 0.75 Drennan G-Tip with 0.10mm bottom and size 16 808 and a Trabucco dibber with 0.14mm bottom and size 16 Kamasan B911. I chopped up some worm and caster and was just about ready this week. I decided I would feed a line at 11.5 metres, one at 6 metres and two inside lines and when the whistle blew I put two balls of groundbait on the long line, one on the shorter line before cupping in maggots, casters and loose groundbait on the margin lines.
I started on the longer line with double dead red maggot on the hook and toss potted in some chopped worm and caster. Bites were slow in coming and Bushy was quick off the mark in peg 10, Bish had a couple of early fish and Picky was soon into fish as well. After half an hour I had my first proper bite and on the strike a pound skimmer came flying out the water. By the end of the first hour I'd added another skimmer and a 3lb carp and was fairly happy with my start. Mike T, Dave M and Butch were struggling across from me and it didn't look like a huge amount was happening in our area.
Going into the second hour I had my third skimmer but bites had slowed so I came in on my 6 metre line, I missed a couple of bites before catching a small roach so would leave that line a while longer. I fed my two inside lines before going back out long again. Chilly on peg 7 started getting a few and Bish was still catching but other than that I couldn't see a lot happening. I was getting lots of little knocks on my long line but I think it was small fish and two foulhooked tiny roach seemed to confirm it. I decided to have a try on my right hand margin swim but it wasn't happening and I felt my best chance of a pick up was sticking with the silvers as from the anglers I could see, Bushy, Bish, Chilly, Picky all had several carp and Mark M on peg 2 and Dino in peg 1 were getting odd carp as well, while I still had just the one.
When Picky shouted up that he had ten carp already, it made my mind up and it was silvers or bust. Back on the long line I added a couple of 4oz skimmers but felt I needed the bigger ones to compete. Chilly had a couple of better skimmers and when he added a big eel, I felt I was slipping behind on the silvers too! He had lost a few carp though and one took his rig and everything! To me it looked like Bushy was now struggling in peg 10 but more of that later!
My long line once again slowed up so I tried at 6 metres again and missed a couple of bites before hooking into a carp which came off but I wasn't too worried about them today. At the halfway point I had three decent skimmers plus four smaller ones and thought I had about 4lb, if I could catch the same in the second half I thought I'd be in with a chance. I should have realised this would be the kiss of death and I only added one more small skimmer and a carp over the next hour.
With an hour and half left, I did manage another pound skimmer but was only up to about 5lb of silvers and then the poxy carp moved in on my long line and I caught three before spending the last 10 mins on the 6 metre line, I did miss a couple of bites and that was that. I knew I'd be handing a pound to Picky as he'd had 15 or 16 carp but I had no clue what Janders had caught in peg 20. Mike T had struggled on my left although he had pulled out of several carp. On my way back to the car, Blaker said he'd struggled but when I asked how many carp he'd had, he replied 14! Exeter Mike had done well on the silvers again and was admitting to 5lb which would be more like 8lb.
The scales arrived at Dino in peg 1 and he'd had 34lb 14oz of carp and I was glad I'd fished for silvers but thought I might just miss out today. Mark M in peg 2 had over 22lb of carp but his 6lb 6oz of silvers put him as the early leader. The Hoff had 31lb of carp next door and then Butch had 14lb of carp but had struggled for 2lb 6oz of skimmers, Dave M had 6lb 14oz of carp and a few silvers before Mike T had over 26lb of carp and 2lb 12oz of silvers. Chilly had 20lb carp and I thought he'd had more than that although his 9lb of skimmers and eels but him in the lead for silvers.
Bish came close with 31lb of carp and then Dunner had struggled for 4lb 12oz of silvers and I hoped I might have a little more than that. Then Bushy had 'struggled' for 92lb 8oz of carp and for good measure had added 4lb of silvers. The only struggling he'd done today was lifting his nets out, I'll keep my mouth shut next time! Kev Baker had 24lb of carp in peg 11 and I'm not looking forward to getting this peg so much anymore! Oz had 15lb of carp and Rocking had struggled for one carp and a few bits. Picky then plonked 49lb on the scales and I paid him my pound and he's now gone 4-3 ahead in the side bets.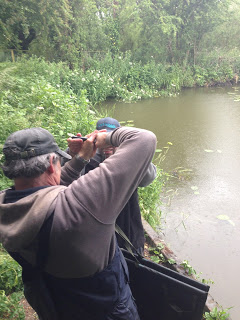 Butch 'struggling' to weigh Bushy in
My carp went 16lb 14oz and my silvers went 5lb 9oz which meant I was lying third in the silvers although I knew Exeter Mike had beaten me. Mike C had a single carp, a skimmer and a roach before Blaker had 44lb 14oz to go into third place. Exeter Mike had 8lb 12oz of carp and 8lb of silvers to push me down into fourth with two pegs to weigh. Les had 10lb of carp but only 1lb 10oz of silvers and that left Janders. He had 11lb 8oz of carp and 3lb of silvers so I'd sneaked fourth and picked up £30 again and I had a squid off Janders to fill the empty space in my pocket left by the one I'd given to Picky.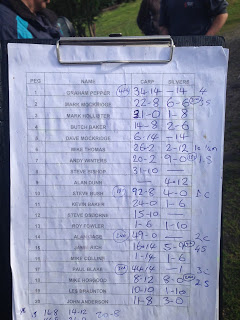 Today's board
Carp
1 – Steve Bush (Chard) – 92lb 8oz
2 – Alan Gage (Chard) – 49lb
3 – Paul Blake (Chard) – 44lb 14oz
4 – Graham Pepper (Taunton) – 34lb 14oz
Silvers
1 – Andy Winters (Chard) – 9lb
2 – Mike Hosgood (Near Exeter) – 8lb
3 – Mark Mockridge (Chard) – 6lb 6oz
4 – Jamie Rich (Against Men and Fish) – 5lb 9oz
After eight matches, the lead has changed in both leagues and this is how the leagues look now,
Carp
1 – Steve Bush – 329lb 14oz
2 – Andy Winters – 260lb 10oz
3 – Paul Blake – 257lb
4 – Alan Gage – 246lb 15oz
Silvers
1 – Mike Hosgood – 49lb 7oz
2 – Les Braunton – 48lb 2oz
3 – Alan Dunn – 45lb 2oz
4 – Butch Baker – 39lb 15oz
The eight anglers left in the knockout have now been whittled down to four, results below (points scores in brackets)
Andy Winters (14) beat John Anderson (6)
Steve Bush (20) beat Mike Hosgood (8)
Mark Mockridge (13) beat Steve Osborne (7)
Kev Baker (11) beat Les Braunton (5)
The two leagues are changing every week and it looks like being an exciting last two matches for those near the top. Special mention has to go to Chilly who have been in the money every match so far.
Next week me and Janders are travelling to Summerhayes and I'm looking forward to (hopefully) a good days silvers fishing.
Next up – Summerhayes
What's new – Latest Ilminster AA match results on the news page
Check Out – Perry St Pond Fishery Focus (below)