Anybody who knows me or reads this blog regularly will by now have realised I'm a big fan of Bait Tech products. Their expander pellets in my opinion are the best in the business and I've enjoyed a lot of success with the 4mm's at Summerhayes. They are a company that doesn't rest on it's laurels and they are continually bringing out new products and they also put a lot back into the sport. They sponsored my local Chard Reservoir league last year and on the first match Steve Tucker brought along a box of groundbait and gave all the competitors a bag to try which I thought was fantastic gesture.I always get excited when new products are announced so just had to pick up their three latest groundbaits to review on my blog.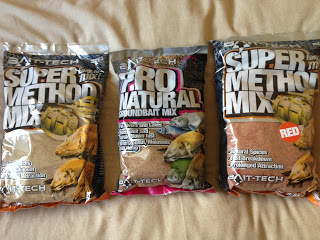 The three latest groundbaits from Bait Tech
Pro Natural
1.5kg bags priced at £3.99
The one I've been most looking forward to trying is the new Pro Natural which was created in conjunction with Dave Harrell and is designed (as the name suggests) for more natural venues like rivers and lakes and is aimed at 'silver fish' like roach, chub, barbel, tench and bream.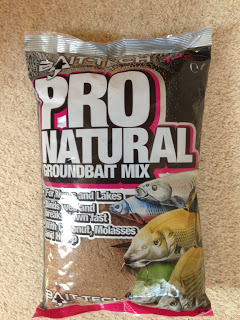 Pro Natural
It is designed to bind well and breakdown fast and it will hold a lot of particle baits. It contains coconut, molasses and hemp among other ingredients.
I think it represents great value at £3.99 for 1.5kg as most groundbaits are £3.00 and more for a kilo and I think it will be perfect for Dillington pond and I look forward to testing it in the coming weeks.
Check out the Bait Tech website for more details http://www.bait-tech.com/portfolio/pro-natural/
Super Method Mix
2kg for £4.99
The Super Method Mix is targeted at anglers who like to fish the method and I have to admit it's not my favourite way of fishing. But I think it could be used for much more than purely fishing the method feeder. Where the method is banned I think it would be equally at home fished in an open end feeder or mixed damp and cupped in on the inside line.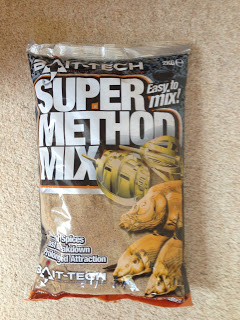 Super Method Mix
Being a method mix it is obviously aimed at carp, bream and barbel and will work on any commercial type fishery.
It contains five natural spices, herbs and hemp for high attraction, it's easy to mix and has a fast breakdown.
Superb value at £4.99 for 2kg, walk round any tackle shop and you will see other brands of groundbait selling for £5.99 (and more) for 2kg. If, like me, you are quite frugal with your bait (tight!) then a bag of this should easily last you two sessions.
More details at http://www.bait-tech.com/portfolio/super-method-mix/
Super Method Mix – Red
2kg for £4.99
As the name says this is basically the same groundbait as the Super Method Mix but red! I'm not going to just repeat what I've said above but I'm a big fan of coloured groundbaits and I think they can give you a real edge, especially on pressurised waters where the fish can be very finicky.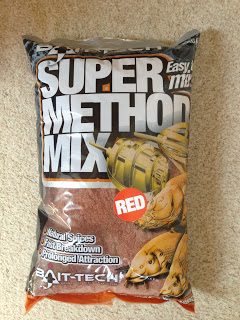 Super Method Mix – Red
I'm going to try this one first at my match on Longs at Summerhayes tomorrow, I'll mix it wet and use it to kick start my inside line. Be sure to come back tomorrow to see how I got on with it.
Don't forget to check out the Bait Tech website for these and loads of other great products http://www.bait-tech.com/
*Bait-Tech sent me these products for free in exchange for an honest review. All opinions contained in this post are my own.