I was really looking forward to this one as I haven't fished Longs for ages, speaking to Scotty who has been doing really well with silvers in the last two matches (weighing 46lb and 67lb), he had been catching on paste really short and said that my usual expander approach would just get ragged out by small fish. I decided to give the paste a go but as I've never really fished it before, it could be a recipe for disaster. So I wouldn't get distracted I took just some 4mm pellets which I had soaked the night before, some Ringers paste and some of the new Bait Tech Red Super Method Mix which I had mixed up in advance and it smelt great with a slight spicy aroma.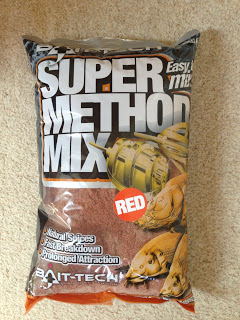 I fed one of the new Bait Tech groundbaits on the inside line
Scott also advised getting two silvers nets as there was a 50lb limit but bearing in mind my best silvers weight is 23lb odd I thought that was a bit optimistic. On arrival I collected a carp net and two silvers nets and hoped I hadn't just jinxed things. I paid my pools and had a quick coffee while chatting to some of the anglers including Charlie Barnes who I hadn't seen for years. Pete announced the draw and I pulled out peg 25 which I was fairly pleased with and had Pete on 23 and Ron Stark on 27 as Pete had pegged all the odd numbers today.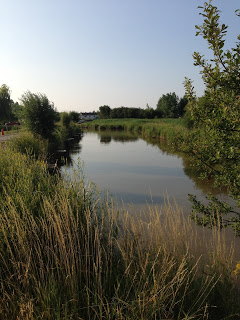 Longs looking up from peg 24
I put two nets in and laid them out parallel with the bank to leave the inside paste line free and set up two Malman paste floats one for 6 metres and the other for the inside at just two sections, both had Preston PR478 hooks in a size 12 to 0.12mm bottoms and both top kits had white hydro in them. I also set up a MW F1 float but I never picked it up all day. With no Janders today (he was on the reservoir) I had a side bet with Pete and another with Glynn Wickham.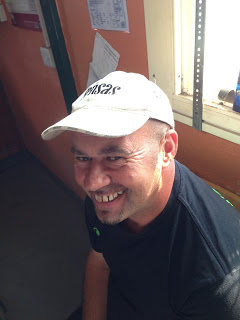 Glynn was keen to have a side bet
The whistle went and I cupped in a big pot of 4mm's at 6 metres before putting in several big cups of loose groundbait on the short line along with some pellets. I wrapped a marble size lump of paste around the hook and popped it into the Preston paste pot with some pellets and shipped out to 6 metres before rotating the pole to deposit the payload. The rig settled and after about ten minutes I missed the first bite and then missed the next one too! I could already see this paste fishing would be frustrating. I hit the third bite and it was obviously a carp and I was soon netting a two pounder. I was making sure I kept feeding the inside with pellets and was keeping an eye out for bubbles as Scotty said he'd had loads of fizzing.
Pete was getting odd silvers and so was Ron but it was early days yet. My next fish was a leaping skimmer and I was off the mark. That was my only action of the first hour and I was gagging to try the inside even though I hadn't seen any activity. I shipped back and swapped over to the other paste rig which didn't have a paste pot on as there was no need. I lowered it in and couldn't wait for the bagging to start. I was getting lots of little dinks and lifts but no proper bites and I was starting to get a little concerned at the lack of action when out of the blue I had two skimmers in two chucks. I thought they'd arrived but then went back to struggling.
All of a sudden there was a mass eruption of bubbles by the float and then the orange tip disappeared and a good fish was on, the white hydro streamed out before stopping and from the way the elastic was waving it was obvious I had foulhooked a carp, using the pulla bung I gave it some stick only to see an olive green tail come flapping up! I eased off a bit and netted a beautiful 2.5lb tench hooked in the tail. When I had a 2lb skimmer next chuck I was up to about 6lb of silvers which was a long way off the pace after two hours. I also bumped a couple of fish and lost a good one which I think was foulhooked.
Pete was also getting fish in fits and spurts and Ron was now fishing for carp, hour three only saw me catch odd fish and I added another good skimmer, a 1lb perch foulhooked under the chin! and an 8oz roach plus another nuisance carp to give me about 8lb plus the two carp at the halfway point. I was starting to wish I'd just fished with expanders and micros like I normally do. At a bit of a loss I dug a pot of soft pellets out of my carryall but these just resulted in a small roach which dropped off. I fed some more groundbait and pellets on the short line before having another try on the 6 metre line.
Three carp in four chucks soon saw me back on the inside as I was never going to compete with carp at this late stage. Ron was catching carp quite well but Pete had slowed up on the silvers although I felt he was just ahead of me for the pound. With an hour to go I picked up the other paste rig and stuck one section on the top two to fish just past my short line at about three metres. I started getting some more positive bites although the first fish I hooked was another poxy carp.
I then had two 2lb skimmers in as many chucks to put me on about 12lb, another carp muscled in on the action and then I've had my first crucian and just before the all out I had my last fish, a 12oz skimmer. I was left wondering if I'd fished a bit longer earlier, whether I'd have done a decent weight or was it just the time of day, Pete enjoyed a late purple patch as well and I reckon the pound would be close. I packed up and had a lovely drink of orange which I'd frozen the night before.
Pete asked what weight I had and I said about 12lb, he thought he had 12-15lb so we would have to wait for the scales. When I caught up with the scales, Bill 'The Paste' Hopping was leading the way with an excellent 93lb 6oz of carp and Jim Jenner was lying in second place with 54lb 2oz from peg 35. Ray Wickham then set the bar really high for the silvers with 21lb 8oz and when Martin Addicot had 15lb 4oz of silvers I knew I wouldn't be picking up today. Ron had 35lb odd and I thought he had a bit more than that and then it was my turn. My carp weighed 14lb 14oz and my silvers 13lb 10oz to give me a 28lb 8oz total.
Pete only had a few carp but would he claim a pound off me?, no was the answer as his silvers weighed 12lb 8oz and those last few fish had swung it for me. I didn't watch the rest of the weigh in but I knew Mark Leahy had done well and Glynn Wickham was also saying it would be tight between him and his Dad so I would be giving him the pound I had only just won!
Back at the results and Bill had won it with Mark Hanham continuing his good run in second with 73lb 4oz. Mark Leahy was third with 55lb and Jim last in the money with 54lb 2oz. Ray and Glynn made it a Wickham one-two in the silvers.
Well I'd caught a few fish on paste but I should have done better and I wish now I'd taken some micros and expanders and fished those on a 10 metre line and then fished the paste at 5 metres. So food for thought for next time.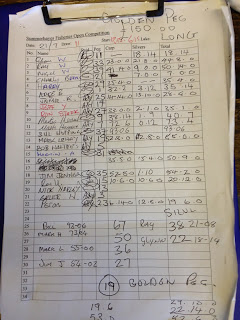 Todays weighboard
1 – Bill 'The Paste' Hopping (Summerhayes) – 93lb 6oz
2 – Mark Hanham (Summerhayes) – 73lb 4oz
3 – Mark Leahy (Street) – 55lb
4 – Jim Jenner (Summerhayes) – 54lb 2oz
Silvers
1 – Ray Wickham (Summerhayes) – 21lb 8oz
2 – Glynn Wickham (Summerhayes) – 18lb 14oz
Next up – Mullet fishing at Seaton
What's new – Lots of pages updates and the latest Chard AC and Ilminster AA results on the news page
Check Out – New Bait Tech products review below