I've been gagging to get back down to Seaton after those mullet and with all the nice weather we've been having, Andy said he fancied another trip. I was awake pretty early and looking forward to it although the sky was a bit grey. As always I was a bit late picking Andy up and after a quick pit stop to pick up some bread and drinks etc, we were off. On arriving the tide was right in and it looked really nice.
First stop was the tackle shop to get some bits of terminal tackle and then we had a lovely bacon and sausage sarnie from the café next door. We went round to our normal spot in the slacker water off the end of the moored boats and set up some crystal floats with size 12 Kamasan Animal Barbless hooks. Andy had liquidised some bread and fed some while we were setting up. As always our first few casts were full of anticipation but this soon dissolved when we had no indications.
With the tide going out fast we also tried in the main river but despite seeing a mullet leap out of the water we had still not managed any interest on our bread flake hook baits. Back in our original swim I had a couple of positive bites but missed them and after a further half an hour with no action I started to question whether they were bites at all.
When it started to rain, Andy decided he was going for a walk to get some fish and chips (so at least he would see one fish today!), he'd got as far as the main mooring area for the boats when he started waving frantically and pointing at the water. I thought perhaps he'd finally lost the plot but he came running back, all thoughts of food forgotten, and said there were dozens of mullet in by the boats. We gathered our gear and walked up there and sure enough, there they were, bow waving and cruising about, fish from a couple of pounds up to four pound plus.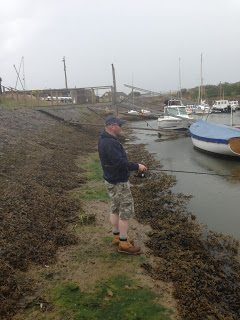 Andy hoping a crafty mullet would take his bait
As we cast out, all the excitement and anticipation was back, they were everywhere and a good fish even came up to take some bread right by our feet. Despite having dozens around our floats we just couldn't get a bite! With the tide still going out at a rapid rate, where we were fishing was getting shallower by the minute. Then out of the blue we started to get some lightening fast bites but just couldn't hit them. I could certainly see why people find mullet fishing so frustrating.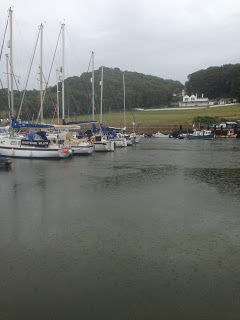 Mullet city!
It was now raining hard and the tide had gone right out and the water was only inches deep in front of us, we could still see those mullet but they were further out towards the main channel. Andy didn't have a coat and even though I had one, I was still pretty moist so we decided to call it a day. We drove back a little disappointed but at the same time quite excited that we'd seen so many fish. Although very frustrating this mullet fishing is addictive and we both agreed we couldn't wait to come back for another go and as long as the weather is nice, we'll be back next Saturday.
Next up – Summerhayes (Sellicks)
What's new – News pages updated
Check Out – My last match at Summerhayes (below)