The match this week was on Sellicks and Janders was coming along too, at the draw there was a good turnout of 17 anglers although I have to say I'm not a big fan of the 11 'o' clock draw time as it means I don't get home until gone eight. As always it was windy and it was blowing down towards pegs 1 and 23 meaning these had to be the favoured pegs. I drew peg 5 which I was pretty happy with as it's a good silvers peg. After last weeks disappointing match I was going back to my tried and trusted Bait Tech 4mm expanders over micros this week.
I set up two Malman pencil floats, 0.6 and 0.4 grams, both had 0.10mm bottoms and size 18 Tubertini 808's at the business end. On the whistle I cupped in half a pot of micros at 10 metres straight out in front and then the same angled to my right in the one 'o' clock position. I also fed half a pot at 4 metres in front of me. I started with an expander on the hook and after 5 mins the float slid away and my first fish was a small carp which wasn't ideal. Next put in I had a decent skimmer to get me up and running, I moved to the other 10 metre line and had a small skimmer followed by a better one and was catching well. Adam Palmer turned up for a look around and said Glynn Wickham was catching carp in peg 23 so at least that was one less silvers angler to worry about.
Nobody else seemed to be catching much around me with the exception of Mark Hanham who was flying in peg 2 and is on a right roll at the moment. I was toss potting in a few micros every chuck and swapping lines after every couple of bites and after the first hour I had five skimmers for about 3lb plus that carp and was bang on target for a good weight as 16lb had won the silvers in the mid-week match. I was also feeding some soaked 4mm pellets by hand on the 4 metre line.
Hour two was similar and I added five more skimmers and another nuisance carp to give me 5lb of silvers, I did bump two and lost a good one on the way in as well. The wind was hideous and it was a real struggle to hold ten metres but I was getting enough bites to keep me interested. Going into the third hour and I started to miss bites so when I had a small blade, I thought I'd try a banded 6mm pellet to try and sort out the better fish. First put in I had a good skimmer and then a little foul hooked carp, followed by a couple more skimmers and a roach and thought I'd sorted it.
I've then missed a bite but connected with a fish and it was obvious I'd foulhooked a carp up the bum, I wasn't too concerned if it came off so had the top two parallel with my bank and the white hydro was stretched across to the far bank. Using the pulla bung it was coming slowly but surely and I managed to put the pan under a five pounder which was a bit of a bonus. My right hand line was fizzing and next chuck I've hooked another carp but this one did me under Alan's keepnet on the next peg – whoops!
After tying on another hooklength I had a couple more skimmers but bites were becoming less frequent and the wind was getting worse. As nobody on my side was catching much I decided to stick at it and probably had around 8lb of silvers with two hours to go. Scotty arrived to see how it was going and my swim had slowed right up, I missed a couple of bites while he was there and then had a little blade on an expander so went back to banded pellet for the rest of the match but it was a struggle. I had a few more carp but only one more 8oz skimmer to give me about 8.5lb of silvers and as the whistle went I was playing my eighth carp.
I finished up with 19 skimmers, a single roach plus those carp and was a bit gutted my swim had faded so badly in the latter part of the match. I was left wishing I'd tried the four metre line which I'd fed all day but not tried once! And I also think if I'd gone back to expander I might have had a few more fish. With Pete not fishing today the scales were soon at peg 2 and Mark weighed an excellent 98lb 13oz and looked set for yet another win. Mind you I think a spare peg either side and the wind blowing into his swim helped! Alan Jenkins didn't weigh on peg 4 and then it was my turn, my carp weighed 19lb 2oz and my silvers went 11lb 7oz which was better than I thought. I must have had 11lb of that in the first three hours and I was hoping my poor second half hadn't cost me.
Brian Green (a mate of Bill Hoppings) on peg 6 had struggled for 10lb 5oz and Richard D next door to Brian had 15lb odd. Roger didn't weigh in peg 8 neither did Blaker in peg 10 which just shows how tough it had been on our side with that horrible wind. Heardy had 27lb 11oz in peg 11 and Dave Bull had struggled in peg 12 for 5lb 6oz. The pegs at the top end which had been a bit sheltered did a bit better and Rob Birch had 27lb 4oz in peg 13 and Nigel Wickham went into second place with 60lb 11oz from peg 14.
Bill 'The Paste' Hopping continued his good run with 72lb 7oz from peg 15, he'd beaten his mate Brian for a pound but only got paid 60p! John Pear had 22lb 5oz from peg 17 and Janders had 12lb and gave me a pound. Young Reece had 16lb 6oz from peg 20 and I was still leading the silvers with only a couple of pegs to weigh, the trouble was Adie Bishop was admitting to a decent weight of silvers and said it could be close. The scales reached Adie's peg and he had 31lb 10oz of carp and when he pulled his silvers net out, I knew he'd beaten me, his silvers went 14lb to push me into second. Last to weigh was Glynn Wickham and he had 84lb 1oz of carp to go into second place overall.
I picked up £19 for my silvers second and had enjoyed a decent days fishing (apart from the poxy wind!) but I was left scratching my head a bit as to why after three good hours, the silvers just disappeared. Also, nobody seemed to have read the rule book today, you had confirmed silvers anglers Glynn and Nigel fishing for carp and Adie 'I hate skimmers' Bishop winning the silvers! Personally I think the real Glynn, Nigel and Adie had been abducted by aliens but hopefully normal service will be resumed next week!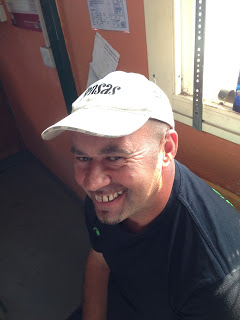 'What have you done with the real Glynn Wickham?'
Next Sunday the match is on Longs and after Pete lost a lot of skimmers due to oxygen problems during the week it will be interesting to see how it fishes and I think it will give him an idea of how many are left.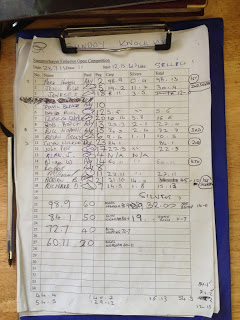 Really good weights despite the wind
1 – Mark Hanham (Summerhayes) – 98lb 13oz
2 – Glynn Wickham (Summerhayes) – 84lb 1oz
3 – Bill 'The Paste' Hopping (Summerhayes) – 72lb 7oz
4 – Nigel Wickham (Summerhayes) – 60lb 11oz
Silvers
1 – Adie Bishop (Summerhayes) – 14lb
2 – Jamie Rich (Against Men and Fish) – 11lb 7oz
Next up – Summerhayes (Longs)
What's new – Lots of page updates today
Check Out – Andy and me by the seaside (below)