I haven't fished the pond for a fair while and it's been fishing well with winning weights between 15-20lb and some quality fish have been coming out including some skimmers which is a great sign. To be honest I was expecting to get battered as I'm a bit out of touch with it but hopefully I should get a few bites. I got to the Royal Oak and it was nice to see all the lads again, there were eight fishing today including Bruce Hunt who'd had over 400 fish for 17lb odd last time, Heardy and Fieldy were missing this week though which might give the rest of us a chance.
Steve announced the draw and I fancied peg 17 but pulled out 23 which put me on the end near the pump house. I could drive right round and park behind my peg which was a bonus, Moses, Rob and Richy all wanted side bets and when I saw I had Neil Dring on peg 21 I thought I might as well ask him as well, this could be an expensive day! I made myself comfy and the first job was to mix up half a bag of the new Bait Tech Pro Natural groundbait, it smelt great and mixed up a dream.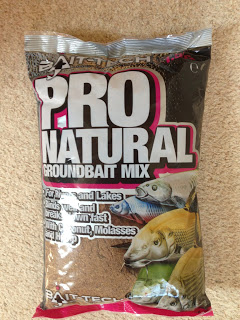 I'm really impressed with this new groundbait from Bait Tech
A lot of the lads that do well, fish the whip and just get their heads down fishing maggot or caster although there have been some good weights fishing corn over groundbait to sort out the better fish. I decided on a kind of halfway house, I set up a Drennan Roach float to fish at four sections out with caster or corn over some groundbait and another rig with the same pattern to fish two sections to hand. I also plumbed up a line on the inside by the reeds to my right.
I was little worried that my peg was in the corner and a little caged in by a massive floating platform that housed an irrigation pump. For bait I had maggots, casters, hemp and some corn. I was just about set up in time when Steve blew for the all in, I cupped in two balls of groundbait at four sections before baiting up with two red maggots and shipping out. I flicked in some casters and a pinch of hemp, the float sailed away and I was swinging in my first roach of the day, albeit a small one.
I switched to caster and had five more small roach in as many casts so in a bid to find some bigger fish I tried a piece of corn, I bumped a good fish before catching three nice rudd about 8oz each and was quite enjoying myself. Neil was fishing corn on the whip and catching odd better fish but I couldn't really see how anybody else was doing. Then my bites stopped and a switch back to caster didn't really help much. I'd been flicking a few maggots and casters on the short line and was soon reaching for the top two rig. I had a few fish here but they were small and not coming quick enough and already I was in trouble. I had 25 fish after the first hour and knew this would be well off the pace.
Neil was still getting some better fish on corn, including a decent hybrid and a nice skimmer, he was even getting bites on the drop on it! I went back out to four sections with corn on but bites were very few and far between. I cupped in some more feed by the reeds and tried it shortly after but only managed a couple of small roach and a better one of 6oz or so. I was back out at four sections with a piece of corn on when the club chairman, Max, turned up with his massive dog, while we were chatting I had a nice rudd on corn but it was painfully slow going. He said Rob was catching loads of small fish in peg 17 but couldn't catch any quality.
I slipped on a caster and the float sailed away and lots of number four elastic streamed out of the pole tip, this was a much better fish and I netted a lovely roach that had to be the best part of a pound. Max went to see how Richy was getting on but was back in no time, saying he'd just lost a big perch and the air was blue! I didn't think there was much between me and Neil as he was having to wait ages for a bite but they were bigger fish. At the half way point I had struggled up to around 60 fish but my bites had slowed again and Neil was pulling away again, why couldn't I get bites on corn?
Justin Charles then turned up for a chat and while he was with me I think I only had one roach, but he did promise he'd take me barbel fishing on the Wye again. After he left, out of desperation I cupped in five balls of groundbait on the longer line and tried two sections to hand again to let it settle. I never had a bite short so was soon back at four sections again. I actually started to catch quite well on caster, mainly on the drop and amongst the small roach I was getting the odd net roach. Neil had slowed right up and I started to eat into his lead with an hour to go.
I reached 100 fish with 15 mins to go but then my bites just dried up again and it almost felt like those fish were just drifting in and out of the bay. Neil then hooked a better fish and landed a good skimmer that looked to be close to 2lb, I ended up with 102 fish and was pretty disappointed. I think I'd have done better just fishing caster all day and spent too long trying the corn. Moses soon arrived with the scales and when he said he'd had over 180 fish I knew I'd be a pound down. My fish weighed 10lb 1oz and I actually thought I had nearer 12lb which must be a first, me under estimating!
Neil was next to weigh and he some lovely quality fish which went 12lb 4oz and I handed my first pound over, Moses weighed 14lb 5oz and I said goodbye to pound number two. Rob had over 180 fish as well and I thought I'd be 3-0 down but he had no quality and I was relieved when Moses called out 10lb 1oz so we'd tied. I went back and loaded the car and as I drove round I asked Steve how the other side had fished, he said he'd struggled for 3lb 2oz and Richy had weighed 6lb 3oz so I clawed a pound back to make it 2-1 on the day. Terry Morgan had 9lb 2oz and Bruce had done it again with 435 fish for 20lb 1oz, he is a serious speed machine.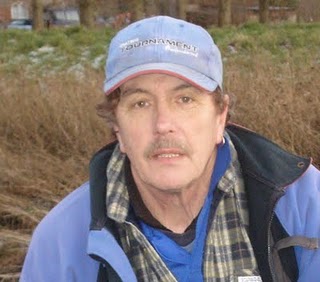 Speed machine Bruce Hunt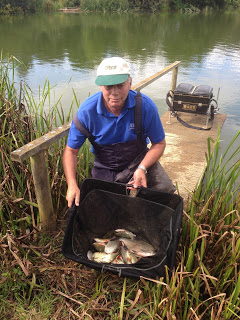 Neil had some lovely skimmers in his 12lb 4oz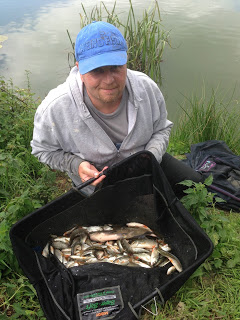 Moses had over 180 fish for 14lb 5oz

1 – Bruce Hunt (Tiverton) – 20lb 1oz
2 – Moses Holbrook (Ilminster) – 14lb 5oz
3 – Neil Dring (Ilminster) – 12lb 4oz
So the pond had fished well again with five double figure weights but to be honest I didn't really enjoy it, there's just too many small fish and I still think it needs thinning out. Quite a few skimmers showed which is really encouraging and some lovely roach and rudd. I'll come back and give it another go in two weeks time as I don't think my peg did me any favours today. Fishing for bites is the way to go here but I just can't fish for bits, I just don't enjoy it. You can stick it out for quality but you wait too long for bites and nine times out of ten you won't compete with the anglers that fish for bites.
On the plus side, the footy season kicked off again yesterday and Chelsea got off to winning start beating Hull 2-0 today.
Next up – Two dayer at Summerhayes
What's new – Lots of page updates
Check Out – My report on the junior match (below)