When Scott Jackson asked if I'd go down and cover the junior match on the canal today, I said I'd be more than happy to. I also contacted Bait Tech to see if they'd be willing to sponsor the event and the lovely Hayley has been fantastic. I popped over to Tackleuk to pick up some bait for tomorrow and the lads said there were some boxes from Bait Tech for me and I was amazed how much stuff they sent me, there were buckets, three boxes of groundbait, boilies, stickers and posters. For good measure, Ashley Tomkins added a tray of Bait Tech Tutti Fruti sweetcorn which was a lovely gesture. So a massive thanks to Bait Tech, Tackleuk and M.B.H Industrial Services Ltd who also sponsor the junior matches.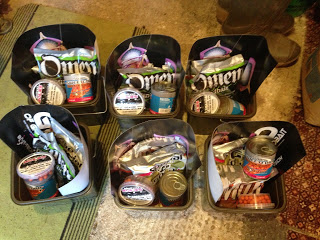 Bait Tech buckets
I got down the canal and the weather wasn't being kind with rain and heavy winds forecast but the youngsters were there setting up, getting ready for the start. It was great to see quite a few parents there as well as several other helpers. Scott and some of the others had done a brilliant job of making some of the swims fishable.
The all in was shouted and I made my way up to peg 11 where twelve year old Matthew Parker was fishing the whip, he was into roach straight away and looking down the canal all the juniors seemed to be catching. Next stop was twelve year old Courtney Pas on peg 9 and she was wielding a ten metre pole like a pro, fishing tight to the far bank cover and catching some quality roach.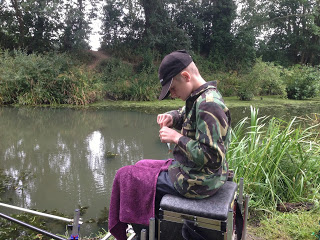 Matthew was into roach straight away on the whip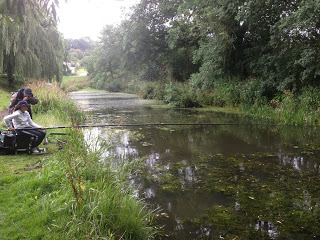 Courtney was fishing the long pole like a pro
Little five year old George Baker was next on peg 7 and fishing at 6 metres down the middle and getting plenty of bites from small roach and the odd perch on a regular basis, his granddad Butch was giving him a hand but I reckon George is a star in the making. Bradley Lawrence (eleven years old) was on peg 5 and Ned was helping him out and he was catching plenty of fish too.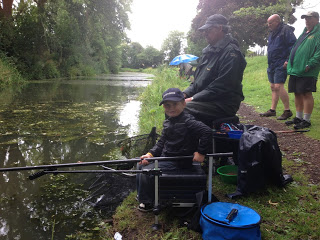 George was getting plenty of bites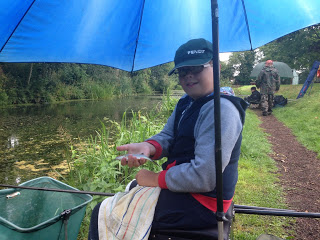 Bradley with a nice roach
On the end was twelve year old Clifford Richardson with his dad and he had caught some perch and a couple of nice 4oz skimmers. At the half way point of the three hour match, it was too close to call with everybody catching fish and some lovely roach being landed. Courtney and George were netting fish regularly and looked to be the early favourites but a decent fish or two could swing the verdict for any of them.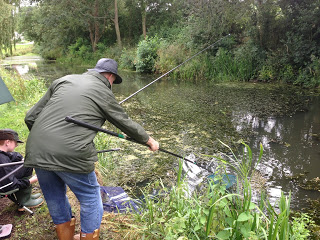 Clifford landing a skimmer with a bit of help from his dad
Courtney was getting some quality roach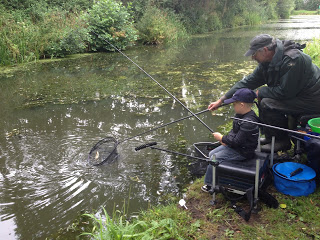 and so was George
I have to say how impressed I was with all of the youngsters, although some were getting a hand with feeding or netting fish, nearly all were unhooking their own fish and baiting up and not once throughout the three hour match did they lose their focus even though it was raining quite hard. With an hour to go the match was still anybody's, Clifford had a run of nice skimmers that had to put him in contention, Bradley was catching well in spells and George had netted a couple of roach that had to be 8oz apiece.
Courtney was still catching well and fishing against the far bank cover, she had bites all day long, even catching a few on corn. Matthew was still getting some roach on the whip although the wind was affecting presentation with the long line. Scott shouted for the all out and after they had all packed up, the scales made their way up to start the weigh in with Matthew at the top end. As he pulled his net out there was a fair bit of splashing and the digital readout settled on 2lb 11oz. Then we got to Courtney and she had some quality roach to go in front with 3lb 5oz.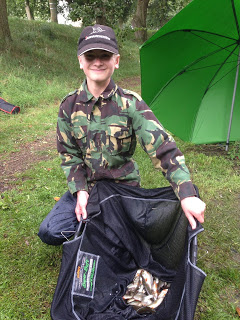 Matthew Parker was first to weigh with 2lb 11oz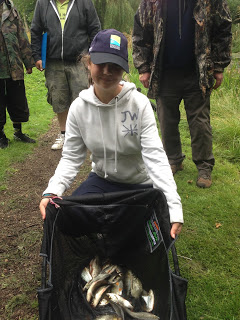 Courtney Pas had 3lb 5oz from peg 9
George pulled out his net and his 2lb 13oz put him into second place, Bradley had 2lb 14oz to just pip George and then Clifford on the end had 2lb 7oz and it had been incredibly close with less than a pound separating the field. Scott did the results and the top three received tackle vouchers with everyone getting a Bait Tech bucket filled with goodies.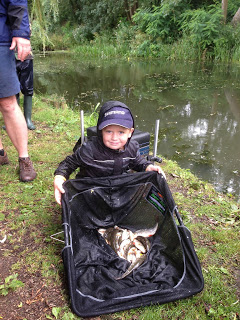 Five year old George Baker had 2lb 13oz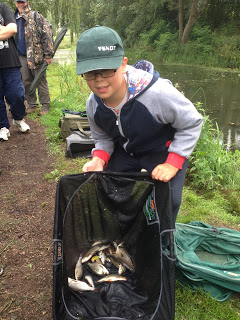 Bradley Lawrence weighed in 2lb 14oz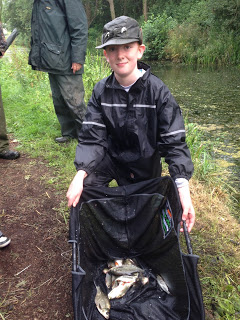 Clifford Richardson had 2lb 7oz
1 – Courtney Pas (Ilminster) – 3lb 5oz
2 – Bradley Lawrence (Ilminster) – 2lb 14oz
3 – George Baker (Tatworth) – 2lb 13oz
4 – Matthew Parker (Ilminster) – 2lb 11oz
5 – Clifford Lawrence (Ilminster) – 2lb 7oz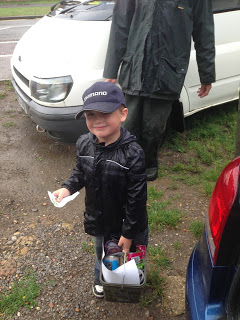 I think little George was happy with his goody bucket!


I have to say it was a really enjoyable (if wet!) day and it was great to see youngsters catching fish and enjoying themselves, hopefully they'll be the stars of the future. Also a big thank you to Scott Jackson for inviting me, Ned, Mick Greaves, Brett Venn, David Cleal and all the dads and granddads (Butch) who were there to look after the juniors.
Last but certainly not least a massive thanks to Bait Tech, Tackleuk and M.B.H Industrial Services Ltd for their very generous sponsorship,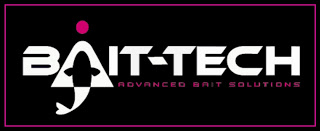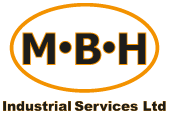 I'm hoping to get to Chard AC's junior match at Perry St next week so look out for a report next Saturday and don't forget to come back to see how I got on at Dillington tomorrow.