After struggling last week I was hoping for a nice days silvers fishing today, Janders was back from yet another holiday and fishing today as well. I'd received loads of texts from the Torquay Tart yesterday saying how he was going to whoop my ass (yawn, yawn – heard it all before) and I would need to bring a knife and fork to eat my humble pie. So today was the big silvers showdown as he was keen to put all the skills he had learned from his coaching session to the test.
There was a big turnout of 22 anglers meaning only one peg not being used, Pete announced the draw and I stuck my hand in the bucket and pulled out peg 15 which I was pretty disappointed with as it's a great carp peg but can be hit or miss for silvers. Along with the tart's side bet I also had pounds with Glynn and Janders so after checking I had enough nuggets it was off to my peg. I had Nigel Wickham on one side and Paul Homewood on the other.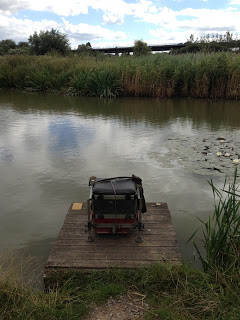 Peg 15 on Sellicks
I set up two 0.6 gram Malman Pencils. one with 0.10mm bottom and size 18 808 and the other with 0.12mm and a size 16. I decided to fish three lines. all well away from the lilies and as soon as I hooked a carp I would switch lines. The whistle went and I fed two lines at 10 metres, one straight out and the other at an angle to the left plus a line at four sections. I started straight out with the old faithful Bait Tech 4mm expander on the hook and the first bite saw me playing a carp which I had under control before it went in the lilies and the hook pulled – great start! I've then foulhooked a carp which came off as well and things weren't going to plan.
I switched to the other 10 metre line and had an 8oz skimmer followed by a small blade and was hoping for more of the same. Paul had caught a couple of carp and a tench and Nigel was catching odd carp with his shiny new pole. I then lost a small skimmer but as nobody else seemed to be catching silvers I was fairly happy. After two hours I wasn't quite as happy as I hadn't added any more silvers and all I could hook was carp with most being foulhooked and coming off.
I tried the shorter line but apart from a couple of missed bites, it was a non-starter. Rotating around my lines I had a purple patch from the left hand line when I had another 8oz skimmer followed by a blade and then a 12oz tench, this was more like it! The Torquay Tart appeared and said he was having a nightmare as he couldn't catch silvers and had snapped his number five section – whoops! He went on to say nobody seemed to be catching silvers before heading back to continue ass whooping me!
I stuck at it hoping some better skimmers might put in an appearance but to be honest the rest of the match was a bit of an anti-climax for me and I only added a few more blades and several carp. Mark Leahy had jacked it in early and walked round, he said Glynn was getting some better skimmers and there would be several 5lb plus weights on the other side and I knew it would be another poor day for me. Paul and Nigel had continued catching odd carp and were looking good to frame. There were loads of carp in my peg and I think a carp angler would have won off my peg today but I'd made my mind up to fish for silvers and it was the wrong thing to do today.
I'd ended up with 10 silvers (1 tench, 2 decent skimmers and the rest small skimbobs) plus ten carp, I packed up and my day got a lot better when I saw the Tart's keepnets drying in the sunshine. He paid me a nugget and it's the best pound I've ever won (and that makes the scores on the doors 4-1 to me this year). Thanks Brendon, I look forward to the next time you are going to whoop my ass! Talking of the Tart he had a new fangled Sensas watch that you can set to tell you when to feed and beep and allsorts, I reckon he must have spent all day trying to figure out how to work it!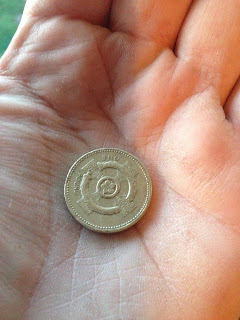 What a lovely shiny pound, thanks Brendon!
I caught up with the scales after they'd weighed the first few pegs and Glynn had weighed 9lb 13oz of skimmers and he really is the man to beat here on the silvers. I paid him a pound and I was back to evens on the side bet front. Martin Addicot had 7lb 13oz of silvers to go into second place and he's another one doing well for silvers at the moment. Janders on peg 6 had 19lb 14oz of carp and 3lb 3oz of silvers and I thought it might be close between us.
There were quite a few people not weighing in and Glynn was actually leading overall until we got to peg 12 and Rob Birch put 39lb 13oz on the scales to go into the lead. Then Bill 'The Paste' Hopping plonked 51lb 9oz on the scales and he's on fire at the moment. Paul Homewood came close with 50lb 1oz and then it was my turn, my carp weighed 19lb 10oz and my silvers went 2lb 15oz meaning Janders beat me as well to take another pound off me and I was 2-1 down on side bets. Nigel Wickham had 35lb 11oz and I'd been battered both sides to finish off my day.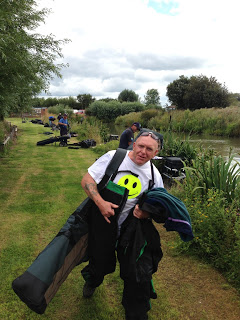 Rob's smiley t-shirt must have brought him luck as he framed and his beloved Man Utd won today too!
Jim Jenner had 49lb 2oz on peg 17 to go into third spot and then there were several weights around 20lb before we walked past the Tarts nets which had dried nicely in the sunshine (tee-hee). Jamie Parkhouse had the top silvers weight on our side with 3lb 13oz and added 24lb 1oz of carp meaning the Tart had been battered like a chip shop sausage too! Pegs 22 and 23 didn't weigh and that was that.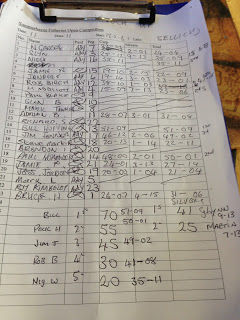 The overall frame was very tight today
1 – Bill 'The Paste' Hopping (Summerhayes) – 51lb 9oz
2 – Paul Homewood (Summerhayes) – 50lb 1oz
3 – Jim Jenner (Summerhayes) – 49lb 2oz
4 – Rob Birch (Summerhayes) – 39lb 13oz
5 – Nigel Wickham (Summerhayes) – 35lb 11oz
Silvers
1 – Glynn Wickham (Summerhayes) – 9lb 13oz
2 – Martin Addicot (Summerhayes) – 7lb 13oz
So a disappointing day today and I'm having a bad run of results at the moment, I can see me getting dicked again next week at Dillington as I'm out of touch with the pond but make sure you come back to see how it goes.
Next up – Dillington Pond
What's new – Lots of page updates
Check Out – My Random Ramblings (below)