Talking to Scotty, he said there were some spaces for the Tackleuk Open at the Viaduct and he tempted me with tales of big nets of skimmers and tench. I haven't fished the Viaduct for years and I've never fished a match there so there was a good chance I would get right royally battered. Roger Russell has been doing really well feeding dampened 4mm pellets and fishing banded 6mm on the hook with winning silvers weights up to 67lb so that would be my plan of attack today, pellets, pellets and more pellets.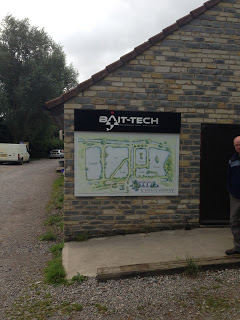 Bait Tech Viaduct Fishery
I got there and immediately saw some faces I haven't seen for ages, Howard Webb who I haven't seen since the Howley days and Phil 'Digger' Denslow who used the fish the Isle and Dillington but has since switched to the 'dark side'. I had a bacon butty and a coffee before popping into the shop and buying some more pellets, just in case! Scott announced the draw and I pulled out peg 111 on Campbell which several people said was a really good carp peg, not what I wanted to hear, on the plus side it was a short walk. I had Roger on the next peg which probably wouldn't help our cause much with us both fishing for silvers.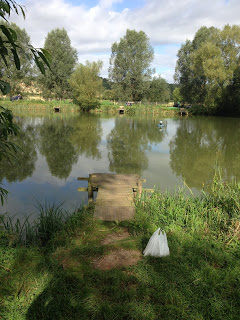 Peg 111 on Campbell
Ash and Scotty said I should also feed an inside line as quite a few tench get caught down the edge so I set up two Malman 0.6 gram pencils to 0.12mm bottoms with size 16 808's to fish at 6 metres with banded pellet and a Trabucco dibber for down the edge with 0.14mm bottom and a size 16 B911. The all in was shouted and I cupped in some 4mm's at 6 metres and chucked some down the edge. I foulhooked a carp first put in which came off and then lost one next chuck and I wasn't having the best of starts!
In fact I spent most of the first hour playing carp and landed three with the only skimmer to put in an appearance, a rather modest 4oz! Roger had caught a couple of decent skimmers and was feeding the odd nugget of groundbait along with the 4mm's and I wondered if this was making the difference. Around the lake people were starting to catch carp with Scott and Dan Squires next door both catching really well. As hour two started I had my first decent skimmer of around 1.5lb and hoped they had moved in.
I had a couple more, including some approaching 3lb and then added a nice tench and several more carp around the 5-6lb mark but Roger was still a couple of fish ahead. These carp pull a bit and already there had been several pole casualties around the pond. Both Roger and me would get odd skimmers but it was fairly hard going and we couldn't string more than a couple of fish together. I'd lost a couple more hooklengths to carp, including one I thought I had under control when it decided to go under the pallet and snap me!
With a couple of hours to go I had about 10lb of silvers and 12 carp and was still a couple of fish behind Rog, with us both now struggling I decided to have a look on the inside. I had another carp but then my next fish was a 2lb tench and a few more would be very welcome. My next fish was yet another carp and then I've hooked a right beast that took me forever to land and looked to be around 12-14lb. While I was faffing about with it, Roger had a couple more skimmers to further increase his lead. There had obviously been another casualty as a top three came past us out in the middle, rising out of the lake like Excaliber!
I gave the inside up as a bad job and went back to 6 metres and had a couple more skimmers, I was getting plenty of indications but couldn't hit them and I suspect roach were the culprits. The last part of the match was really quiet for me and when Roger landed two tench in quick succession I knew he had beaten me. I packed up, slightly disappointed that the big silvers weights hadn't materialised and thought I had around 15lb which would be way off the pace today.
I have to say the fishery is very professionally run and soon two sets of scales turned up to weigh each bank. When the scales reached Roger, Scott was leading with a massive 203lb 8oz, closely followed by Dan Squires with 182lb 10oz although people were saying it had fished hard for silvers. Roger weighed 25lb of silvers and had done well to avoid the carp, only landing one all day. My carp weighed 80lb and my silvers went 21lb 4oz to give me a 101lb 4oz total and only my second 'ton' ever. The chap on my left had over 135lb and nearly everyone on our bank had caught over 100lb – crazy fishing!
We took our kit back to the cars and then awaited the results, Scotty was announced as the winner and Ashley was second with 190lb 15oz to make it a Tackleuk one-two. Dan was third and Jon Martin was fourth with his biggest match weight to date, 151lb 7oz. Roger won the silvers and I was called out in second place and picked up £30 which I was pleased with on my first match here. I'm not sure I could do it too often though as my arms were killing me!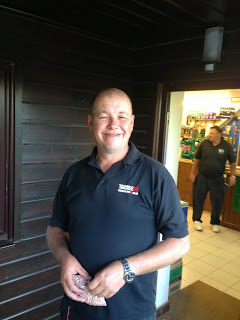 Tackleuk's Scotty Russell broke the double ton yet again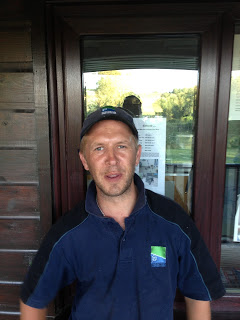 Jon Martin came fourth and had his biggest match weight as well
1 – Scott Russell (Tackleuk) – 203lb 8oz
2 – Ashley Tomkins (Tackleuk) – 190lb 15oz
3 – Dan Squires (Viaduct) – 182lb 10oz
4 – Jon Martin (Taunton) – 151lb 7oz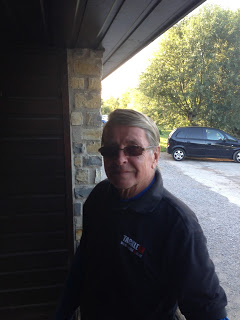 Roger Russell won the silvers again
Silvers
1 – Roger Russell (Tackleuk) – 25lb
2 – Jamie Rich (Against Men and Fish) – 21lb 4oz
I'm at Dillington tomorrow and I fear I'll be the 'whipping' boy yet again – get it? So come back again tomorrow to see how I get on. Ilminster AA juniors also had a match today out the pond, see the news page for results and photos (or head over to my Facebook page).
Next up – Dillington
What's new – Ilminster AA junior match result and photos on news page
Check Out – See how I got on last Monday (below)