After a great result yesterday, I really wanted to do well today and Pete announced the draw for Longs first, I hung back a bit hoping peg 39 would go as it's a peg I never do well on, although Charlie Barnes did well off it yesterday. Steve Martin drew it today and I pulled out peg 17 which I was pretty happy with. Ray Wickham drew peg 5 on Sellicks which is a good silvers peg and then Glynn drew peg 19 (another good silvers peg) and the pressure was on.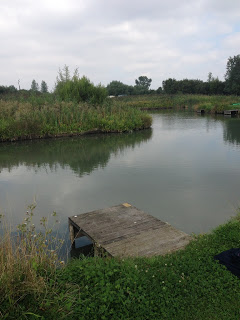 Peg 17 on Longs
I had Martin Addicot on peg 19 and he'd be fishing for carp and the next peg on my right was The Paste King on peg 11 so loads of room again. Bill had a chance of double bubble as he'd won the carp on Sellicks and was third in the silvers. As I said yesterday, I felt 8-10lb would be good enough today and I would try and keep putting silvers in the net, no matter what the size. I set up a 10 x 11 MW F1 Slim to fish at 10 metres and plumbed up three swims, angled to the right, straight out and angled to the left. I also set up an identical float to fish at four sections where I would cup in some Bait Tech Pro Natural groundbait and maggots.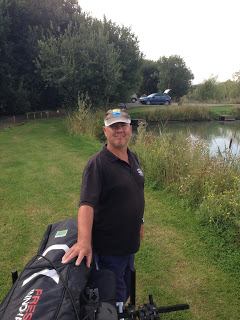 Martin Addicot was on peg 19
On the whistle I cupped in small amounts of micros on all three 10 metre lines before putting in two balls of groundbait on the short line. I started on the right hand line with a 4mm expander on the hook, it took ten minutes to get a bite and I netted a 2oz skimmer to make sure I was off the mark. I've then hooked a carp which was the sign to move lines, I missed a couple of bites before catching a blade and then next chuck I've had a proper skimmer. here we go I thought.
But then it was a real struggle and I could only manage the odd blade (and carp of course) from all three lines, Martin was catching carp quite well and had also landed a good skimmer on paste. I wasn't panicking yet but soft pellet was getting battered by tiny fish and a 6mm banded pellet just resulted in a carp. I tried the short line and had a small skimmer but then couldn't buy a bite again and double maggot just resulted in another carp.
The match was now two hours old and I probably only had around a pound of silvers – not good! To add insult to injury, Martin had another skimmer and a tench. Out of desperation I tried fishing two sections to hand with maggot and started getting some small roach, rudd and the odd motherless minnow and probably had 60 fish or so in an hour, I bumped quite a few and had several drop off as well. When Martin shouted up that he had caught another nuisance skimmer, I didn't know what to do next. There were obviously some better silvers about but I couldn't catch them and was heading for a serious blow out.
I tried my ten metre lines again but the only bites I could get were from carp, another try on the short line saw me hook and lose yet another carp which snapped the hooklength so I chucked that up the bank and for the last three quarters of an hour fished the top two and managed another 61 small fish. I felt pretty dejected as I thought I had about 4lb and would finish well down with that. Bill came up and said he'd had some big crucians so I knew he'd done me and Martin had several good skimmers, three tench and a couple of crucians so he'd battered me as well.
I packed up and as I loaded the car I could see Clive had chucked back so at least I'd beaten someone! I caught up with the scales on Sellicks and Glynn had 12lb of skimmers and Ray had over 18lb so he won the lake and would win it overall with a perfect two point score, Charlie was third on Sellicks with 7lb 8oz. Alan Jenkins was first to weigh on Longs and he had a few carp and 4lb 8oz of silvers and I didn't think I had that, Adie had a good net of carp but just shy of 2lb of silvers and I hoped that was another point gained but I really didn't think it would make any difference.
Then the Paste King had 99lb 9oz of carp and added 8lb 11oz of silvers for good measure and looked to be on his way to double bubble. Then it was my turn and my carp went 22lb 12oz and I was surprised when my silvers went 7lb 2oz and I was left wishing I'd fished for those bits longer as I probably did 5lb in about 2 hours. Martin had 79lb of carp and 8lb 9oz of 'nuisance' silvers and I was already down to third on the lake with several more to weigh. Harry M had 2lb 14oz of silvers and Dave B had 12oz so I was still in third place but knew Steve Martin had close to double figures. He actually weighed 45lb of carp and 9lb 13oz of silvers and I really think I'd missed an opportunity today to win my first festival after coming close a couple of times.
I ended up with 5 points and looking at the weigh boards, there were several others on 5 points as well, could I sneak in and avoid the disaster? Bobby G volunteered to work the results out and you could almost see the cogs whirring, a few of us offered to take our shoes and socks off and it took him a while to get the joke!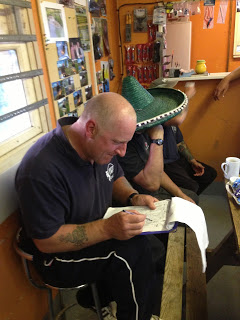 Look at the concentration on that face!
We knew the Paste King had won the carp and Bobby was second and that Ray had won the silvers with Steve second but what about the minor places. Finally the results were ready and Adie Bishop was called out in fourth place in the carp with 5 points, Nigel Wickham was third with 3 pts, Bobby was second, also with 3 and had taken the verdict on weight by just 4oz over the two days and the Paste King had won it with a perfect 2 pt score.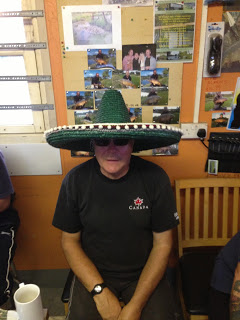 Bill 'The Bandit' does it again
Then it was time for the silvers, Glynn was fourth with 5 pts (and took a pound off me today), I was called out in third with the same points but a better weight and picked up £49 which was my first envelope for a while, Steve was second with 3 pts and Ray won with another perfect score.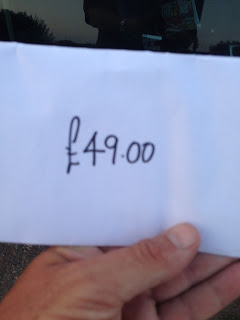 My first envelope for a while
Todays results
Sellicks
Silvers
1 – Ray Wickham (Summerhayes) – 18lb 5oz
2 – Glynn Wickham (Summerhayes) – 12lb
3 – Charlie Barnes (Summerhayes) – 7lb 8oz
Carp
1 – Bobby Gullick (Garbolino Blackmore Vale) – 88lb 10oz
2 – Nigel Wickham (Summerhayes) – 87lb 12oz
3 – Mark Leahy (Summerhayes) – 63lb 15oz
Longs
Silvers
1 – Steve Martin (Summerhayes) – 9lb 13oz
2 – Bill 'The Paste King' Hopping (Summerhayes) – 8lb 11oz
3 – Martin Addicot (Summerhayes) – 8lb 9oz
Carp
1 – Bill 'The Paste King' Hopping (Summerhayes) – 99lb 9oz
2 – Martin Addicot (Summerhayes) – 79lb 1oz
3 – Adie Bishop (Summerhayes) – 74lb 14oz
Overall
Silvers
1 – Ray Wickham – 2 pts
2 – Steve Martin – 3pts
3 – Jamie Rich – 5 pts (32lb 9oz)
4 – Glynn Wickham – 5 pts (21lb 12oz)
Carp
1 – Bill Hopping – 2 pts
2 – Bobby Gullick – 3 pts (167lb 8oz)
3 – Nigel Wickham – 3 pts (167lb 4oz)
4 – Adie Bishop – 5 pts
So another great little festival and a big thanks to Pete for arranging it, I had a cracking day yesterday and should have fished for bits all day today but hindsight is a wonderful thing.
Next up – Viaduct
What's new – Lots of page updates
Check Out – See how day one went yesterday