I was looking forward to another of Pete's mini festivals after coming close last time when I ended up second in the silvers. There were 17 anglers today and we would be split over Longs and Sellicks on day one and then swap ponds for the second day. In the week 17lb of skimmers was the top silvers weight on Sellicks from peg 1 and also it was nice to see the silvers weights improving on Longs with weights of 11lb and 9lb recorded.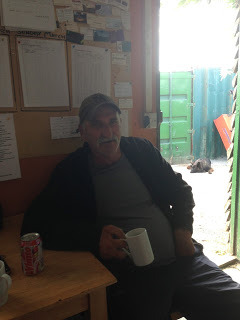 It was nice to see the legend that is Charlie Barnes
I paid my pools and it was nice to see Bobby Gullick and Charlie Barnes again, Glynn and me struck our normal £1 side bet but it would have to be on points if we ended up on different lakes. I hung back at the draw hoping 15 on Sellicks and 39 on Longs would go before I stuck my hand in the bucket. With only a few balls left I went for it and pulled out peg 2 on Sellicks which I was fairly pleased with. It got better when I got to my swim and pegs 1, 3 and 4 weren't in either, loads of room!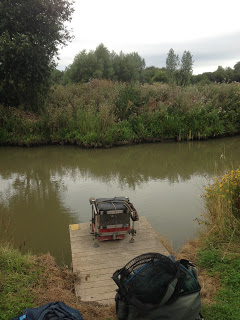 Peg 2 on Sellicks
Adie Bishop told me Clive had caught short on peg 1 on Wednesday and that he hadn't caught for two hours and then the skimmers moved in. I decided on four swims, at 8.5 metres in front of peg 1, the same distance out in front of me and 11.5 metres out towards peg 3. I set up two Malman pencils to cover these swims. My last line would be just a top two down the edge where I would feed three or four maggots to catch some bits if I was really struggling.
For bait I had the usual Bait Tech 4mm expanders, micros plus maggots and casters, just before the start Glynn and Bobby came over from Longs and were rather concerned I'd get lonely on my own with nobody around me!! On the whistle I cupped in half a pot of micros on all three lines and flicked a few maggots down the edge. I started to my right in front on peg 1 but after 10 minutes I hadn't had a touch on soft pellet so I switched to the other 8.5 metre line. I had a bite first put in and netted a 2oz skimmer to get me off the mark. Next chuck I've hooked a carp that I had on for ages before it did me under the next peg pallet!
After tying on another hooklength I had a few more blades and was pleased to be putting silvers in the net, I switched to 11.5 metres and had a few more and then landed a lovely golden koi/ghostie which was the signal to switch lines again (the idea being to swap lines after every carp). I had a couple more blades and then had a skimmer around a pound followed by two more of 6-8oz. I've then had another carp so rotated again, this time back to the swim in front of peg 1. No bites here at all but with around 3.5lb of silvers after two hours I was still on target to do double figures.
Harry M on peg 5 had landed a couple of carp but I couldn't really see anybody else. I had a couple more blades plus a couple more nuisance carp but bites were slowing up which was a little concerning. I decided to have a quick go with the top two rig as I could see odd rudd swirling for maggots but after half a dozen tiny rudd I soon got bored of that. I went back in front of peg 1 for the third time and still no bites, I was just about to give it up for a bad job when the float went and I've had another blade.
Next put in there I've had a better skimmer, followed by another of 1.5lb and then another, it was solid! I've had five or six good skimmers plus a few hand sized ones and I've bumped a couple too. I was just starting to think a good weight was possible when I've had a carp followed by two more, it was time to switch lines again. Back at 8.5 metres out in front I've had a blade and then an 8oz skimmer before yet another carp put in an appearance and I now had 7 or 8 of them.
Harry was starting to catch carp quite well on paste but was having a bit of a nightmare with a number four section slipping into the pond. Pete got the rake and tried to find it without any luck, I asked if anyone was catching skimmers and he said the best he'd heard on Sellicks was 4 or 5, he also said Glynn had about 5lb over on Longs which was pretty good with a couple of hours to go. I tried my long line again but a carp first chuck and I was soon back to 8.5 metres.
Things had slowed again, so it was back on front of peg 1, I was only feeding a tiny pinch of micros as I was very wary of feeding too much and attracting the carp. I started catching some good skimmers here again and I got to 42 skimmers with half an hour to go and thought I must have around 18lb. I then had carp number twelve which gave me the run around but still fancied I might get a couple more skimbobs before time was up.
With a few minutes to go I've hooked a fish which was either a foulhooked skimmer or a small carp, I was shipping back gently but the hook pulled and I didn't have time to go back out again. I felt I'd fished a pretty good match although I had lost/bumped three or four skimmers and lost about the same number of carp.
The scales were soon with me as I was the first to be weighed, my carp went 23lb 13oz and when I pulled out my silvers net I realised I might have a bit more than I thought. Pete called out 25lb 7oz and it's my best silvers weight yet and Pete said he thinks it's the best silvers net to come out of Sellicks! Harry had done well to finish with 47lb 7oz of carp and then Bill 'The Paste King' Hopping continued his good form when he stuck 70lb 11oz of carp on the scales from peg 8, he also had 5lb 7oz of skimmers which put him third on the lake for silvers.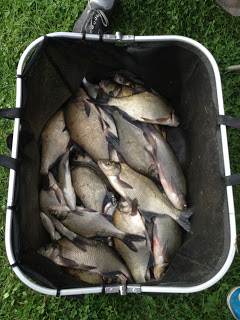 25lb 7oz of skimmers (my best Summerhayes silvers weight yet)
The next good silvers weight was Steve Martin who 7lb 1oz which put him second on the lake but he also had 51lb 5oz of carp which put him third in the carp. Adie Bishop had 58lb of carp which put him second but he had also suffered a pole breakage and several lost fish. There were several 30-40lb weights of carp but no more decent silvers weights before the scales headed to Longs.
First to weigh on Longs was Nigel Wickham who had 79lb 8oz of carp and 4lb 4oz of silvers, young Reece had 40lb of carp but there were no more decent silvers weights until we got to Ray Wickham who had 11lb 2oz to go into the silvers lead. Glynn was admitting to 10lb or so and I was hoping Ray might pinch a point off him. Mark Leahy had 69lb 9oz of carp and then it was Glynn's turn, his silvers went 9lb 12oz and I claimed a £1 off him (the first one in ages).
Glynn's pound (nearly as sweet as the one I had off the Torquay Tart but not quite!)
Bobby Gullick had over forty 'small' carp for 78lb 14oz to put him second on the lake, last to weigh was Charlie Barnes and he had some nice crucians and tench to weigh 10lb 3oz and push Glynn down into third. As we were enjoying a drink and some crisps, one of Pete's helpers (sorry I didn't get his name) was in the lake searching for Harry's pole section and I just had to get a photo.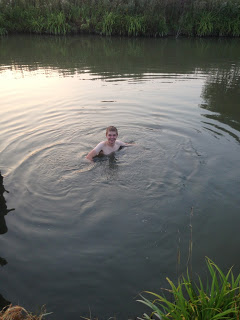 Another skinny dipper (it seems to be a recurring theme on this blog!)
Sellicks
Silvers
1 – Jamie Rich (Against Men and Fish) – 25lb 7oz
2 – Steve Martin (Summerhayes) – 7lb 1oz
3 – Bill 'The Paste King' Hopping (Summerhayes) – 5lb 7oz
Carp
1 – Bill 'The Paste King' Hopping (Summerhayes) – 70lb 11oz
2 – Adie Bishop (Summerhayes) – 58lb 1oz
3 – Steve Martin (Summerhayes) – 51lb 5oz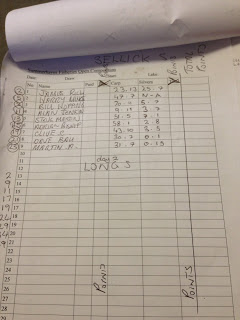 Sellicks weigh board
Longs
Silvers
1 – Ray Wickham (Summerhayes) – 11lb 2oz
2 – Charlie Barnes (Summerhayes) – 10lb 3oz
3 – Glynn Wickham (Summerhayes) – 9lb 12oz
Carp
1 – Nigel Wickham (Summerhayes) – 79lb 8oz
2 – Bobby Gullick (Garbolino Blackmore Vale) – 78lb 14oz
3 – Mark Leahy (Summerhayes) – 69lb 9oz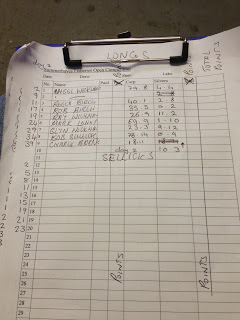 Longs weigh board
So it's all to play for tomorrow, it was a very tight frame on Longs today and I reckon 8-10lb of silvers will be needed tomorrow. There are several people in with a chance of double bubble too, be sure to come back tomorrow to see how I get on and if Glynn wins his pound back!
Next up – Day two on Longs
What's new – Lots of page updates
Check Out – My report on the Chard AC junior match (below)