I arrived at the Royal Oak for the draw today at the same time as Robin who was looking very worse for wear! There were nine of us today including Bruce 'The Speed Machine' Hunt and there was also a new face at the draw, a really nice bloke called Guy and it's always great to get some new anglers fishing. I pulled out peg 20 which I was quite pleased with and had Moses on the next peg and he was keen for a side bet again, I also had one with Rob which I reckoned was a good shout as there was a very good chance he'd be asleep before the end of the match!
When I got to my peg, the first job as always was to mix my groundbait and today I was trying Bait Tech Mantra for the first time. I set up two rigs, both Drennan Roach floats, one for fishing at 8.5 metres with 0.10mm hooklength and a size 20 B611 barbless hook and the other to fish at 5 metres just off the reeds with a size 18 in the same pattern to 0.12mm bottom. On the whistle I cupped in two balls on the longer line and one on the shorter line and started at 8.5 metres with caster on the hook.
The rig settled and then just sat there!, after ten minutes I switched to maggot and had a tiny perch so went back to caster but it was really hard going, I only had a few fish but then hooked a fish that pulled out a fair bit of number four elastic and I gratefully netted a 10oz skimmer. Moses asked how many fish I had and I shouted back that I'd only had five, he replied that he'd had 21 fish, including a 6lb bream on the whip!
I was feeding casters and hemp over both lines and a brief try on the shorter line saw me catch a couple of fish before that dried up as well. I did add another skimmer from the longer line and it's lovely to see them and I do wonder just how many there are in the pond. I was getting odd fish on caster and kept trying maggot as well. Looking round the pond it looked like everyone was struggling but it can be deceiving so I just stuck at it.
By the half way point I'd only had around thirty fish and Moses kept asking how many I had and he was always ten or twelve fish ahead and he had that 'Brucey Bonus Bream' as well. I was catching mainly small roach but every now and again would get a better one of 4oz or so which I netted to be on the safe side. With two hours to go, I've had another decent skimmer and then added two more, both on maggot. Moses was now catching quite well on the whip and looked to be heading for another win.
With an hour left I was hoping my catch rate might pick up but my bites slowed right up and I only added a couple more roach to finish with 57 fish. I thought I might have 4-5lb but I didn't think it would be enough to frame today. After packing up, Moses soon arrived at my peg with the scales, my fish actually weighed 7lb 5oz which was a lot more than I thought (just for a change!) and then Moses weighed 10lb 7oz and that bream made all the difference. Terry Morgan had 3lb 6oz and then it was Bruce's turn, he had over 130 fish but reckoned they were all tiny, he weighed 4lb 7oz so I was still in second place and would have to wait to see how the other section had got on.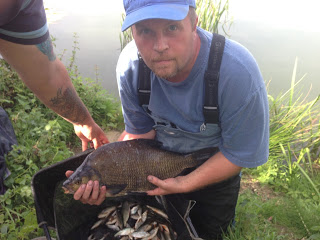 Moses had this cracking bream in his winning catch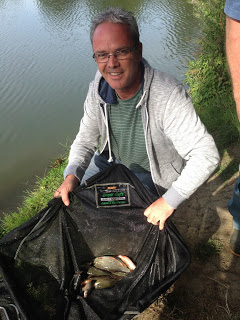 Terry Morgan had some quality roach in his catch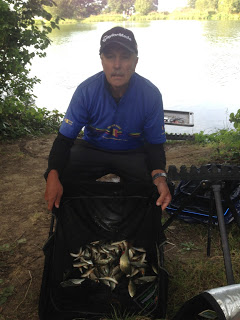 Bruce had over 130 fish today
Steve turned up from the other side and Guy had weighed 3lb 6oz in peg 4, Richy had 2lb 8oz from peg 6, Steve had struggled for 1lb 6oz, Rob had managed to stay awake for the whole match and weighed 3lb 9oz and Fieldy weighed 6lb 4oz so I finished up second and picked up £25. I lost a pound to Moses again but had one off Robin so I finished up all square on the side bets.
Quite an enjoyable day and it's lovely to see those skimmers, what was quite noticeable though was the lack of small perch, there used to be hoards of them, yet I've only caught one tiny stripy today.
1 – Moses Holbrook (Ilminster) – 10lb 7oz
2 – Jamie Rich (Against Men and Fish) – 7lb 5oz
3 – Graham Field (Taunton) – 6lb 4oz
Sections
A – Rob Cox (Ilminster) – 3lb 9oz
B – Bruce Hunt (Tiverton) – 4lb 7oz
So with one match remaining the league is pretty tight and it will go down to the last match, the league standings are as follows,
1 – Graham Field – 745 points
2 – Moses Holbrook – 730 points
3 – Rob Cox – 655 points
Next up – Summerhayes (Longs)
What's new – Lots of page updates and don't forget to check out the new links page
Check Out – My first match at the Viaduct (below)