I didn't have anything planned for today and was going to have a lazy day but that all changed when I had a text from fellow blogger, Russell Hilton. He asked if I fancied doing something today and as I hadn't seen him since our (unsuccessful) pike trip, I jumped at the chance of a day out. He fancied a go at some mullet and when he said he'd seen loads on the River Exe, that was where we decided to go.
I met him in a Tesco's near Tiverton and we picked up some bread before heading to Exe Valley Angling to get some bits and bobs and a day ticket. We went to a stretch of the Exe above Countess Weir and settled in a swim known as 'Bream Bend', we both started on cage feeders with bread on the hook and mashed bread in the feeder. Russell had a small roach first chuck and I thought we might be in for a good day. It was a lovely day and mullet could be seen rising all over the place.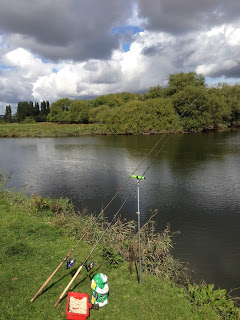 Ready for action!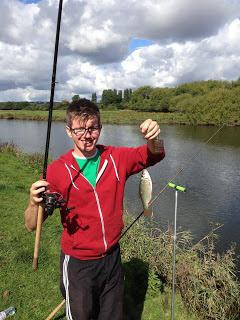 Russell with the first fish of the day
After a couple of hours it started raining and we hadn't had any more action apart from a few knocks and our early enthusiasm was waning. I set up a Drennan Chubber float and tried that for a bit and we saw some more mullet close in but they just weren't interested and about three 'o' clock we decided to pack it in. As I was packing my gear away Russell walked up a few swims above us and said there were loads of mullet in the shallows.
I walked up and sure enough there were dozens of the little buggers in water so shallow it just about covered their backs. We both set up again, sure we would hook a few but these mullet proved to be just as elusive as their cousins at Seaton. It was still raining but we could clearly see them feeding on something on the bottom and they refused our bread offerings, even when we ran our floats through dozens of them! They were bow waving and jumping but just wouldn't touch our baits.
I finally hooked a fish but it turned out to be a small chub so at least I hadn't blanked but it wasn't the result I wanted. Russell briefly hooked a mullet before it came off and he thinks it was possibly foulhooked. I had another small chublet but just couldn't get a mullet to show any interest. The tide started to come back in and all of a sudden they started to be a bit more active and I still felt we might get one or two.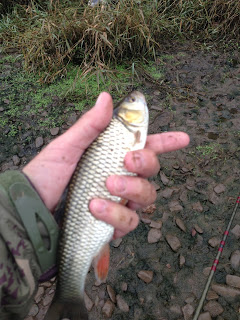 The first of my two chublets
Then Russ shouted up that he had a mullet on and he said this one was hooked in the mouth, then it came off and he sunk to his knees! The tide was now coming in at a rapid rate and we had to move back up the bank a couple of times. We couldn't see as many mullet now and I'm never sure if this is a good or bad thing. We started getting some indications and Russ had a couple of nice dace before I had a couple as well but with the light staring to fade, we admitted defeat at quarter to eight!
So those pesky mullet had defeated me yet again and they are the most frustrating fish ever, you can have literally hundreds in front of you and they just laugh at everything you try! Still it was nice to try somewhere different and to catch up with Russell again, he writes an excellent blog which you can check out here Tales From The Towpath
I can't wait to have another go for them but it might have to wait until next Summer now. Tomorrow I'm at Summerhayes and I've already been getting texts from the Torquay Tart saying he's looking forward to putting me in my place so make sure you check back tomorrow night to see if he does or if I batter him like a chip shop sausage again.