After a long (but enjoyable) day yesterday, I slept like a log and all too soon it was time to get up and go fishing yet again. I picked Janders up and then met some more of the Chard posse at the garage, namely Oz, Butch and Picky who were fishing Summerhayes for the first time today. Although a nice day, the temperature was certainly a few degrees lower and I think we can safely bid Summer a fond farewell. After several texts from the Torquay Tart yesterday I awoke to another on my phone telling me to prepare to get whooped.
We headed off in convoy and I even enjoyed my first trip over the railway line and I hoped the sight of Janders running across the tracks wasn't going to be the highlight of the day! There was a good turnout of 26 anglers today including Heardy who I haven't seen for ages. I had the last but one peg in the bucket which was peg 33 and put me halfway along the bank by the track, an area that can be pretty good. I had Jim Jenner on 34 and Harry M was on 31, I had a bay on the far side but was sure it would be carp city so plumbed up two lines at 10 metres which put me down the track.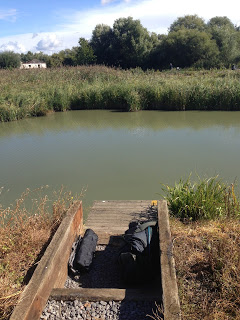 Peg 33 on Longs
I also intended to fish a top two line for bits if I couldn't catch skimmers so set up a 10 x 11 MW F1 Slim for fishing at 10 metres in front and at the same distance but angled to my right plus an identical rig but for fishing two sections to hand with maggot as bait. The Torquay Tart had drawn peg 37 which is really narrow and was that confident he'd put three keepnets in! Oz was on 36 and had the aerator to fish to.
On the whistle I cupped in half a pot of micros on both the long lines and flicked a few maggots down the edge. The first bite on a 4mm expander on the right hand line saw me playing carp number one which wasn't the start I'd hoped for. I switched to the other line and then had a decent skimmer followed by carp number two. The first hour went okay and I had two decent skimmers and two carp, I wasn't bagging but getting enough bites to keep me interested and doing as well as anybody I could see around me. Jim was fishing worm and had landed a couple of skimmers and a golden tench.
Hour two was pretty similar and I added another two skimmers and two carp, the last one which was foulhooked, it gave me the run around and after netting it, I nipped to the on site loo. Brendon was in there and said he'd only had one carp and lost a crucian so the promised ass whopping wasn't going too well so far! Oz was also struggling and it was looking like it might be quite hard. I went back and carried on swapping lines after every couple of fish, I was getting the odd decent skimmer along with some smaller ones and also catching quite a few small carp.
The Tart turned up behind me with a bacon sarnie so I guessed he was still struggling, he asked what I had and when I told him I had six skimmers and seven carp he said I was right up there as the best he'd heard of was a couple of people with five carp. I guessed I had about 3lb of silvers and was a long way off my target as I thought 8-10lb would be needed today but as I was catching carp quite well I was reluctant to try my maggot line, although I kept feeding it all day.
With two hours to go there were quite a few people walking about and from the looks of it, the Tart was struggling to put anything in one keepnet, let alone three! Young Reece sat behind me and said nobody was really catching much in the way of carp or silvers. I now had eight decent skimmers and a few blades and thought I might have 4-5lb of silvers but I'd bumped a couple as well. Jim started to get odd carp from his inside line but I added a couple more to stay ahead.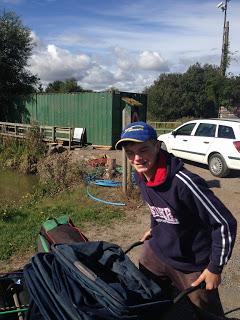 Young Reece on his way to peg 19
With an hour to go bites slowed right up, I was on 18 carp and felt I needed a couple more, I added my ninth decent skimmer and another couple of blades before hooking another carp just before time, the way it was going I reckon it might have been foulhooked but I'll never know as the hook pulled and then the all out was called. I hadn't lost a carp all day until then. I finished with 18 carp and 18 skimmers. Oz landed a big lump just before the whistle to finish with a flourish. As I was packing up I looked up to see Brendon's three nets, no longer in the water – oh dear!
The scales started with Mark Hanham in peg 39 and he weighed 24lb before Charlie Barnes weighed 5lb 3oz of silvers in peg 1. Barry F in peg 3 had 4lb 10oz of silvers and then Ray Wickham went into the lead with 38lb 13oz from peg 7 and all of a sudden I wasn't so sure I'd done as well as I thought. Then Dominic Sullivan on peg 12 put a fantastic 28lb 3oz of silvers on the scales and added 24lb 14oz of carp to go into the lead with a 53lb 1oz total. Janders had 3lb 12oz of silvers and I hoped I had a little more than that.
Butch had 3lb 14oz of silvers to just pip Janders and then Picky didn't weigh in and I hope it hasn't put him off. Bruce had loads of small roach for 4lb 9oz but it was looking like he'd just miss out and Heardy had 24lb 6oz to go into third place. Steve Jackson had done well catching 39lb 2oz on maggot and moved into second place. Bill 'The Paste' Hopping had 20lb 8oz in peg 30 and then Harry M didn't weigh. The scales reached me and my carp went 27lb 11oz and then my silvers went 7lb 4oz to put me fourth overall and second in the silvers with only a few pegs left to weigh.
Jim had 19lb before Oz weighed 13lb 12oz and his last carp must have been 7-8lb and with Brendon not weighing that was that. He paid me his pound (5-1 now) and he hadn't really given his shiny new pole a workout! At the results Dominic won overall meaning I picked up the silvers by default as it was worth £2 more than fourth place and I needed a couple more carp for second place.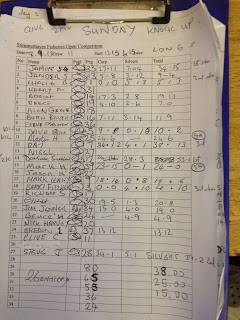 Today's weigh board
1 – Dominic Sullivan (Maver/Cadbury Angling) – 53lb 1oz
2 – Steve Jackson (Summerhayes) – 39lb 2oz
3 – Ray Wickham (Summerhayes) – 38lb 13oz
4 – Martin Heard (Tiverton) – 24lb 6oz
5 – Mark Hanham (Summerhayes) – 24lb
Silvers
1 – Jamie Rich (Against Men and Fish) – 7lb 4oz
2 – Charlie Barnes (Summerhayes) – 5lb 3oz
3 – Barry F (Summerhayes) – 4lb 10oz
So an enjoyable day made even better by taking another nugget off the Tart and it's really nice to see some better skimmers showing and I'm hoping it will keep improving.
Next up – Dillington
What's new – Lots of page updates
Check Out – My first trip to the River Exe (below)