In a first for this blog and something new which I hope you will find interesting, I have managed to secure an interview with Bait Tech supremo, Pete Clapperton. I have to say a massive thank you to Hayley for setting this up and hopefully I'll have some more interviews in the near future with some top anglers, people in the tackle trade and fishery owners to name but a few. Exciting times? I think so.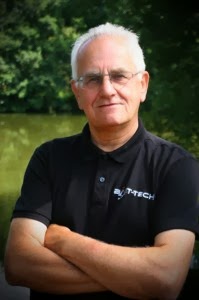 Bait Tech boss, Pete Clapperton
Against Men and Fish – Hi Pete, I realise you are an extremely busy man, so thank you so much for taking the time to answer my questions, let's start with some easy ones;

Being so busy do you still find time to go fishing? And if so, do you fish competitively?
Pete Clapperton – I love fishing but do not have much time to go, as I seem to be so busy these days. However, it is a passion that has never left me, I have taken my grandson a couple of times and although he is a little young still, I find it very enjoyable.
What's your favourite style of fishing?
One that gets me the most bites!
Where is your favourite venue?
I really don't have a favourite venue as they are all different and interesting and every venue is different on every day. Generally, however I would choose a natural venue over a commercial one.
Have you any angling heroes or anyone who has inspired you?
Izzac Walton this guy who wrote about groundbait in the 17th century!!
Wayne Swinscoe, Marcel Van Den Eynde, Kim Milson and Ivan Marks – I don't have enough time to say why I've chosen these guys…..perhaps in another interview!
What's your biggest fish in the UK? And abroad?
30lb common in the UK
Biggest fish was off the Florida coast – can't remember the weight but was a lot of fun.
Before Bait Tech, you were probably best known for creating the Essex County Superteam which won everything worth winning. With team fishing in decline can you ever envisage team fishing hitting the highs of the 'Essex' era again?
No, I really can't, not in that format. Things change all the time and the Essex team were all very good anglers and it all came together at the right place at the right time. It was a brilliant time, I have many fond memories and I am glad and proud to say that most of them are using and are confident in Bait-Tech products.
A lot of people say commercial fisheries have been the saviour of match fishing, especially with the decline of the rivers but more recently there seems to have been a swing away from carp back towards silver fish matches and of course, rivers with the Bait Tech sponsored Angling Trust Riverfest for example, where do you think the future of fishing lies?
Good question and if only I knew the answer to that! It will probably be a mixture of both with one trending over the other as trends come and go.
When I started fishing in the 80's and 90's, Sensas and Van Den Eynde had the monopoly in the groundbait market, now the consumer has a massive choice, how does Bait Tech ensure it stays at the forefront of bait technology?
It's about having ideas, being innovative, taking risks and believing in what you are doing – we don't get everything right so are always learning.
Do you get involved personally with the development of new products or do you have a team dedicated with coming up with new ideas?
Yes, without question I personally get involved with every product. I have always been creative and filled with ideas, partner this with my fascination of how fish feed and my years spent learning, testing and experimenting has given me experience and knowledge and it all comes together.
I worked very closely with Marcel for many years and helped develop many of the VDE groundbaits. Marcel was an inspiration and time with him was time well spent…..and misspent!
Our sponsored anglers come up with ideas that go in the ThinkTank and we have members of the public sharing their bait experiments with us, which is humbling, but also ideas can come from anywhere – you just need to be looking.
I was the first person to develop soft hook pellets and get those to market for example, and first one to do canned meat and hemp and also the hemp & particles in pouches….and I have a few more firsts bubbling under the surface!
I am very proud of the products I have put on the market and delighted that people like using them.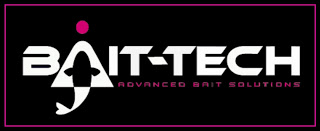 Who comes up with the ideas for new products and can you give us some idea of the process from the initial concept, through to the product hitting the shelves of the tackle shops?
It's a far bigger process than people can imagine and there is real investment of time and money to get a product on the shelves of the tackle shop.
So if talking about a new groundbait, I devise a recipe which includes a mix of the functional items, which a groundbait must have and then add specific ingredients to make it unique. This gets tested and tested and tested and tweaked and tweaked until I am happy and until my anglers are happy.
Our Big Carp Method Mix Sweet Coconut took 19 different recipes before the team was happy.
Then you have to think about the packaging. We have access to a brilliant designer and again, the designs go back and forth until the team are happy. Once approved, the artwork can take 8 weeks before arriving in the factory to be used.
Then once it's bagged and packed…..you have to think about the marketing and distribution – that's a whole other interview!
Match fishing has been steadily becoming more professional with anglers smartening up their appearance, big money televised events and more and more sponsored anglers but there are still only a handful of full time anglers, do you think there will ever be a time when match angling can become a viable career, like say professional footballers?
Probably not in it's current format as there just isn't enough money in the UK for the sport – only for the ones that get TV programmes will make their money.
It's different in America though as they have high earning superstars – you should check out Bass fishing out there, it's huge, it's exciting and there is a lot of money involved.
Having achieved so much already, what other ambitions do you have?
I am very proud of my achievements within the fishing industry, not only being a top angler in my day but my involvement with VDE and the Essex County Team, the European SuperCup, Suffolk Water Park, getting Bait-Tech to it's current position…Bait-Tech has been the fastest growing bait company ever – since the launch in October 2006 at Tackle & Guns we are now one of the biggest in the country – in that amount of time, it is phenomenal.
I also have a very wonderful golf course outside of Sudbury which I have developed over the last 20 years. I love playing on a Saturday morning and my handicap is pretty low. My best round ever was 2 weeks ago with a round of 6 birdies, 5 bogies and 7 pars and it was 1 under par for the course.
I've always been involved with many businesses and I still have 100s of ideas I wish to pursue – I have too many ambitions to mention.
Well thank you for giving up your time but before I let you go, here's a few more quick-fire questions,
What's your favourite drink?
Expensive fine wine
Favourite meal?
Mediterranean style fish
Do you support a football team?
Spurs
Favourite film?
Historically accurate films
TV show?
MOTD
What music do you listen to?
Massive range – opera to Coldplay
What's your idea of a perfect day?
Lunch at the Ritz with a blonde while a plane waits for me to take me to the South of France. I go sailing in the fabulous schooner Elena for the afternoon and then spend my evening at my friend's Chateau in Provence with good friends and family..….and the blonde, or maybe a different one.
Many thanks again Pete, from Against Men and Fish

So there you have it, Against Men and Fish's first interview, I hope you enjoyed it and in the coming weeks I'll be interviewing some top anglers so if you have any questions you would like me to ask, send them to me via the contact form and I'll ask the best ones.