With no club match on this week, I phoned Pete and booked in for the match on Sellicks. Driving to Bridgwater I was hoping we would all be on the one pond and not split with Lily and on arriving, Heardy confirmed we were all on Sellicks – phew! After a coffee Pete announced the draw and I went in after about half the field had drawn and pulled out peg 5 which was spot on. It's a great carp peg but also very good for silvers as well. Heardy pulled out peg 20 and moaned like hell about it! Adie drew 17 which is also a good silvers peg and he seems to have turned to the dark side in recent matches with several silvers wins. I had young Reece on peg 4 and he wanted a side bet on the silvers, which I accepted.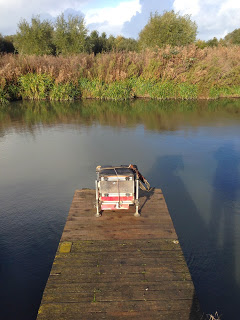 Peg 5 on Sellicks
It was pretty windy and it looked like we'd have some rain through the day and winter is well and truly here (if only I had a holiday to somewhere warm to look forward to…). I set up two Malman Pencils, a 0.6 and a 0.4 gram, both had 0.12mm bottoms and size 16 Tubertini 808's (just for a change!). I plumbed up three lines at 10 metres plus another at 5 metres and I also plumbed up at 11.5 metres to give me somewhere to go if I was struggling. For bait I had Bait Tech 4mm expanders, micros plus some dead maggots and Dominic Sullivan let me have some worms which was very kind, cheers mate. Dom was in peg 2 and was fancied to do well yet again.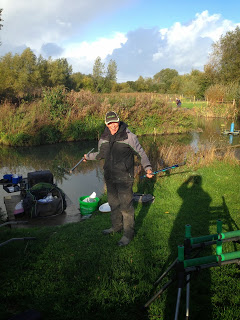 Dom was on peg 2
On the whistle I cupped in small amounts of micros on my three lines at 10 metres, to my right, straight out and to the left plus the same amount at 5 metres. I started on the right hand line with an expander and had to wait five minutes for my first bite which turned out to be a carp, I switched to the middle line and had another carp and this wasn't the start I had hoped for. Reece had a couple of small skimmers and so did Digger on peg 7 and I could see Ray Wickham past him getting odd silvers as well. After my second carp I switched to the left hand line but never had a bite there.
Back to the right and I had my first decent skimmer followed by a small one and I missed a couple of bites. Reece had landed a decent skimmer and also had a nice perch so he was just ahead at this early stage. As the second hour started I had a couple more blades on the longer lines but still no bites from the left hand line. I added another carp and decided to try the 5 metre line for the first time. No indications after five minutes and I was just about to give up on it when the red float tip disappeared and I struck and a good skimmer came flying out of the water. I then had a smaller one before catching carp number four and it was time to switch lines again.
After two hours I had four carp, two decent skimmers plus half a dozen blades and was doing better then the people I could see. I rotated my lines again and had a few more blades from the longer lines (still nothing from the left hand one though!) and then came back to five metres and had two more proper skimmers and I was starting to pull away from Reece who had two decent skimmers plus that perch and some blades. That seemed to set the pattern and I would get blades and the odd carp from two of the longer lines (I binned the left hand line after three hours as I never had a bite there) before going over the shorter line and catching the odd decent skimmer along with occasional blades and carp.
We had odd rain showers and the rain was really cold and I was glad I'd worn an extra layer today. Reece was now struggling although Digger seemed to be catching carp and skimmers quite well and I could see Ray still catching roach and blades. With two hours to go I was on eight proper skimmers, ten or eleven blades plus six carp. All but one of my better skimmers had come from the five metre line. I had another carp at 10 metres but the longer lines seemed to be dying so I came back to the shorter line and had another good skimmer and there was still an hour to go and I fancied I'd get a few more.
The last hour was a bit of an anti-climax and I never had another bite on the shorter line and just had one more small skimmer from ten metres to finish with 9 proper skimmers, 12 blades plus 7 carp and thought I had about 7lb of silvers which I didn't think would be enough today. With Pete not fishing today the scales were soon at Dom's peg and I was surprised when he only weighed 12lb 13oz as I thought he'd caught a lot more than that, Reece had 17lb 3oz of carp and 4lb 9oz of silvers and he paid me his pound before I'd weighed! My carp went 17lb 5oz and then my silvers went 11lb 9oz which was a lot more than I thought. Digger didn't weigh and Ray had packed up early so I was still in with a chance of the silvers with one side of the pond still to be weighed.
I finished packing up and caught up with the scales as they weighed the last few pegs, Heardy had moaned 49lb 3oz onto his hook for another win and a chap called Zac was second with 43lb 12oz and his mate Steve H was third with 40lb 13oz so another really tight frame. As for the silvers I was top weight (just) as Adie had 10lb 15oz and I picked up £26 plus Reece's nugget! I was quite chuffed with my match as I didn't lose or bump any fish although I did miss a few bites.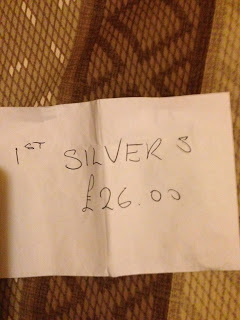 Another nice little envelope!
1 – Martin Heard (Summerhayes) – 49lb 3oz
2 – Zac (Summerhayes) – 43lb 12oz
3 – Steve H (Summerhayes) – 40lb 13oz
Silvers
1 – Jamie Rich (Against Men and Fish/Burt Baits) – 11lb 9oz
2 – Adie Bishop (Summerhayes) – 10lb 15oz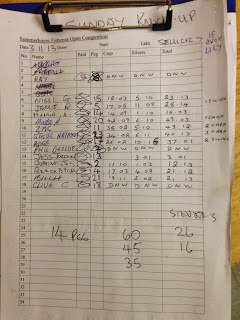 Another tight frame
So another decent day (that's five pick ups in five weeks!) with the only down side, Chelsea losing to Newcastle yesterday. On the plus side did I mention I'm off to Gillhams in Thailand in a couple of weeks!
Next week is round three of the V.E.S. but with this weather will we be on the river? Come back next week to find out.
Next up – River Isle
What's new – Lots of page updates
Check Out – My latest Hit Parade (below)