As I've said many times, this is a league I'd love to win and I'd gotten off to a good start with a section win and a section second but as I'll miss one round due to being on holiday (did I mention I was off to Thailand!), I really needed a good result today. I was also looking forward to getting back on the river as we hadn't fished it for two weeks. We'd had quite a bit of rain so hopefully there should be some colour in it as well.
I got to the pub for the draw and it was nice to see Bruce back and raring to go after his operation, Rob had pegged the top end and I quite fancied peg 27 today. The golden peg was drawn and it was peg 17 and I really didn't fancy that today. I stuck my hand in the hat and blow me if I didn't draw peg 27, just the job! Justin drew 28 and I thought he'd do well off there today, there was another new peg in, number 19 and Pete drew that one so it would be interesting to see how it fared.
On arriving at the river it looked lovely with a nice bit of colour to it and my peg looked awesome with a lovely back eddy across and I really fancied I'd be in for a good day. I asked Justin if he wanted a side bet but he declined. I only had time to set up a 1 gram bodied float and couldn't wait to get started. 10:00 arrived and I shipped across into the eddy with a single caster and started loose feeding casters, maggots and hemp. I expected to catch straight away and when this didn't happen I knew I wasn't going to bag up. I had a couple of minnows on maggots to avoid the blank and then went back to caster.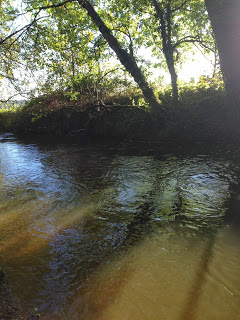 The river was nice and coloured
After ten minutes I hadn't had a proper bite and was starting to get worried, I went to move the rig and there was a fish on and I breathed a sigh of relief when I slipped the net under a small trout. I tried tight across to the far side and had a couple more minnows before catching a nice dace and when I had another smaller one I thought they had arrived. How wrong could I be and after two and half hours I just had the three fish plus a few minnows to show for my efforts. I grabbed my flask and walked down to see how Justin was doing.
His swim looked a dream as well but he said he was struggling and had caught a few chublets and dace, while I was with him he missed a couple of bites and landed a small trout so I went back to give it another go. I tried half a lobbie and had a few knocks which I suspected were minnows before trying double caster, the float sailed away and I had my second trout but again it proved to be false dawn. I shortened the rig and went 14.5 metres towards the tail of the swim but never had a bite and was soon back across in the eddy.
A short while later Justin wandered up and reported he'd just had one more dace, he soon got bored watching me catch bugger all and left me to it. With an hour to go I was all out of ideas, I kept trying further down the swim where the flow came back on itself by the far bank and out of the blue the float buried and I hooked a decent fish which was either a trout of a good dace. I will never know for sure though, as the poxy hook pulled out! Time was running out and I just couldn't believe I was struggling as the river was perfect and my swim looked a dream.
I did manage another trout from the eddy but that was it apart from a few minnows. While I was packing up, Justin arrived and I went and got the scales from the car and we weighed me first, I had a lowly 1lb 10oz and I think the league has gone for me now. Justin had 2lb 8oz and both of us couldn't believe how hard it had fished (although I bet he wished he'd taken that offer of a side bet now!). The top end had fished slightly better with Pete Lonton winning with 6lb 6oz from the new peg (well the first time it's been in for years) with some nice trout and he also had a decent chub (so they haven't all been had by the otters), he lost several as well.
Justin had 2lb 8oz and should have taken that side bet!
Neil Dring was second from 15 with 4lb 2oz which cheered him up as his beloved Spurs lost, Bruce was third with 3lb 7oz from peg 23, he was going to set up a waggler and got his rod out of his bag, only to realise he didn't have any reels with him and to think he's an angling coach too! Poor old Steve Parkers luck hasn't changed as he got to fancied peg 14, only to find a tree had blown down in the swim making it unfishable. He fished another peg but lost several rigs and had an early bath, next week will be better mate.
With two in his section framing and Steve not weighing, Rob won the top section with 9oz! and Fieldy won the bottom section with 2lb 14oz. I ended up last in my section and 4 points means I need to win my section in the last three matches to stand any chance in the league. What was strange today was that trout made up the bulk of catches and the dace and chublets just didn't show, was it down to cold water entering the river? Lets hope next Sunday is better.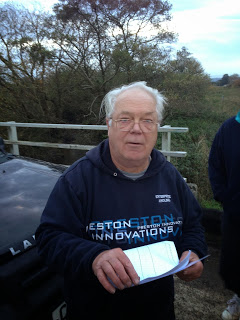 Pete Lonton was top weight on the day
1 – Pete Lonton (Ilminster) – 6lb 6oz
2 – Neil Dring (Ilminster) – 4lb 2oz
3 – Bruce Hunt (Tiverton) – 3lb 7oz
Sections
A – Rob Cox (Ilminster) – 9oz
B – Graham Field (Taunton) – 2lb 14oz
After three matches and dropping the worst result there are a trio of anglers on 3 points, me, Pete and Fieldy followed by Rob and Justin who are a point behind. As I said earlier, I miss the next match which will put me on 7 points.
Next up – River Isle
What's new – Lots of page updates
Check Out – My interview with Pete Clapperton (below)