The day didn't get off to a good start when I overslept, I rushed around and got to the pub and everybody was waiting for me outside! I paid my pools and I didn't even have time for my usual coffee before it was time to draw. Rob had put us all down Isle Brewers and I fancied 126 or 124a where Pete had lost five chub a few matches back. Steve Parker pulled out 126, Bruce had 128 and wasn't impressed as he said he'd never done any good off it and I opened my hand to reveal 124a, that'll do me! Rob had 125 which used to be THE peg but hasn't produced for a couple of years, Fieldy was above me on 124 and Dave Gudgeon was on 123 which is a peg I really don't like.
On getting to my peg I could see quite a bit of the far bank cover where Pete had hooked those chub had been washed away in the high water but there was still enough for it to look chubby. It took me a while to get comfy and I set up a 1.5 gram Drennan Carbo (yes Old Faithful was back!) to fish in the flow and a 1 gram bodied float to fish across to the cover. Both rigs had 0.12mm bottoms and size 18 Kamasan B611's. There was just enough time for a coffee to wake me up and we were off, I started in the flow with a single caster on the hook and feeding casters, maggots and hemp.
I started getting indications and had the usual minnow before catching a small roach and then had a 6oz chublet and thought I could be in for a busy day. A couple more minnows followed before I hooked the bottom and lost the hooklength and the rig came back in a bit of a mess. I chucked that rig up the bank and got the lighter rig before adding another section and holding back just past the main flow. I had a run of three or four small roach but a pike also made it's presence known, having a go at a couple of them.
I was having to chase the fish around a bit and the pike was obviously unsettling them, after an hour I had about eight fish for about a pound. I could see Fieldy catching small fish but it looked like Rob was struggling. Holding the float back in the flow I was getting odd roach and quite a few gudgeon but wasn't really putting much in the net. I added another section and went tight across to the cover, I missed a few minnow bites before the float buried and loads of white hydro came streaming out, I threw the pole back and using the pulla bung I soon had the chub under control and it was a good one that had to be pushing 3lb, that's more like it!
Not long after I've hooked another good fish and thought it must be another chub of similar size but turned out to be about a pound but when I netted it, the fish had teeth marks along it's flank and that poxy pike must have grabbed it when I hooked it. Still with only an hour and a half gone, I had over 4lb and fancied I could do a good weight. Dave Gudgeon came for a walk and he'd had a 6lb pike first chuck on a lobbie but after releasing it a few swims up, could only catch minnows. I had a couple of gudgeon and a roach while he was there before he walked down to see how the others were getting on.
There was quite a bit of swearing coming from Rob's peg and it sounded like he was having pike trouble too! I kept trying across to the cover with double caster and half a lobbie but only had knocks from minnows. A bank walker turned up and said his mate had caught four chub out of my swim yesterday – great! With that in mind I wasn't sure they'd feed again so kept trying across for ten minutes before going back in the flow for the odd gudgeon and roach. It looked like Fieldy was still catching small fish and I wanted to make sure I stayed ahead of him.
The bank walker came back from below the bridge and said Bruce was catching one a bung and Steve was getting a few as well and I felt I needed another couple of chub. Despite my best efforts I never hooked another chub across and had to keep going down the peg in the flow to get bites, the pike took another roach and I had it on for ages and thought I might get it out but it spat out the roach and the poor thing hardly had any scales left! With about half an hour to go I've hooked a nice roach of 4-5oz and the pike hit it straight away but again spat it out. I managed one more roach before the all out to finish with 38 fish plus a few minnows and I thought I had about 5lb or so.
I packed up and took my kit back to the car to collect the scales (yes I had them again!) and stopped to ask Rob how he'd got on, I was expecting him to say he'd struggled but he said he'd done okay but had lost more than he'd caught with Mr Pike taking a few fish and he'd lost a couple of better chub too. Young Dave had an early bath and then Fieldy was admitting to 3-4lb but we were both surprised when the needle settled on 1lb 5oz and he reckoned he might have a hole in his net. We got to me and out of interest I weighed the chub and it was 2lb 14oz and it helped my total to 6lb 8oz, Rob pulled his net out and I thought he'd done me but it was close at 5lb 11oz and I had at least secured a section win for the league.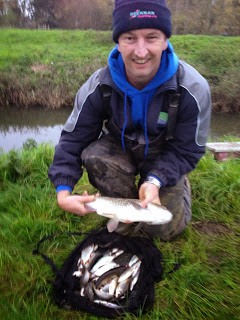 Me with my 6lb 8oz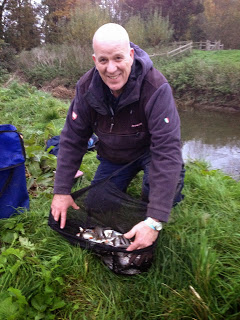 Rob wasn't far behind with 5lb 11oz
As we walked back, the others had weighed and Bruce had caught just under 200 fish, mainly roach, for a brilliant 19lb 4oz and I bet he doesn't moan about that peg again! Steve had also done well weighing 8lb 9oz from Barney's bend to push me down into third place. I picked up £13 to help pay for the days fishing and another section win means that even with missing the next match I should still be top although I can't afford any slip ups in the league now.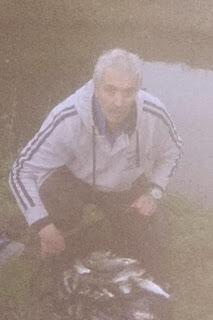 Bruce had a cracking day (sorry for the poor photo, get a better camera phone Steve!)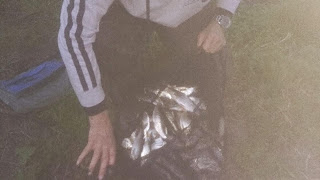 A close up of Bruce's 19lb 4oz
In the league, I'm leading with two points (dropping a two) followed by Rob, Bruce and Steve on four points.
1 – Bruce Hunt (Tiverton) – 19lb 4oz
2 – Steve Parker (Ilminster) – 8lb 9oz
3 – Jamie Rich (Against Men and Fish/Burt Baits) – 6lb 8oz
So that's it for two weeks until I come back from Thailand, so look out for a blog then and my next match will be Ilminster's Xmas Fayre on the 8th December.
Next up – Gillhams Resort, Thailand 🙂
What's new – Lots of page updates
Check Out – Feedback from my Pete Clapperton interview (below)