When me and Scotty were at the wonderful Gillhams Resort in Thailand in May, we met Steve Mayo, Richie Hull and Tony Wynnick and their friend Michael, all top match anglers and great fun to be with. It was Steve's first time and he fell in love with the place as much as I do and we kept in touch and made plans to go again. We booked up and it seemed to take forever to get here but with the weather turning colder we were soon flying off to paradise.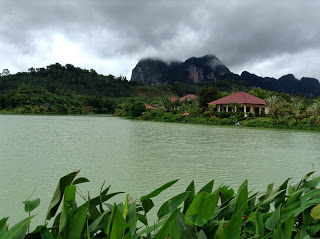 Not a bad view is it?
On arriving we caught up with everyone and had a few hours kip before deciding to hit the town and that set the scene for the rest of the holiday with some mad nights out followed by us fishing for half days. That first night saw us get back in a tuk tuk at 5:45 in the morning, needless to say we didn't do a lot of fishing the following day but Steve did manage to catch one of the small pacu which was around 4lb.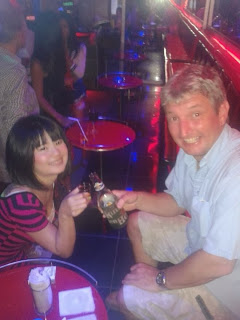 A typical night out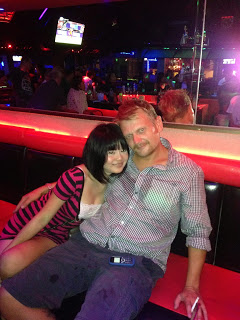 Jut with the lovely Bow
The following day (after another night out!) we managed to get on the bank relatively early and Steve carried on catching pacu on the float and ended up with ten to 5lb. I lost a couple of pacu before catching my first fish which was a small Asian redtail catfish of about 2lb. I then had a lovely Siamese carp of 50lb, before catching my first pacu of 3lb. Steve lost a big fish on the float and then as darkness crept in he lost an arapaima which took a fish hookbait.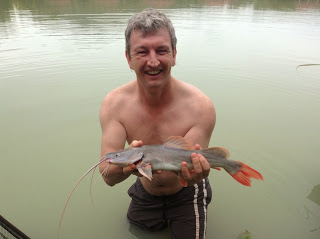 My first fish of the trip, a small Asian redtail of around 2lb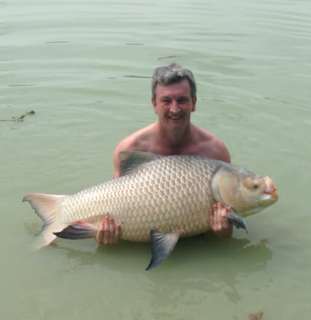 50lb Siamese (that's more like it)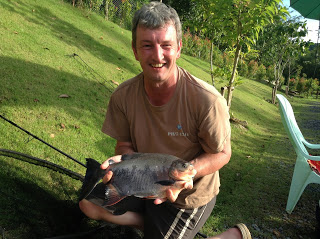 My first pacu!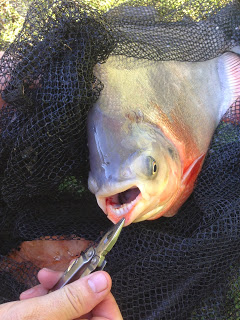 Impressive gnashers for a fish!
We popped into Ao Nang for a quiet drink! that night and the next day we caught some more pacu with me upping my pb to 4lb and Steve had a beauty around 10lb which gave a good account of itself. After three consecutive nights out we had a night off to let our livers (and wallets) recover, before going into town for a massage and a look around.
We got back and fished the afternoon session and caught a few more pacu, as the light faded I had a slow run which I struck and the fish didn't put up much of a fight and I was expecting another small redtail but was very surprised when a huge alligator gar surfaced, Gollock tried netting it but it wouldn't fit in the net and as he tried to 'chip pan' it in, proceeded to bite a hole in the net. He got on the radio to try and summon assistance and I suggested using an arapaima cage, I guided the fish into the cage only for the gar to go berserk and chew a hole through that as well. With the fish through the bottom of the cage it was only a matter of time and it chewed through the braid and I was gutted. Nathan (one of the other guides turned up) and said it was a known fish of around 75lb and I would have loved to have added that one as it would have smashed my previous best caught on my first trip. Our bad luck didn't end there as Steve also lost a big fish towards the end of the night.
After another night out, the next day saw us fish a half day and I blanked although Steve did get a lovely 40lb Amazon redtail which he landed wearing a rather fetching 'condom' coat! We had a quiet night and fished a full day the next day and Steve added another pacu to his tally before I hooked a fish which I knew was a Mekong catfish and after a back breaking scrap landed a nice fish of 120lb. That night we went out for a lovely steak before hitting the bars again. We then had a nice relaxing day, walking round the town and had a beer by the beach before getting back to resort and Geoff invited me and Steve out for another steak meal with all the guides, it was supposed to be a quiet night but ended up as a bit of a mad one!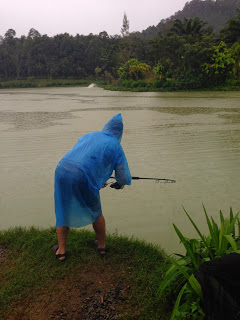 Steve playing a redtail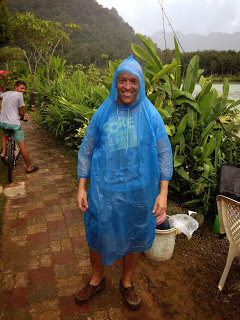 The infamous 'condom' coat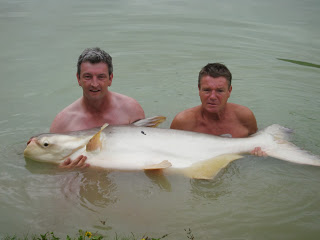 Me and Geoff with my 120lb Mekong catfish
We were in the famous 'grass swim' the next day and I was suffering a little bit but we had an amazing day, as I got to the swim at about 7:15, Steve was playing an arapaima (and he had already lost one as well!), the fish was caged and was a lovely fish around 130lb. We took it in turns when the rods went off and I lost the next arapaima before Steve had a beauty of 210lb, I lost the next one as well! and Steve had another 'arry of 120lb and I started to think I wasn't going to get one. The next run saw me hook an angry fish but I managed to get this one in at 140lb. I went for breakfast and on my return Steve had landed a beast of 280lb and said the rods were now mine.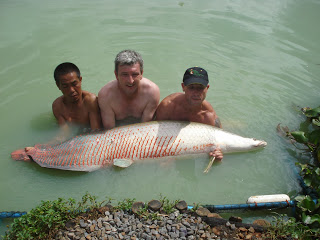 Gollock, me and Chris with 140lb 'arry
The next run saw me land a roho of 12lb which was a new pb for me and then at 6:30 I've hooked another 'arry and landed a beautiful fish of 110lb. There was still an hours fishing left and we could probably have caught more but with over 1000lb of fish between us, we'd had a fantastic day. The next couple of days were a bit quieter and Steve added another redtail of 40lb and an alligator gar of 25lb which didn't fancy having it's photo taken!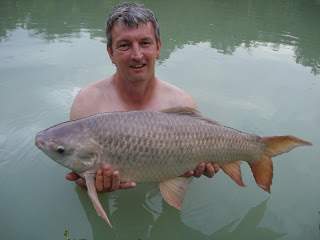 12lb roho, a new pb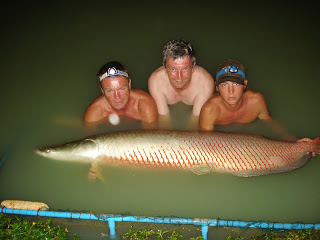 110lb arapaima to finish the day off
Our next day's fishing saw us back in the grass swim and it was another crazy day, Steve had three arapaima of 100lb, 150lb and a really angry 270lb fish which just wouldn't give in. For good measure he added another pacu and a redtail of 45lb. I didn't manage any more 'arrys but got my first Amazon redtail of the trip at 27lb followed by an absolutely stunning fish of 80lb which as you will see below, I just couldn't lift properly for the photos. I had another of 32lb and we decided to call it a day at 17:00 with three hours fishing left.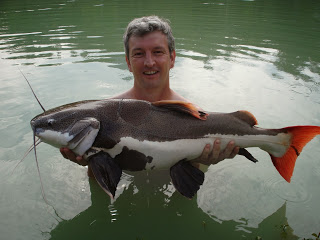 27lb Amazon redtail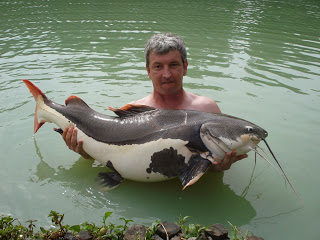 80lb redtail, the highlight of my trip
Our last two days we just spent relaxing after more nights out although Steve did have a bit of a fish on the lure lake and managed a couple more pacu. On the last day we went to the beach to watch all the girls from Amy's compete in the beach Olympics which was very funny and I even got roped into a tug of war match which my team lost. We then sat by the beach watching the sun going down eating fresh pineapple before going to a little Thai barbeque restaurant and then had a final beer before heading back to pack our bags, a fantastic end to another amazing holiday in Thailand.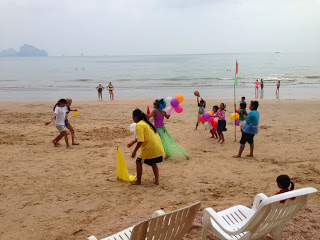 Beach Olympics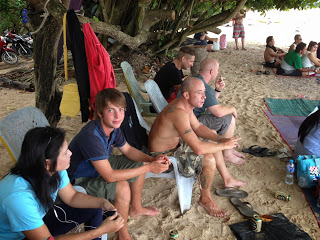 Nathan and Chris enjoying a beer while watching the action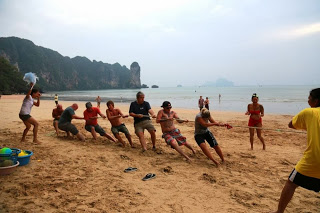 Me (third from left) and the losing team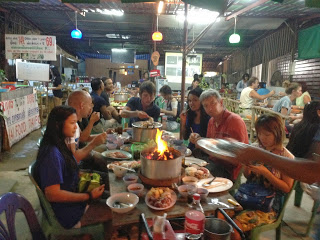 Thai barbeque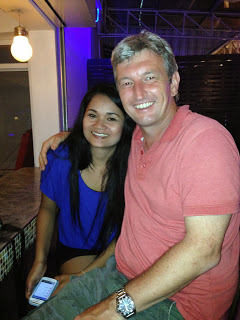 Me and Bell
I can't go without saying a massive thank you to Stuart and Benz, Sean and Noi and Becks for making us so welcome and the guides Geoff, Jut, Joel, Chris, Gollock, Nathan and Dec for being such a great laugh and I can't wait to see you guys again soon and a big thank you to Steve for making it a trip to remember.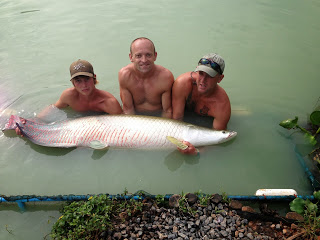 Steve with one of his seven arapaima
Steve took quite a few photos and some video clips as well so as soon as he lets me have them, I'll add them to this post.
Next up – Xmas Fayre on the Isle tomorrow
What's new – Dave Harrell interview coming soon
Check Out – My last match below