I woke up early, still suffering from jet lag but was pleased to see it was actually quite a nice day and not too cold. I got to the pub for the draw and there was a decent turn out of 14 anglers, including quite a few who always fish the Xmas Fayre like Andy Welch and Fred and it was nice to see Bob Hammond again as well. I paid my entry plus the £5 pools and awaited the draw. Rob had put in a few pegs at the top of the river with the rest at Redbridge and Isle Brewers. I stuck my hand in the hat and pulled out 109 at Redbridge, Martin Heard won this match off it last year with 16lb of roach but I drew it a few weeks later and had six chub and no roach! Bruce Hunt had drawn the much fancied 108 which won last week with 20lb and Rob Cox pulled out peg 129 which did nearly 19lb last week.
I got to the river and it looked nice but very low and clear and rather worryingly, I didn't see a single fish top while I was setting up. Rigs for today were a 1 gram bodied float for inching through over depth and a 0.75 gram Drennan Carbo for running through just off bottom, the lighter rig had a size 20 B611 to 0.08mm and the heavier rig had an 18 in the same pattern to 0.10mm. Bait was the usual casters, maggots and hemp plus some lobbies which I didn't expect to use today. I plumbed up and the deepest part was right in the middle and that was where I intended to fish.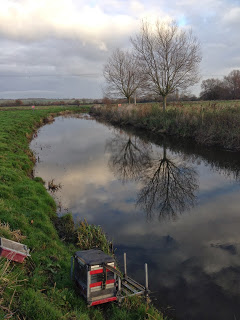 Peg 109 at Redbridge
After a quick coffee it was time to start and I put a single red maggot on the lighter rig and ran it through the centre of the peg, feeding maggots and casters in front of me and some hemp just downstream. I had a couple of digs on the float and then it buried and the strike was met with solid resistance, this was no roach! Mindful of the light hooklength, I played the fish with kid gloves and was relieved when I netted a chub that looked to be close to 3lb, what a start! Next chuck I had a couple of knocks and then missed a good bite and it felt like there were a few fish there. I noticed there was a small knot in the hooklength so quickly changed it but when I went back out, I couldn't get a bite!
I tried the heavier rig and then tried going 14.5 metres down the peg but just couldn't get an indication of any type, not even a minnow! A bank walker said Heardy was struggling down in the weirpool (120) and Bruce only had minnows above me. I stuck at it but never had a bite for two hours, I had a coffee and a sandwich and was just contemplating going for a walk when out of the blue, the float sailed away and another chub was on, this one went potty and got under some far bank crap and I was convinced it would break my fragile hooklength. Slowly but surely I was getting the upper hand but even then it tried doing me under my keepnet but I safely netted another chub about the same size as the first. I had about 5-6lb in the net and there were still two hours to go.
I kept running the float through hoping for another and started firing some casters right down the peg to see if I could entice any fish up but I had no more indications for an hour or so. I tried different colours of maggot, double maggot and caster but nothing was showing any interest. With about three quarters of an hour to go I missed two bites in quick succession on caster so I went back to single maggot and the float buried and chub number three was on, again it put up a good scrap but I safely landed it. I thought if I could get one more I might be in with a chance of framing but it wasn't to be and I didn't add any more fish but was quite chuffed I'd landed those three chub on such a light hooklength.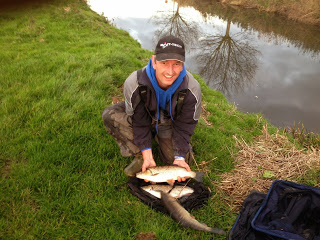 My three chub
I had the scales again so walked down to weigh in Heardy and he'd struggled for 1lb 2oz of mainly gudgeon. My three chub went 8lb 10oz before Bruce had 1lb 6oz which was all minnows! Steve Parker had a solitary roach of 7oz in peg 106 and I couldn't believe in four good roach pegs, only one had been caught! Back at the results and Graham Field had won from peg 128 with 15lb 3oz of roach and Rob Cox was second with 13lb 5oz from peg 129 and those pegs will take some beating at the moment. I sneaked into third and picked up £10 plus three bottles of plonk and all the anglers enjoyed a nice buffet laid on by Cindy and Steve at the Royal Oak.
1 – Graham Field (Taunton) – 15lb 3oz
2 – Robin Cox (Ilminster) – 13lb 5oz
3 – Jamie Rich (Against Men and Fish/Burt Baits) – 8lb 10oz
The club would like to thank Steve and Cindy for laying on the grub, Pete Lonton for getting all the prizes, Rob for organising the match and Max and Fred for donating prizes.
Next up – River Isle
What's new – Video clips added to Thailand trip (below)
Check Out – My trip to Thailand (below)