It had been a lovely day on Saturday but the forecast for today was strong winds and rain, rain and more rain – great! I got to the pub for the draw and Steve let me have my repaired section and what a fantastic job, I'll have to find out the name of the company and put it on here. All the usual lunatics were in attendance along with Tackleuk mugger Scotty. Rob decided to do the draw at the pond so we could find the most sheltered pegs. As per usual I fancied the pegs on the near side but managed to pull out one of the two on the far side, peg 4 which was also the golden peg. For company I had Scott on peg 3, Bruce had peg 17 again and might as well leave his kit there for next time!
I really wasn't looking forward to this as the wind was blowing across our pegs whereas the pegs on the other side had the wind blowing off their backs and looked to be in for a comfortable day. I mixed up some more Bait Tech Omen (well it worked okay last match!) and set up a 0.5 gram Drennan Roach float with a size 18 B611 to 0.10mm bottom. I poured a quick coffee and had a chat with Scott and then it was time to start. I cupped in two balls of groundbait at 10 metres and started with a single red maggot on the hook. Bites came quickly and I started catching small roach around half an ounce apiece. I was soon trying double maggot but the size of the fish didn't increase.
After an hour I'd had 15 fish and Scott had around the same, hour two saw my catch rate increase although the size didn't, I flirted with caster but only had small fish on it and had to wait ages for bites, I did manage a nice 8oz rudd on double maggot. With two hours gone I was up to 40 fish and was surprised when I heard the anglers on the far side were really struggling with some yet to catch a fish! Fieldy had peg 16 again and I'd seen him net a couple of better roach and then he latched into a big fish and it looked like he was going to land it when it made a late surge for freedom and was successful. I don't think he was very happy judging by the way he launched his top kit behind him!
By now the wind was being a right pain and even starting to affect the anglers across in their armchair pegs, at one stage Rob's brolly looked like a satellite dish and Steve's was inside out and had taken off and was resting against the fence! After three hours I had 67 fish and my catch rate was slowly but surely getting better and I was getting the odd better roach of 3-4oz as well. Every time I asked Scotty how he was doing, I was a few fish ahead and I thought if I could keep it that way I might have a chance of beating him. Then disaster struck when I hooked a better 4oz rudd which dropped off when I swung it and my rig went straight up the tree to my right. I had to pull for a break and got the float back but lost everything else, as I was sorting out another rig I kept thinking that Scott would now overtake me and was cursing myself for not netting that fish.
The new rig was never quite right (which always seems to be the way) but I was still catching quite well and still just ahead of my neighbour. I tried caster with just under two hours to go and started catching some chunky roach around 3oz with the odd better one in amongst them and started to increase my lead over Scott. The last hour was really good and I was getting a fish a chuck to finish with 122 fish but would it be enough? Scott had 104 fish and said I'd beaten him but I've been had like that before so wouldn't be counting any chickens yet. I was hoping I'd done enough to beat Fieldy and Bruce in pegs 16 and 17, Fieldy hadn't hooked anymore chub and Bruce had struggled with loads of dirty water coming down the feeder stream.
I got the scales from the car and weighed Scott first and the needle settled on 9lb 3oz and I wasn't sure I had anywhere near that despite him still saying I'd battered him. I pulled my net out and Scott called my weight at 11lb 5oz and I was well chuffed but would it be enough to win the golden peg? We drove round the other side and Rob confirmed I'd won, woo-hoo. Scotty was second and Justin was third, I picked up £41 for winning and was waiting for the Securicor van to deliver my golden peg winnings when Pete handed me £8! Steve Parker had won the pot while I was away in Thailand, still it was nice to win only my second ever golden peg. Typically as we packed up, the rain stopped, the wind died down and the sun came out!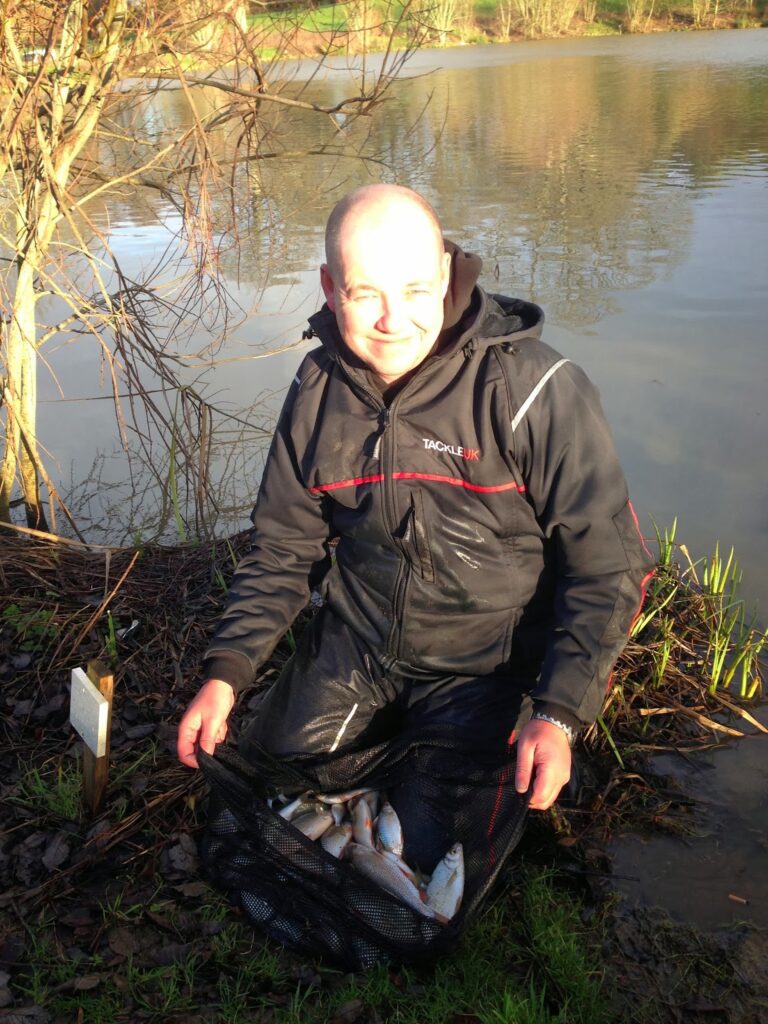 Scott had 9lb 3oz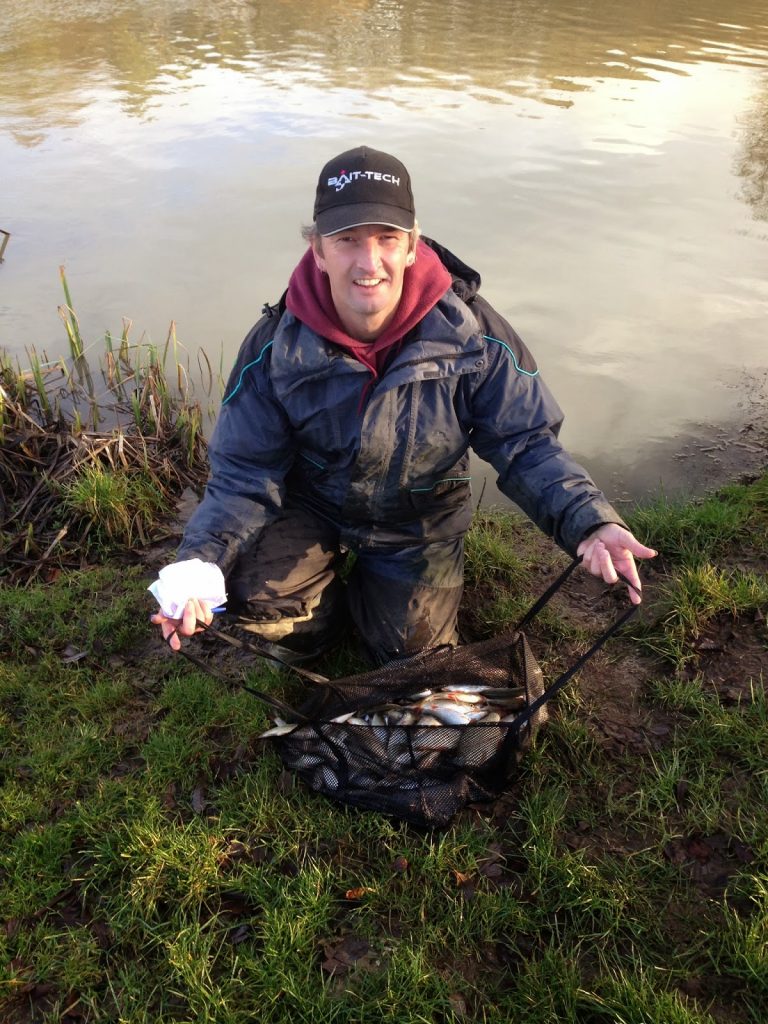 I won the match and the golden ball with 11lb 5oz
1 – Jamie Rich (Against Men and Fish/Burt Baits) – 11lb 5oz
2 – Scott Russell (Tackleuk) – 9lb 3oz
3 – Justin Charles (Ilminster) – 7lb 6oz
Sections
A – Pete Lonton (Ilminster) – 1lb 5oz
B – Graham Field (Taunton) – 4lb 4oz
I thought I'd gained some points on Fieldy in the league but mine and Scotty's pegs (3 and 4) were in with pegs 20 and 21 while pegs 16-19 made up the other section! The league is now very tight as Pete struggled today and it's all to play for in the last match.
League standings with one match to go
1 – Graham Field – 9 pts
2 – Jamie Rich – 10 pts
2 – Pete Lonton – 10 pts
So another good weekend, my second win on the trot and a golden peg as well! Chelsea also beat Stoke 1-0 in the FA Cup although they face Man City away in the next round.
I might be fishing a match next Saturday as well as Sunday but it hasn't been confirmed yet, it sounds exciting and although I have pleasure fished the venue I haven't fished the pond the match is on before. I've been told there's loads of good skimmers and big roach but I've heard that before so you'll have to come back next week to find out how it went.
Next up – Emerald Pool
What's new – Lots of page updates
Check Out – My review of the Guru Hooklength Storage System (below)