Glynn Wickham phoned me in the week to say Dom Sullivan was running a match at Emerald Pool fisheries near Highbridge. Dom and a few others had paid the venue a visit and absolutely sacked up with big hybrids, roach and skimmers, I don't fish Saturday's very often but the chance of a big net of quality silvers was too good to resist. Glynn very kindly said he'd sort me out some bait and I also checked out Dom's blog (which can be found here
Dom's blog
) where he'd put some pictures of his pleasure nets and he'd caught up to 60lb, but would it fish as well with anglers all round the lake? I have pleasure fished the venue many years ago with Andy and Arf but back then it was mainly carp although both of my companions caught sturgeon and still remind me that I didn't manage to catch one of those prehistoric beasts.
Of course the forecast was awful again (when will it ever end?) although it didn't look too bad as I drove up the M5. I was the last to arrive and there was a decent turnout of 13 anglers and looking at the lake it looked totally different from the last time I fished and to be honest I can't really remember which lake we fished all those years ago. There was a definite chill in the air and I wondered if it would affect sport. Dom announced the draw and I pulled out peg 13 which put me on the car park bank. The peg looked really fishy with two small islands at around 10 metres but I fancied the open water pegs opposite might be better for silvers.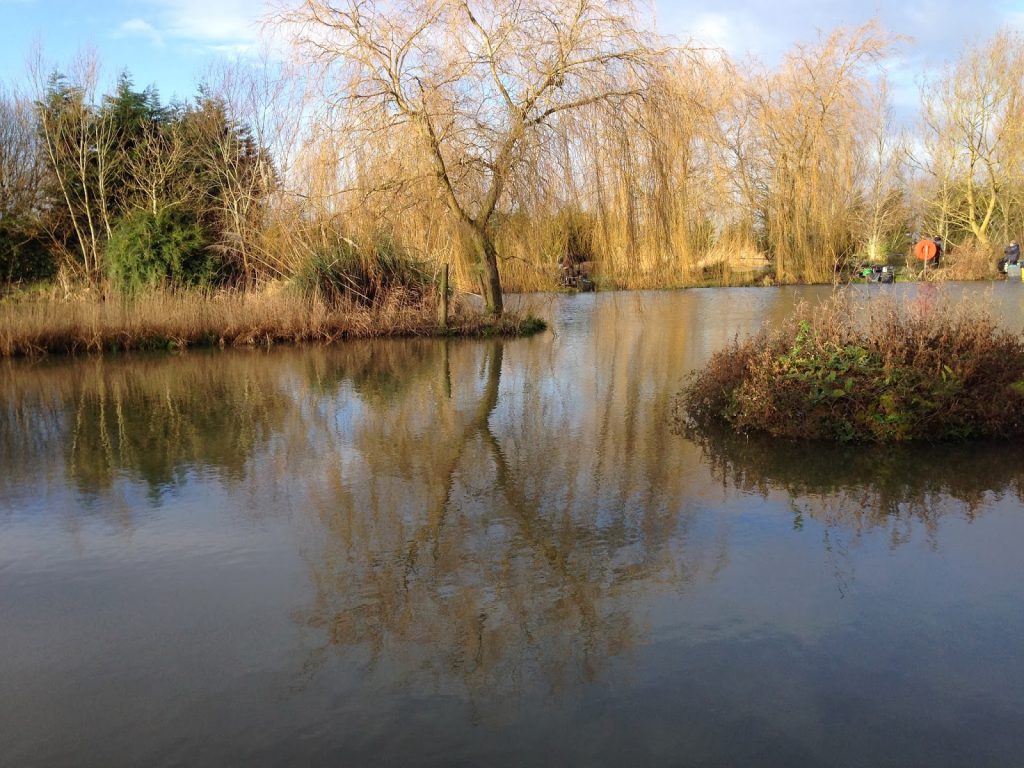 My peg (you can see one of the two small islands on the right)
I mixed up some groundbait and set up two Malman 0.4 gram power pencils with 0.12mm bottoms and size 16 Tubertini 808's, one to fish at 10 metres and the other for a short line at just three sections out. I wanted to fish in open water but it was fairly shallow and on plumbing up, it got deeper towards the islands. Dom said we should put two keepnets in as there was a 60lb net limit! After a quick coffee, Dom shouted for the start and I cupped in two balls and a cupful of loose groundbait at 10 metres and a single ball on the shorter line.
I baited up with two red maggots and shipped out to the longer line, the float settled and then disappeared and the strike saw a pleasing amount of blue hydro exit the pole and I was soon netting a 4oz hybrid. This happened on the next put in and the next, the angler on my right was also catching and Charlie Barnes, Dom, Darren Greenwood and Nigel Wickham on the opposite bank were all catching well too. After an hour I'd had 30 fish, nearly all hybrids from 4-8oz, I did lose a better fish which I'm sure was a tench judging by all the snot on the hooklength. By my reckoning 30 fish had to give me around 10lb which was bang on target for 60lb which I hoped would be there or thereabouts.
I had been feeding casters on the shorter line and gave it a go at the start of hour two, bites were instant with more hybrids and some skimmers around the same size. I even tried two sections to hand briefly and had a few fish before they drifted off. I also lost a big fish but think this one was a carp. After two hours I had reached 56 fish, so not as many fish but I did have some skimmers round the 8-10oz mark which hopefully made up the difference. The third hour saw me start to get the odd lull in the action and I really should have cupped in some more groundbait and gone out long but the wind was really strong (just for a change) so stuck at it on the shorter line.
It also started raining and it really was a miserable day weather wise, I was still catching in spells and even had the odd quality roach and rudd around 6-8oz. I did find that if bites slowed a small ball of groundbait would kick things off again, to be honest there are so many fish in the lake, the more feed you gave them the better. Charlie had caught a nice tench on corn but it looked like he was having to wait a while for bites. I was still on double maggot but did try double caster which just resulted in another 4oz hybrid. Glynn Wickham walked round and said his peg was really shallow and he'd struggled so I'd won our side bet at least! He did say Nigel, Darren and Dom were really bagging across from me. While he was there I had a really good spell catching a hybrid or skimmer every chuck and was on 105 fish with two hours to go.
I thought my fish must average three to the pound so I probably had 30lb+ and started using my other net and set my sights on trying to catch 160 fish by the end of the match which would hopefully give me around 50lb. The last two hours were really good and I even added a nice perch of half a pound or so and right on the whistle I've hooked a lump which turned out to be a 6lb carp which wouldn't count. My clicker read exactly 160 fish and I hoped I had 50lb, maybe a bit more. I was freezing cold and wet and packing up was a challenge with numb fingers.
The scales started with my neighbour on peg 1, he had over 40lb and I hoped I had a little more, the scales got to Nigel Wickham and after two weighs his final tally was called out at 78lb 7oz, what an awesome net of silvers, Darren Greenwood had 43lb 1oz mainly on the whip and then we got to Dom. His first net was 44lb odd and his second net went over 50lb to give him a total weight of 98lb 14oz, just shy of the magic ton and not a carp in sight (well, he'd caught a few but they didn't count). Dom and Nigel had both fished worm and both caught some proper skimmers, roach over a pound and several tench.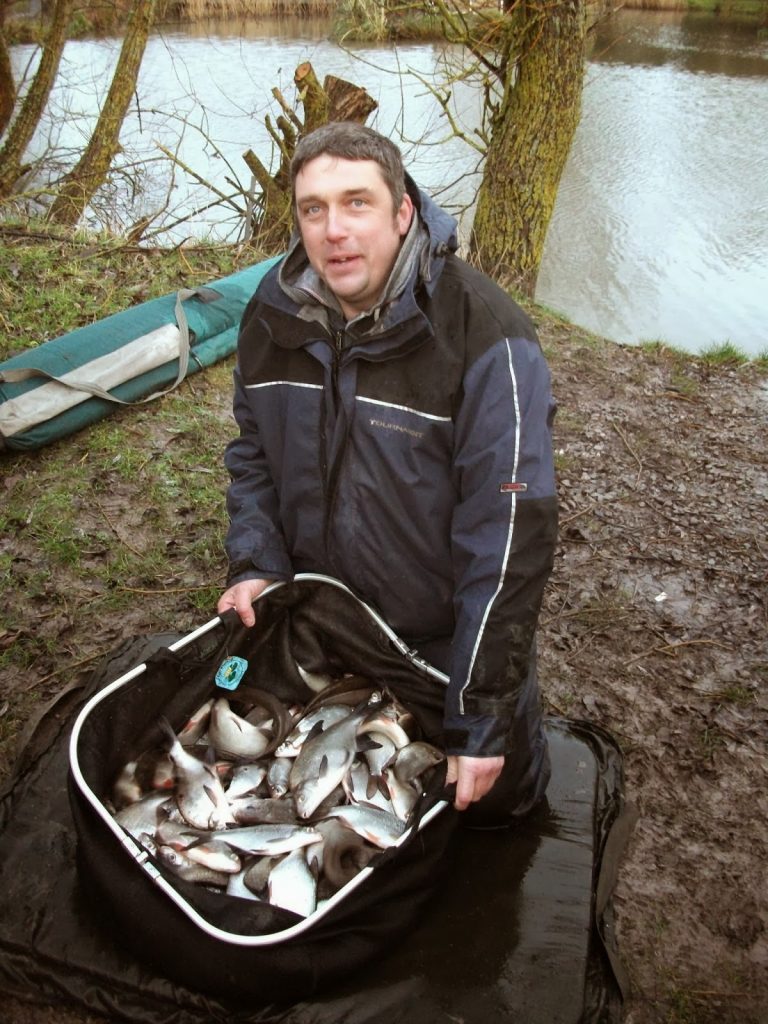 Darren had most of his fish on the whip
Charlie had over 30lb and then Barry Fitchew had 55lb 2oz and it was starting to look like 50lb wouldn't be enough to frame! Wayne Blake had 46lb 2oz and there were several more 40lb+ weights, just awesome silverfish weights for January! I was last to weigh and needed to beat 46lb to get in the money and I still thought I had around 50lb and was disappointed when I emptied both nets into the weigh sling and Glynn called out 44lb 10oz (although how can you be disappointed at catching that weight of silvers!!). I'd lost that tench and bumped/dropped off quite a few so I probably should have had 50lb.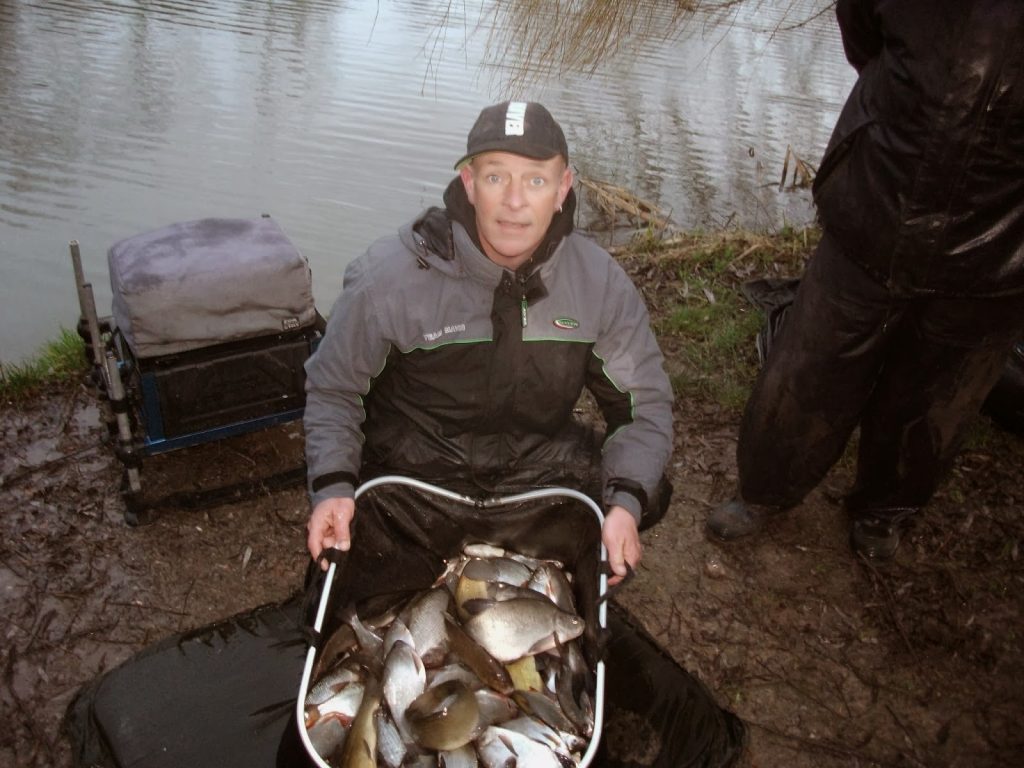 Dom with part of his winning catch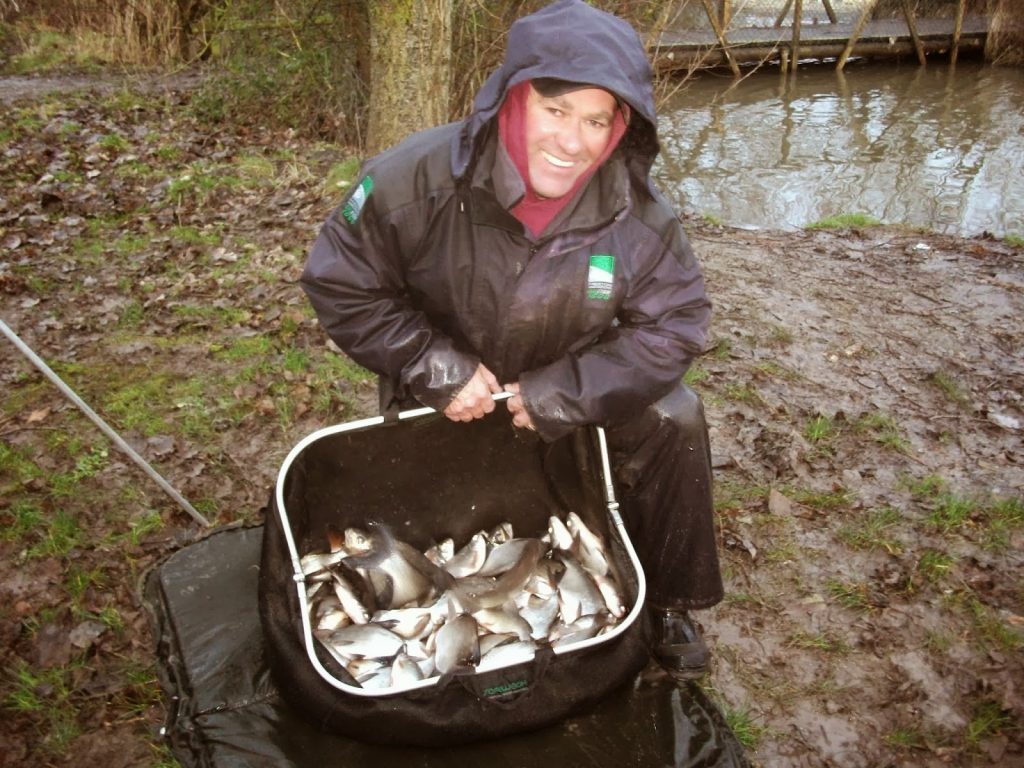 Nigel Wickham had a cracking day too!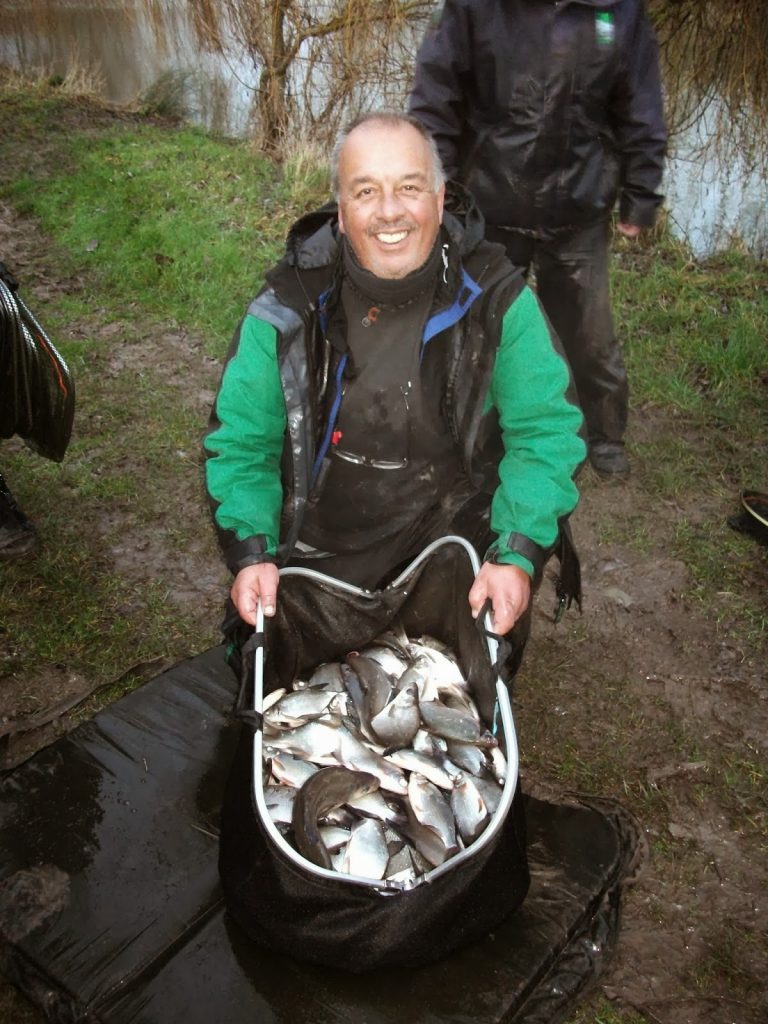 Barry was third with over 55lb
1 – Dom Sullivan (Maver/Cadbury Angling) – 98lb 14oz
2 – Nigel Wickham (Summerhayes) – 78lb 7oz
3 – Barry Fitchew (Pole Repairs) – 55lb 2oz
4 – Wayne Blake (Bristol) – 46lb 2oz
What an awesome fishery and I will definitely be back and I'd like a crack at those open water pegs next time. Many thanks to Dom for the invite and to Glynn for getting me some bait (I haven't forgotten I still owe you for it!). I also have to say thanks to the other anglers for being so welcoming, what a nice bunch of lads.
Check out the Emerald Pool website http://www.emeraldpool.co.uk/
Next up – Dillington Pond
What's new – Lots of page updates
Check Out – My last match (below)