After getting another battering from the weather yesterday, I was relieved when I looked out the window this morning and saw blue skies, things got even better when I got outside and there was no real wind to speak of. I knew we'd be back out the pond again today, the river looked good yesterday morning but the rain we had combined with the saturated ground meant it was unfishable for the fifth week running. At the pub it was all the usual suspects with the addition of Bob Hammond. After coffee we drove out the pond and decided on the pegs once we got there. The wind wasn't too bad and Rob put in 17, 18 and 19 plus 2, 4 and 6 on the opposite bank.
As always I fancied a draw on the road side and for once got my wish when I pulled out peg 18, Justin had 17 and had a right old moan and Bruce was on my left in peg 19. After getting settled I mixed up some Bait Tech Omen before setting the rest of my gear up. As always I didn't have a lot of time so just set up the usual 0.5 gram Drennan Roach float with 0.10mm bottom and size 18 B611. Rob tooted on his whistle and we were off, I cupped in two balls at 10 metres and Justin boshed in his usual half a dozen. I started with a single red maggot and started getting bites from small roach straight away. After a couple I was soon switching to double maggot and my third fish was a good roach and next chuck I had a 6oz hybrid and I thought I might be in for a busy day.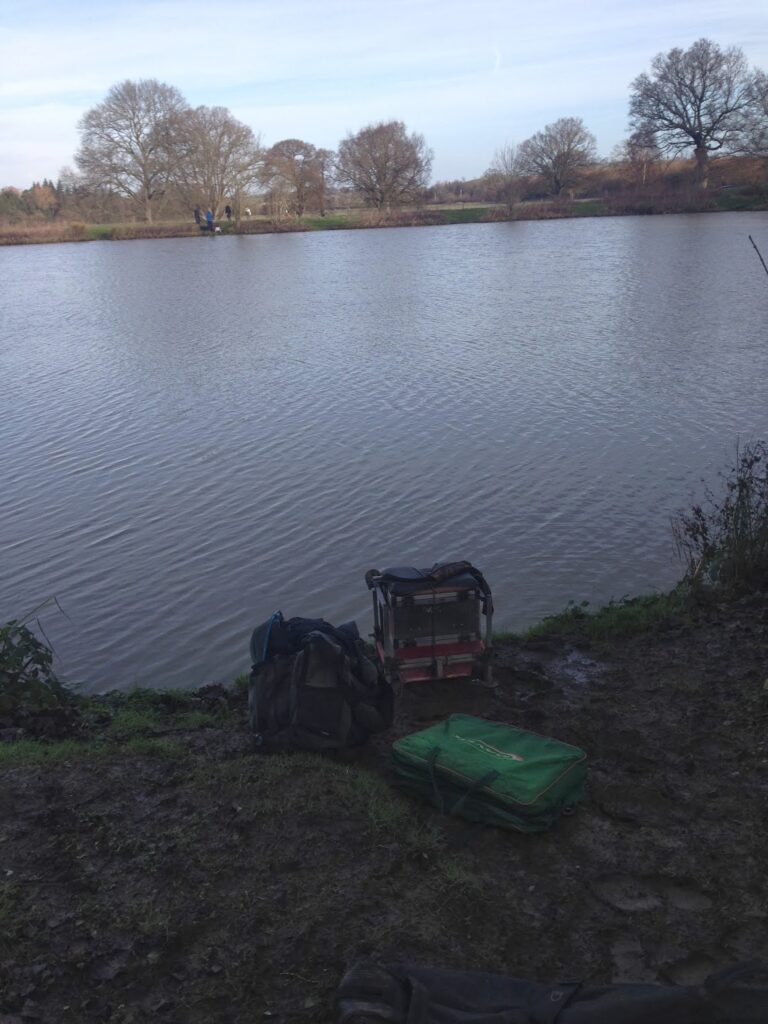 At last a peg on the road side!
But then it was a bit of a struggle and after an hour I'd only had 10 fish, Bruce was catching tiny fish on the whip and Justin was getting odd fish but nobody seemed to be setting the world alight. The second hour was slightly better and I added another 16 fish but it definitely seemed slower than last week. I did lose a good fish shipping back when the hook pulled out. I was missing quite a few bites which I put down to small fish, I tried caster and had a couple of roach but they were no bigger than the fish on maggot. I kept feeding caster though as last week I had a really good last hour on it.
The third hour was similar with small roach along with the odd better roach and rudd but I knew I'd be a long way short of the 122 fish I had last Sunday. I could see Justin landing fish and he seemed to be using his net a lot more than me and I didn't think I'd be winning today. Bruce had now set up a longer whip and was catching quite a few bits but I still felt I was ahead of him. The fourth hour saw my bites slow right up and Justin was pulling away further. The weather was still being kind although the wind couldn't make up it's mind which way it wanted to blow!
Bruce started getting the odd better roach and rudd and even had a decent skimmer and I started to worry he might beat me as well. With an hour and a half to go I tried fishing a section shorter to rest the longer line and had a run of 2-3oz roach on the caster. I kept feeding the longer line and with an hour to go I went back out with a caster on the hook. In a carbon copy of last week I started getting good bites and was hitting nearly every one with the result a decent roach and had a couple of clonkers as well. Justin seemed to slow up for the last period but I still thought he had more than me. I ended up with 84 fish and thought I must have a couple of pounds less than last week.
I had the scales yet again and after loading my car, went to weigh Justin in first, he had some quality fish and the needle settled on 8lb 11oz and I still thought that would be enough to win. We got to my peg and when I pulled my net out I thought it might be close but Justin called my weight at 12lb 10oz and I think that last hour and those caster fish had made the difference. Bruce was admitting to 5lb but actually weighed 9lb 7oz to push Justin down another place.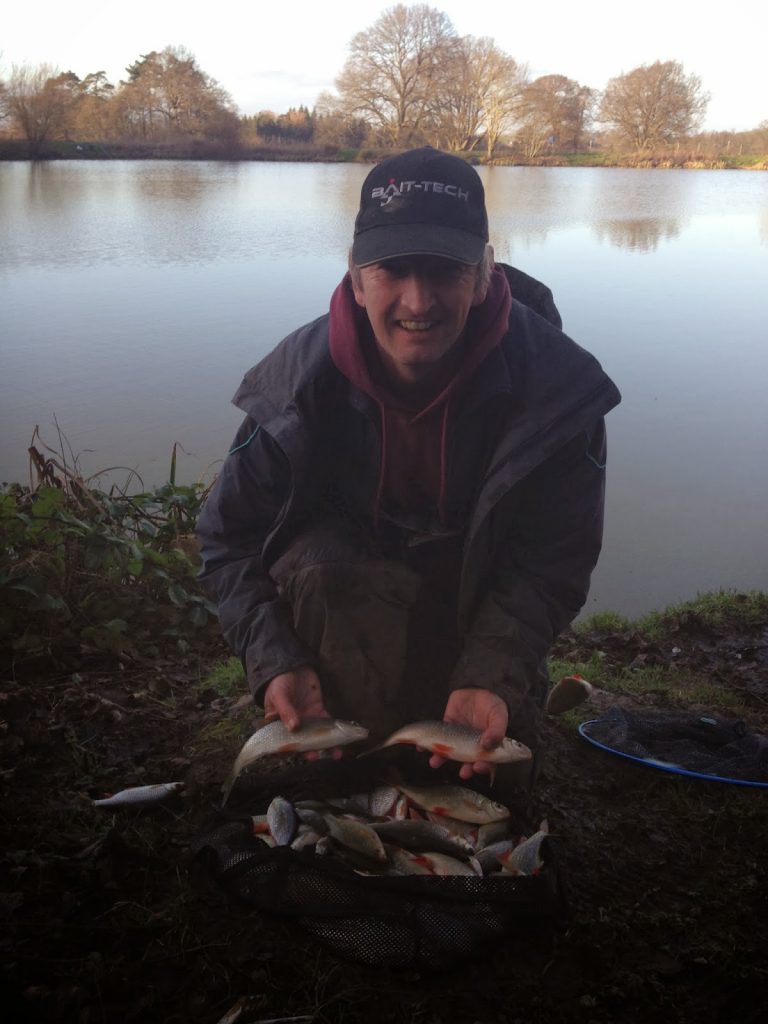 12lb 10oz and another win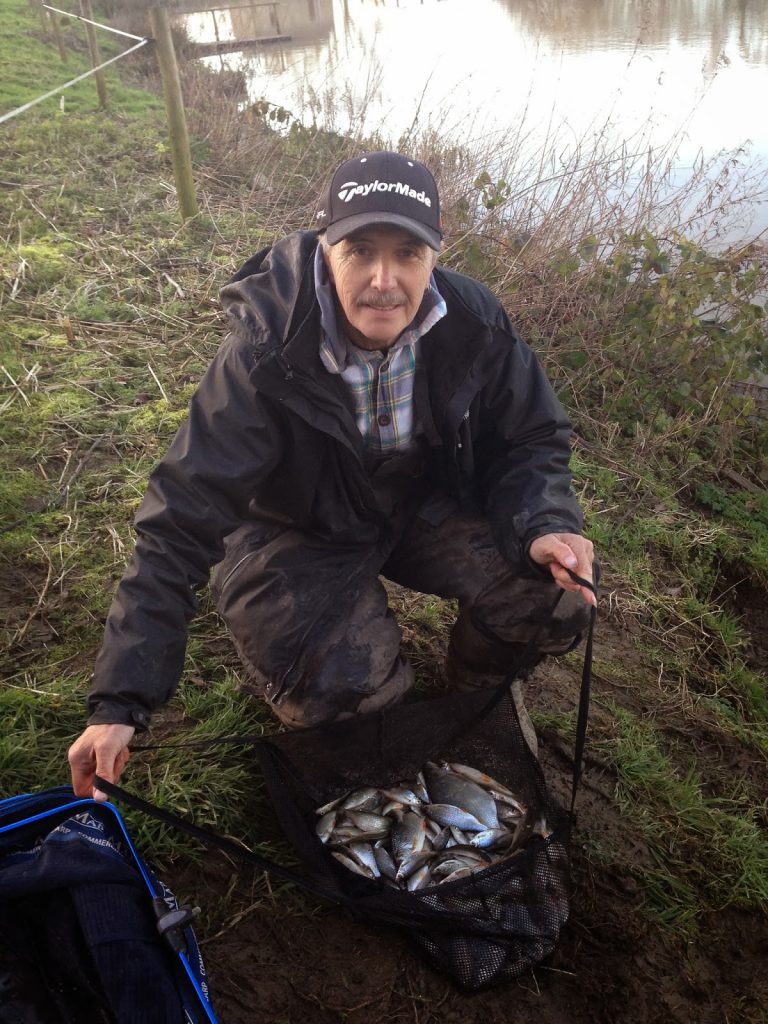 Bruce was second with 9lb 7oz on the whip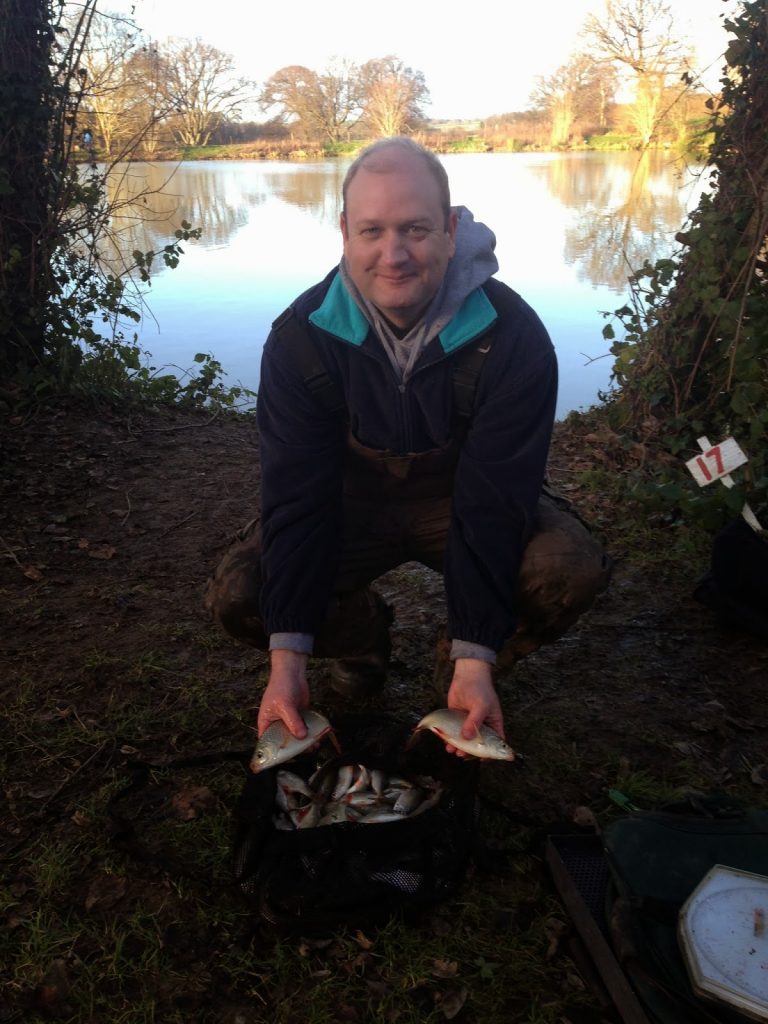 Justin was third with 8lb 11oz
Rob got back from the other side and he was top over there with 3lb 15oz so I'd won again and done a hat-trick of wins at Dillington. I picked up £40 plus another £1 off Steve who had struggled for 2lb 15oz from peg 6.
1 – Jamie Rich (Against Men and Fish/Burt Baits) – 12lb 10oz
2 – Bruce Hunt (Tiverton) – 9lb 7oz
3 – Justin Charles (Ilminster) – 8lb 11oz
So with one match to go in the league, it looks like this,
Jamie Rich – 9 pts
Rob Cox – 11 pts
Bruce Hunt – 13 pts
It's the Ilminster Open next week but I'm not sure if I'm fishing yet as I might be on the lash in Portishead with Steve Mayo as it's his leaving do before he heads off to begin his new life in Thailand (lucky sod!).
Next up – Ilminster Open (possibly!)
What's new – Lots of page updates
Check Out – My last match (below)
Blog of the week – Tim Ford has a great day at the Viaduct – Tim's blog