As much as I enjoyed going to Portishead for Steve Mayo's leaving meal last week, and it was a great night and I met some really nice people, I did miss my fishing fix. So I was gagging to get out this week and with the never ending rain I wasn't too upset that we would be on the pond again. I've been enjoying a great little run out there, catching some quality roach and rudd and winning the last three matches and a golden peg along the way. On waking up I couldn't believe it when I looked outside and there were blue skies and even the sun was out, the only slight downside was that we'd had a wicked frost overnight.
I arrived at the pub for the draw and the usual suspects were there including Heardy, fresh from his win down the canal last week. We did the draw out the pond in case of pleasure anglers (there weren't any) and decided to use pegs 13, 14 and 15 on one bank and 18, 19 and 20 on the road side. I fancied the latter three pegs but of course drew out peg 13 and thought my good run might come to an end today. The pond was still very coloured and there were loads of fish topping but I still thought it might be hard to start with after that hard frost.
I mixed up some more Bait Tech Omen and just had about time to set up a single rig, a Drennan 0.5 gram Roach float with 0.10mm bottom and size 18 B611. Bait was the usual maggots, casters and hemp and I added a pinch of each to my groundbait mix before making up two balls for the start. Bruce was on my left with Heardy on 15 which can chuck up the odd chub. It was the last league match and I just needed to catch a fish to make sure of winning it. Rob tooted his whistle and we were off, I cupped in two balls of groundbait at 10 metres and went over it with a single red maggot.
I had to wait a few minutes but the float sailed away and a fair bit of pink hydro came out of the pole tip on the strike and I was soon netting a good roach of 6-8oz, this could be better than I thought! Any ideas of a bagging session soon evaporated when I couldn't get a bite next chuck. Bruce had caught a tiny roach but Heardy hadn't caught yet and it looked like being hard on our side although it looked like they were catching small fish on the other bank. I started getting the odd small roach on single maggot and did manage another netter to end the first hour with eight fish which was very similar to the last match.
The second hour was better and I added another fifteen fish and had the odd better roach on double white maggot. I found in the last match that if I tried caster early on the size of the fish was no different to the maggot fish but if I kept feeding it I could catch quality roach in the last hour and a half so that would be the plan for today. I was feeding maggots, casters and hemp with double white on the hook and in hour three I had another thirteen fish including a couple of cracking rudd and was up to 36 fish. Bruce was still struggling and Martin was looking for a bonus chub or two.
Justin Charles over on peg 20 looked to be catching well and was slipping out his landing net on a regular basis. Up to now I hadn't bumped many fish although I did drop off a 3oz roach which I really should have netted. I had 18 fish in hour four and was having to net most of them and I reckoned if I could get to 80 fish by the end of the match I would have 10lb (if the fish averaged 2oz apiece). With an hour and a half to go it was time to switch to the caster and in a carbon copy of the last match I started catching some proper roach of 10-12oz along with lots of 3-4oz samples. I did bump a few and lost a couple of what felt like much better fish (perch?) but that last period was really good for me and I had another 30 fish to end with 84 fish.
I had the same number of fish in the last match and weighed 12lb 10oz then, but this time I felt I had caught more quality fish but really had no clue what weight I had (no change there then!). I packed up and took the kit back to the car and as Bruce had the scales we weighed him in first, he had loads of small fish and the needle pulled round to 6lb 9oz. We got to my peg and I pulled my net out and was well chuffed when Bruce called my weight at 14lb 15oz, my best weight at Dillington for ages. Martin had 6lb 6oz and reckoned he could have doubled his weight if he hadn't fished for chub for so long.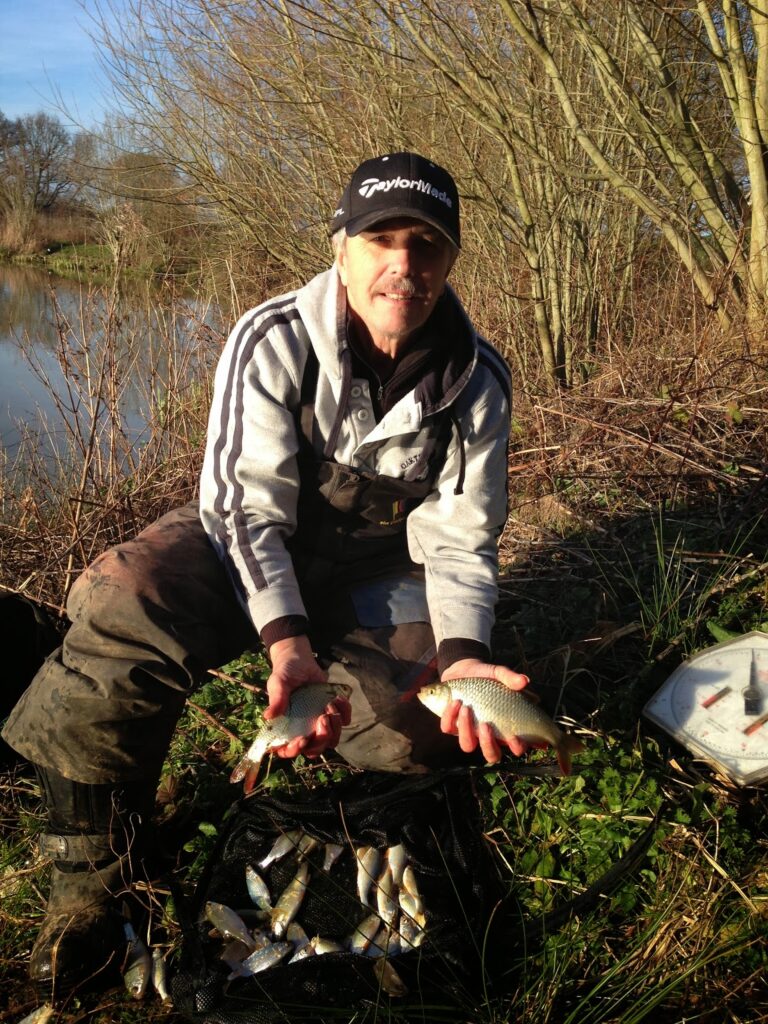 Bruce had 6lb 9oz
I had some cracking roach and rudd in my 14lb 15oz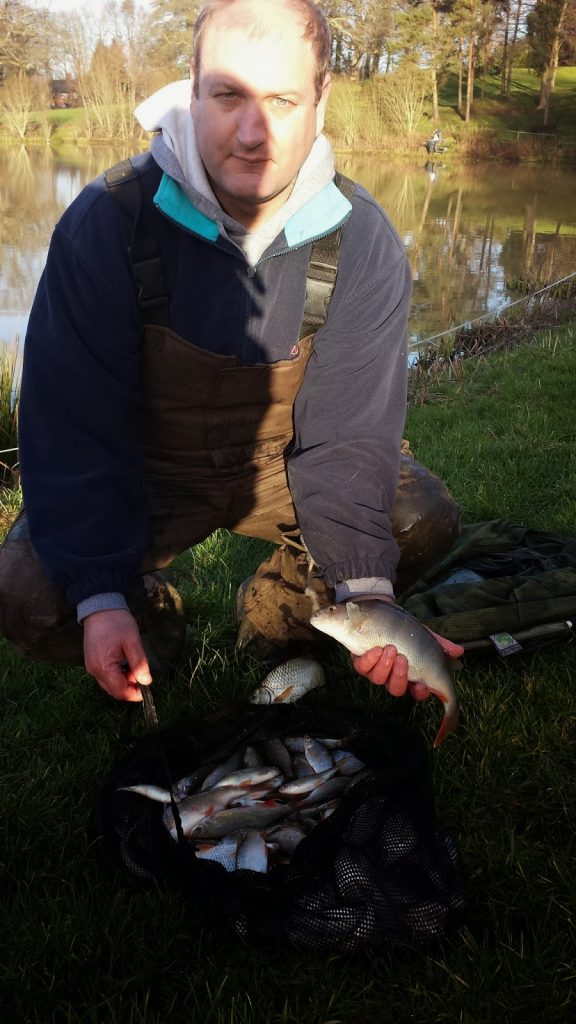 Justin had some nice perch in his 9lb 12oz net for second place
I still thought Justin might push me but when we got back to the cars for the results, Rob said Justin had weighed 9lb 12oz and was top on that bank, so I'd won again and that's the last four on the trot at Dillington and I'm starting to like the pond again! I picked up £40 for the win plus a pound off Steve and hopefully should have some more to come next week for winning the league.
1 – Jamie Rich (Against Men and Fish/Burt Baits) – 14lb 15oz
2 – Justin Charles (Ilminster) – 9lb 12oz
3 – Robin Cox (Ilminster) – 6lb 14oz
Final league positions
1 – Jamie Rich – 10 pts
2 – Robin Cox – 13 pts
3 – Bruce Hunt – 15 pts
I was really chuffed to win the league again, especially as I missed a match when I was in Thailand. Next week is the final match of the V.E.S. Precision league and I'm currently in joint second place and would love to do the double so come back to see how it goes.
Next up – River Isle
What's new – Lots of page updates
Check Out – My interview with Steve Mayo (below)
Blog of the week – Check out new kid on the blog (get it!?), Matt Parsons – Matt's blog