Just a quick ramble for you, firstly a huge thank you as the blog has now had over
155,000
hits, which is just staggering, the Facebook book and Twitter pages are coming along nicely as well, so thanks again and please keep spreading the word.
I have a few bits and bobs of fishing tackle for sale, if you're interested get in touch via the contact form on the right hand side of the blog, I'm open to sensible offers.
I have a brand new Shakespeare Agility 6 Tube Rod Holdall for sale, the RRP is £34.99 and I'm looking for £25.
I also have a brand new Shakespeare Agility Carryall, the RRP is £29.99 and I'd accept £20.
Check out both items on the link below and then make me a (sensible) offer!
http://www.shakespeare-fishing.co.uk/catalogue/luggage,869/coarse-luggage,1298/agility-match-luggage,8673.html
If you would like either or both items I can drop them off if you're local or I can post them but will have to find out how much that would cost.
I also have some Kamasan B911 barbless eyed hooks in size 14 and 16 available at £1 per packet, these are my favourite hooks for hair rigging. I can post but it would cost 75p but this price remains the same for up to 20 packets.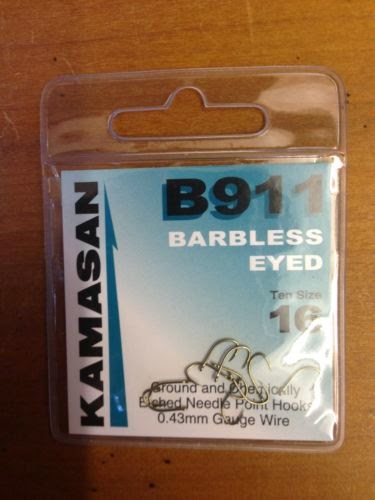 If there are any other Kamasan patterns you are after, give me a shout and I'll see if I can get them for you.
On the fishing front, I've got matches at Perry St on Friday and Sunday and it'll be nice to catch up with the Chard boys again. I'm not booked into anything on the Monday yet so if anybody knows of something give me a shout or else I might have a trip down to Seaton after the mullet if the weathers nice.
Also I'm really looking forward to my holiday at the amazing Gillhams Resort in Thailand which is now only 26 days away and I can't wait!