We always have a match at Perry St on Good Friday but it's a match I never seem to do very well in. The league starts on Sunday so I was hoping I might get an idea of how I was going to approach the first match. Pellet and meat are allowed again this year and I was hoping pellet shallow would work as it's a method I quite enjoy. The Torquay Tart was fishing today as were Paul Homewood and Jamie Parkhouse who would be fishing the league for the first time. Les did his usual job of cleaning my wallet out before announcing that there would be no bait bans but people had to be sensible and that a tin of meat of corn would be more than adequate which the Tart thought was fair enough!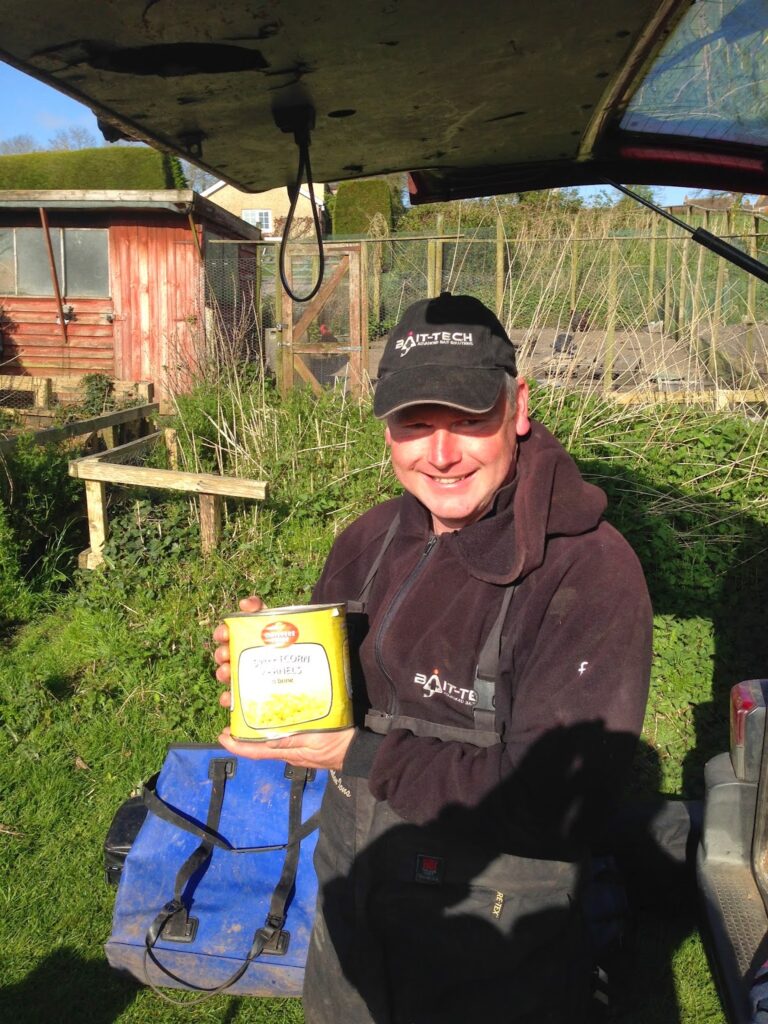 "Well Les did say one tin of corn!"
With eleven of us fishing Les had left the corner pegs out in a bid to make it a bit fairer, of course this meant the end pegs nearest the corners would be the pegs to draw. My drawing hand let me down badly when I pulled out peg 15 which was slap bang in the middle and to make matters worse I could see the Savlon Kid on the opposite bank. I had Paul Blake on my left in peg 16 and Mike from somewhere near Exeter was on my right in 14. I could also see Janders next to the Tart and Bushy the venue expert was next to him. The favoured end pegs were taken by Jamie P on peg 13 and Picky on 8 with Les in 2 and Paul H in 17.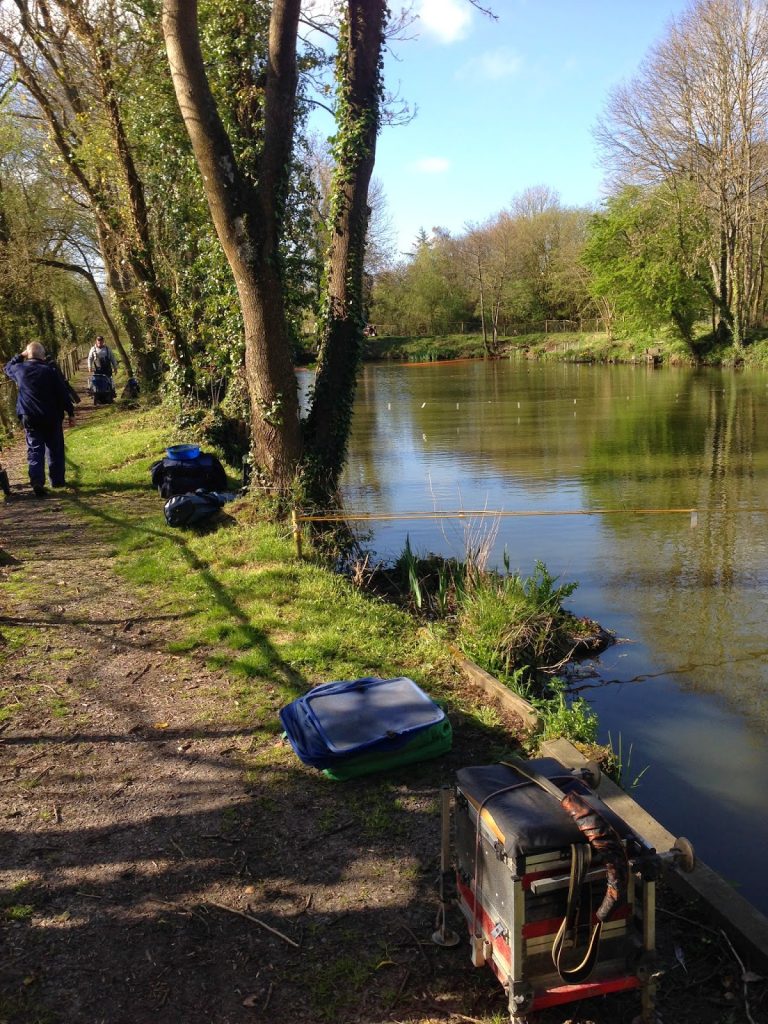 Peg 15 (with Blaker in the background)
I wanted to try and keep things fairly simple so set up a dibber to fish banded pellet on a hair rig shallow at 11.5 metres, another dibber to fish down the edge to my right towards the cormorant roost (fish refuge) where I would feed loose groundbait, casters and corn and then a 0.4 gram Drennan Carp float to fish at 5 metres where I would feed groundbait and dead maggots. I mixed up some Ringers groundbait and was ready with about ten minutes to go.
Les called the all in and I fed a couple of balls of groundbait at 5 metres before starting shallow at 11.5 metres where I was constantly firing out half a dozen 6mm pellets and lifting and dropping the rig. I intended not to feed the inside line until halfway through the match and then feed quite heavily with loose groundbait. To be honest it was hard early on and nobody in the middle pegs caught much at all, Butch in peg 7 and Picky in 8 both got off to a decent start landing several small carp each and apparently Jamie P was catching well too.
Bushy had caught a couple, Blaker had one and the Tart had lost one and that was about it for the middle pegs, in fact after an hour and ten minutes I hadn't had a proper bite yet! I had started putting some feed on the inside line and went in with corn on the hook and missed a bite before catching a small carp which was hooked under the chin! But that was it and I didn't know what to do next, I put in six pots of loose groundbait on this line before trying the five metre line but I never had a bite there. So back out shallow I went but it just wasn't happening. Exeter Mike was getting odd fish and from the sounds of it Jamie P would win here at his first attempt, Paul on the other end was hooking quite a few fish too and although Picky had slowed up he was five or six fish in front of me and I didn't know where my next bite was coming from.
So although it was looking like I'd lose a nugget to Picky, there wasn't much between me and the tart as we both had a carp apiece but he'd also added a perch and Janders was still to get off the mark and test out his new margin pole. My next action came from the margin line where I lifted the rig and there was a fish on which turned out to be a pound eel foulhooked in the tail! Bushy was still getting odd fish and was doing better than most. We were now four hours in and it was really hard going, then Janders landed a nice tench and when he followed it up with a small carp I was in danger of losing all three side bets as the Tart had landed another carp as well.
Quite a few carp could be seen swimming around close to the surface but they just didn't seem interested in feeding, I was still fishing shallow when the pole got ripped round and a decent fish was on and I have to admit I hadn't even seen the bite! I eventually netted a decent fish of 6lb or so but it wasn't going to help much. I did manage one more carp where I dropped the rig in front of it and it went down after the bait and that was it. The Savlon Kid had caught several carp over his meat line late to well and truly give me a spanking and I knew I'd never hear the last of it. Les had also caught well late and could be challenging for a frame place.
Blaker hadn't added to his early carp and was soon packed up and headed home, I packed up and took my gear back before catching up with the scales, Les had weighed 37lb 2oz and then the grinning Tart informed me he'd weighed 20lb 8oz and I handed over a pound with a heavy heart and the score now stands at 1-1 this year. Janders had 6lb 4oz so I was at least even on the side bets or I would have been if he'd have paid me a pound instead of 50p! Bushy had 34lb 3oz to go into second place and then Butch didn't weigh before Picky just pipped the Tart with 21lb so I went 2-1 down on the side bets and Picky went 1-0 up.
Jamie P weighed 66lb 8oz in peg 13 and would win easily with that, Exeter Mike had 30lb 8oz before I put my modest 13lb 4oz in the weigh sling, with Blaker not weighing that just left Paul H who weighed 30lb 12oz to just sneak the section win. So apart from Bushy all the people in the money were on end pegs! I have no clue what I'm going to do on Sunday although I will take some meat with me.
1 – Jamie Parkhouse (Burt Baits) – 66lb 8oz
2 – Les Braunton (Chard) – 37lb 2oz
3 – Steve Bush (Chard) – 34lb 3oz
Sections
A – Alan Gage (Chard) – 21lb
B – Paul Homewood (Taunton) – 30lb 12oz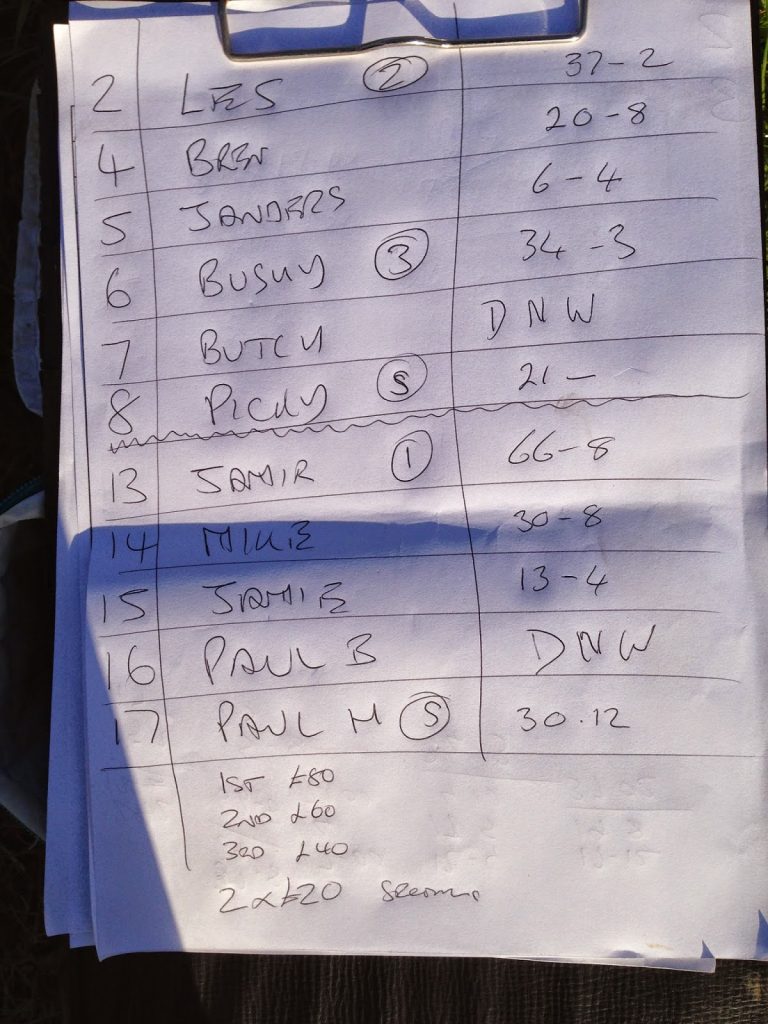 Today's weighboard
The Tart has been texting already and seems very pleased with today's result, well done mate you spanked me today and I'll finally be opening that tube of Savlon!
Next up
– Perry St Pond
What's new – Lots of page updates
Check Out – My latest ramblings (below)