After a disappointing match on Friday and then Chelsea handing the league to Liverpool when they lost to Sunderland on Saturday, I desperately needed a good result today to stop the long weekend from becoming a total write off! The weather forecast wasn't very good for today with heavy rain and wind predicted – great! As I arrived it was great to see some faces I hadn't bumped into since last year and longer in some cases, Hainsey was fishing again this year after taking a break from the league last year and Rocking Roy was there along with Pup, Bish and the legend that is Dino.
As Hainsey is infamous for not bringing any chocolate bars and then scrounging off other people (usually Janders), John brought along a little lunch box for Chris and even filled it for him! Aww, isn't Janders nice.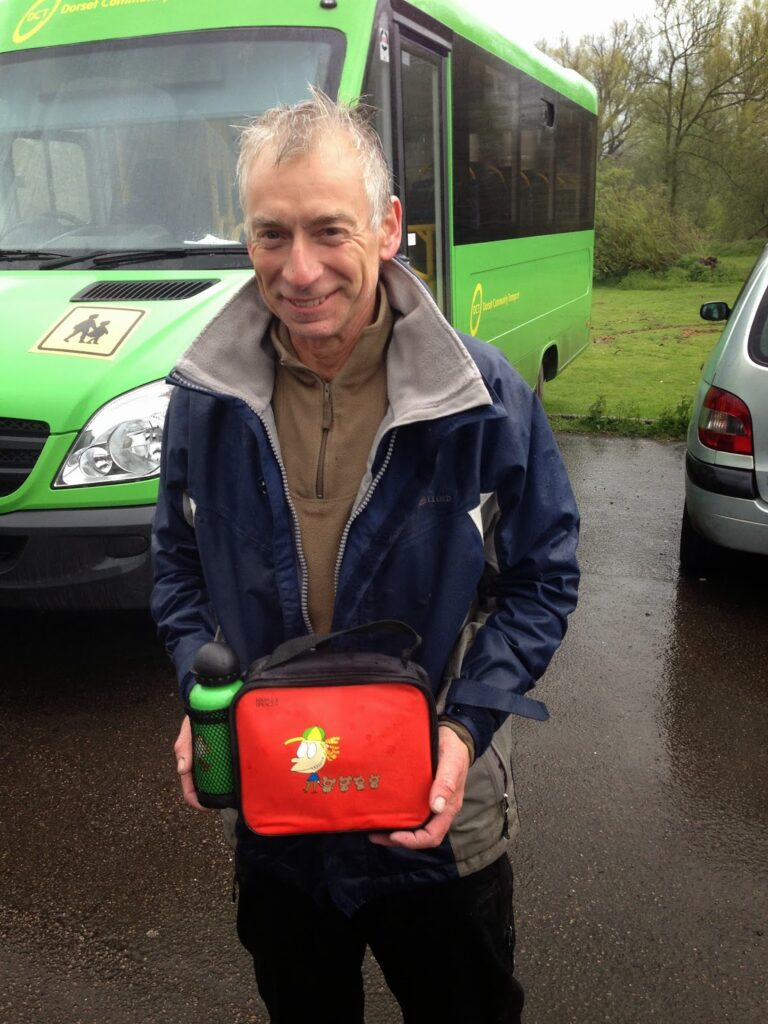 Hainsey (looking a bit bedraggled) with his new lunchbox after the match
I collected some bait and paid my pools before Les did the preliminary draw for the pairs knockout and my name got pulled out of the hat to be paired with Butch and we were up against Jamie Parkhouse and Mike Collins. Then it was time for today's draw and I pulled out peg 2 which although not one of the corner pegs, I was fairly happy with. This also meant I'd be on even peg numbers for the rest of the series. My partner Butch had drawn peg 12 which wasn't too bad either, the trouble was Jamie P had drawn peg 10 which is one of the better corners and Mike C was in peg 9 so with the knockout decided on weight we were up against it already.
I had Exeter Mike on my right in peg 1 and Picky was on my left so I'd be able to keep an eye on how my pound side bet was doing. With it being overcast and quite windy I wasn't sure my usual shallow tactic would work (not that it did on Friday anyway!) but I'd still set a rig up and have a go. My other rigs were a 0.4 gram Drennan Carp for the 5 metres meat line and then a Trabucco dibber for the inside to my right towards the cormorant roost. I recently won some Old Ghost hookbait sausages from Coarse Fishing Answers magazine and thought I'd dice some up and try it today. I went with the corn ones which is why they're missing from the photo below.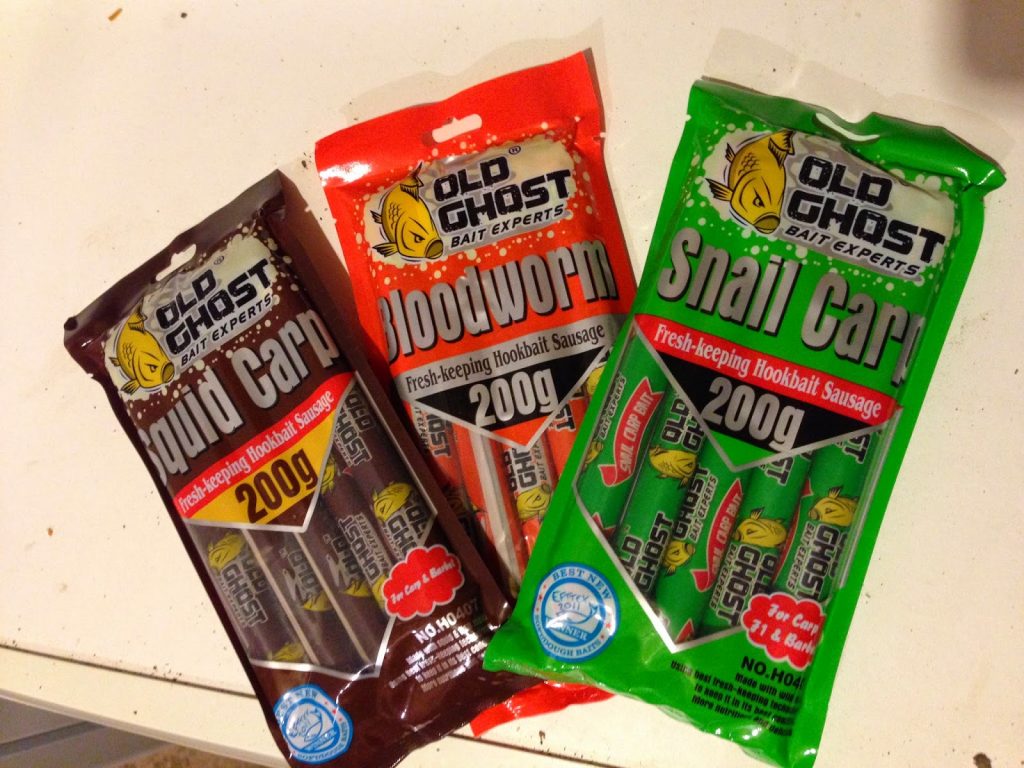 Old Ghost Hookbait Sausages
I also had some dead red maggots, corn and 6mm pellets plus I mixed up some groundbait for the margin line. The start time arrived and I fed the inside and five metre lines plus I cupped in two balls of groundbait at 10 metres angled to my left but as I never fished this line all day, I don't really know why I did it! I started fishing shallow just to give my other lines time to settle and pinged out a few pellets every few seconds. Picky was into a paste fish from his 6 metre line first chuck and got off to a dream start. After about ten minutes I had a bite shallow which I missed so I stuck at it a bit longer and was rewarded with a 3lb carp to get me off the mark. I kept feeding the meat and margin lines but decided to stick with the fishing shallow until the first hour was up.
Nobody at our end seemed to be catching much with the exception of Picky who'd had four carp already! No more action from my shallow line saw me come into five metres as the second hour started but I was only going to give it ten minutes or so as I expected it to come come good later on. Hainsey opposite on peg 19 and Bushy next door to him had a couple of small fish and Les in peg 20 started to get odd fish as well. Exeter Mike had also netted a couple of smaller fish but it was all pretty tight at our end during the early stages. The wind was a nightmare and we started to get odd rain showers as well – lovely!
I was just about to come off the five metre line when the float sailed away and I missed it! Next chuck I had another bite after five minutes and hooked this one, it felt like a decent fish but wasn't doing much when the hooklength just gave way for no apparent reason and I had to tie on another hooklength. I gave it another ten minutes before trying the inside line for the first time with corn on the hook. I had a bite quite quickly and hooked a fish only for it to snag me under the fish refuge and I had to pull for a break and my day was going from bad to worse.
The next fish I got away from refuge and then the hook pulled out! and I just knew it was going to be one of those days. The wind started to subside a bit but then the rain started lashing it down and it was turning into a really miserable day. I fed some more groundbait on the inside and tried the five metre line again but no more indications and I was starting to fall behind the others at our end who were all getting odd fish, Hainsey had a couple of decent skimmers and was getting odd carp and Les was now starting to catch quite well.
Back on my inside line and I had a bite but the strike resulted in me being attached to something solid and I had to pull for a break yet again but this time the line snapped above the float and I was ready to go home but there were still two hours to go! I did manage to get my float back and went back to fishing at five metres while I got another rig out to fish the inside. I did actually manage to land the next carp but bites were few and far between, the next fish I hooked I got away from the danger area only for the hook to pull out at the net! To be honest I'd gone past caring at this stage and was looking forward to getting home as I was soaking wet and cold.
With 15 minutes to go I had my third fish, one of the new small carp but at 8oz or so it wasn't going to help much, Les blew for the all out and the final score was Carp 4 – Jamie 3. Picky said he'd had seven carp and as Janders had caught five I knew I'd be losing both pounds as well just to top off a great day! I packed up my sodden gear and was just about to take it back to the car when the scales arrived at Exeter Mike's peg, he weighed 12lb 12oz before my three fish went a lowly 5lb 10oz and with Jamie P doing well in peg 10 I'd let Butch down in the knockout, sorry mate! Picky weighed 31lb and would probably frame with that and he was also 2-0 up after two matches. Janders had 10lb 6oz and I paid him 50p as he still owed me from Friday.
I missed the rest of the weigh in as I took my kit back to the car but the two top corners had done well and Paul Homewood had also caught quite a few in peg 6. With everybody soaking wet and wanting to get home to dry off, the results were a rushed affair but Andy Donovan had the top weight with 44lb 10oz from peg 11, Paul Homewood was second with 39lb 6oz from peg 6, Jamie P was third with 37lb 6oz from peg 10, Picky was fourth with 31lb from peg 3 and Les was fifth with 30lb from peg 20. So the corners did well again with three of them in the top five today. Chris Haines won the silvers with 6lb 12oz. As for me I was stone cold last in the match, lost both side bets and got me and Butch eliminated from the knockout so all in all a pretty good match! On the plus side the only way is up!
1 – Andy Donovan (Frome) – 44lb 10oz
2 – Paul Homewood (Taunton) – 39lb 6oz
3 – Jamie Parkhouse (Burt Baits) – 37lb 6oz
4 – Alan Gage (Chard) – 31lb
5 – Les Braunton (Chard) – 30lb
Silvers
1 – Chris Haines (Haines Angling) – 6lb 12oz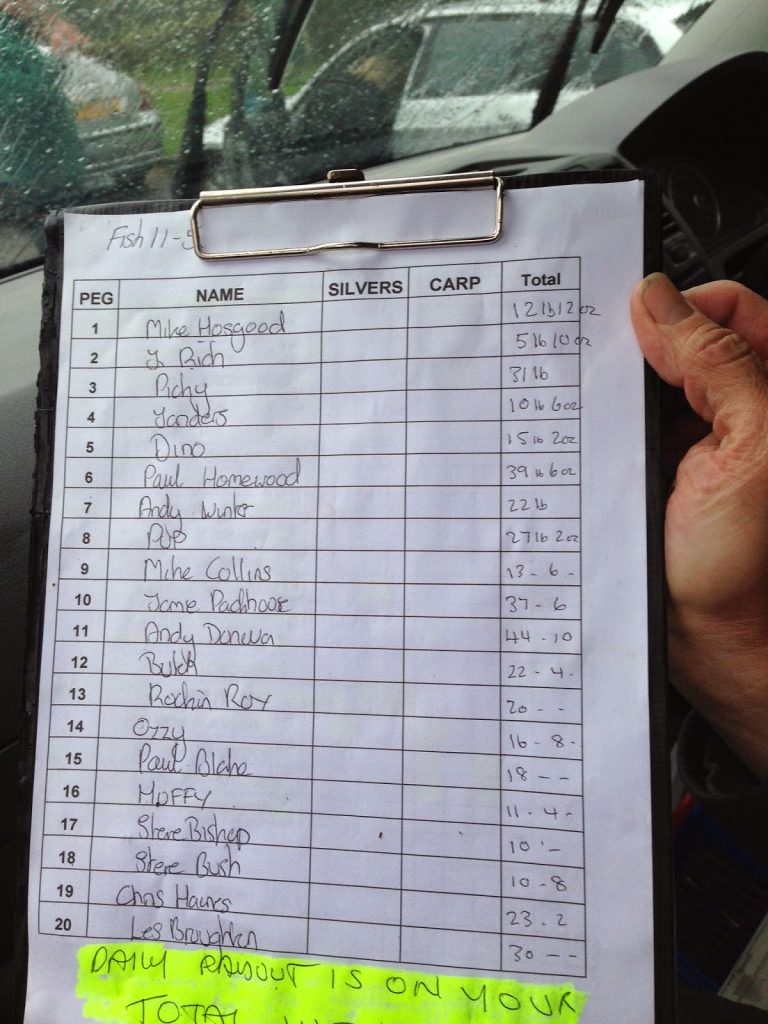 Today's board
So it looks like my good run is well and truly over, I'm at Summerhayes next week with Janders so come back then to have a good laugh as you read about me getting battered like a chip shop sausage again!
Next up – Summerhayes
What's new – Lots of page updates
Check Out – My last disaster (below)
Blog of the week – Chris Fox had a good day at Trinity Waters today – Chris's Blog