After a really good start to the year I was expecting to hit a blip at some point and April has been poor so far with just one pick up and I was hoping I could finish the month on a high. The weather wasn't too bad although rain showers were forecast for today, I just hoped the wind wouldn't be too bad. I picked Janders up and off we went, on arriving Longs looked relatively calm so perhaps we could be in for a decent day. Looking at recent results 13-15lb has been winning silvers and most pegs have been throwing up half decent weights although pegs 11-13 and 30-35 were still the favoured silvers pegs. The draw was announced and I hung back and when I went into the bucket there were just two balls left, I pulled out peg 1 which isn't great for silvers but can be a good carp peg, Rob Kingston had the last peg which was 35 and is a consistent silvers peg – bugger.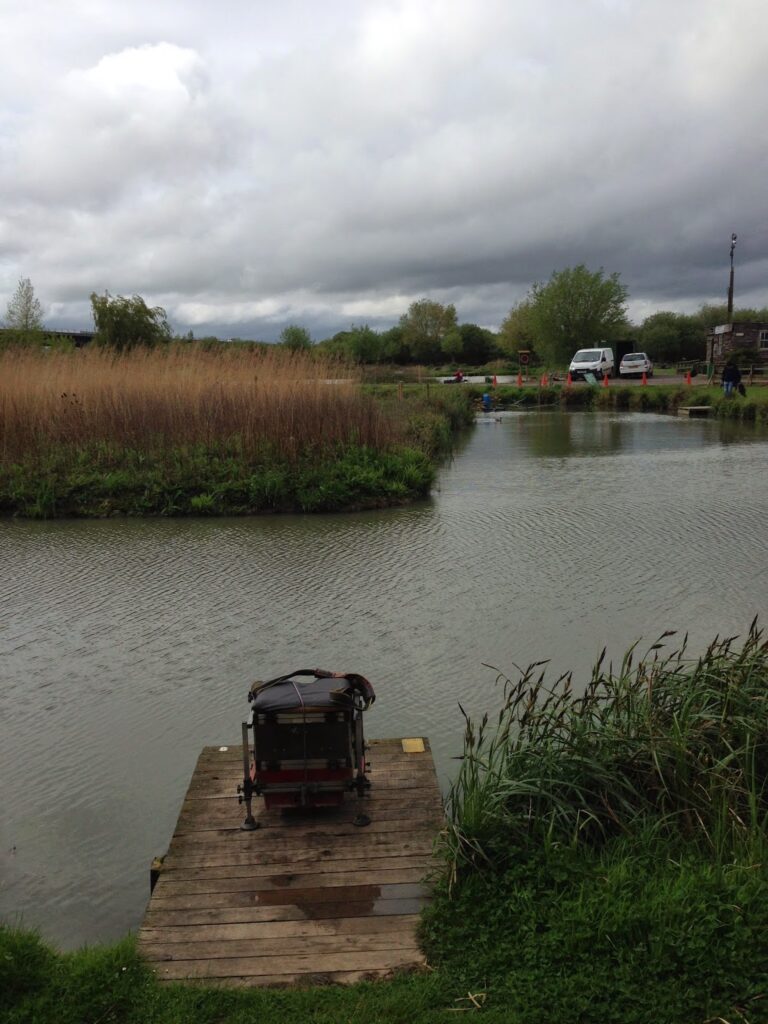 Peg 1 on Longs
Janders was on 37 which was another peg that can do alright for carp but has no real silvers form, on the plus side we both had a fair amount of room, Glynn Wickham was the next peg on my left on peg 4. I had side bets with Janders, Glynn and Recce on silvers and Rob Kingston on overall weight. There were quite a few fish moving about and I quite fancied it. I set up a 10 x 11 MW F1 Slim for fishing at 8.5 metres straight out (it's a narrow peg and 8.5 metres put me just past the middle) and also for 5 metres angled to my right. I also set up a 14 x 11 version for fishing at 10 metres to my right in open water towards the walkway. I also set up a Trabucco dibber for fishing tight across but as I never used it I won't mention it again.
On the whistle I fed half a pot of micros on all three lines before starting straight out with a 4mm Bait Tech expander on the hook. I had to wait a little while for my first bite which turned out to be a small skimmer and I added a couple more plus a 3lb carp in the first hour and from what I could see it had been slow for Glynn and Janders too. Glynn was fishing across for carp and had landed two and Janders had netted a small tench. The beginning of the second hour was better when I had my first decent skimmer and when I added a second shortly after I thought I might be in for a good day. I tried the 5 metre line but only had a couple of small blades and roach so went back to 8.5 metres (I wanted to leave the 10 metre line as long as possible).
I had a lovely little tench around the pound mark and things were ticking along nicely, Glynn had caught a nice perch so there wasn't much between us at this early stage but Janders looked like he was struggling. I was still getting 2-3oz skimmers quite regularly but was a little concerned at the lack of better skimbobs. We were getting odd quite heavy rain showers but at least it wasn't too windy. After a couple of hours I tried the ten metre line for the first time and it was a bit of a flop as I only had one small roach off it. Back to 8.5 metres for more blades and then I had my first decent fish from the 5 metre line which turned out to be a 10oz bar of soap.
By the half way point I'd had three decent skimmers, two tench plus quite a few small fish but things needed to improve if I was going to challenge for an envelope today. I tried upping the feed but was still getting too many small fish for my liking and I was starting to wish I'd fished for carp today. Glynn was fishing his usual worm and caster and was catching quite a few small fish but then he had three decent tench and a couple of crucians and added a couple of decent skimmers for good measure. I was now struggling and only getting the odd roach and blade and even added a small perch on soft pellet! Going into the last hour I had managed another good skimmer and also bumped one which didn't help.
I hadn't had too much carp trouble, landing four and losing another when I gave it too much stick with the pulla bung and had to tie a new hooklength on. I did manage another decent skimmer with a few minutes to go and missed another bite just before the all out. I finished up with 43 silvers (five decent skimmers, two tench and the rest roach and blades) plus four carp for another disappointing day. Glynn had done well and I reckoned he must have had 15-16lb of silvers and wouldn't be far off with that. The scales were soon with Janders and he had 8lb 8oz of carp but only 2lb 4oz of silvers and I hoped I had a bit more than that. I was next to weigh and my carp went 7lb 6oz and my silvers pulled the needle around to 9lb which was a bit more than I thought and I was a pound up but knew this would only last until the scales reached Glynn.
In fact Glynn had 9lb of carp and then a brilliant 19lb 14oz of silvers and I paid him my pound to make the score 3-2 to me so far this year. I didn't watch the rest of the weigh in as I loaded the car and then checked my phone to see the footy scores and Chelsea had beaten Liverpool 2-0 at Anfield and the title race had taken another twist and with Man City winning it was now their's to lose although I can't help feeling there will be another twist or two to come yet.
Back at the results and Alvin Jones had done really well again with 26lb of silvers and 12lb 6oz of carp from peg 31 for another win, I did start to think Glynn might frame and I might sneak into second in the silvers but Adie Bishop had 31lb 10oz for second from peg 18 and Wayne M had 30lb 10oz from peg 11 which meant Glynn's total of 28lb 14oz was just short of the main frame and he won the silvers. Rob Kingston took second in the silvers (and a pound off me) with 11lb from peg 35. I did just beat Reece who had 8lb 10oz of silvers but once again he didn't pay up!
1 – Alvin Jones (Summerhayes) – 38lb 6oz
2 – Adie Bishop (Summerhayes) – 31lb 10oz
3 – Wayne M (Summerhayes) – 30lb 10oz
Silvers
1 – Glynn Wickham (Summerhayes) – 19lb 14oz
2 – Rob Kingston (Summerhayes) – 11lb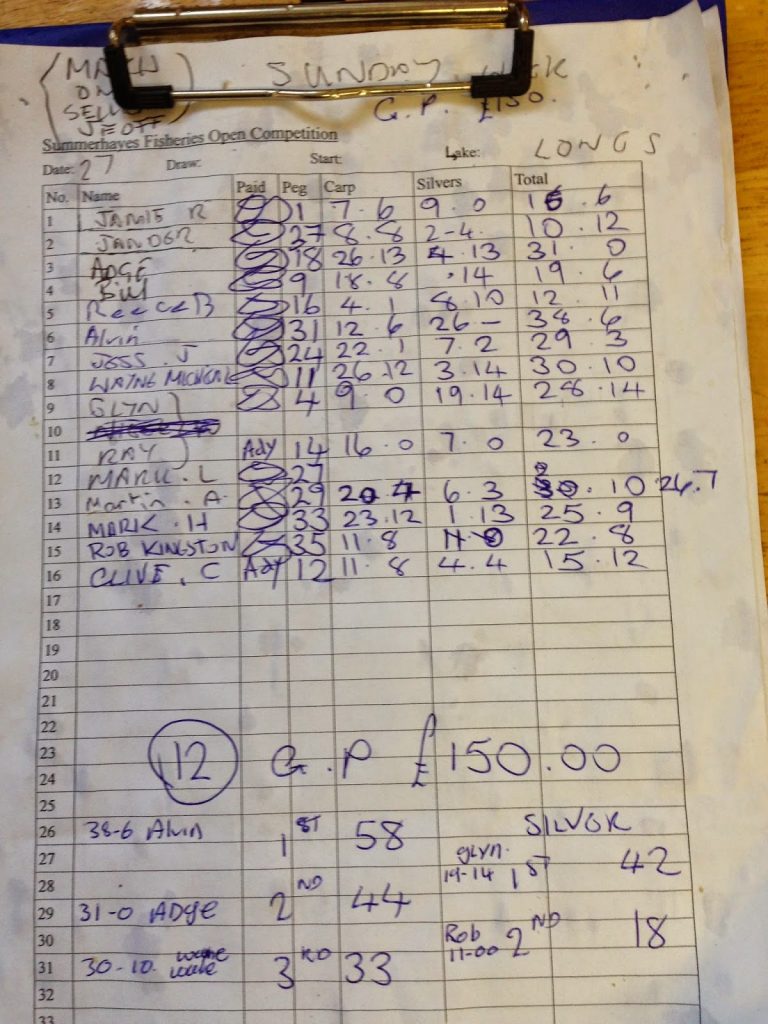 Today's weigh board
See another poor day for me, I'm back at Perry St next week and as I finished bottom last match, hopefully it can't get any worse (although I could blank I suppose) so make sure you come back to see how it went.
Next up – Perry St
What's new – Lots of page updates
Check Out – My last disaster (below)
Blog of the week – Tony was fishing the first round of the Spring League at the Viaduct today – Tony's Blog