After my dismal performance in the first league match I was hoping for better things today, I was running a bit late and as I got out the pond Les had started the draw for the pairs knockout (this didn't affect me as I got knocked out in the preliminary round!). After paying my pools and collecting some bait, Les opened the envelope which would determine our pegs for today (after the draw at the first match you would be next to the same people every week) and when he announced Picky was on peg 1, I knew I would be in peg 20, a corner peg and one that Les did okay off in the first match. Janders was in peg 2 where I had my disaster last time around and I had Exeter Mike on my right in peg 19 and he said he wanted a side bet today.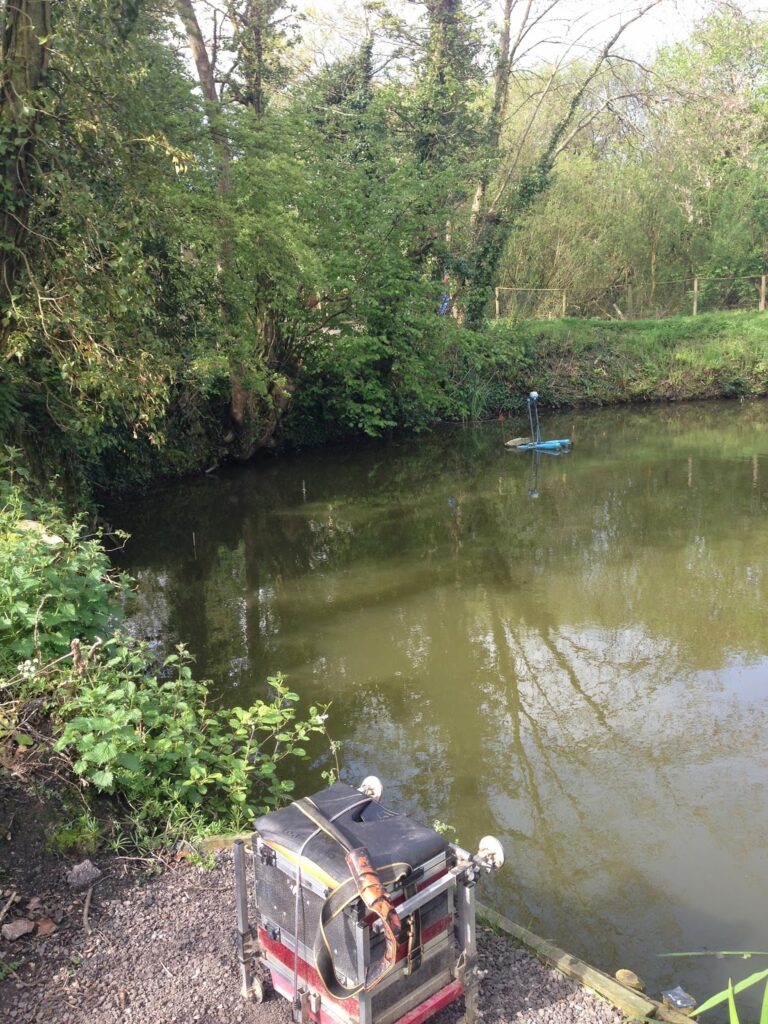 Peg 20
It looked quite nice but up in the corner there are loads of snags including an aerator, an iron bar that sticks out the water and several big branches that also rise out of the peg like King Arthur's Excaliber! I wanted to try and catch in open water if possible so I set up a dibber to fish hair rigged banded pellet up in the water at 11.5 metres and also a Drennan 0.4 gram Carp float to fish meat at 5 metres, my final rig was another dibber to fish down the edge to my right. It was flat calm at our end which isn't great for shallow fishing but I thought it was worth giving it a go while my other lines settled. For bait I had the usual 6mm pellets, plus 6mm meat, dead red maggots and some groundbait I mixed up for the margin swim.
Les eventually blew his whistle to start the match and we were off, I fed some meat at 5 metres plus several pots of loose groundbait in the margin before starting on the shallow rig with 6mm pellet. Picky got off to a flying start and had a fish first chuck on paste and the chap standing in for Dino in peg 3 also had a couple of early fish. Other than those two there wasn't much going on at our end, I gave it an hour of fishing shallow and never had a proper bite. I'd been feeding meat at 5 metres and was hoping for better things off this line, I came in and this line was dead as a dodo as well. Exeter Mike had lost a good eel and landed a skimmer and Picky was on about four carp and looking good to make it 3-0 on the sidebets.
I briefly tried my margin line and also tried fishing banded pellet on my deep rig at 11.5 metres but never had a bite and in a bid to try and make something happen I cupped in some pellets and meat at 11.5 metres towards the aerator and after leaving it to settle for 15 mins went over it with meat on the hook. I was firing out some pellets on this line as well, I was just thinking a blank could be on the cards when the float slid away and I hooked and landed my first carp of around 3lb just as we reached the two hour mark. Next chuck I've missed a bite and then hooked another that did me around the aerator – great!
After tying another hook on I was back on the same line and getting a few indications, I had another carp around the same size as my first and two little 8oz stockies and was eating into Picky's early lead. Janders still hadn't caught and Mike was struggling too and it was looking like we were at the wrong end again. I was still getting bites on meat but couldn't hit them and odd carp could be seen up in the water and I'm sure some of the missed bites were liners./During this period Picky landed a couple more fish to pull away again and I needed to try something else. I got the shallow rig and shipped out to 13 metres, past the iron bar in the water, right up in the corner by the bank and started firing out 6mm pellets over the top.
I've hooked a small carp and then the fun and games began as I had to try and stop the fish going behind the aerator and then steer it between the iron bar and the aerator, my white hydro wasn't really man enough and even though I safely netted the fish I went to my holdall and got another top kit out with green Preston elastic in, this was better and I landed the next three carp to put me on eight and all of a sudden I was catching quite well. I then hooked another which was nearly ready for the net but made a last run and I tried bullying it only for the hook to pull out – bugger. At around three to four pound I was hoping that fish wasn't going to cost me. Next chuck I've hooked another that tore off and the hook came back with a scale on the hook and it felt like there were a lot of fish there.
But then it slowed up and I only added two more fish to finish on ten and although there wasn't much between me and Picky, I felt he'd done me by a couple of pounds so that lost fish could come back to haunt me yet but then again he'd lost several as well. Poor old Janders blanked with just a lost fish to show for his efforts and he wasn't alone as Paul Homewood blanked in peg 4 as well and our end had been hard work. Exeter Mike had added a carp but conceded defeat and gave me a pound and I would have a pound to come from Janders but would lose one to Picky.
The scales were soon with Picky and when he weighed 21lb 14oz, I knew I didn't have that and paid him my nugget and he's stormed into a 3-0 lead this year already, Janders blanked and then Dino's stand in did well in peg 3 with 17lb 6oz, Paul hadn't caught and then Chilly in peg 5 weighed 15lb 14oz which included 3lb 10oz of silvers. Pup had 9lb 4oz and Mike C had 17lb 4oz in peg 7. Jamie Parkhouse in peg 8 did really well to weigh 51lb 6oz and when Andy Donovan weighed 37lb 4oz next door, it was obvious the top end of the pond had fished better than our end.
Butch had 24lb 8oz in peg 10 and Dave Lawrence (fishing for Rocking) had 14lb 14oz in peg 11, Oz had some right lumps in his 43lb 2oz from peg 12 to go into second place, Blaker had 11lb 2oz in peg 13 and then the Hoff had 24lb 12oz in peg 14. Bish had 22lb 2oz from peg 15 and then as we reached the middle of the pond the weights started to drop again, Bushy had 12lb 6oz, Hainsey had 10lb and then Les had just 4oz! Exeter Mike had 8lb 10oz before my fish went a level 20lb and I needed a couple more fish to get in the money.
So Jamie Parkhouse won again and so far in three matches, he's won two and finished third in the other, Andy Donovan was third following on from his win in the first league match. I'm not sure who went through in the pairs but as soon as I find out, I will post it on here. So after two matches Jamie P and Andy jointly lead the league by my reckoning.
1 – Jamie Parkhouse (Burt Baits) – 51lb 6oz
2 – Steve Osborne (Chard) – 43lb 2oz
3 – Andy Donovan (Frome) – 37lb 4oz
4 – Mark Hollister (Chard) – 24lb 12oz
5 – Butch Baker (Chard) – 24lb 8oz
Silvers
1 – Andy Winters (Chard) – 3lb 10oz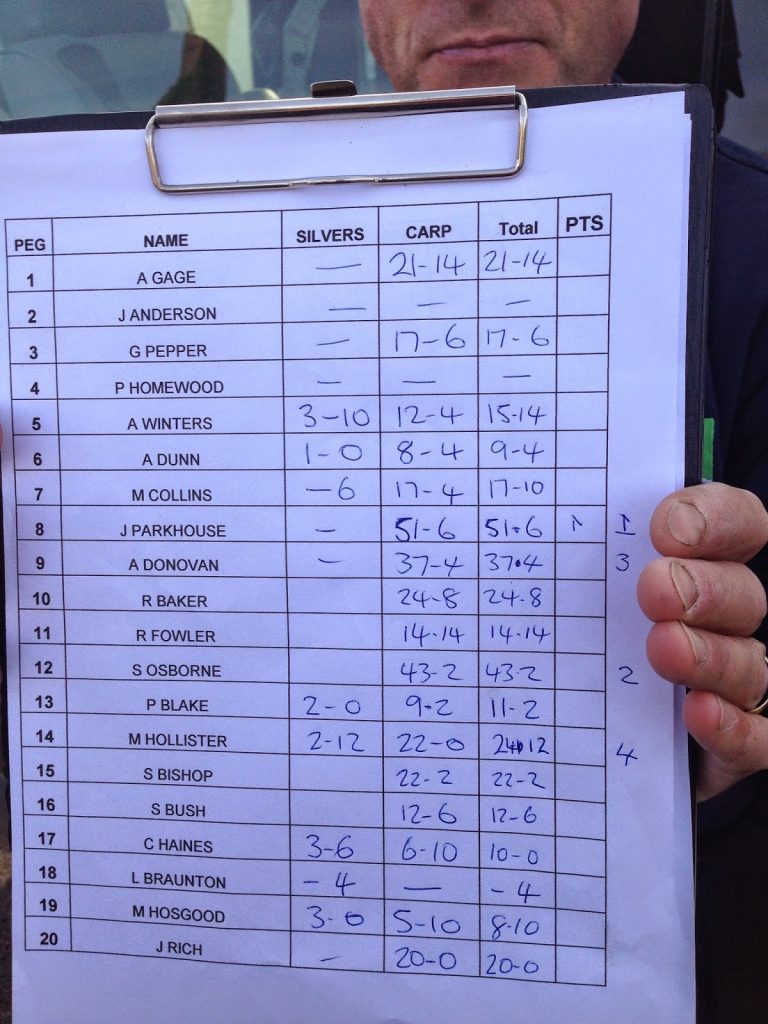 Today's board
Well my bad run continues, I'm fishing a new venue for me tomorrow, Trinity Waters in Bridgwater and I'm expecting a battering on my first visit so come back tomorrow night to see how I get on.
Next up – Trinity Waters
What's new – Lots of page updates
Check Out – My last match (below)
Blog of the week – Tony was at Ivy House Lakes today – Tony's Blog