Normally on a Bank Holiday I would be fishing a two dayer at Summerhayes but this year the Perry St league dates seem to clash which is a shame. I wanted to fish somewhere and after contacting Trinity Waters they said they had a match on Woodland lake today so I put my name down. I've been hearing lots of good things about this venue and have been meaning to fish it for a while now. I also looked through Tony Rixon's blog as him and his crew fish it quite a bit and it sounded good with 100lb+ bags needed to win but more importantly (for me anyway), the silvers pool is usually won with between 20lb and 30lb of decent skimmers. I also contacted Tony who said my usual expanders and micros approach would work although some people feed soaked 4mm pellets as well.
I knew Mark Hanham and Paul Homewood were fishing today so I wouldn't be 'Billy no mates' at the draw, I got there with 15 mins to spare and went into the hut and paid the lovely Misha my pools and had a coffee. I was very impressed with my first look at the venue, there is ample car parking and there are toilets on site along with a little hut where the draw is made where you can also buy pellets and groundbait. Food and drink is also available. The lake itself looked nice, basically a rectangle with 34 pegs around it and no obvious feature pegs from what I could see apart from the ends obviously. All the pegs are on very sturdy, spacious platforms. To get to Woodland lake you either go around the edges of Ash lake or across the bridge that spans the middle of it.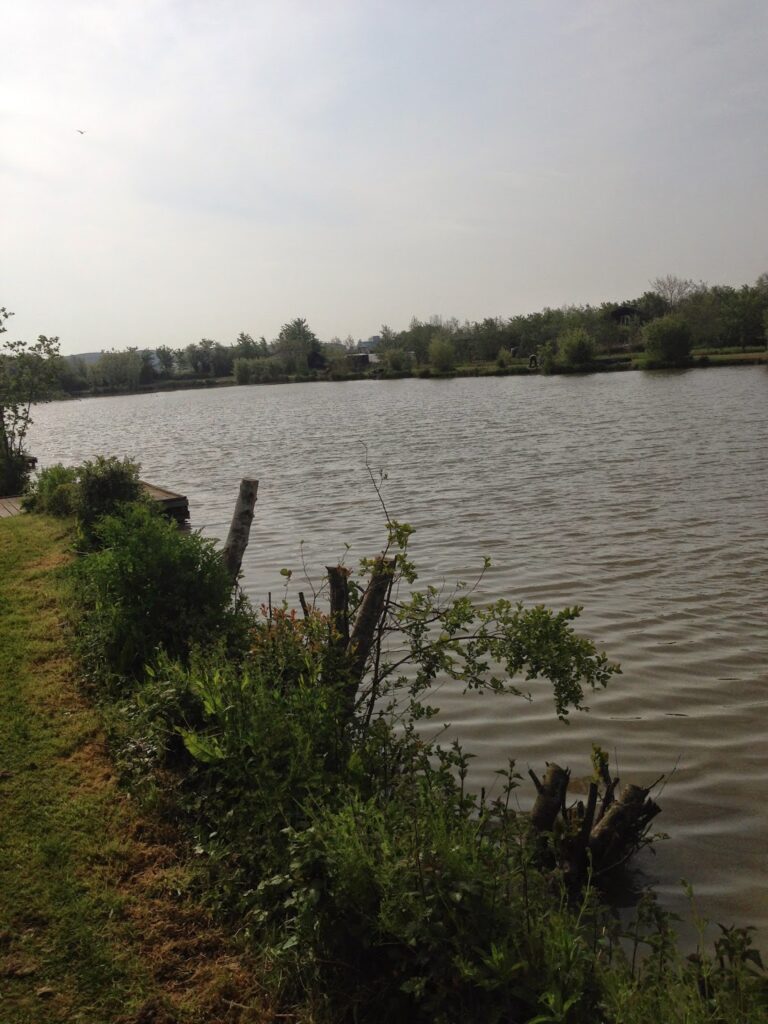 Woodland Lake
Misha announced the draw and the golden peg was pulled out which was number 27, Steve Kedge was fishing today and he hadn't fished here for a fair old while and only went and drew it!. Although I think he had mixed feelings as like me he likes to fish for the silvers with the only difference being that he's very good at it! I pulled out peg 11 which put me roughly in the middle on the far bank and I was fairly happy with that as middle pegs tend to be quite good for silvers on venues like this. It took me my usual two trips to get all my gear to my peg and the first thing I noticed was that despite it being a lovely sunny day, it was very windy! What is it with Bridgwater?, why is it always bloody windy? The pegs on my side were copping the worst of it and the anglers on the opposite side had it off their backs.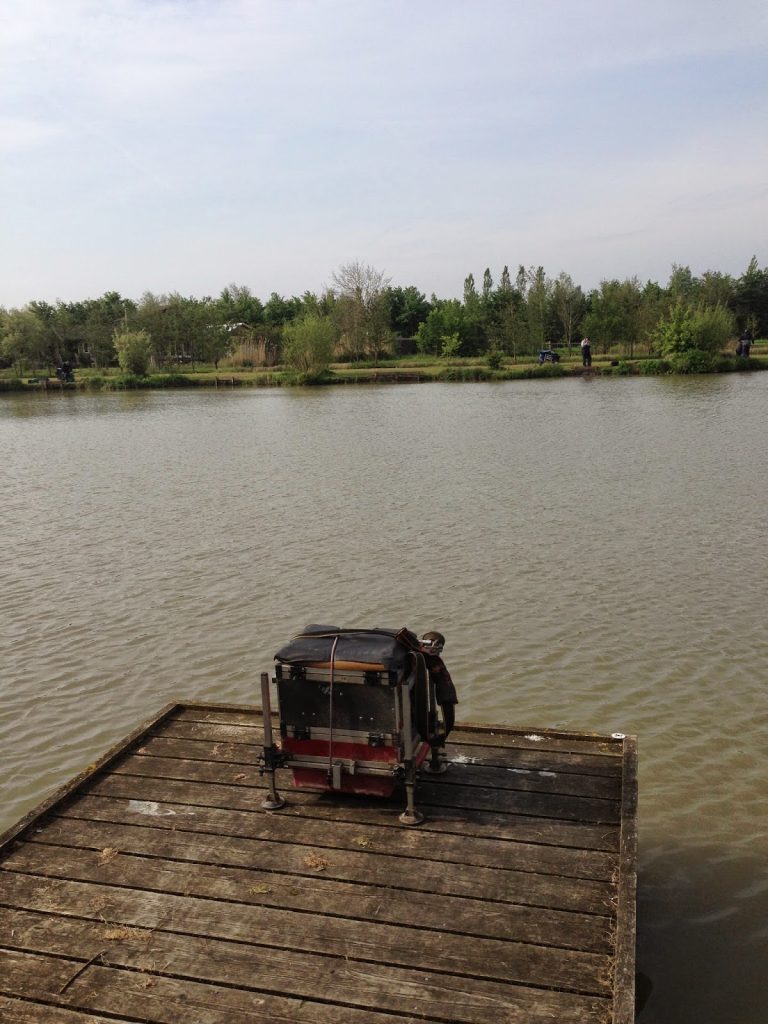 Peg 11
All nets have to put on the banks to dry before putting them in just before the start which is a great idea to stop the risk of spreading disease. I started setting up my kit and the first two rigs I put on were nowhere near deep enough and it was third time lucky with a 1 gram Drennan Tipo. By the time I'd chopped a bit of line off, changed the hooklength to a size 16 808 to 0.12mm and swapped the orange tip for a black one before plumbing up, I realised I was running out of time. I just had about time to set up a dibber for up in the water but never picked it up all day. Originally I was going to fish at 11.5 metres and 5 metres but the wind was that gusty the longer length was out of the question and 10 metres would be a struggle. For bait I had the usual 4mm and 6mm Bait Tech expanders, micros plus some wetted 4mm's I would feed as well.
The whistle went and most people (including me) weren't quite ready, I cupped out three quarters of a pot of micros with a few 4mm's in on both the 10 metre and 5 metre lines before starting on the longer line with a 4mm expander on the hook. The chap on peg 10 (Kevin I think) started long, up in the water and had a decent carp quite quickly. My float tip dipped before lifting out of the water and the strike resulted in a fair amount of blue hydro coming out, it felt like a good skimmer as I carefully shipped back but then it jumped out of the water and the line went slack. I thought it had thrown the hook but on closer inspection the whole hooklength had gone, not snapped just gone, what numpty tied that hook?
The wind was hideous and I was actually quite cold as well, I was struggling to control the pole at 10 metres so came on the shorter line and after waiting a little while the float disappeared and I netted a 6oz skimmer to get off the mark. I had another bite quite quickly and it felt like another small skimmer but I'll never know as the hooklength disappeared on that one as well! I think it was the loop on them that was poorly tied – prat! I put another hooklength on and checked it was okay which it seemed to be. It was hard going and bites were few and far between and after three hours I only had three small skimmers to show for my efforts. Kev just had the one carp although he'd lost a couple that were foulhooked. The guy on my left and Eric Fouracre next to him were getting odd fish and seemed to be doing better than most.
Paul Homewood opposite looked to be struggling but Kedgy next to him was fishing two sections to hand and catching lots of bits and had obviously decided to ignore the golden peg and go all out for a silvers win. The wind was being a real pain and blowing pole sections all over the place and was making fishing the longer line almost impossible. Kevin was fishing the inside by where there had been a bank collapse at some point (see photo) and hooked a fish that went potty, it ran into a snag further out which turned out to be a bush that was attached to the bit of bank that had caved in! It then went under my pallet and was obviously a big foulhooked fish, it ran all along the inside and my neighbour said there was no way he was getting this one out but he did eventually land it and at 8lb+ and foulhooked he'd done well to land it.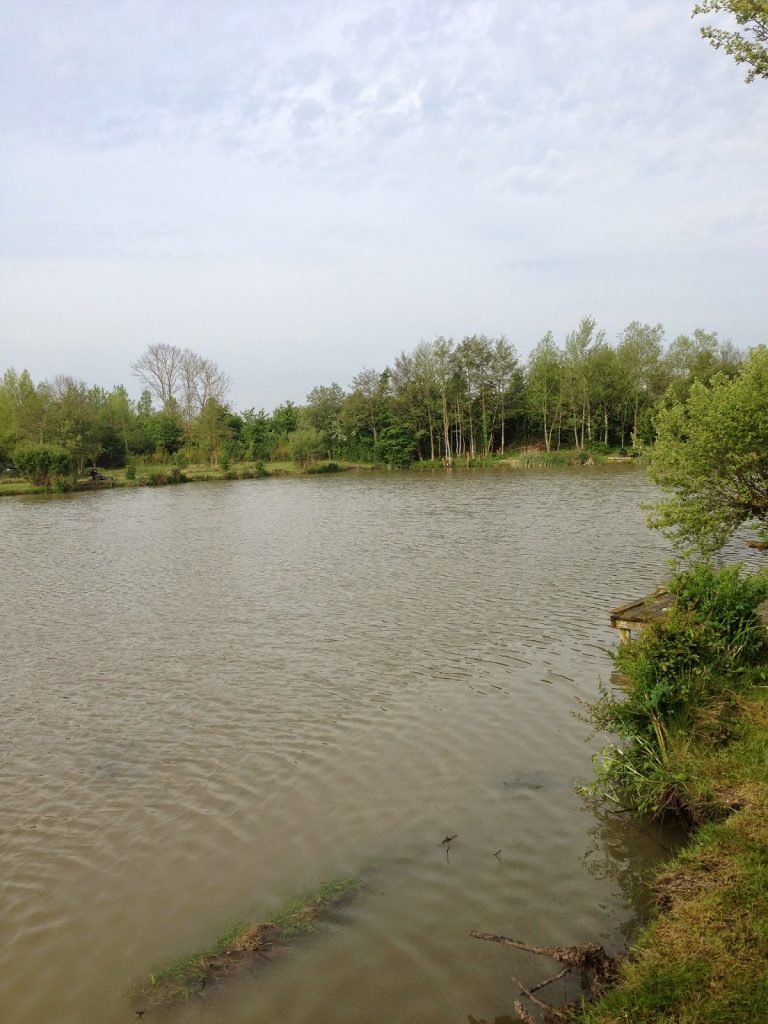 You can see the collapsed bank, the submerged bush was slightly further out
Things hadn't really improved much for me and I was now concentrating on the shorter line, I did add another small skimmer and a decent one but didn't think I'd be ending my bad run today. Eric Fouracre was catching some good skimmers and with Kedgy catching small roach like a man possessed, I thought that would be the two silvers placings filled. Then with a couple hours to go, the wind started to ease slightly and I started to get a few indications, I had another small skimmer come off (but thankfully not the hooklength this time!) and then netted another around the pound mark.
Looking around the pond most people seemed to be hooking into carp now as we approached the latter stages of the match. I had foulhooked one briefly and that was it for me on the carp front, I did hook a decent fish which went straight into that submerged bush but I'm not sure if it was a carp or decent skimmer, either way I lost another hooklength! With half an hour to go I've hooked a good fish which turned out to be a 3lb skimmer and I was interested again. While I was unhooking it, the wind blew my top three in the pond but as I had the line in my hand I managed to retrieve it, I hate the wind! I then had a run of five or six missed bites before landing another decent skimmer which was hooked up the bum so I think perhaps they'd come up in the water! I didn't manage anymore and my final tally was ten skimmers which I thought might go 7-8lb.
I packed up and could see the scales were already starting to weigh in and it really is a professionally run fishery. There were some decent carp weights around 70lb and Mark Hanham was leading the silvers with 6lb 5oz when the scales reached Kevin, he had a total weight of 44lb 7oz and had caught a few carp from the margins towards the end of the match. My silvers went 9lb 7oz which I didn't think would do any good today unless Eric framed and then it was only an outside chance. I didn't follow the scales round as I took my gear back to the car. As I was loading the car, Eric turned up and said he'd had 19lb 3oz of silvers but was currently in third place with a total weight of 89lb 9oz, could I still sneak into the money?
Misha arrived with the results and I was staggered when I saw Kedgy had weighed 28lb 2oz of silvers and apparently he had a load of roach, I told you he was good! A guy called Stu had won on the day with a great weight of 104lb 8oz followed by Mark B who had 90lb 4oz just pipping Eric who finished third. This meant Kedgy won the silvers and I sneaked into second (by default) and collected my first envelope for ages which contained £40 which was a nice surprise. I will definitely be back, the weather didn't do us any favours today and some of the skimmers were rough to the touch so I think they will be spawning soon. It's a well run fishery and Misha and Tom were really nice and friendly too, well worth a visit, have a look at their website here Trinity Waters
1 – Stu (Trinity Waters) – 104lb 8oz
2 – Mark B (Trinity Waters) – 90lb 4oz
3 – Eric Fouracres (Trinity Waters) – 89lb 9oz
Silvers
1 – Steve Kedge (Somerset Angling) – 28lb 2oz
2 – Jamie Rich (Against Men and Fish/Burt Baits) – 9lb 7oz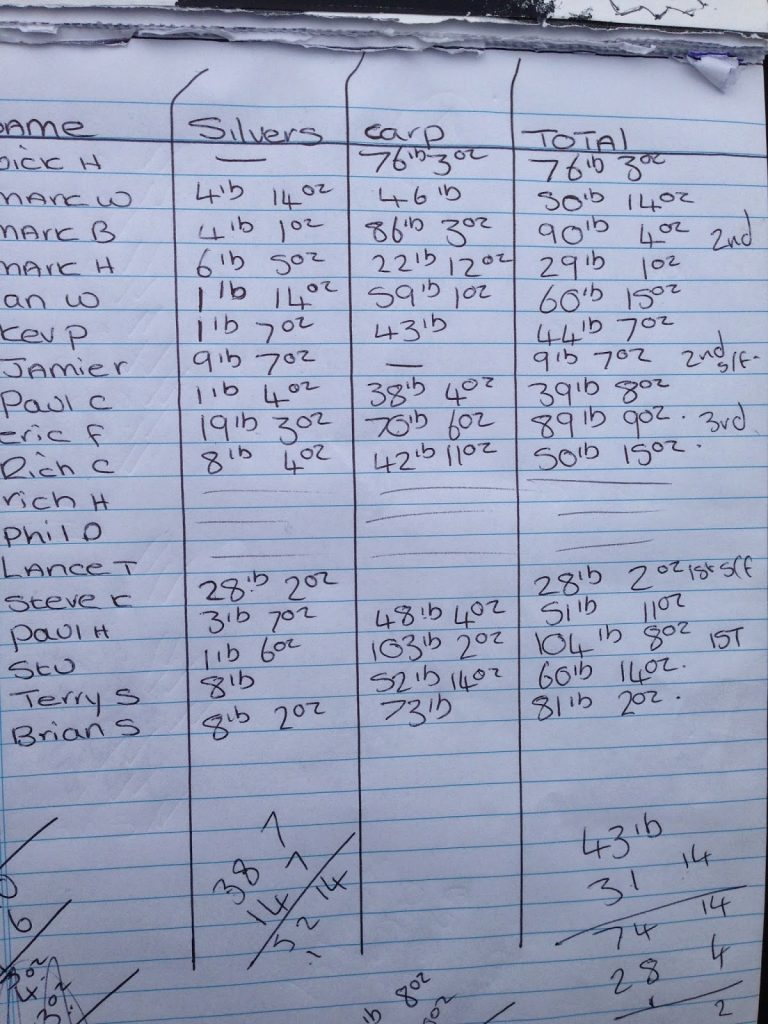 Today's board
I've been a bit rubbish in that I didn't get peoples full names or sponsors, so apologies for that and I will do better next time I promise.
Next up – Dillington
What's new – Lots of page updates
Check Out – My last match (below)
Blog of the week – Ken had a busy Bank Holiday and got off to the perfect start on Saturday – Ken's Blog