After a great days fishing in the first match I was hoping for more of the same today, on arriving at the Oak for the draw it was nice to see Bruce Hunt, Leighton Cox and Tony Newman were fishing today along with the regulars, Moses and Justin were missing today so we're not far off a decent sized match. Rob had left out pegs 16 and 24 which meant 15 and 23 were the favoured pegs. I managed to pull out peg 15 and was well happy with that, I had Fieldy next door in peg 14 and also in my section were Rob in 19 and Bruce in 23.
My peg looked nice with a willow tree on my left but with the level down due to the farmer pumping, I feared it might be a bit shallow. I mixed up some Bait Tech Pro Natural and then set up two Drennan 0.5 gram Roach floats, both had 0.12mm bottoms (as there was a good chance of some lumps today) and size 18 B611's. I plumbed up and had to go to 11.5 metres to find a decent depth and with a fence just behind me, I knew it was going to be a pain shipping in and out. Everybody was struggling to get ready for the all in so Rob gave us an extra five minutes and I was just about ready when the whistle went.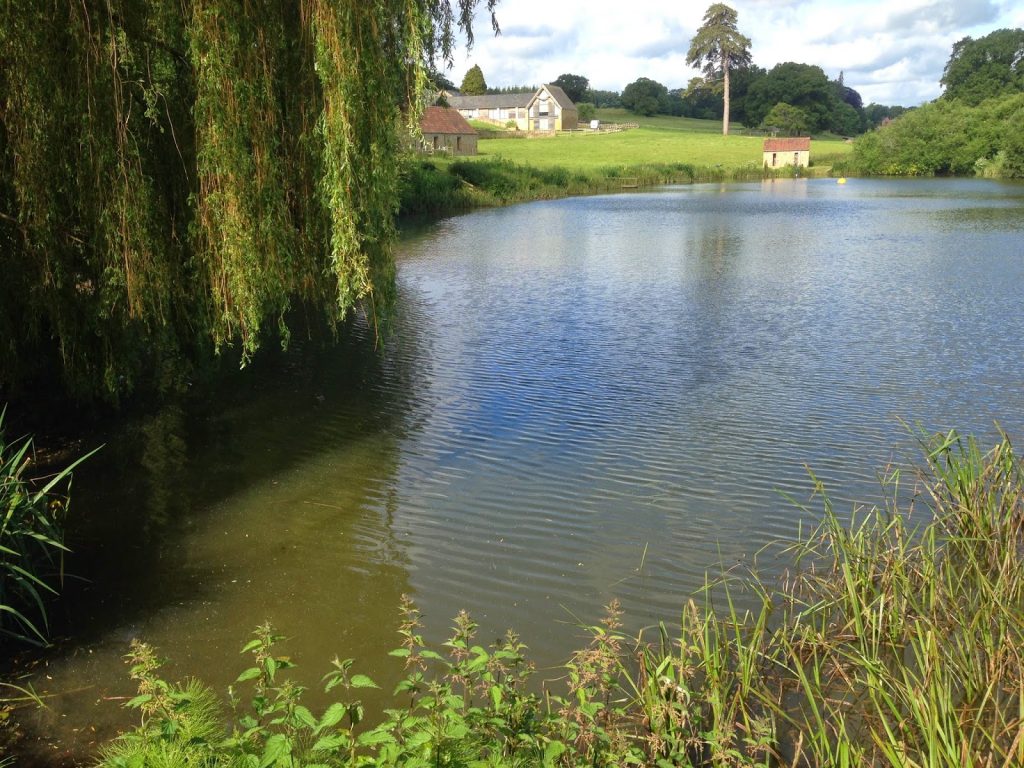 Peg 15
I cupped in two balls of groundbait straight out at 11.5 metres and baited up with a single caster and shipped out, bites were instant and I was soon catching 1-2oz roach and rudd, Fieldy was catching two fish to my one by fishing three sections to hand but was getting a lot of small fish. After an hour I had 32 fish which I thought had to give me 3-4lb, Fieldy had double the number of fish but I didn't think there was a lot in it weight wise. The second hour was very similar for me but I wasn't getting very many net fish which was a tad worrying and I reckon I only added another 2lb or so. I couldn't really see how the others were getting on, Stu Alford in peg 4 looked to be netting the odd fish but nobody else seemed to be doing as well as Graham or me.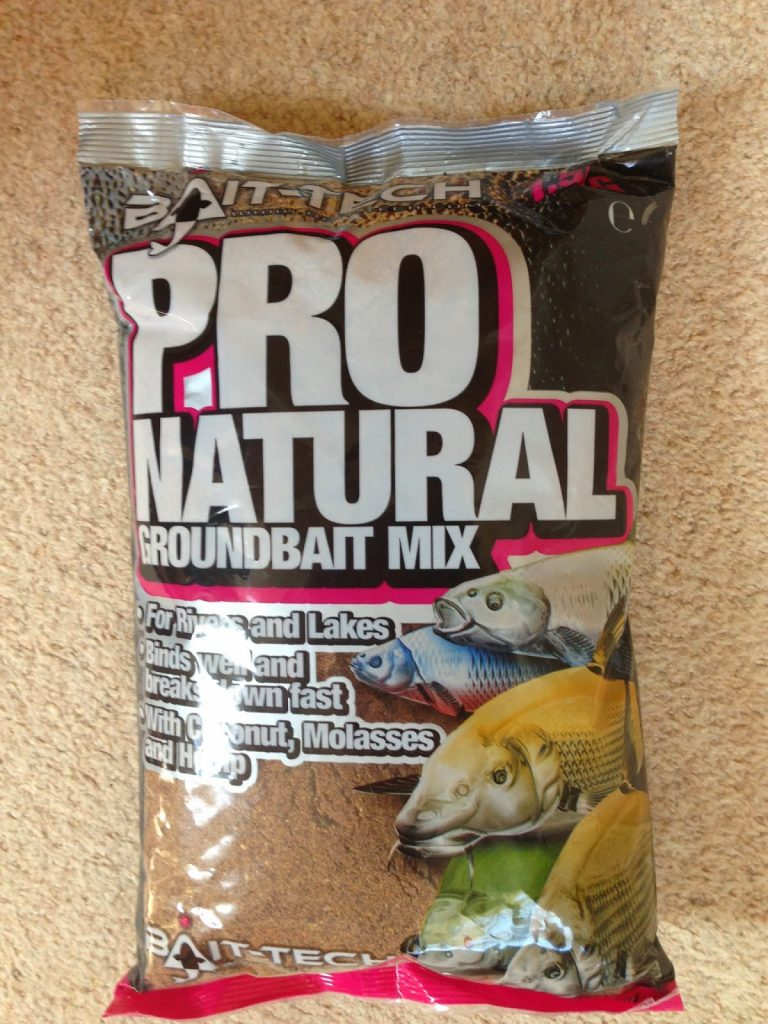 Pro Natural, perfect for silver fish venues
During the third hour the size of my fish didn't really increase and I felt I needed to do something as Fieldy was pulling away from me and I needed some better fish and I hoped the quality roach would show in the last couple of hours. In the meantime I started feeding hemp and caster under the willow and trying it every now and again. I started getting odd rudd and roach from here but my catch rate wasn't really improving and after three hours I was on about 84 fish whereas Fieldy was closing in on 200 fish! At the start of the fourth hour I had a burst of quality roach with a couple a cracking fish around the 12oz mark and even added a little tench of 6oz or so. The trouble was I was catching in fits and starts but Graham was like a windmill catching a fish every chuck and I couldn't see anyone catching him today despite his protests that he was catching a lot of tiny fish.
I was hoping for a good last couple of hours but if anything my swim was fading and by the looks of it Graham had slowed up as well. I was swapping between my two swims and still getting odd fish and felt if I could get to 160 fish this would give me between fifteen and twenty pounds if the fish averaged 2oz apiece. Bruce in 23 latched into a big fish and when he netted the fish it looked like a good bream but I didn't think he had much to go with it. I was hoping for a quality roach fest in the last hour but it didn't really happen and I finished short of my target with 135 fish. Five minutes before the end, Bruce hooked another lump but this one came off. Fieldy had given me a right battering with over 320 fish and I said he must have 20lb if his fish averaged 1oz each, he was still protesting he had lots of tiny fish but I'd seen him net some good fish with rudd and roach to 12oz!
I packed up and took some of my kit back to the car and then Rob and me walked up to weigh Bruce in, he said he'd only had 47 fish but had caught two bream and lost one! When he pulled his net out I knew he'd beaten me but still thought Fieldy would win, the needle settled on 18lb 10oz and we weighed the bream which went 11lb between them. Rob had a nice net of fish weighing 8lb 3oz and had caught quite a few of those lovely little tench. I was next up and not too far off with my guess for once when my weight was called at 14lb 4oz. Fieldy said he didn't have that but I wasn't believing a word of it, he pulled his net out and although there was a lot of splashing he did have lots of tiny fish, he weighed 16lb 5oz to push me down into third place and there was still the other section to come back!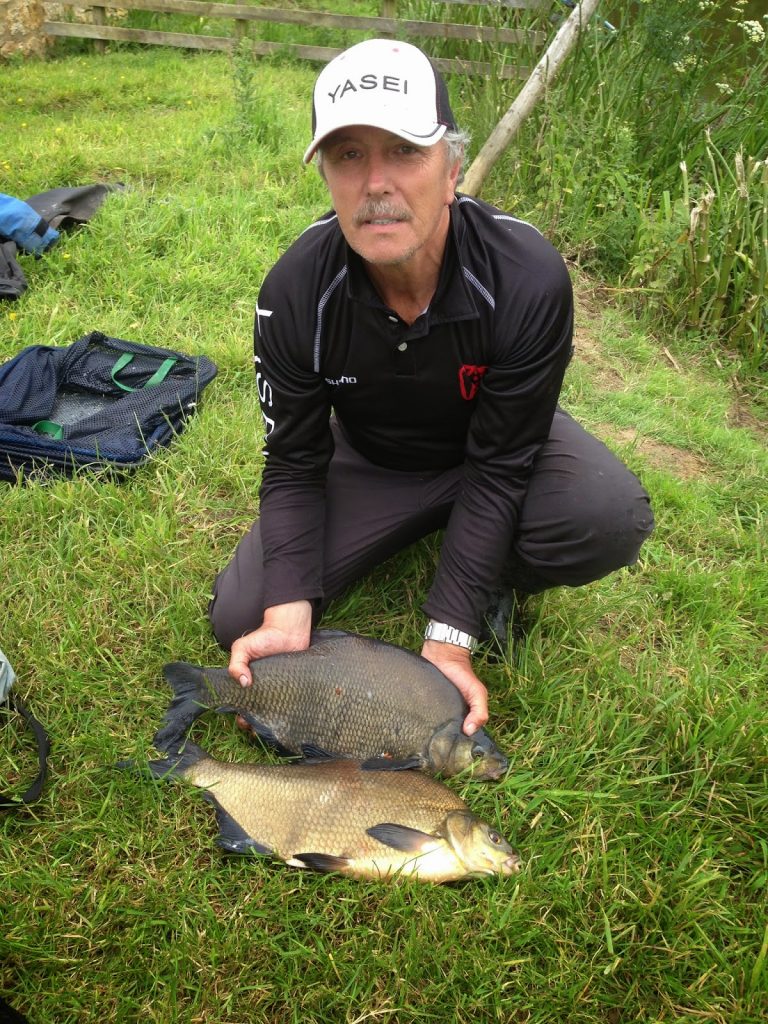 Bruce with his two slabs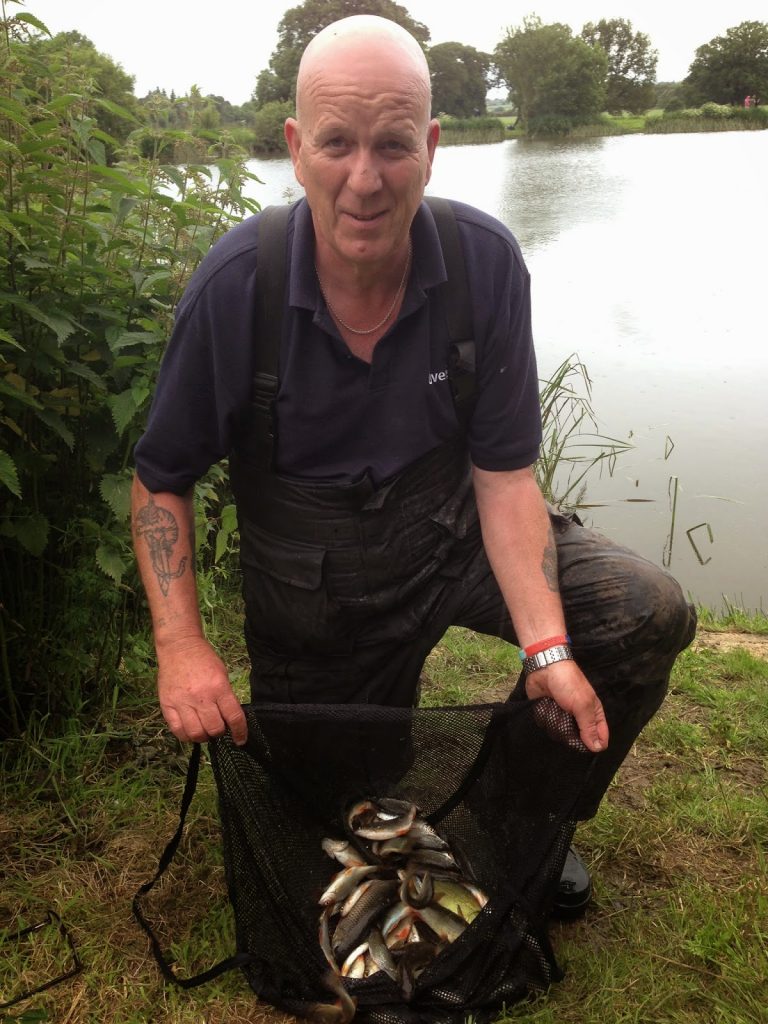 Rob had 8lb 3oz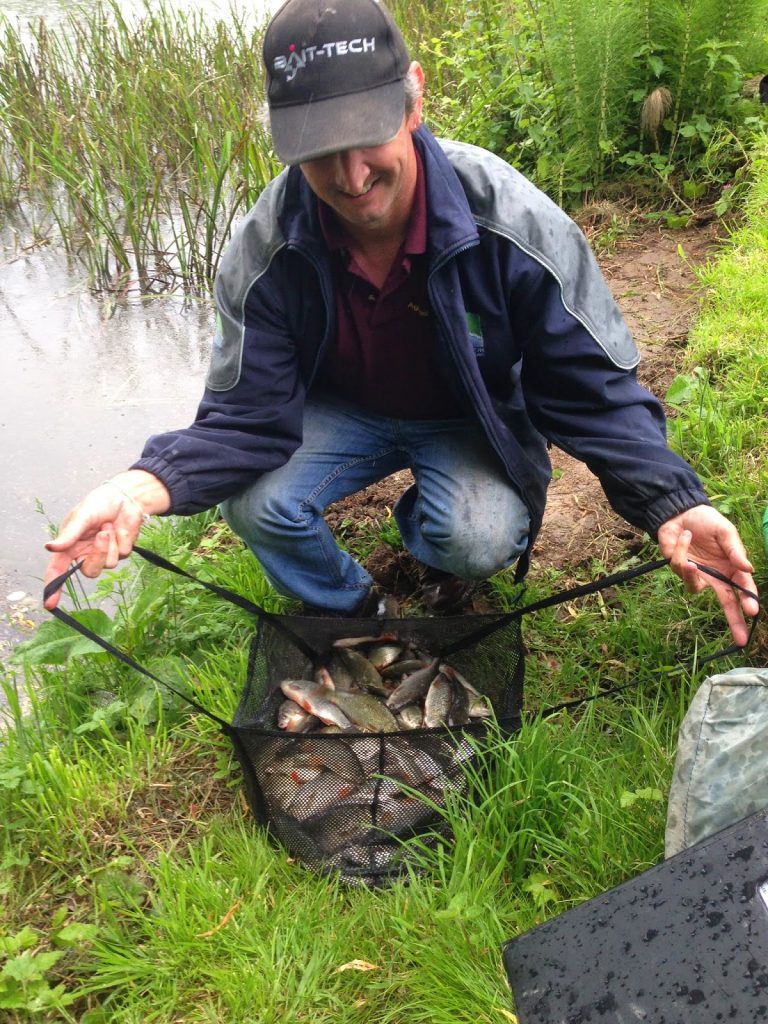 I had some quality roach and rudd in my 14lb 4oz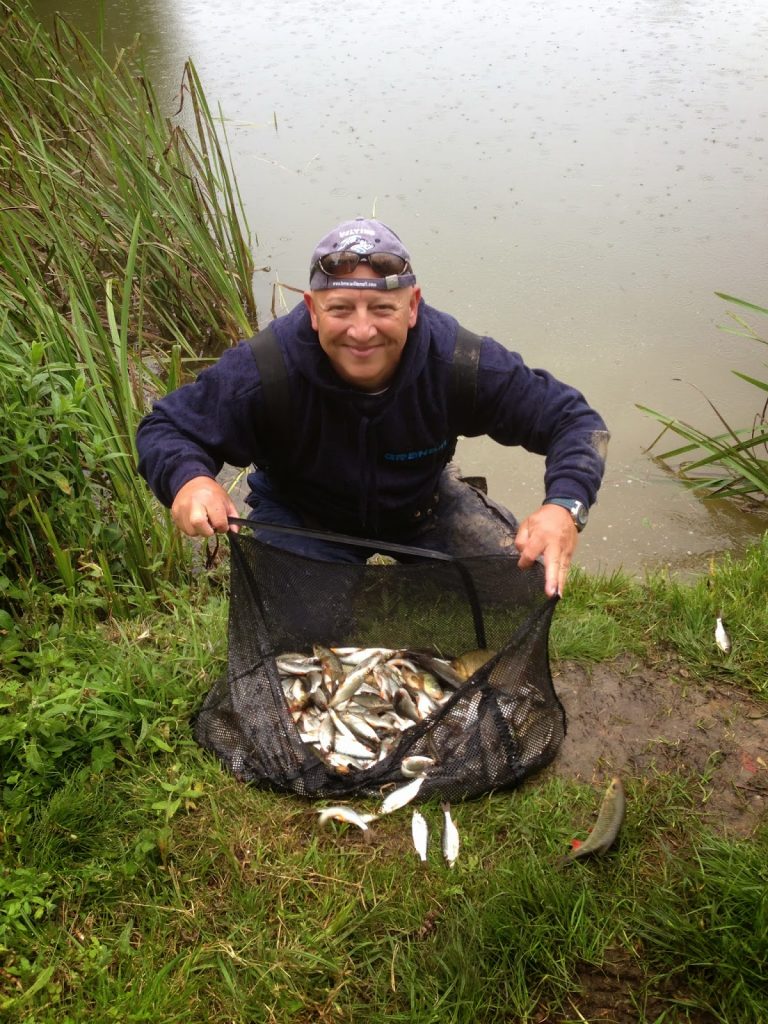 Fieldy had 327 fish for his 16lb 5oz!
As the others came back, Leighton was the top weight in that section with 9lb 6oz so I'd managed to hang onto third place and picked up £20 plus a nugget off Steve P. So another enjoyable day with some great weights recorded and I like the fact that the whip isn't dominating and I wasn't too far off today, I just needed a bonus fish or those big roach to show in that last hour!
1 – Bruce Hunt (Tiverton) – 18lb 10oz
2 – Graham Field (Taunton) – 16lb 5oz
3 – Jamie Rich (Against Men and Fish/Burt Baits) – 14lb 4oz
After three matches Graham leads with a perfect two point score followed by Stu Alford on three and me on four although that won't last as I'll miss a couple more matches.
I'm going to pop out the pond next Saturday to watch the juniors and will post the results and some photos on here when I get back.
Next up – Perry St
What's new – Lots of page updates
Check Out – My last match at Perry St (below)