I missed two matches while I was away in Thailand and I believe Mike Thomas stood in for me while I was away so huge thanks for that Mike T! Before Les did the draw for this weeks peg sequence he announced Janders and Dino had won the pairs knockout last match, well done chaps! The envelope for today was opened and it put me in peg 10, the best peg on the pond! Picky was opposite in peg 11 which is another good peg and Janders was in peg 12 so I'd be able to keep an eye on my side bets. The lovely Steve Chant was standing in for someone today and he was in peg 1 (another corner) and wanted a pound as well.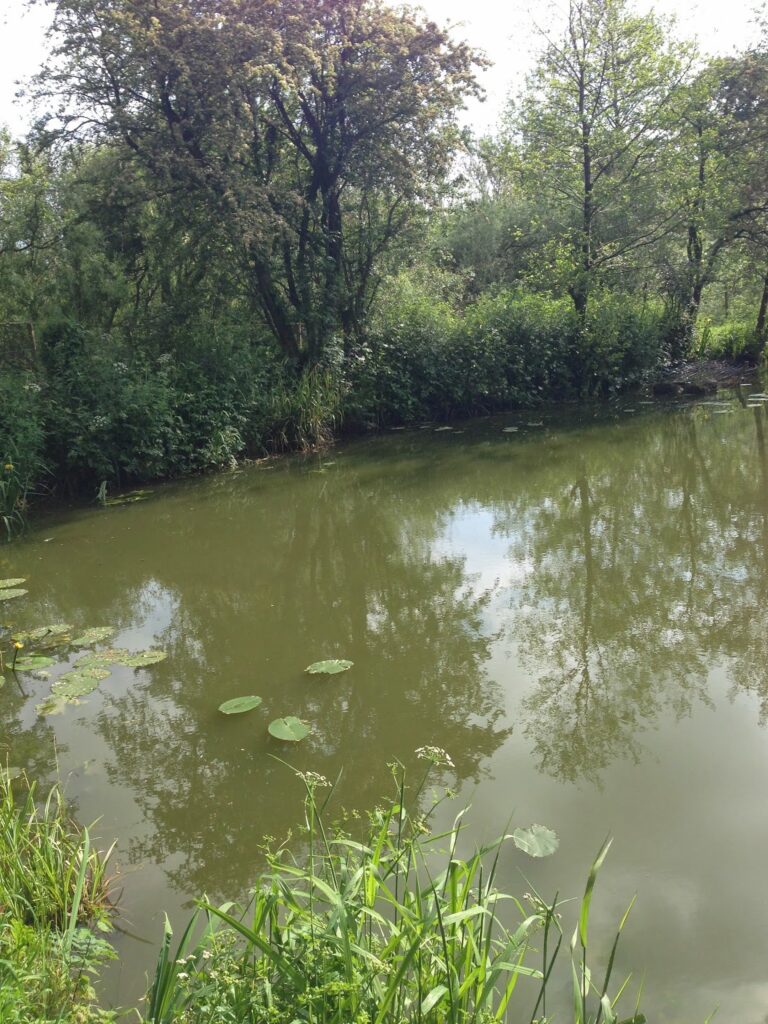 Peg 10 (before the fluff arrived!)
On reaching my peg quite a few fish could be seen moving and I was relieved that the lilies hadn't grown up too much yet. The last time I did well off this peg I caught fishing shallow in open water and wanted to try and do the same today although I would feed a line in the corner. Bait was simple today, 6mm pellets and 6mm meat with some 8mm pellets for a change of hookbait! I set up two dibbers for up in the water and a little Trabucco dibber for fishing in the corner, all rigs had 0.14mm bottoms and size 16 Kamasan B911's.
Les tooted for the start and I cupped in some meat and pellets in the corner at 13 metres before starting out in open water with the shallow rig at 11.5 metres. Dino in peg 13 got off to a flying start with a carp straight away and followed it up with another not long after! I was pinging out pellets and had my first carp after 20 mins, next chuck I've lost one which did me in the lilies but at least it felt like there were a few fish to be had shallow. Dino had caught another couple of carp and was flying with nobody else at our end catching much at all.
The early action for me proved to be a false dawn and I was soon trying in the corner, I was getting indications and hooked two carp only to suffer hook pulls on both! I was still feeding the shallow line and hooked another carp only for the hook to pull out on that one as well, this wasn't going well with the score 4-1 to the carp after the first hour! Picky had yet to catch and Janders was struggling so it looked like it was going to be hard. After a hectic start, Dino had slowed up now as well.
I managed two carp from the corner, one on banded pellet and one on meat to put me on three. I was still firing pellets on the shallow line and kept trying it as carp could be seen cruising about but it was a struggle. I was also feeding pellets by catapult into the corner. By now two hours had gone and not a lot was happening and it felt like I was messing up another good peg. During hour three I had another carp from the corner and lost my fifth carp due to yet another hook pull! Picky still hadn't caught, Janders only had a couple of fish and Exeter Mike in peg 9 had a couple of carp and a decent skimmer, Dino was still doing really well compared to the rest of us.
I kept trying shallow but it just wasn't happening so back into the corner and I've had my fifth carp on pellet, next chuck I've hooked another and it was pretty much under control when it made a surging run up the inside and I kept thinking I should add another section but didn't and of course it snapped me! I seem to do this every bloody match and it was a decent fish of 4-5lb and I just knew it would cost me at the end of the match. I tied another hook on and landed my sixth carp before a load of that poxy white fluff and other detritus blew right into the corner and I just couldn't fish it anymore.
I had no choice but to try and catch shallow out in front of me but I wasn't holding out much hope and with Picky now catching odd fish, it felt like the match was slipping away from me. I was firing out 6mm pellets and lifting and dropping the rig when the float sailed away and I had carp number seven. I then had four more in quick succession to put some daylight between me and Picky and there probably now wasn't much between me and Dino. The trouble was the white fluff was on the move again and was being a right pain, I did notice a gap open up in the corner where I had still been feeding pellets so with ten minutes left I swapped rigs and went back in the corner.
I missed a bite which resulted in the rig getting snagged, thankfully I got it back, I bumped a fish and time was fast running out, Dino hooked into another fish and with only seconds left, my float sailed away and the strike resulted in lots of green elastic streaming out of the pole tip. Les blew for the all out and both me and Dino successfully netted our carp a few minutes later. I ended up with 12 carp (and had lost six!) and Dino had 10 although it looked like he had some bigger fish. From the bankside grapevine it had sounded like it had fished hard but I didn't realise how hard until I started taking my kit back to the car. The most carp anybody had caught on our side was Bish with seven in peg 5 and Chanter in peg 1 had really struggled for just one carp and he paid me a pound.
The scales soon arrived to start the weigh in and the early leader was Bish with 29lb 14oz, Bushy had 19lb 3oz from peg 6 and Les had a cracking bream of 5lb 4oz which was looking like it might be enough to win the silvers! Exeter Mike had 16lb 15oz before it was my turn, my carp went 40lb 5oz and I just knew it wouldn't be enough to win. Picky had 18lb so I'd actually beaten him for once and the score is now 3-1 to him, things got even better when Janders had 7lb 2oz and I was another nugget better off.
Dino weighed 43lb 13oz to go into the lead and I knew that lost fish would cost me although to be fair, Dino lost fish as well. The rest of the weigh in didn't take long with some low weights and the peg numbers 15-19 have been pretty grim so far. So Dino won and I was second and picked up £80 which was nice, Bish was third, Bushy was fourth and Picky sneaked into last in the money. Les picked up the silvers pool thanks to his late bream.
So my first pick up of the series but I've now had my two corner pegs and I have no clue as to how to approach some of these middle pegs!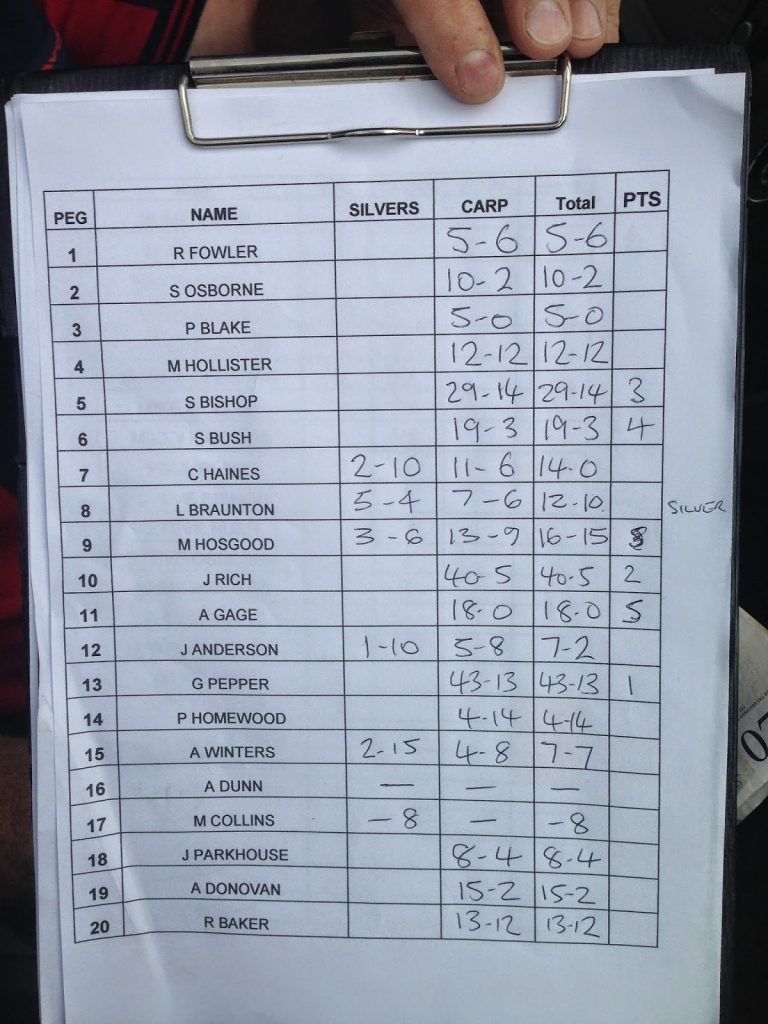 Today's weighboard
1 – Graham Pepper (Chard) – 43lb 13oz
2 – Jamie Rich (Against Men and Fish/Burt Baits) – 40lb 5oz
3 – Steve Bishop (Chard) – 29lb 14oz
4 – Steve Bush (Chard) – 19lb 3oz
5 – Alan Gage (Chard) – 18lb
Silvers
1 – Les Braunton (Chard) – 5lb 4oz
I'm at Dillington next Sunday so come back then to see how I get on.
Next up – Dillington
What's new – Lots of page updates
Check Out – My trip to Thailand (below)
Blog of the week – Tony had a good day today – Tony's Blog