After another amazing trip to Gillhams last November, I booked up to go again in May and I was really looking forward to seeing everyone, especially Mr Mayo who is now working as a guide at the resort. Time seemed to stand still but eventually the days counted down and it was time to head to Heathrow to begin the long trip to paradise. This trip I had booked seven days fishing leaving me another week to do some day trips and also to recover from nights out! It's always great to finally see the sign at the entrance to the resort and I had a nice cool beer while saying hello to Stuart and everybody before heading to my room for a kip.
The first night everybody went out to a local steak restaurant before we had a couple of beers and then a relatively early night. The next morning I was up bright and early (yeah right!) and missed a run on fish down the edge before catching a small Asian redtail catfish of about 2lb to get off the mark. I had quite a few runs throughout the day and lost three big fish, one due to a hook pull and the other two ran over the gravel bar which shredded the line.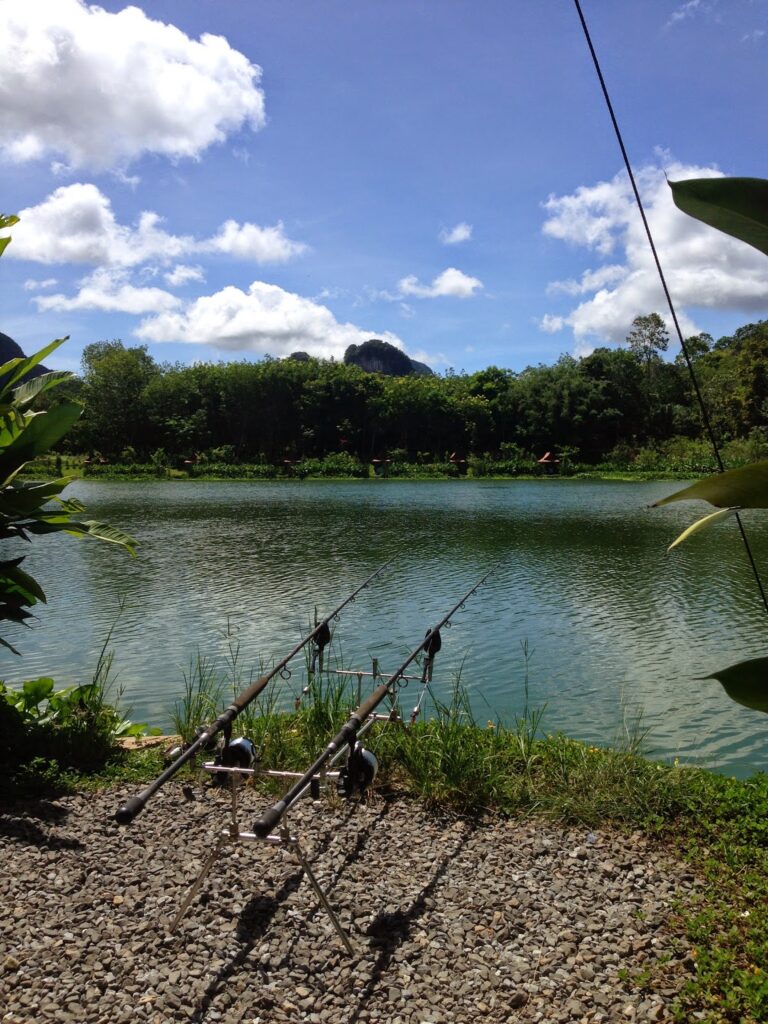 The first day
I fished again the next day and had a 10lb pacu which was a new pb for me and lost another decent fish before catching a lovely 30lb siamese carp. We visited the bars that night and the girls brought out a birthday cake for me (it was my birthday the Friday before I flew out) and I was really touched, what a lovely gesture. We stayed in a hotel in Ao Nang that night before going to the Hot Springs and Emerald Pool which were lovely and sorted our hangovers out. We went to a sea food place for dinner before having a beer and getting back to the resort absolutely exhausted.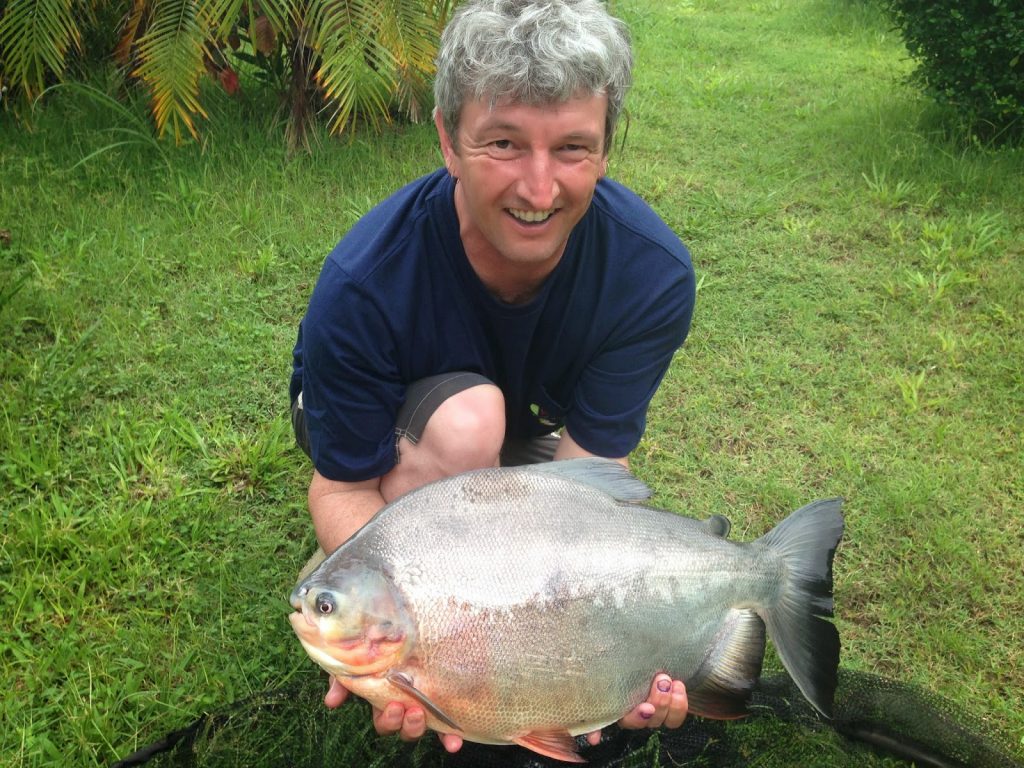 10lb pacu (new pb)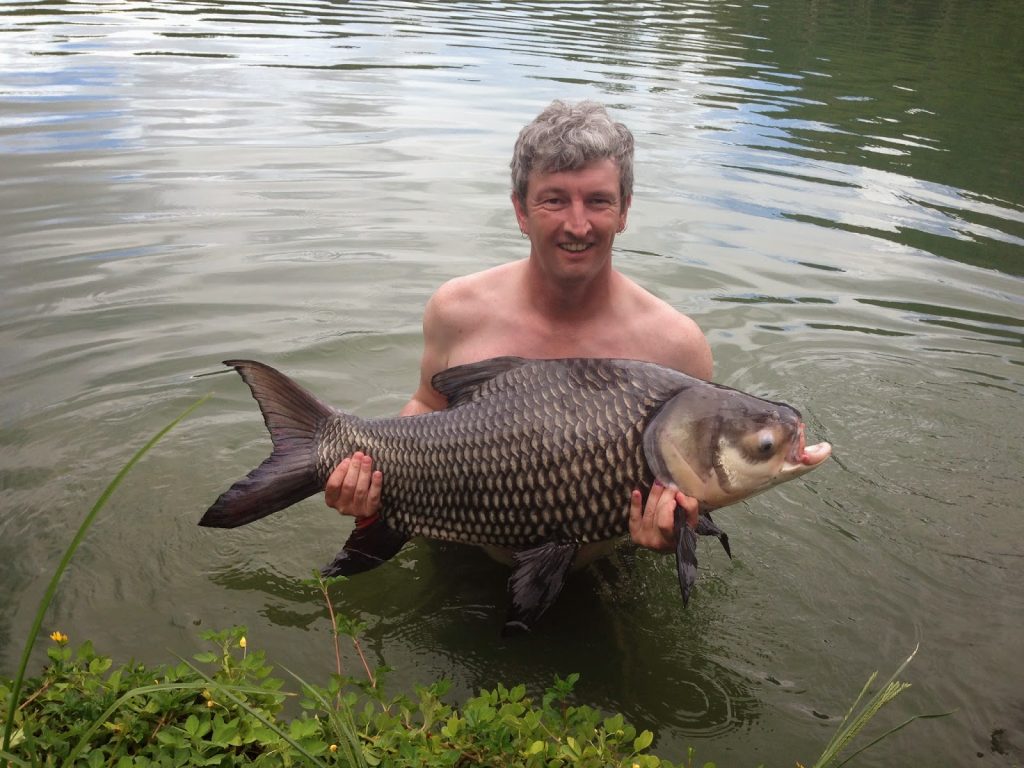 30lb Siamese carp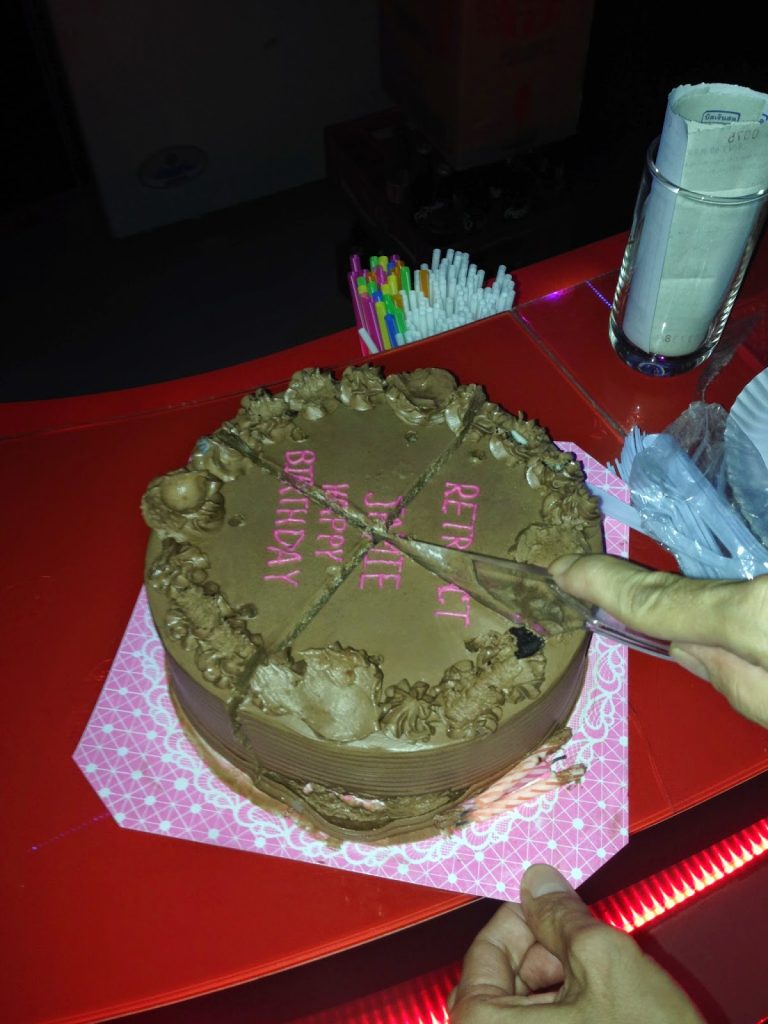 My birthday cake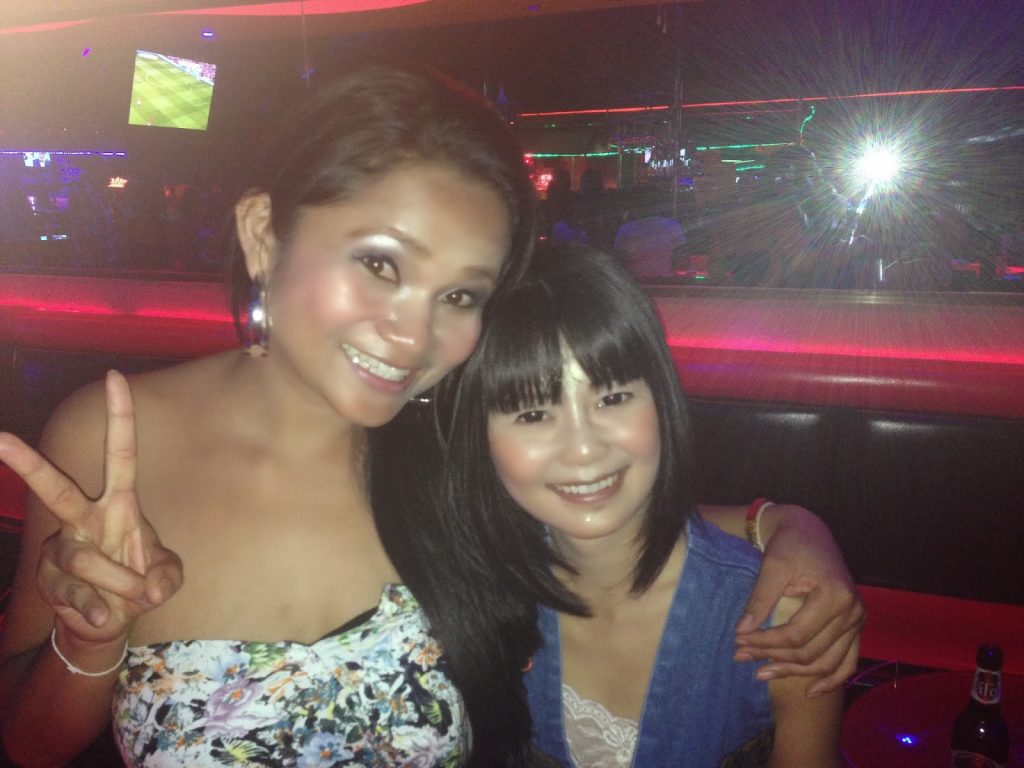 Bell and Bow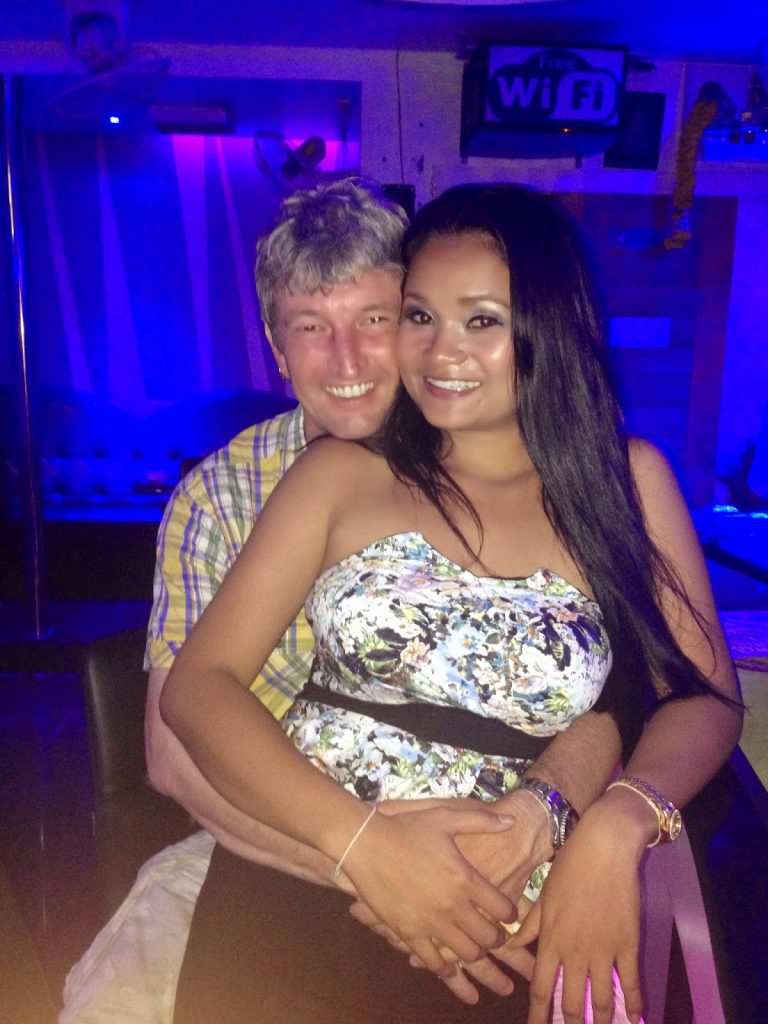 Bell and me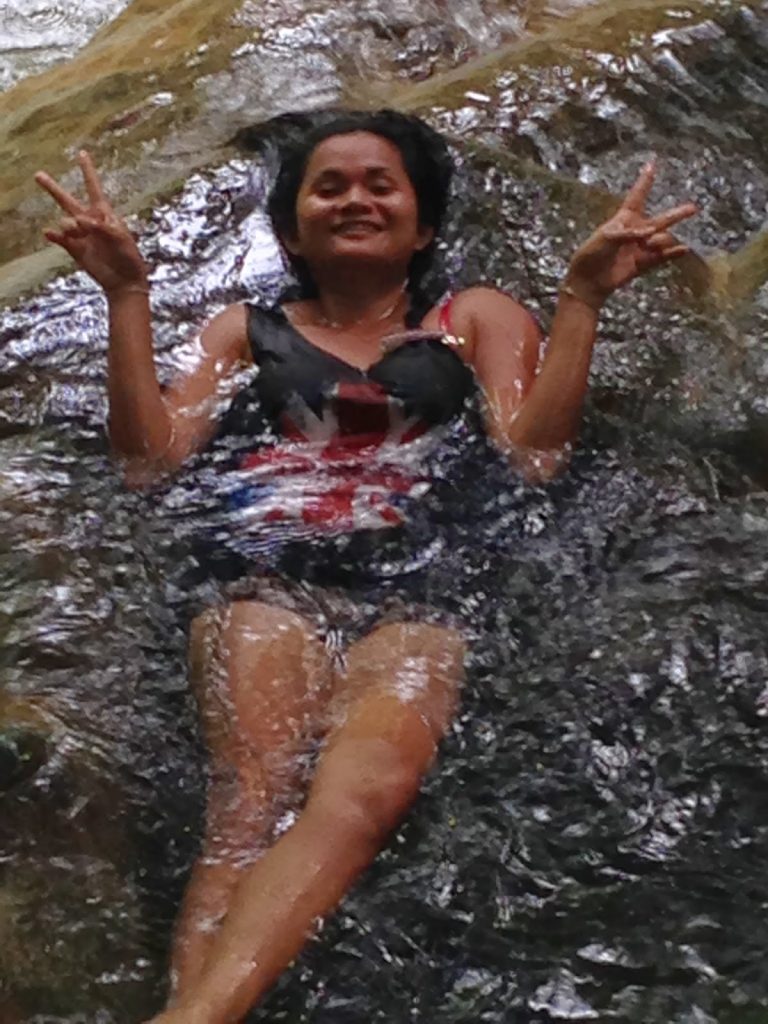 Bell at the Hot Springs
I fished the next day and got bitten off by a pacu before losing a good fish and didn't manage to add to my tally. The following day I moved swims and had a beautiful 45lb Amazon redtail catfish before latching into a fish that came in rather timidly before going berserk and I had to follow it about four swims up the lake to stay in touch with it before a very angry 260lb arapaima was finally caged by Joel and John, a stunning fish that equalled my personal best. I lost another 'arry before catching another redtail as it got dark, this one around 40lb.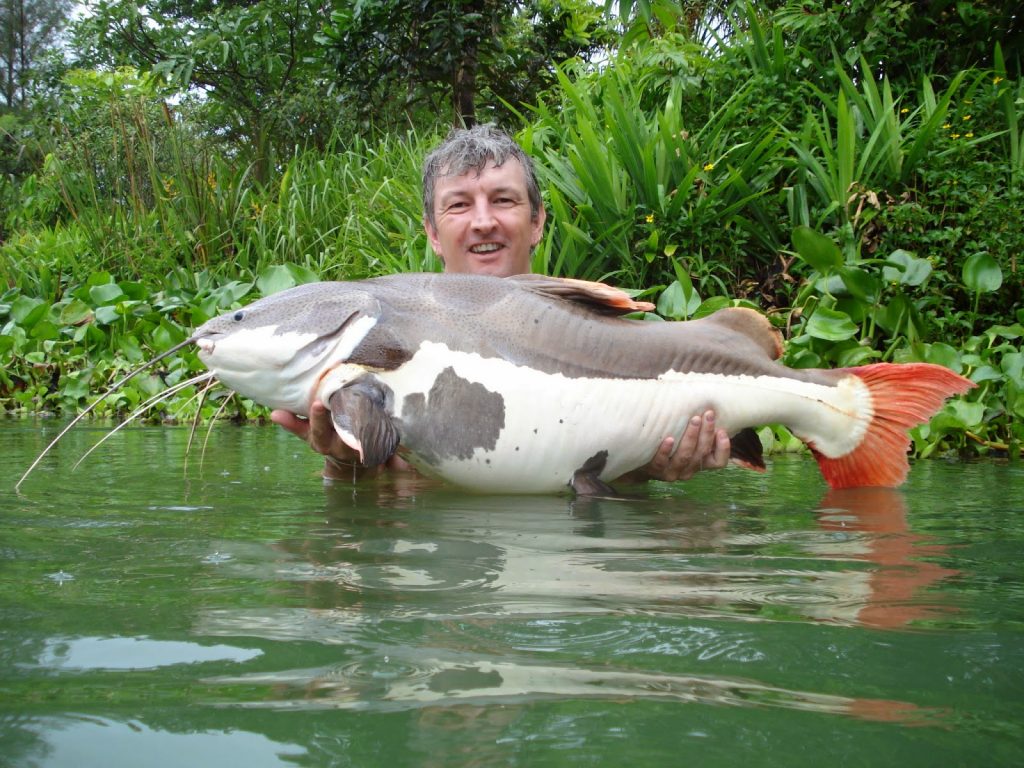 45lb Amazon Redtail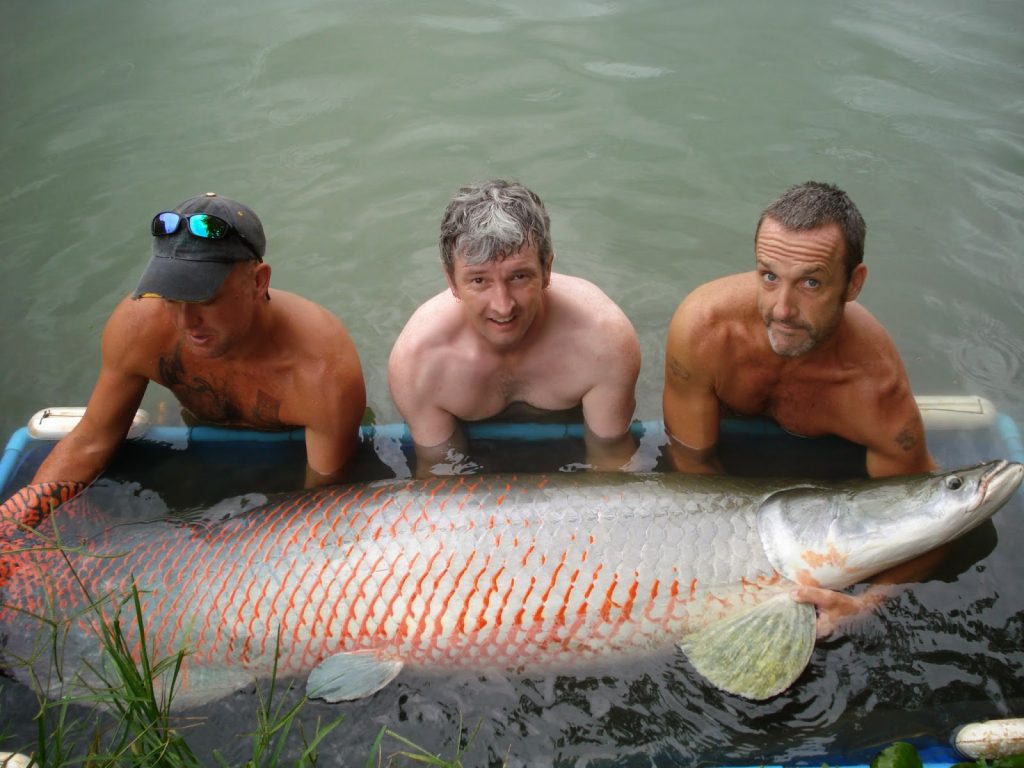 260lb arapaima
Another day off saw me pop into town for a lovely massage and a look around before heading back to the resort and then going to the crispy pork restaurant in the evening. No fishing the next day either and I enjoyed a lovely Thai barbecue before we hit the bars again and I was rather suffering the next day and didn't really give fishing my best shot and blanked!
Another quiet night out!
I was now doing a days fishing followed by a day off and the next activity saw us visit a snake show where the young Thai lad 'snake charmed' various pythons and three cobras at the same time before the grand finale where he kissed a King Cobra on the head! To prove it wasn't a harmless snake he milked some venom from it and apparently if you are bitten you have 45 mins to get anti venom or you're history! So obviously it was a great idea to get in the ring and have my photo taken with it! Another chap and I also had the pleasure of having a massive python wrap itself around our legs before it proceeded to constrict our legs and it really hurt! What a horrible way for it's prey to die.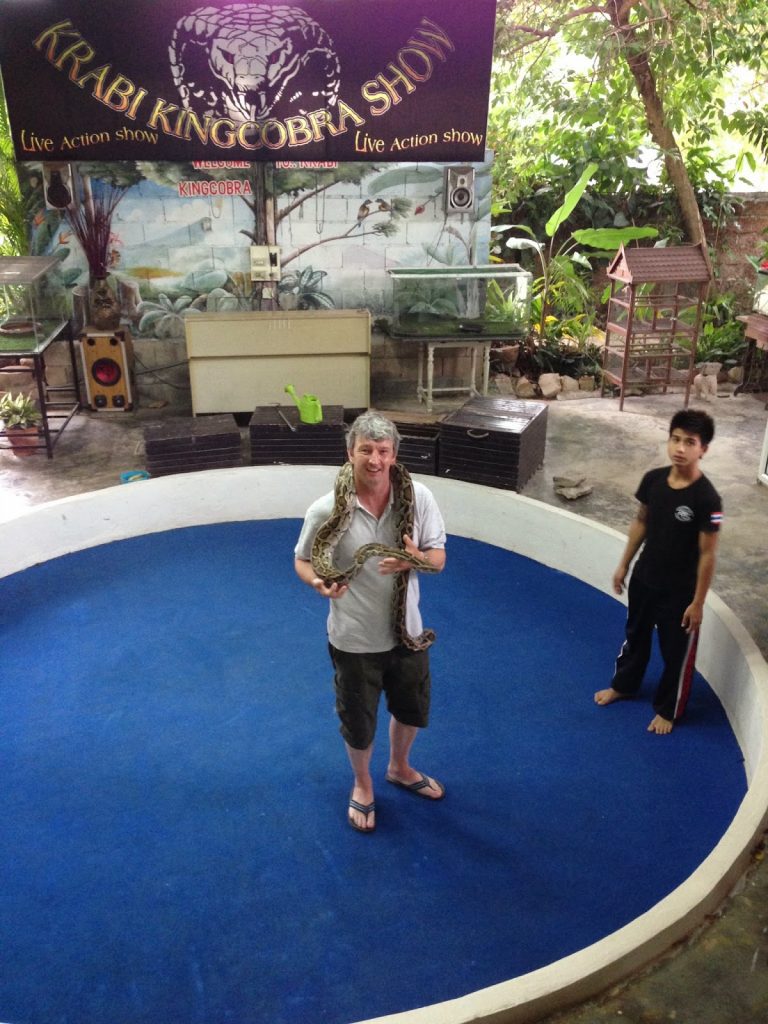 Me with a rather large python!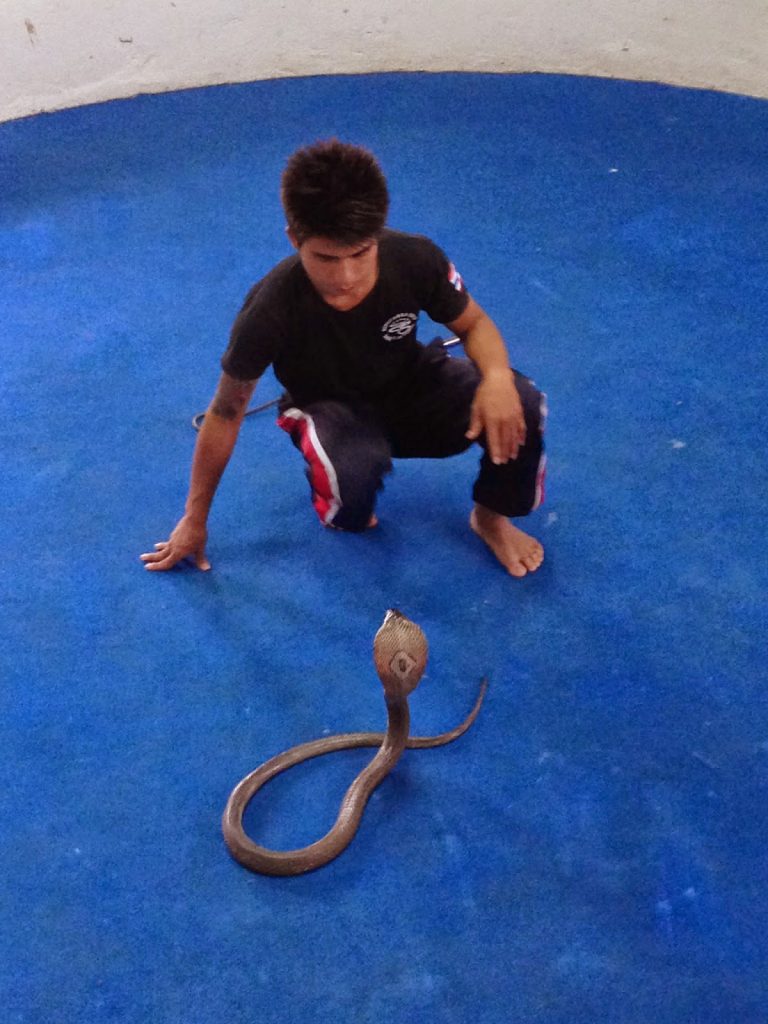 The Thai lad with a cobra, impressive eh?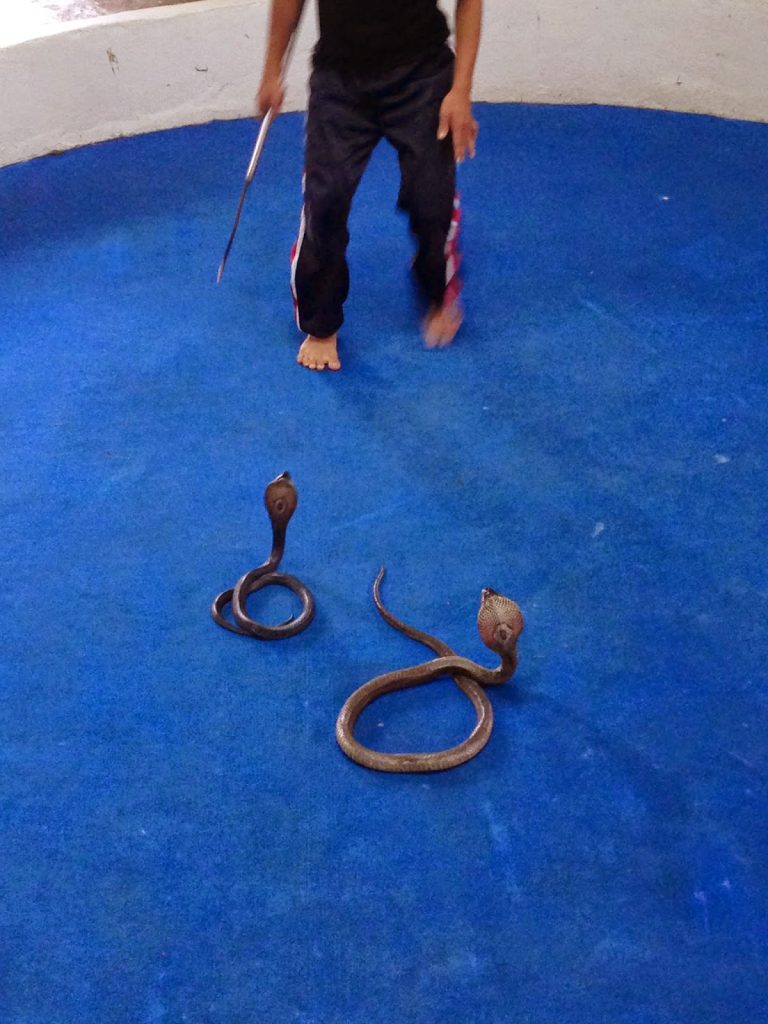 How about two?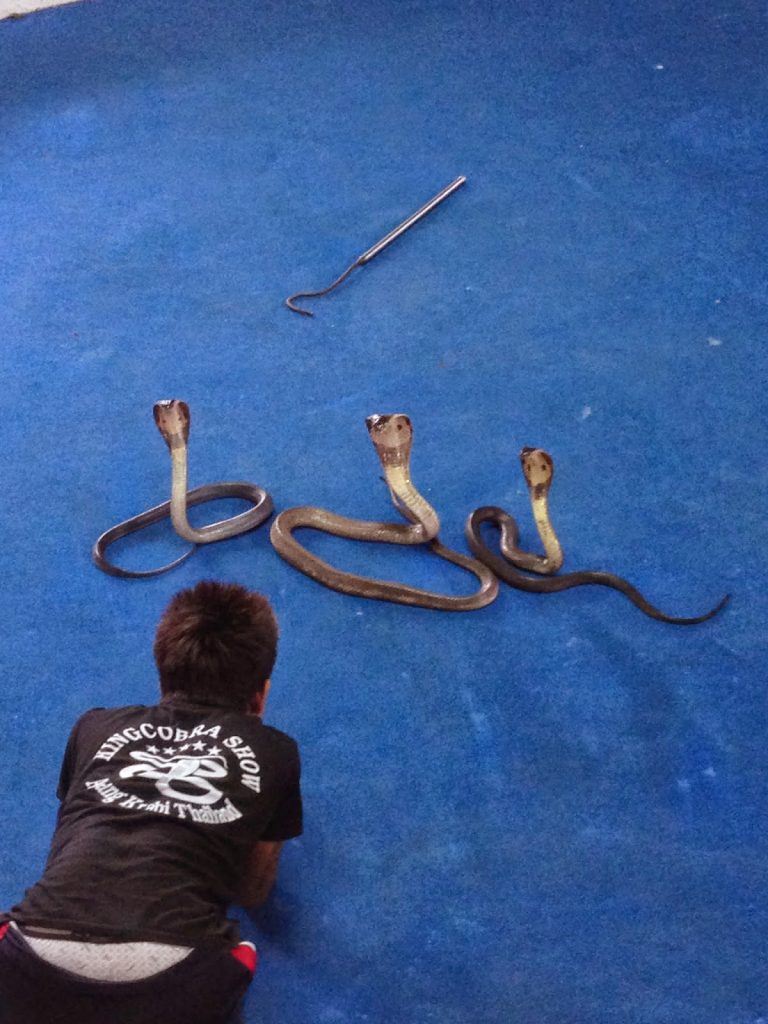 Or even three!!!!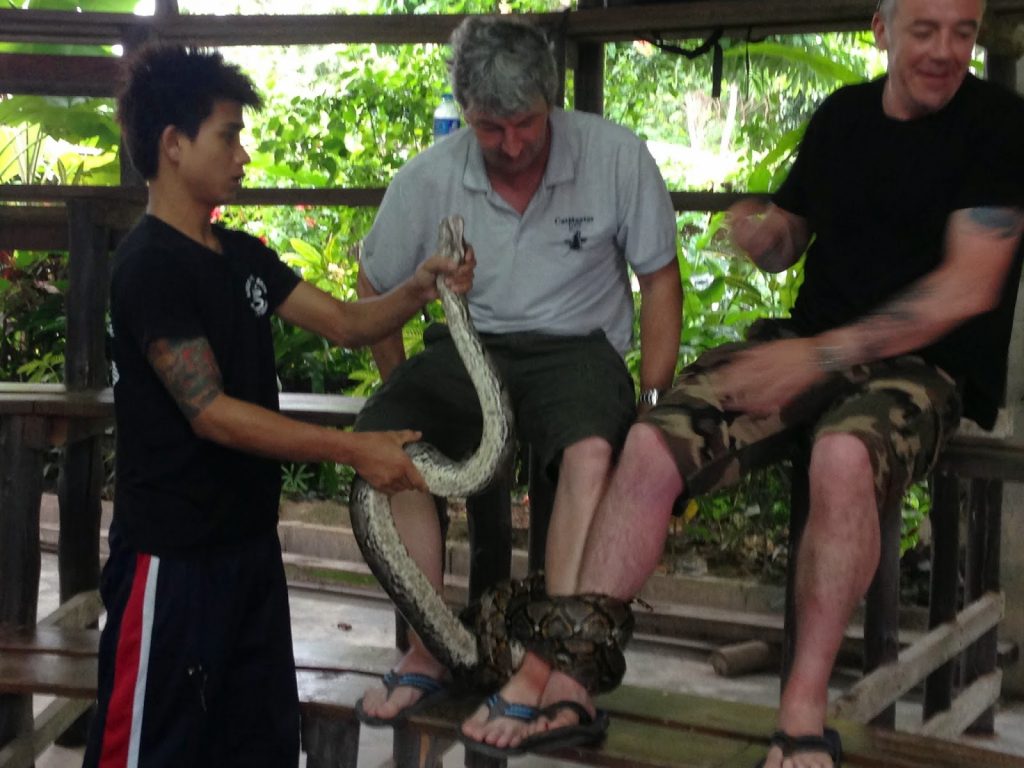 It hurt!!!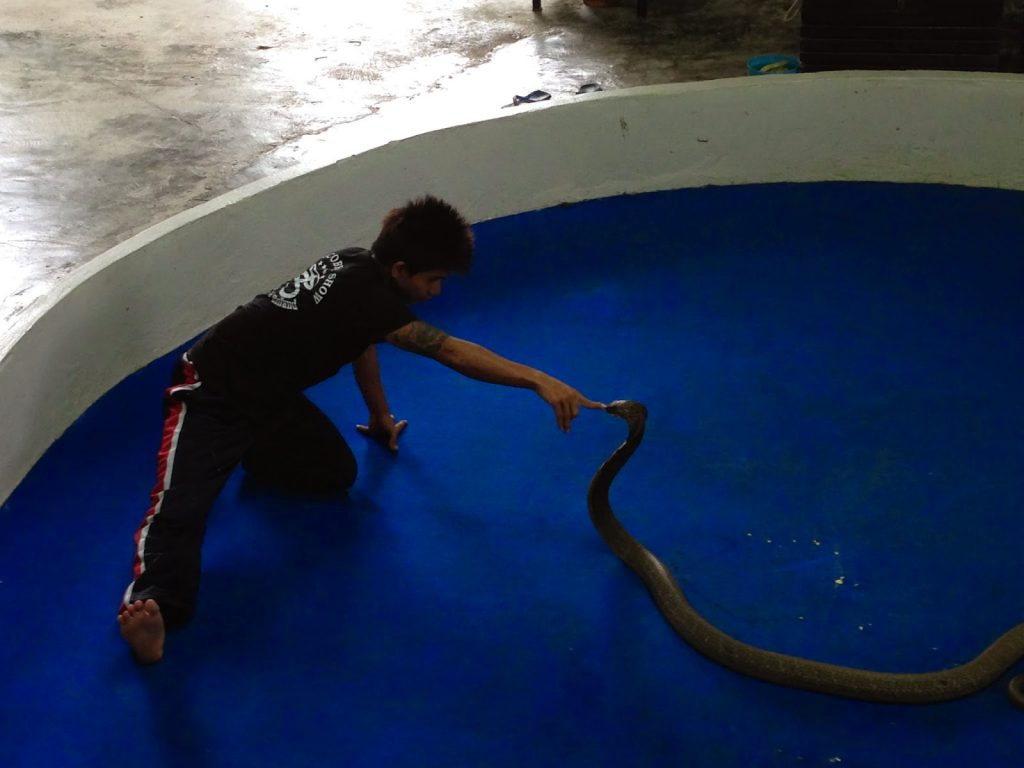 If this wasn't enough he later kissed the King Cobra!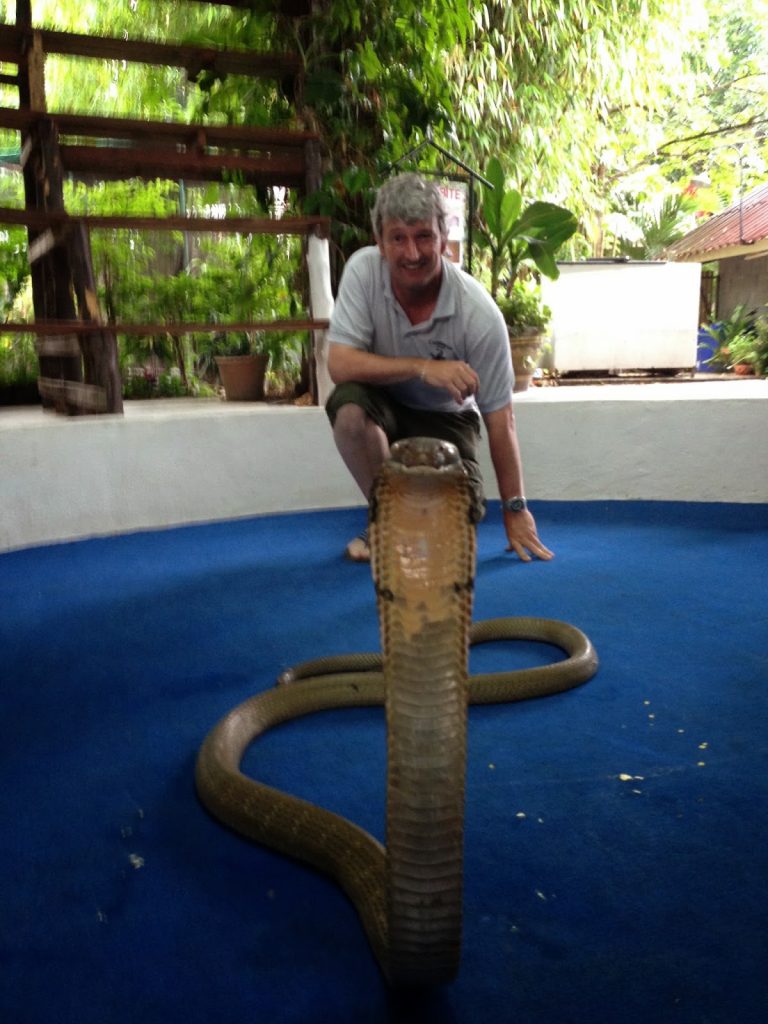 Do I look nervous?
Then it was off to a spa for another massage before we went to a little restaurant for our evening meal, almost forgot to mention that while all this fun was going on the Thai military staged a coup and there was nationwide curfew with the bars closed and a closing time of 10 'o' clock for restaurants etc. To be fair we weren't really affected in the South (apart from the bars closing for a few days) so if you are planning to go to Thailand don't let this affect your plans.
I was back fishing the next day with the only action during the day being another pacu bite off, as it started to get dark, I had a screaming run and landed a cracking siamese of 60lb on two fishery pellets. There was still an hours fishing left but I was happy to call it a day. In the five times I've visited Thailand I've never actually visited any of the islands so the next day myself and Bell took a Longtail boat to Chicken and Poda islands where we swam in crystal clear waters and fed exotic fish with bananas, what a lovely day.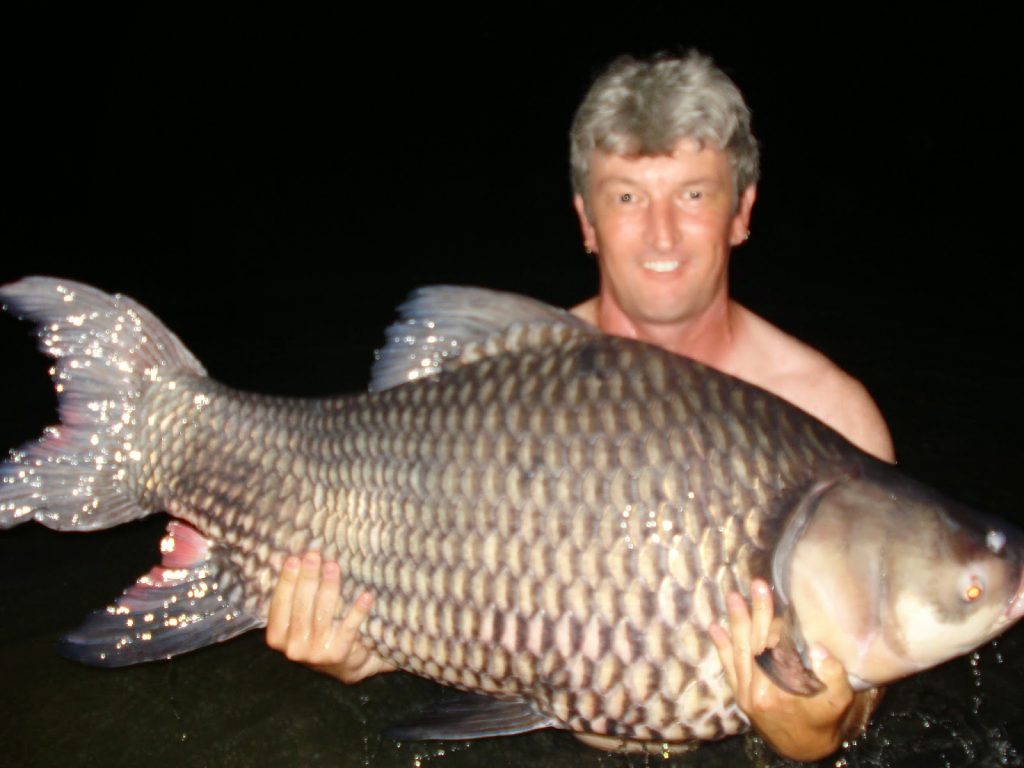 60lb Siamese carp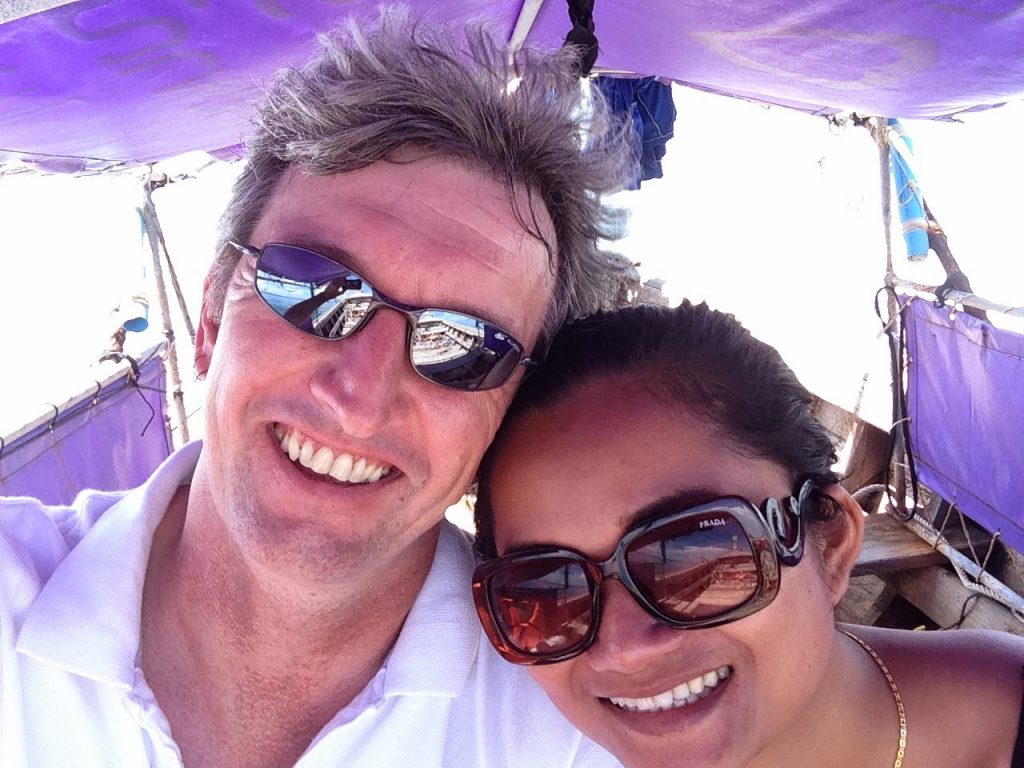 Longtail boat ride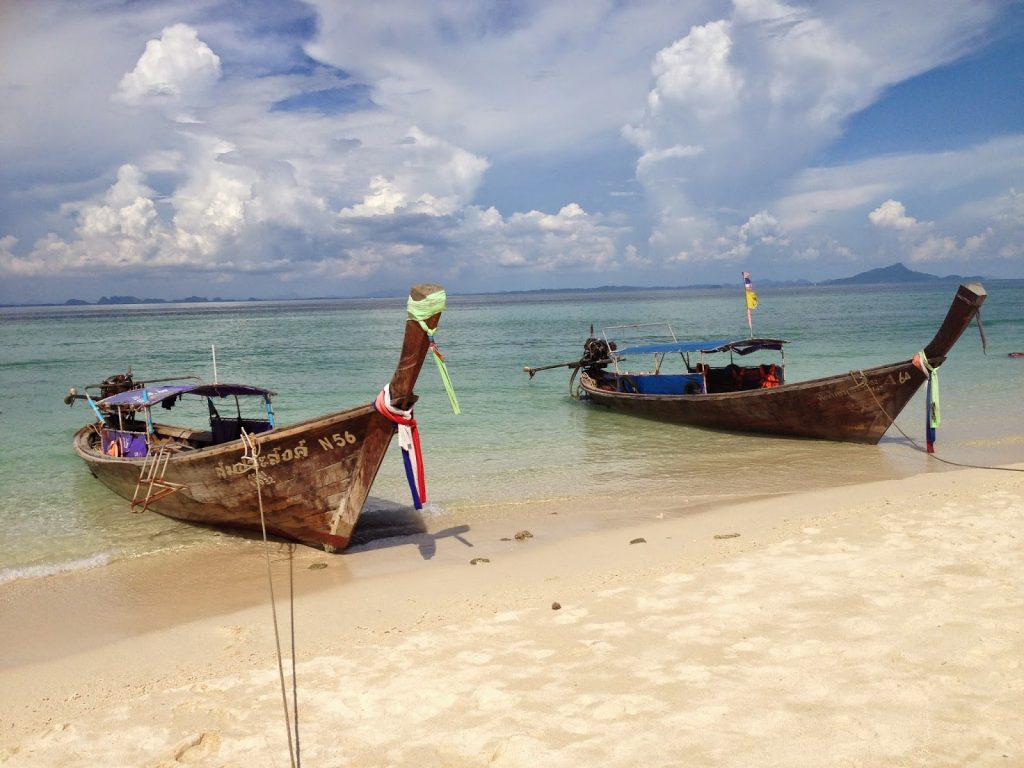 Poda beach – beautiful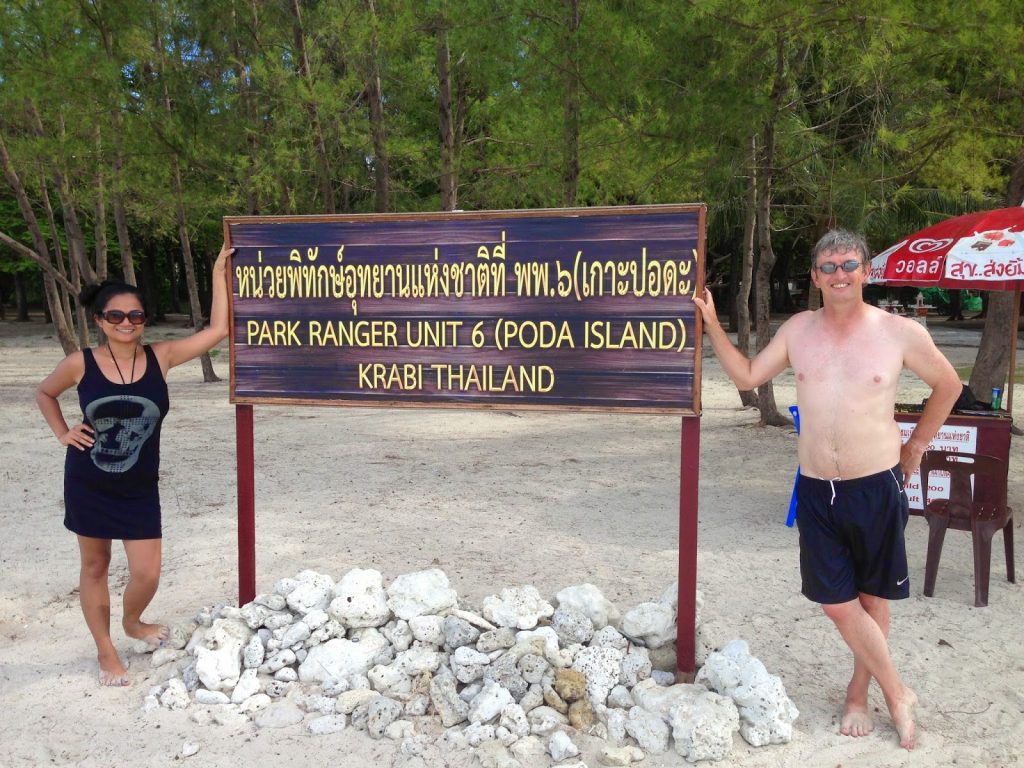 Check out my t-shirt tan!
Then it was time for my last days fishing and I gave it a proper go, an early 40lb siamese carp got me thinking I might get a few more but despite sticking it out until the all out at 20:00, I didn't have any more fish. My final day in paradise the next day was just lovely, went to a barbecue at a friends house before going to the bars one last time and then it was time to head back and pack my bags.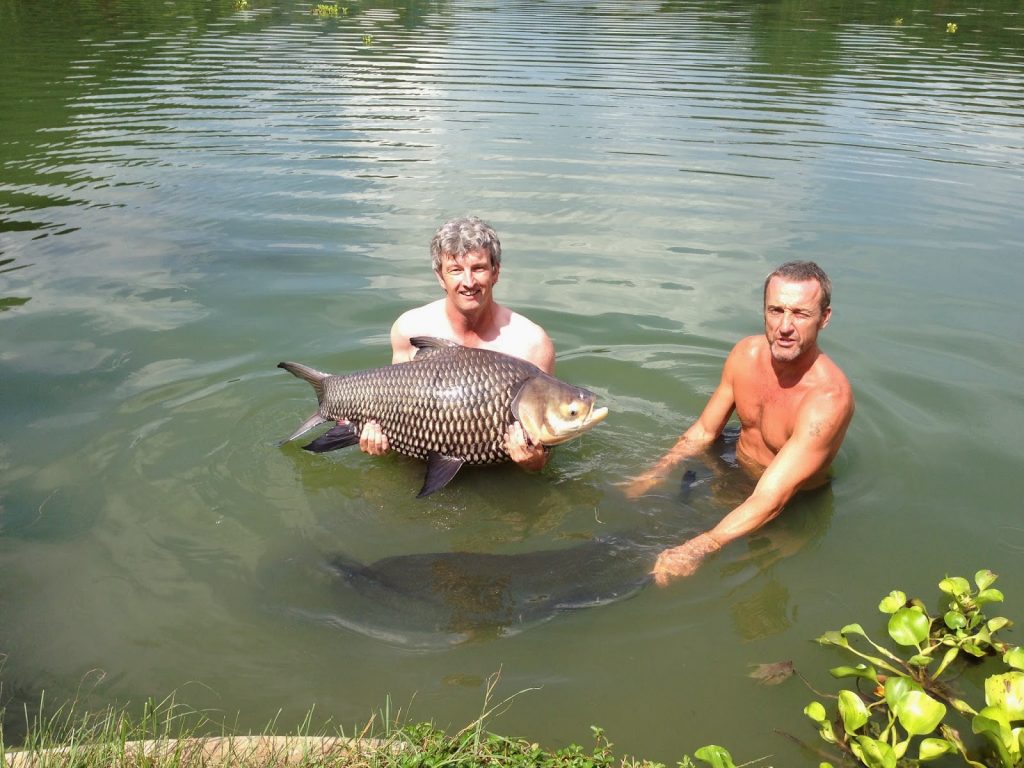 The last fish of the trip – 40lb Siamese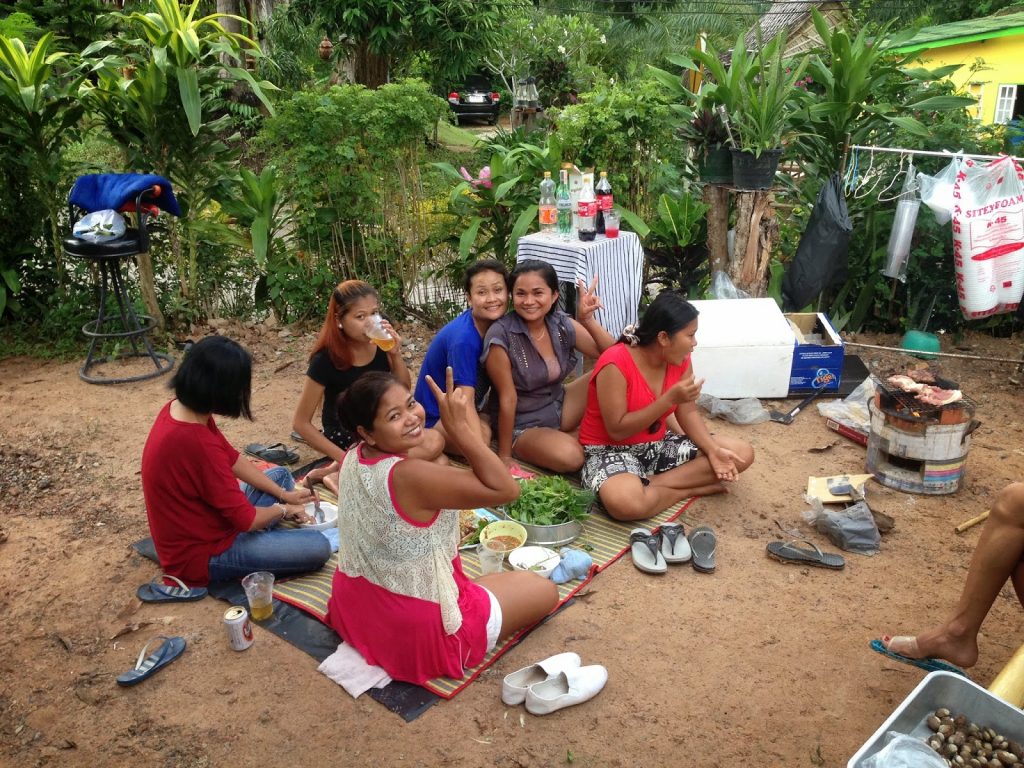 Barbecue at friends house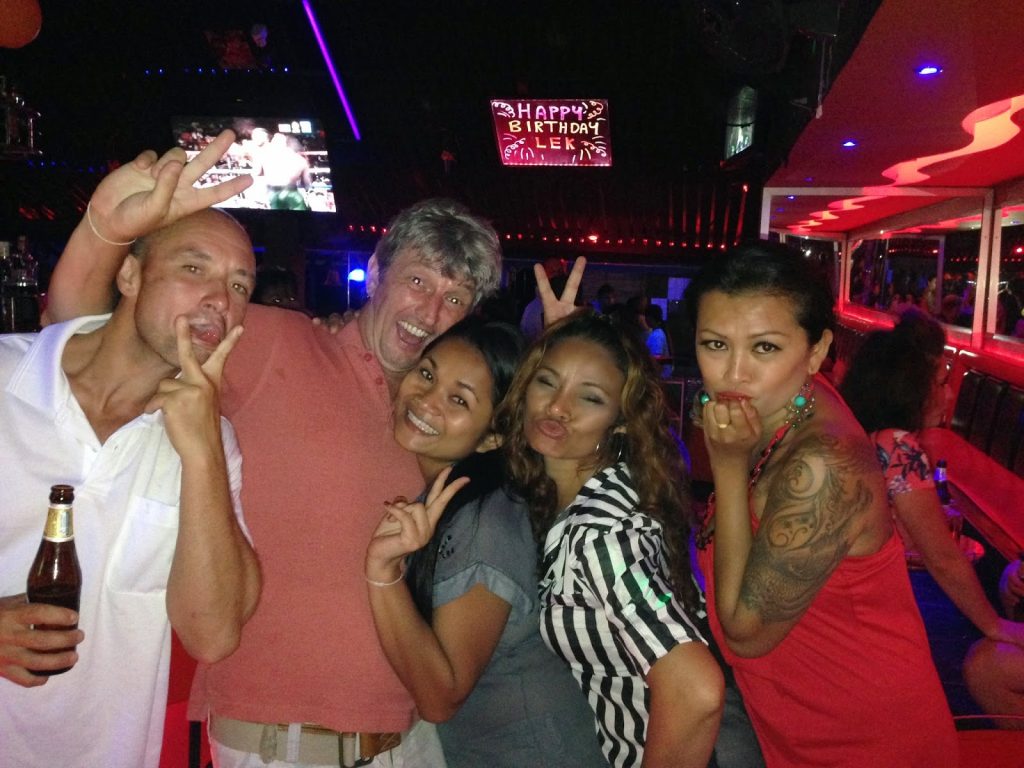 One last night out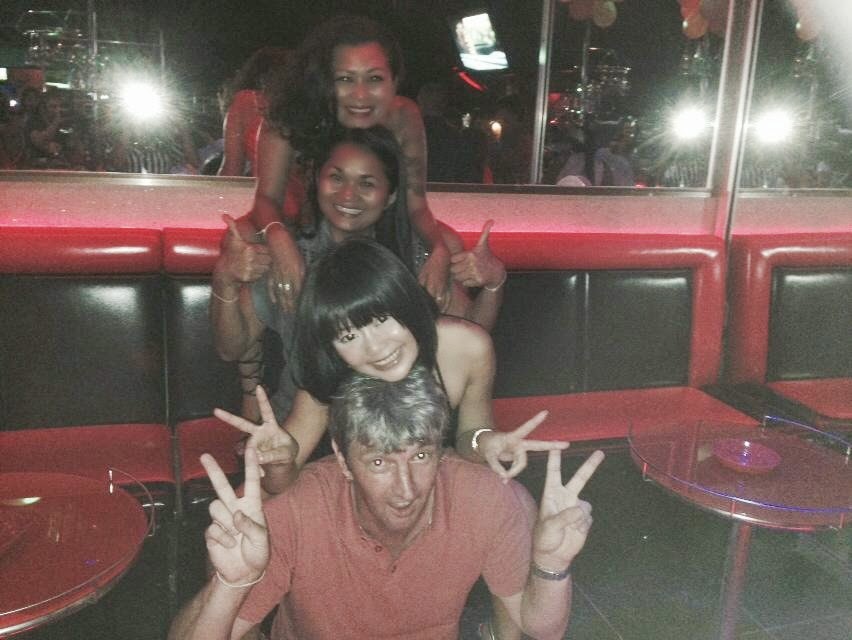 The next morning it was time to leave the resort and I always find it hard saying goodbye as I'm a bit of a big softie. As always I had an amazing time so big thanks to Stuart and Benz, Sean and Noi, Becks and of course the guides Steve, Chris, Joel, John, Adam and of course Gollock (who is now a proud father too!). The 300lb 'arry and 100lb siamese still elude me although several were caught while I was there so I guess I'll have to come back again!
Now that should really be the end of the story but there was a bit of a twist, the plane took off as scheduled at 12:50 but it soon became apparent that there was a problem with the landing gear which (thankfully!) was stuck down rather than up, we had to circle for a couple of hours dumping fuel before landing at Bangkok again. We were taken off the plane and put in a hotel until the next scheduled flight at 1:10 in the morning! This one was fine and I eventually got home a day later than expected and rather knackered!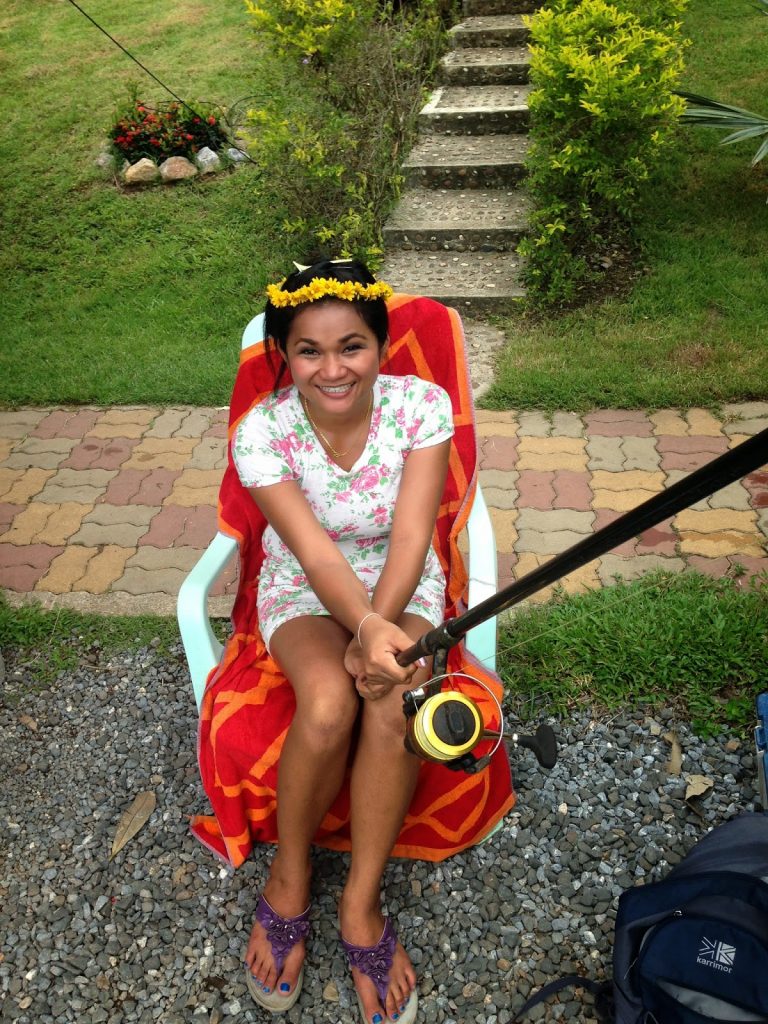 Can you come fishing with me every week please?
Next up – Perry St Pond on Sunday
What's new – Lots of page updates
Check Out – My last match at Dillington (below)