It was the first match of Ilminster's Summer League today and I normally fish a few but miss several due to the dates clashing with the Perry St League. I really enjoy fishing the pond in the winter where you can fish light and catch some really nice nets of quality roach on the pole but as it warms up the whip boys tend to dominate and after a few batterings I tend to concede defeat and head to Summerhayes as I just don't enjoy fishing the whip. So today would give me an idea of how it's fishing and also as I'm off to Thailand tomorrow (not sure if I've mentioned that at all!), it would be handy to stay local as I'd get home at a decent time, have time to do this blog and pack!
When I got to the Oak there were a few fishing including all the regulars and it was lovely to see Stu Alford there as well. There was a rumour that Scott Jackson and Dave Sydenham were going to fish today but it proved to be unfounded! It was really windy and Rob decided to try and peg it to avoid the wind, I really didn't fancy peg 24 by the pumphouse, it's a good peg and pleasure anglers have been bagging up there but I never seem to do very well off it. Of course I drew it and I must admit to having a little moan which is very unlike me!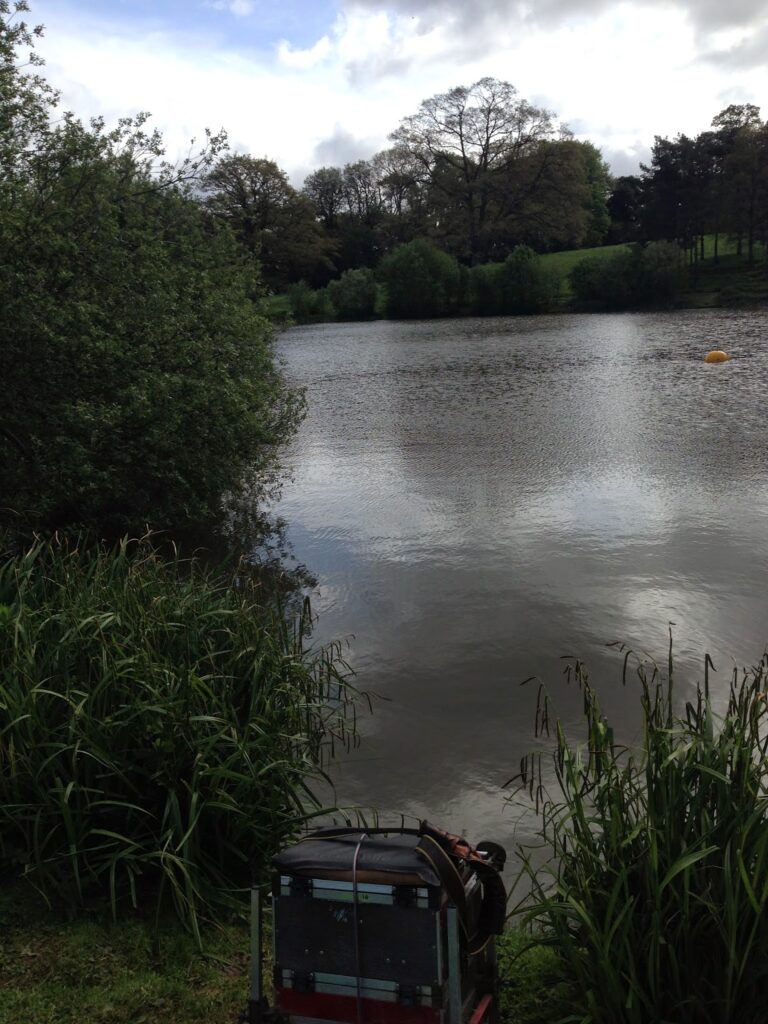 Peg 24 with the bush to the left
As I took my kit to the peg I noticed that the wind was off my back which would be a big help today, I could see Moses in peg 19 so at least I would be able to keep an eye on him as we had our usual £1 sidebet. I was racking my brain to try and remember when I last had a pound off him and I think it must have been years ago, last year he even had one off me on the river! My regular pairs partner, Justin, was in peg 2 but declined a sidebet.
I mixed up some Bait Tech Pro Natural Dark which is just perfect for venues like this and then started setting up my rigs, I knew from experience that this peg is deep and after plumbing up my normal rigs were only deep enough to fish at 8.5 metres. The swim is also one of only a couple with a feature in the shape of bush to the left which is home to some big chub which is another reason I don't like the peg. This may seem like an odd thing to say but it's one of those pegs where if the big fish feed you are a hero and if they don't you are a zero! Also because of the depth I've struggled to catch roach in the past as well and I like to just get my head down and try and catch quality roach on caster.
I set up a 0.5 gram Drennan Roach float with a 0.10mm bottom and size 18 Kamasan B611 hook for 8.5 metres straight out in front, I'd also put a black sleeve over the float tip because of the 'white water' and elastic was Daiwa blue hydro. The other rig was a Drennan 0.4 gram Carp float to fish just off the bush but I never used it all day so no more of that. Rob tooted his whistle and we were off, I cupped in two balls of groundbait containing some casters, maggots and hemp at 8.5 metres before putting a decent amount of casters and hemp by the bush.
I started on the open water line with caster on the hook and had to wait a while for the first bite and then had a small roach, I was feeding casters and hemp and soon started catching some chunky rudd around 3oz apiece with bites coming on the drop or just as the rig settled. I was getting the odd better one as well and after an hour I had 30 fish which I thought must go 4-5lb. The second hour was similar although I wasn't getting as many fish, the size was bigger with some cracking rudd and roach and I had a couple of pristine roach pushing the pound mark. From what I could see Moses was catching quite well but not getting the quality. Steve Parker in peg 16 started packing up and I later found out he'd had a torrid time losing rigs and hooklengths and the final straw came when he ended up with a float stuck in his finger about an inch and a half deep – ouch!
The third hour started well with some more big roach and I even added one of the little tench and it's great to see them still showing in catches. But then the bites tailed off and I went from catching really well to not putting much in the net at all, I should have realised what had happened and then the float sailed away and I've hooked a big fish which has gone under the bush and snapped me. I cupped in another ball of groundbait while I tied a new hooklength on, 0.12mm this time. Topping up the swim seemed to help as I had a 3oz perch and then a decent rudd, next chuck the floats disappeared and I've hooked another chub, I gave this one some stick and using the pulla bung, soon had it in the net, a nice bonus of 2.5lb or so.
Not long after that Steve Hurford turned up and wanted to have a chat about Thailand as he's off to paradise with his family in July, it was really nice catching up with him and while he was there I was catching quite well but mainly 1-2oz roach, I did drop off my usual 3oz rudd. He went to see how Rob and the rest were getting on and I started getting some better roach again and then I've hooked another lump, this one gave me the run around and just as Steve came back from his wander, I netted another chub, this one about 3.5lb! He said that the others were struggling and that I had it in the bag but I've been had like that before so wouldn't be counting any chickens just yet.
I carried on getting odd roach and rudd and even had a little skimmer to finish with 122 fish and really had no clue what weight I had, I hoped I had 15-20lb but whatever I had enjoyed a cracking days fishing. Steve said he hoped I had a good trip and left me to pack up. Moses soon arrived with the scales and said I'd won the pound today but I wouldn't be celebrating until the scores were on the doors. Out of interest I weighed the two chub which went 6lb 2oz with the biggest one pulling the needle around to 3lb 9oz which equalled my personal best. The rest of my catch went 16lb 6oz giving me a total of 22lb 8oz which I think is my best weight out the pond yet.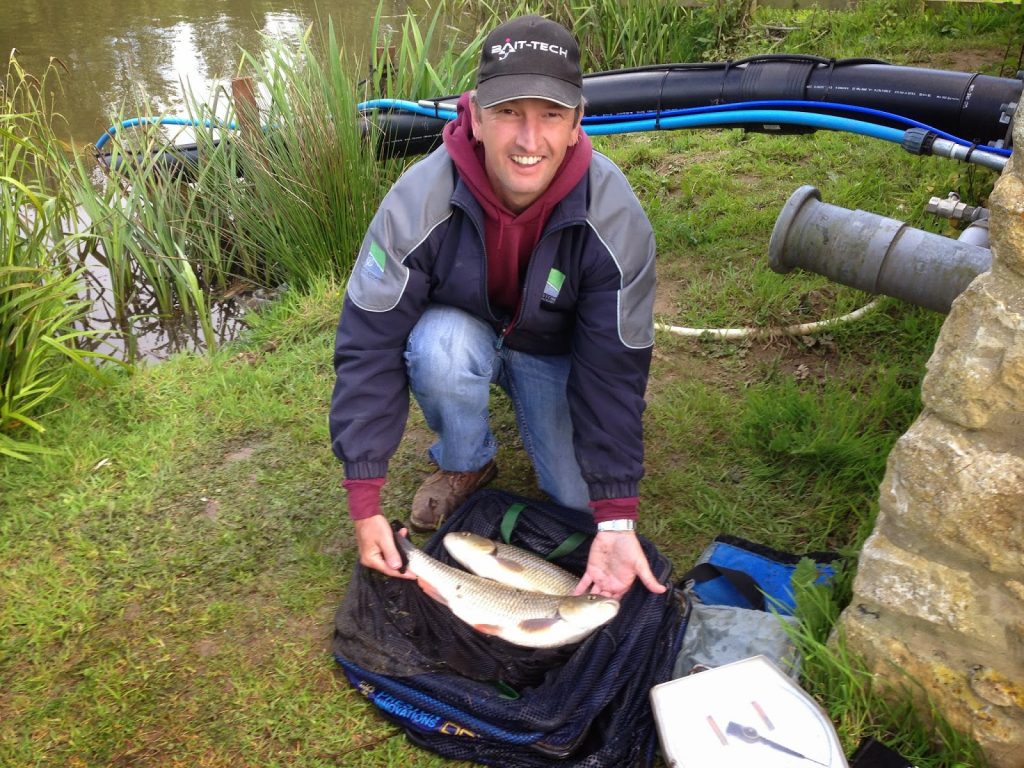 Me with the two chub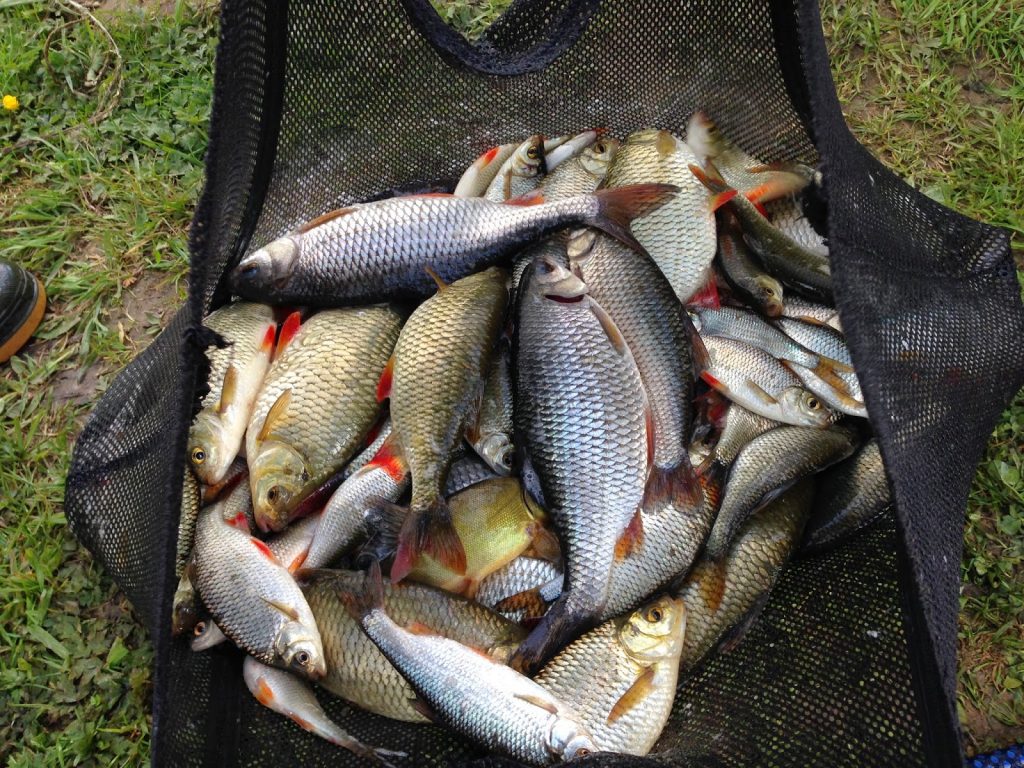 The rest of my catch
Moses had 9lb 9oz and I did win a pound off him so it was turning into a really good day, we just had to wait and see how the rest had got on now. Justin was first back and said he'd had 7lb 9oz but had just been pipped by Fieldy who had the top weight in the other section with 7lb 10oz, so it was confirmed I'd won! I picked up £40 and had enjoyed a great days fishing, Moses was second with Fieldy third.
1 – Jamie Rich (Against Men and Fish/ Burt Baits) – 22lb 8oz
2 – Moses Holbrook (Ilminster) – 9lb 9oz
3 – Graham Field (Taunton) – 7lb 10oz
So a really good day and Chelsea beat Cardiff 2-1 on the final day of the Premiership, Man City won today and were crowned champions so well done to them. This will be my last blog for a couple of weeks as I fly out to the lovely Gillhams Resort in Thailand tomorrow, hopefully my next post will be a fish packed one! If you can't wait until then I will try and update the Facebook page regularly while I'm away, check it out here Facebook Page and don't forget to 'Like' it too!
Next up – Gillhams, Thailand!
What's new – Lots of page updates
Check Out – My latest 'Hit Parade' (below)